Fantasy Football Fixtures Gameweek GW31
We need to talk about Kevin fixtures, or something…
If I'm whipping out the ol' fixtures article then you know there's probably a bump or two in the road ahead. There are a good few on tw@tter that whip out the ol' something else at the mere mention of a DGW but I'm a bit too old in the tooth for that now. The getting overly excited about it all bit, anyway. Don't get me wrong, they can be extremely profitable if you play them right, and also get lucky with rotation along the way, but we've all also seen too many fall flat because of the aforementioned 'R' word.
That said they need to be planned for and we are here to help with that as best we can. There a few blanks ahead too so it's definitely worth taking a closer look at it all.
In this article we will take you on a whistle- stop tour of each GW from here until GW38, with what we know and what to expect from each, broken down as simply as possible. Then we shall isolate GW's 30 to 33 and take a look at the teams in terms of which ones we think should be your primary focus, or indeed not.
FPL FIXTURE TRACKER
But first up that all important Fixture Tracker itself…

FIXTURE TRACKER LINK
The quick take-aways from the Tracker are;
At this stage of a normal season (what's normal anymore?!) we should have had 600 games played.
We are currently 24 behind that.
9 of those have been fitted into 33 & 34.
Which leaves 15.
Except Villa, Wolves and Leeds have all just lost their GW36 matches which leaves us 18 games to be rescheduled.
In short, the teams with a DGW or two yet to be arranged are;
Arsenal (TOT A)
Aston Villa (BUR H, LIV H)
Burnley (AVL A)
Chelsea (LEI H, LEE A)
Crystal Palace (EVE A)
Everton (WAT A, CRY H)
Leeds (CHE H)
Leicester (NOR H, CHE A)
Liverpool (AVL A)
Man City (WOL)
Norwich (LEI A)
Spurs (ARS H)
Watford (EVE H)
Wolves (MCY H)
The concensus seems to be that the bulk of these will go into GW36, with a good few in GW37. There will probably also be one or two fitted into GW's 34 and/or 35.
GW by GW… Key Facts
GW31
All teams play.
Burnley and Everton play twice.
GW32
All teams play once, a normal GW.
GW33
Seven DGW's for; Arsenal, Brighton, Burnley, Leicester, Man Utd, Newcastle and Southampton.
A Blank GW for; Villa, Leeds and Wolves.
GW34
All teams play once, a normal GW. As we speak. A game or two may be added.
GW35
All teams play once, a normal GW. As we speak. A game or two may be added.
GW36
Probably a massive GW but yet to be announced.
The Numbers Game
This is based solely upon what we know so far, which is essentially just GW's 31 to 33. From here on in we shall concentrate on just those.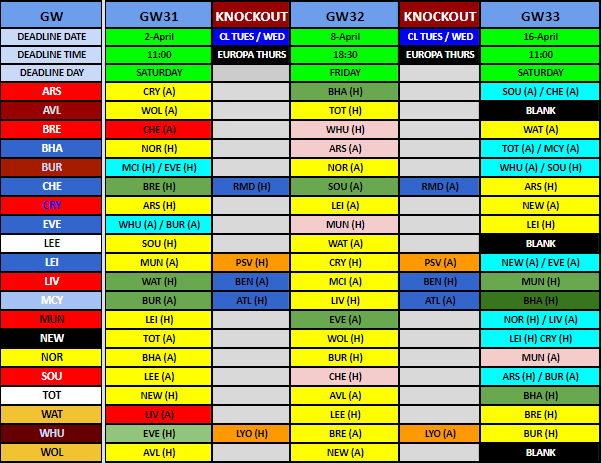 For some this becomes a numbers game but then you can get caught up in a quantity vs quality argument. Let's see if we can seaparate the two…
5 games in 3 GW's…


Burnley – MCY (H), EVE (H) / NOR (A) / WHU (A), SOU (H)
Only Burnley have this honour with two DGW's in the next three. As numbers go then they should probably be top of your list but there is a reson that they are currently sat 19th in the table and you may do well to remember that before you get giddy with any transfers. They showed some signs of life in February with a point at Old Trafford, wins at Brighton and Spurs and a draw at Palace but March has treated them less kindly with three defeats at an aggregate scor in those of 0-8.
As such you can probably write off the City game to begin with. Beyond that I'm seeing them scrapping for points. Tight games hoping to grab a goal here or there, etc, you know the script.
DGW RATING **
4 games in 3 GW's…


Everton – WHU (A) / BUR (A), MUN (H), LEI (H)
We need to talk about Kevin Everton. Do we really? I suppose we should. This issue is that they, along with Burnley, have the most imminent DGW in 34. As such people will be drawn to them like a moth around a bonfire. Any picks will almost certainly suffer the same fate though. They somehow won their last PL match vs Newcastle but please do not let that cloud your judgement here, as the reality is that they absolutely did not deserve to win that game and the capipulation in the FA Cup vs Palace was a much more fitting summary of exactly where they are as a team right now.
To put it bluntly, I'm an Everton fan myself and I won't be going near them from an FPL perspective, DGW or not. Not one of those games looks winnable right now.
DGW RATING *

Arsenal – CRY (A), BHA (H), SOU (A) / CHE (A)
Arsenal are on the cusp of being good, and perhaps also falling off the cliff of being so, at any given point. With these fixtures and a DGW ahead they almoast feel like they are worth a punt, but maybe a 2/3 one.
DGW RATING ***

Brighton – NOR (H), ARS (A), TOT (A) / MCY (A)
Aside from perhaps Norwich at home this is an awful DGW mixture for Brighton. They don't score much and looking at this they will concede a few too.
DGW RATING *

Leicester – MUN (A), CRY (H), NEW (A) / EVE (A)
Three away games and even then the home one looks difficult. Given the opposition it may be worth a punt for the DGW itself in 34 but we wouldn't go mad on them. They also have PSV in-between each of the next GW's so it'll be interesting to see what they prioritise.
DGW RATING ***

Man United – LEI (H), EVE (A), NOR (H) / LIV (A)
The first two fixtures are a challenge, at best, there should be goals in both, but the latter two couldn't be more different if you tried.
DGW RATING ***

Newcastle – TOT (A), WOL (H), LEI (H), CRY (H)
Safe are you? We'll probably know more about that after this run of games. They could just as easily get 12 points here as get none (they'll probably be safe regardless). But we wouldn't particularly be rushing to buy anyone from their ranks.
DGW RATING *

Southampton – LEE (A), CHE (H), ARS (H) / BUR (A)
A difficult run to call as Leeds at home and Burnley away may yield some points but the bits in the middle may be more challenging.
DGW RATING **
3 games in 3 GW's…
Whilst others stress about 5 games there are a good few who just have it normal, as in 3 in 3. Whilst not as sexy, they aren't worth forgeting about. Some of them anyway…
Spurs – NEW (H), AVL (A), BHA (H)
As inconsistent as they are this smacks of a couple of home vitories and perhaps a difficult away trip to Villa.
Liverpool – WAT (H), MCY (A), MUN (H)
Watford at home should be a bog standard walk over, two victories against the Mancs may seal the title. Just be aware that they have Benfica twice in midweek bewtween these, although Klopp doesn't quite rotate as much as….
Man City – BUR (A), LIV (H), BHA (H)
Mr Rotation. This looks like two easy wins and a title decider in-between. And Atleti twice. Who will play? Who bloody knows?!
West Ham – EVE (H), BRE (A), BUR (H)
This looks decent enough for the Hammers on paper, just bear in mind that have Lyon twice and they may well prioritise that, but we shall see.
Chelsea – BRE (H), SOU (A), ARS (H)
Chelsea complete the set of teams who have just three games but also have other European concerns to contend with. Brentford and Saints look winnable, Arsenal will be tough.
Crystal Palace – ARS (H), LEI (A), NEW (A)
Palace are safe and aren't going anywhere anytime soon. Other than Wembley. Which may play a factor here, even this far out.
Norwich – BHA (A), BUR (H), MUN (A)
It may be too late for Norwich now but the next two games will probably define their season and shape their destiny. Not to put too fine a point on it!
Watford – LIV (A), LEE (H), BRE (H)
Might have to pull their fringer out against the latter two, as they'll get nothing in the first. Or will they….?
The others… who have 2 in 3
Villa, Leeds and Wolves have had their GW33 rug pulled out due to the FA Cup semis and so have only 2 games scheduled as we speak. Although Villa may add to that with a game against Burnley at some point but we have to wait and see on that one. As it goes all 3 have decent games lined up in 31 and 32, Villa away at Spurs in the latter being the only one that you might ruffle your brow at.
Thanks for reading Fantasy Football Fixtures Gameweek GW31. This article was written by Inittowinit.
VOTE ON THIS WEEK'S CAPTAIN POLL GW31
SET-PIECE TAKERS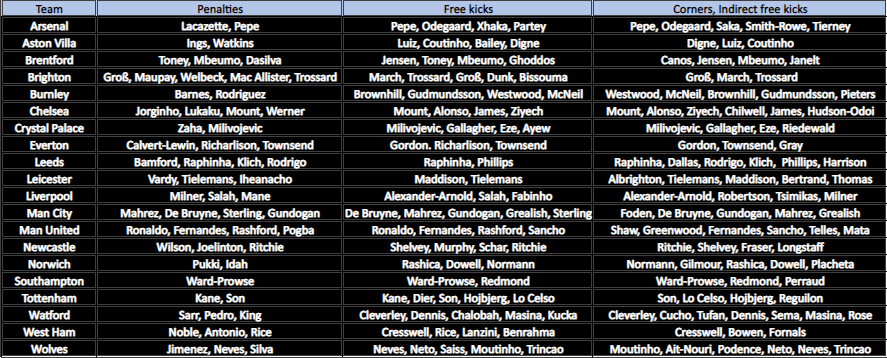 Predicted Line-Ups FPL 2021/22
You can access our Live feed to these here.
FF247 LEAGUES FOR 2021/22
Fantasy Football 247 League Codes:
Both leagues will be shut to new entrants as of 01/01/22.