Fantasy Football Live Match Chat and FF247 Site Team Gameweek 31+
Welcome to Fantasy Football Live Match Chat Gameweek 31+.
GW31+ Deadline; Tuesday 23rd June 5pm GMT
Close but no cigar!
Well GW30 plus is in the books (cue the fake crowd noise) and onto GW31+ we go.
As always we shall endeavour to post the line-ups prior to each phase of the relevant GW and our usual FPL Countdown Timer (to be found above the latest comments section) is once again be active.
Tips will be dispensed in the chat below but feel free to get involved in said chat, whether that's asking for advice or answering others.
FF247 SITE TEAM GW31+
This is where LMC takes a slight twist. Given the lack of opportunity to post any full or meaningful articles it is our intention to simply post our weekly transfer and Captain choice on here prior to each deadline. As a result this article will be posted way in advance of when it usually is, probably not long after any given GW ends.
Our GW30+ Result, in brief
Yep, we nearly got there but some combo of Pep, Aguero and Egan defeated our 100 point ambition. We landed on 96. Captain Kun managed just 55 minutes across his DGW, albeit with two assists. Sterling was the only one of our City boys to actually register 90, albeit all in one game. Doherty somewhat rescued us with his 12 in his SGW and clearly we should have captained KdB as he top scored with 15.
As for our rank we have risen about 25k this week, a green arrow is better than a red arrow so we will take it. That makes 4 out of the last 5 GWs that we have risen, so the trend is good, now we just need to get inside 100k and make a late push up the overall. The site team now sits in 141,956th place. Here is the side that almost made us triple digit proud.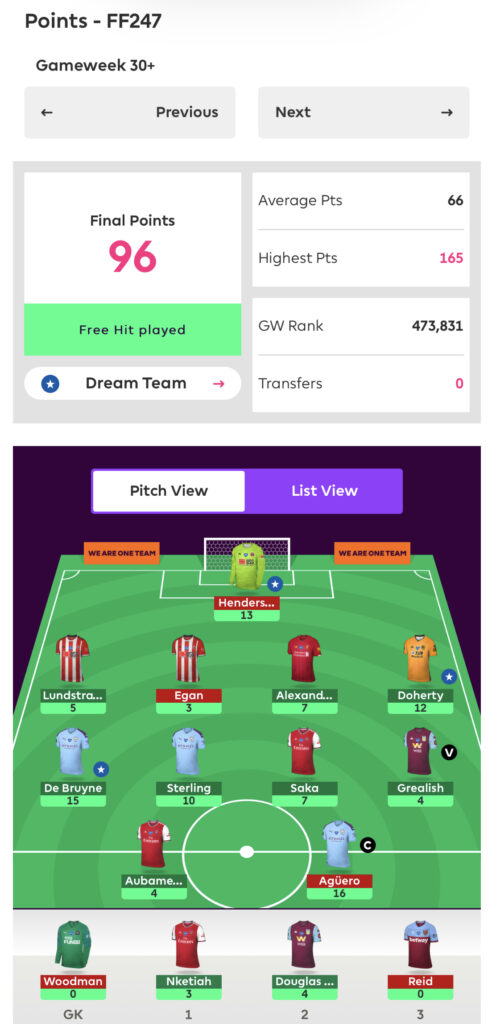 GW31+ TRANSFER
We have SOLD and BOUGHT…… nobody
We may be doing this in a slightly unorthodox fashion but one of the reasons we played our Free Hit last week was that we liked our team, as it was, for GW31+. Turns out we liked it that much that we felt we may be somewhat justified to play our BB this week. That was until Leno (or more accurately Maupay?) put paid to that thought. We could have replaced him but in all honesty whoever came in would probably simply end up playing second fiddle to Pope for the remaining games. So we've left that thought for now and feel we have a strong XI for this week.
GW31+ CAPTAIN
Our Captain for GW31+ will be Raúl Jimenez
Jimmy got the majority of the votes and it's easy to see why for anybody who witnessed both his and Bournemouth's performances in GW30+.
Our Vice-Captain will be Bruno Fernandes. Should Jimmy fail to start we're confident that Bruno can step into the breach as he's faces a Sheffield United defence shorn of Henderson, Egan & potentially O'Connell.
Our GW31+ team in full…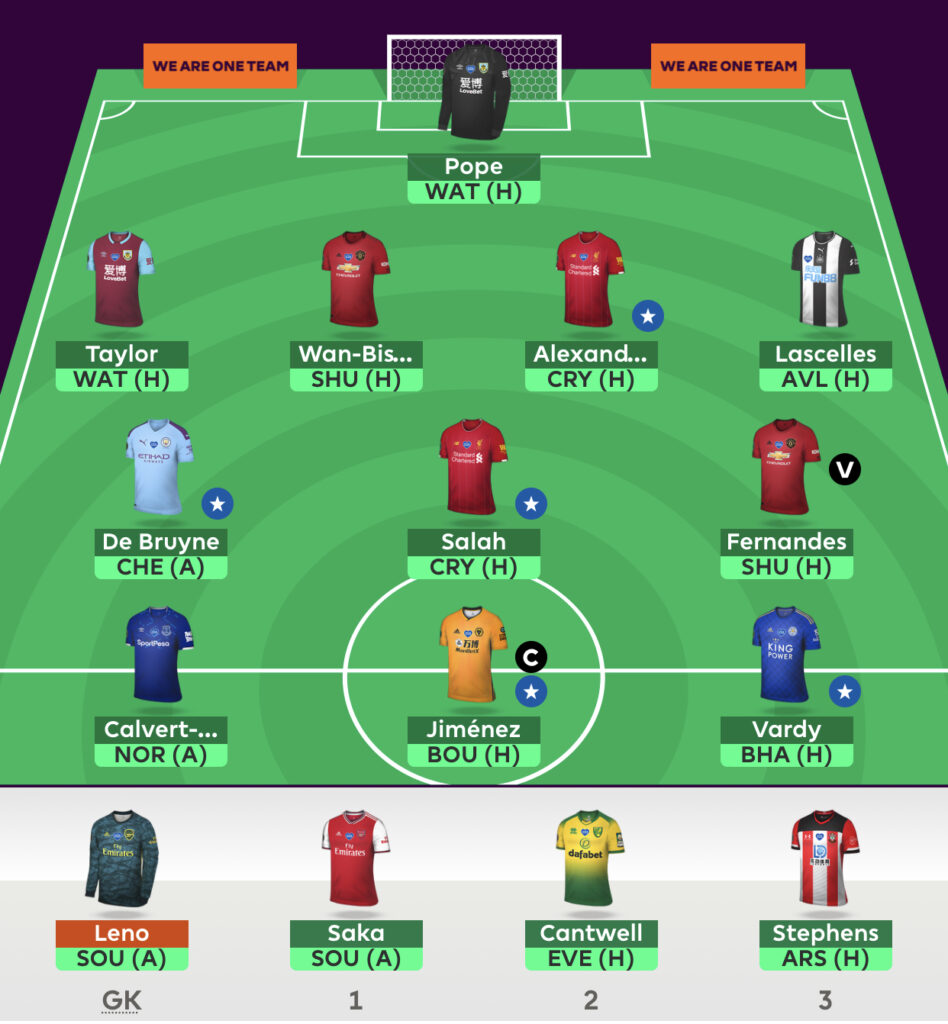 Should you wish to follow the FF247 Site Team's progress you can do so here.
The games in full…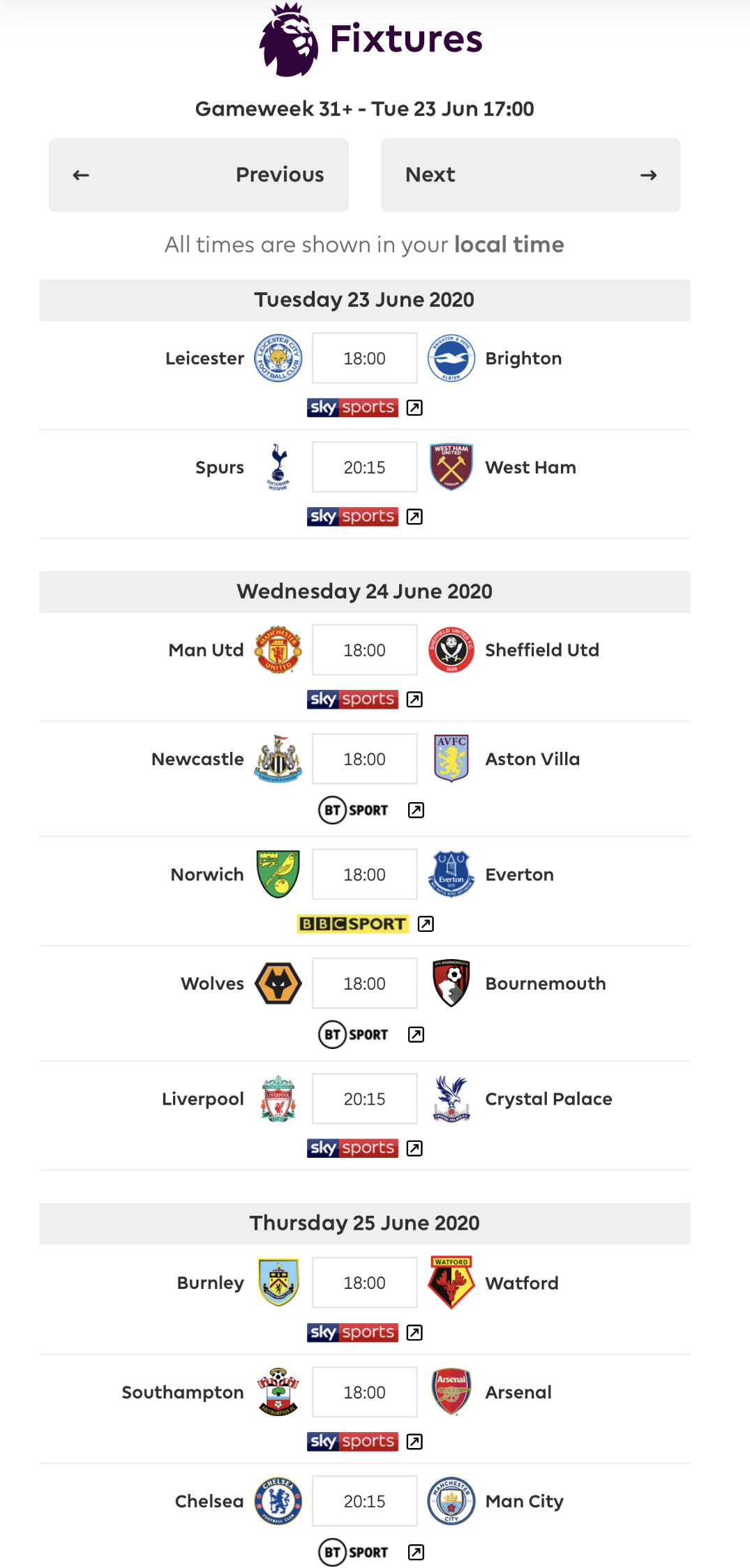 Keep track of all the action, the goals, the talking points, right here at FF247 Live Match Chat, an interactive chat which encourages you to keep involved and share your thoughts and emotions as the matches take place.
CAPTAIN POLL GW31+
Good luck to absolutely everyone for Gameweek 31+ from all at FF247!
Thanks for reading Fantasy Football Live Match Chat and FF247 Site Team Gameweek 31+
FPL FIXTURE TRACKER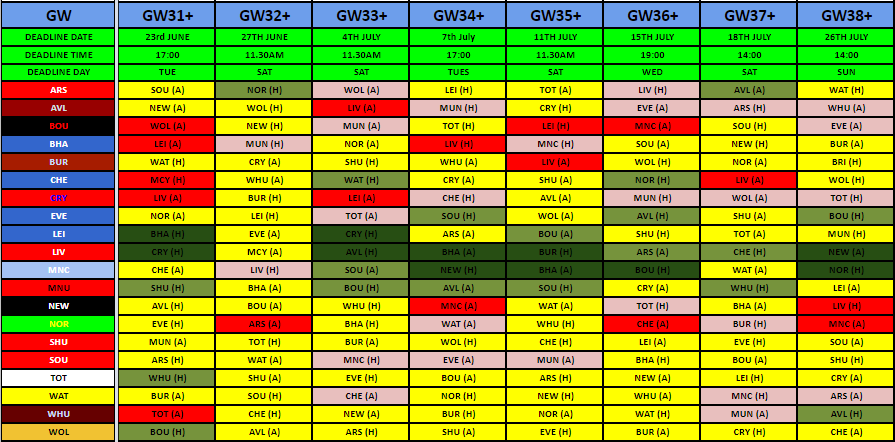 FIXTURE TRACKER LINK
Fantasy Football 247 League Codes: