Fantasy Football Live Match Chat Gameweek 38
Welcome to Fantasy Football Live Match Gameweek 38. That's your lot folks! Well, it will be in about 3 hours anyway… GW38 always seems so brutal. We are used to game-weeks spanning 3-4 days, sometimes even 6 or 7. And then when it really comes down to the final reckoning we are all lined up in front of the FPL firing squad and shot at for 90 short minutes as if we'd just been caught in Malaysia with a gram or two in our back pockets. And it's a bit of an odd one to call as nearly all matters are sorted, barring a couple of highly unlikely goal difference swings. And we are talking huge ones here – a Liverpool draw and a Chelsea 16-0 win. And a Saints loss, a Swansea win and a 10 goal swing. The Saints do however face Man City so you just never know! But being realistic it's all done and dusted. The main talking points will probably centre around rotation and regardless of what nonsense the managers trotted out in their press conferences about 'playing until the end with professionalism' there will be rotation aplenty. There's usually a fair few goals on the last day too. Here's hoping your amongst them.
Many thanks to all those who take the time to stop by and comment on Live Match Chat each week, it's the fun end of the FPL week, indeed it's the action end of it. We appreciate every single comment
THE GAMES IN FULL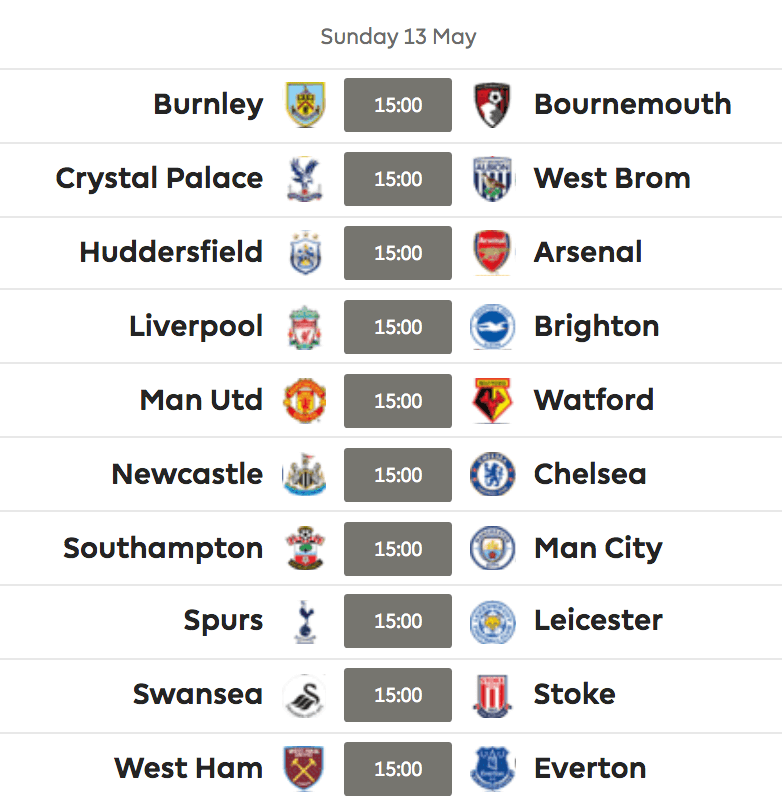 Keep track of all the action, the goals, the talking points, right here at FF247 Live Match Chat, an interactive chat which encourages you to keep involved and share your thoughts and emotions as the matches take place.
Good luck to absolutely everyone for Gameweek 38 from all at FF247!
Thanks for reading Fantasy Football Live Match Chat Gameweek 38