FF247 Fantasy Football Site Team DGW34
Welcome to the FF247 Fantasy Football Site Team GDGW34. Guess what? We got another green arrow (that's 7 in a row now!!) but we still only climbed 7.5k places up to 140,557. This is getting excruciatingly predictable. Maybe DGW34 will be different. Our GW33 of score of 37 was pretty crap really, but somehow we beat the average (32). This write up will be very brief by the way. Our captain Aubayemang scored 12pts and Vardy scored 8pts. Our next highest scorer was Matt Ryan who scored 3! We were right to bench DDG lol! We have 6 players scoring 2pts and two scoring a single point each. It was painful to witness but many were in the same boat and there was no damage done. Somehow.
Onwards and upwards to the big double and points galore. Righto!
Last weeks result…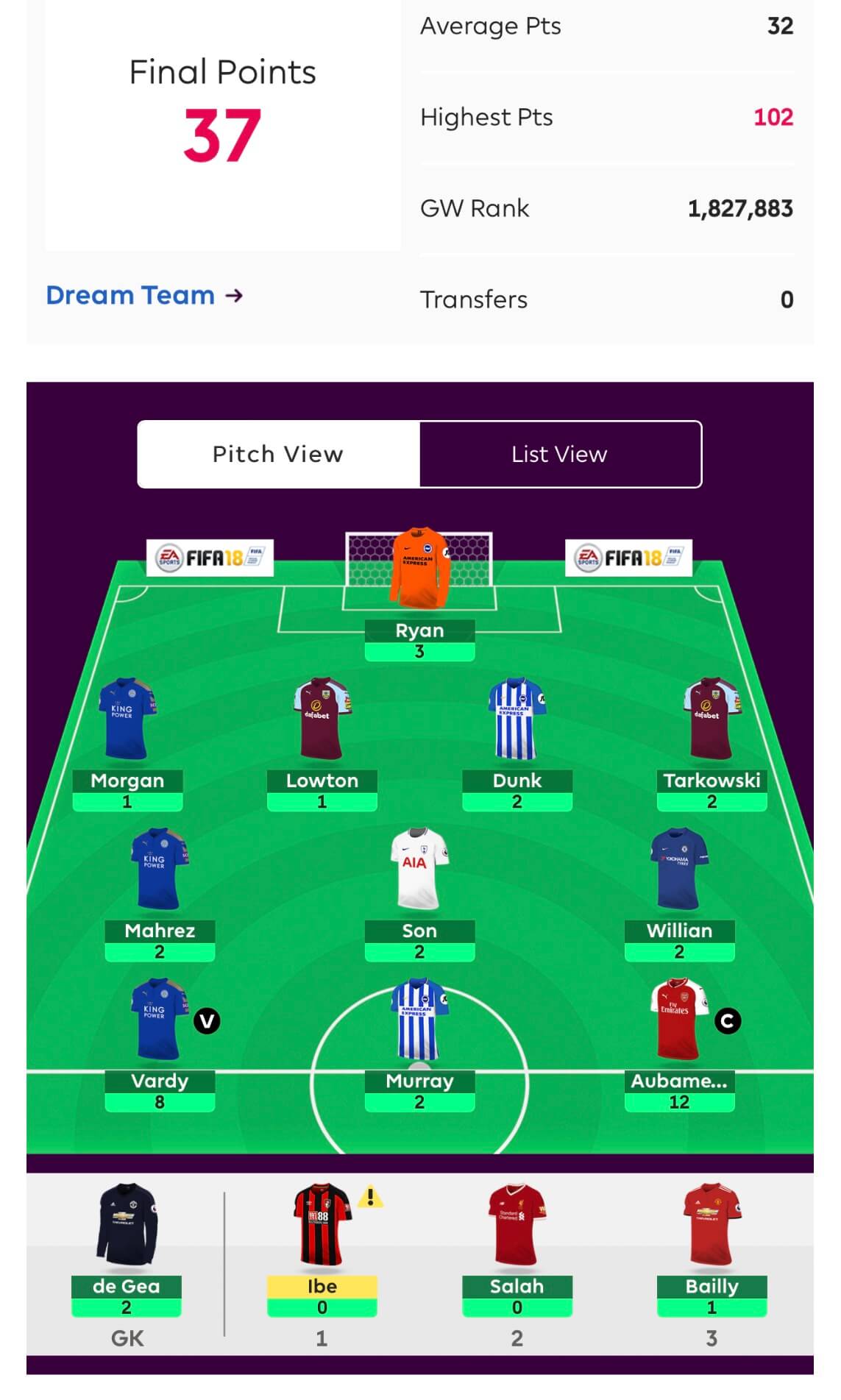 This week's transfer(s) – we have sold Aubameyang and Ibe and bought Lukaku and Gündogan
We started the transfer discussion on Monday and thought we had nailed it. Lukaku was to come in and be captained – there was a strong call for Kane, but he narrowly lost out. Sadly, there was no comeback for Kane with us, no, we are stronger than the Premier League. The only issue was which cheap midfielder to replace Ibe with – there were a number of candidates suggested – Kenedy, JWP, Milivojevic, Gündogan, Groß, Lennon. Lennon and JWP were quickly discounted, for obvious reasons. Milivojevic was strangely not really talked about a lot, despite his form – his lack of a DGW probably counting against him. Which left 3 – Kenedy, Gündogan and Groß. Groß won that vote easy – that's what two double game-weeks do for you.
Phew, decision made, time to make the transfers and write up the article.
And that's just about when we went back to square one for we already owned three Brighton players! Jeez – no-one had noticed. 12 hours it took to reach that decision. For nothing.
To cut a long story short we then chose between Kenedy and Gündogan. Both double in 37, one is sure to start, one less so but plays in a better team and will likely play more often than not and faces much better fixtures with a dream double. The sensible, conservative choice would have been to go with the sure to start Kenedy when the comment was made, 'our conservative choices have hardly served us well so far.' !! Good point, well made. Gündogan wins 3-2. He's a punt, we hope to get lucky in that he will play with Fernandinho's suspension and when the title is won Silva may be afforded more personal time off.
We are playing our Bench Boost with 13 DGWers and Salah and errrr Gündogan. Bring it on!
The team in full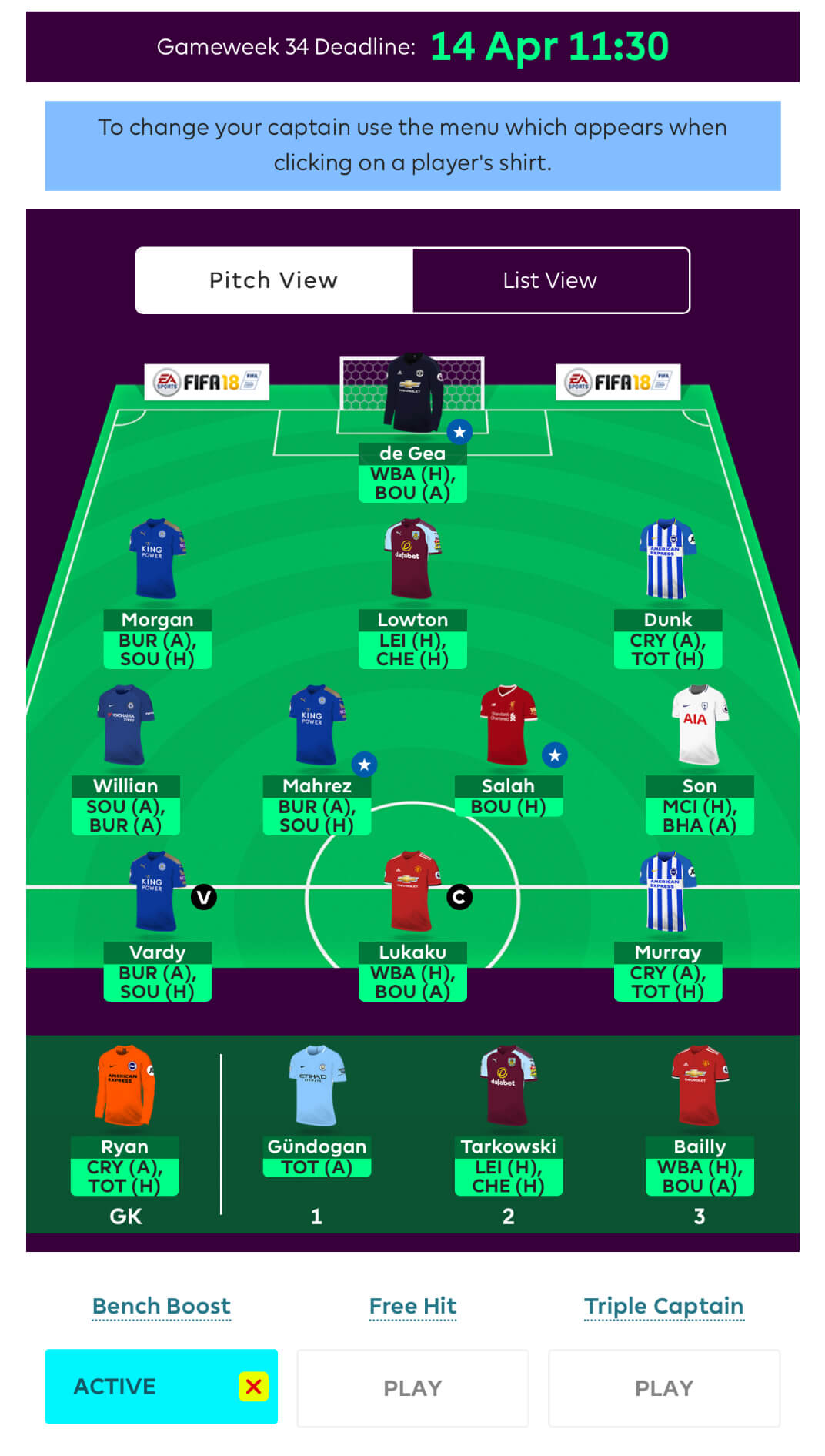 Our captain is Lukaku, vice captain Vardy
With fixtures vs West Brom and Bournemouth, our flat track bully gets the armband. Just one of Big Rom's goals has come vs the top 6 clubs and our skipper has already scored vs the Baggies and Cherries this season. With Champions League qualification within touching distance we expect Mourinho to play his striker in both games vs defences not exactly known for their clean sheets.
If you wish to follow the teams progress more closely you can do so by clicking here.
Thanks for reading FF247 Fantasy Football Team DGW34
The League Codes for FF247 for the 2017/18 season are as follows:
Gameweek Tracker GW34-38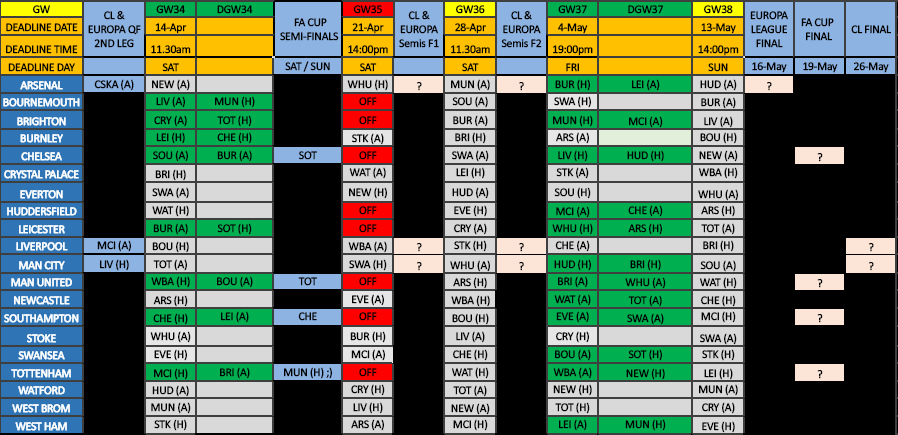 INTRODUCING FANTASY TOTE…
Our new partner has a few words to explain their wonderfully simple to play daily fantasy game. Please do them and us a favour by clicking on the banner link below, have a browse and give their game a try. Over to them…
Fantasy Tote is the next evolution in Fantasy Football. Play daily & weekly games to win real cash prizes.
There are no budget restrictions like in FPL so it's open season on the big players and makes it easy and quick to play. But can you pick the right team to win big?