FF247 Fantasy Football Site Team GW32
The Mané event….
Sometimes it's all about nailing your captain and everything else just falls into place. We voted for Mané and we ignored the rumours flying around and the game's most in form player did us proud. He scored, he assisted, he collected maximum bonus points for a 13pt return. We even had a last minute vote to double check that we were all comfortable sticking with him; and it was fairly unanimous, we even decided to do so on the basis that he would be a differential come the deadline! Doubled to 26 he alone outscored some teams we saw posted on the boards. Digne's clean sheet and Anderson's assist were our only other scorers! The former being a particularly welcome and unexpected surprise.
We played with just 10 players but our score of 50 (net 46) saw us comfortably beat the average of 26 and produced a welcome green arrow as we enter DGW territory with all our Chips intact.
Our rank is 22,479 and we are confident of a strong finish.
Last week's result…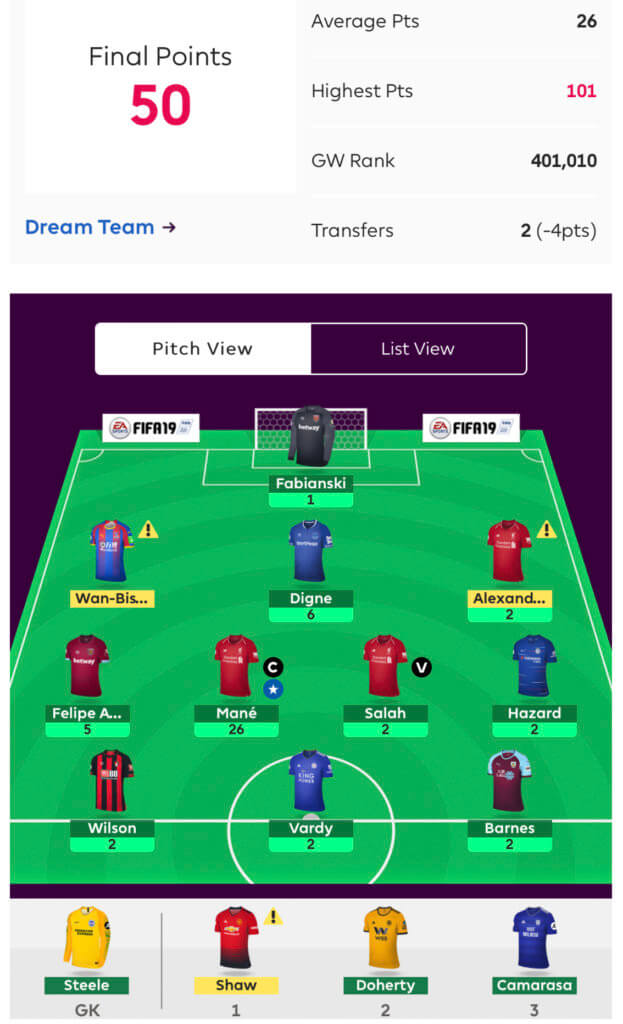 Before we get going on this weeks decision we should remind you that;
THIS WEEKS DEADLINE IS ON SATURDAY 30TH MARCH @ 11:30
This week's transfer decision…
To confirm we have played our FREE HIT CHIP
We just thought we'd get that out of the way early doors as we usually begin with a review of what budget we had and how many free transfers there are to play with. The answer to the first is still relevant though, just in a different way than usual, in that our Team Value was £103.1m. Not 'Kane' high, but not particularly paltry either. Fun fact apropos nothing; the highest TV is an eye-watering £113.9m (albeit it's deliberately manufactured with a 'price capture only' team).
To reiterate our previously laid plans then, we still intend to follow the path of;
– FH32
– GW33 sees our GW31 team return with all those 'blankers' in it
– WC34
– BB35
– TC whenever else we see fit
With the formalities out of the way, onto our FH decisions. We won't go over every single one as many are 'givens'; the likes of Sterling, Kun, Hazard, Pogba and some defensive combo of Man City / Chelsea / Man United were almost inevitable, and make up the bedrock of 90% of FH teams we are seeing in the comments.
But the devil is often in the detail and so we shall touch briefly on that;
Kane / Higuain – We'd have happily had one or both but in all honesty either one simply meant too many compromises elsewhere for us. Give us an extra couple of mil and we probably could have worked one in, and almost certainly would have done. We had a core though and didn't want to budge on those.
Rashford / Batshuayi – Given the above we decided on a front line of Kun + 2 mid-priced options to enable our fairly standard FH midfield of Hazard, Sterling, Pogba and Milivo'pen'vic plus the fairly standard FH defence we previously mentioned.
Bats has been on (relatively) fine form since he joined and he carried that on with Belgium over the International Break and is still hugely budget friendly. Rashford's stock was bumped up by the news that Lukaku looks like he may remain out for a few weeks, therefore pushing Marcus back up into the No. 9 position he flourished in under Ole at the start of his reign (of defiant friendliness). On his 'yellow flag / injury status' we have heard good things which suggest he is fine and dandy, should Ole reveal otherwise in his press conference on Friday we shall of course look for a replacement; ooooh… the luxury of a FH and all that.
The defence – This was always just a case of juggling which / how many 'premium' ones we could fit in, given the favourable fixtures for all of Chelsea and both Manchester clubs. In the end we settled on a full set of them including a double up on Chelsea. What could possibly go wrong…
Our Captain is Aguero, our Vice is Sterling
Split this one if you may, we genuinely couldn't. But obviously did, but probably with no real reason.
Our team in full…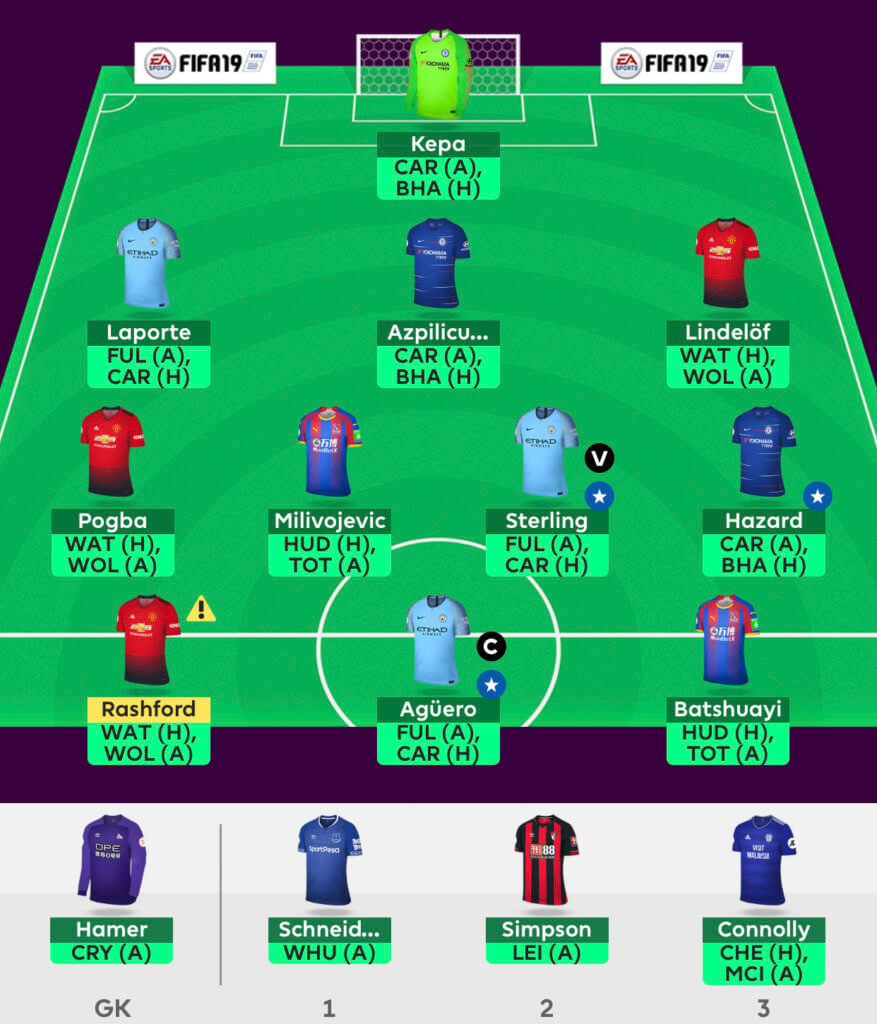 You can follow the site teams progress all season by clicking here
Thanks for reading FF247 Fantasy Football Site Team GW32
FPL FIXTURE TRACKER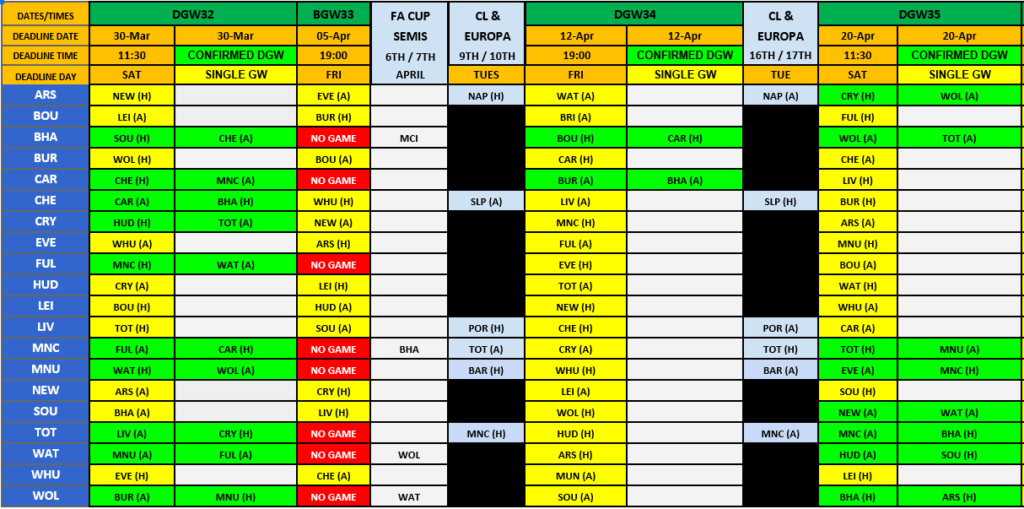 FIXTURE TRACKER LINK
Welcome to our Fantasy Football leagues section.
The League Codes for FF247 for the 2018/19 season are as follows –