Fantasy Football Tips DGW34
Welcome to Fantasy Football Tips DGW34. Into DGW34 we go as last week's disaster is well and truly pushed to the back of our minds. With the likes of Salah and Firmino not even starting and then players like Lukaku, Kane, Willian and Mahrez proving to be massive flops, an average as low as just 32 points was inevitable. Even the top team with 102 points still had a zero next to Hector Bellerin – if that's any consolation!
Suffice to say, with writing on two consecutive gameweeks, I feel the need to evaluate my tips article from last week. Well, the best goalkeeper suggestion turned out to be either Lloris, Pope or Ryan who each scored three points. Looking at the defenders, Tarkowski was embarrassingly the best tip as he collected two points, with Monreal picking up nothing and a woeful one point awarded to each of my other recommendations. Midfield hardly fared much better, as all of the picks recorded two points, with only Alli collecting six thanks to his assist. The one-point haul of Lukaku and Kane were put into the shadow by only Aubameyang and Vardy who recorded six and eight points respectively.
So, do I regret the choices I made? Has it changed the way I've approached this gameweek, both within the article and my own team? The answer to both is a massive no! I'll be bringing in two double gameweek players this week, which my previously mentioned spreadsheet has guided me to – even with the chaos of injury and rotation. Whilst last week's article focused on useful players over the coming weeks, this one will just focus on this double gameweek which, fingers crossed, will be more fruitful. I can't see a week where Pickford, Cedric, Cork or Welbeck are among the highest points scorers happening again too soon, anyway.
Goalkeepers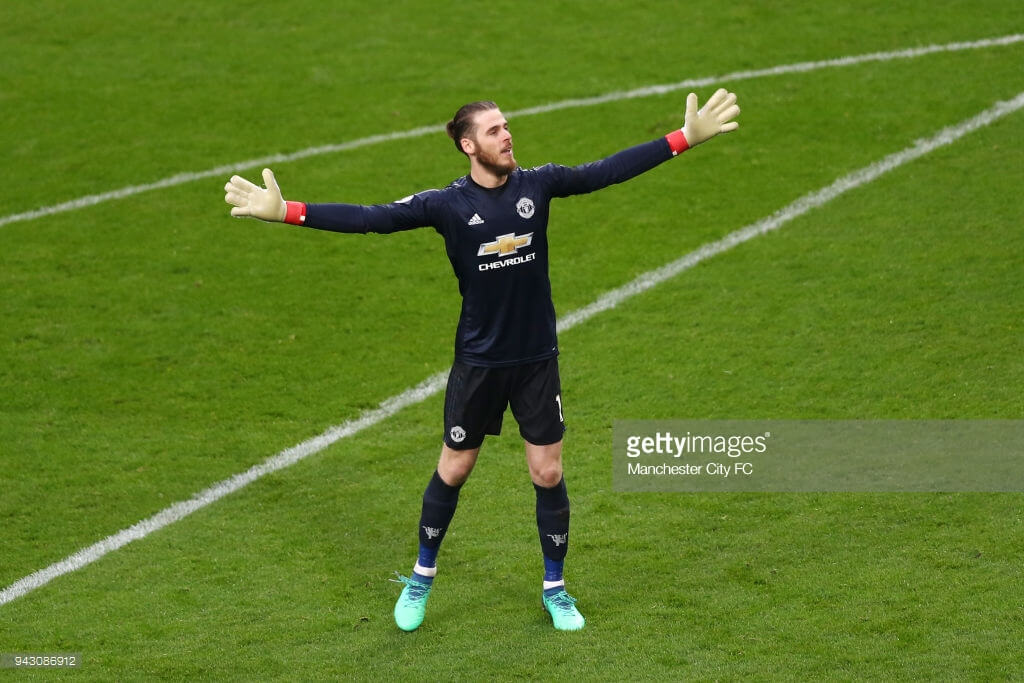 First up is David De Gea. "But, but, he was your first pick last week!", I hear the more eagle-eyed of you say. Well, yes, that is true, however the Spanish goalkeeper makes it into this article as the first pick for a second consecutive gameweek on the back of a performance at the Etihad Stadium that contributed towards the 3-2 result in the Red Devils' favour, not from the goals conceded but the shots stopped. That save to stop Aguero's point blank range shot, for example – classic De Gea. Like many, he was on my bench as I saw more points potential in my other goalkeeper, however I needn't have bothered – there aren't many shot stoppers who come away from Man City's stadium with even two points.
As I said at the start of the article, we need to look ahead and not think about the last gameweek. In the case of De Gea, he's tasked with keeping the ball out of the net against managerless West Brom as they come to Old Trafford, before then going on a trip to the seaside to face Bournemouth. In the case of the Baggies, the odds are stacked in the favour of Man United's defence, with the last two games in Manchester seeing clean sheets. In fact, of the last 10 games there, six have ended up with no goals put past the Red Devils' keeper.
It could be a bit more difficult for De Gea and the defenders in red when it comes to playing the Cherries, however. They may have only met five times in the Premier League, thanks to Eddie Howe's men still being relatively new to the top 20, but the Red Devils have only kept one clean sheet in that time, with Bournemouth on a run of games that has seen 10 scored in the last six. Don't let that put you off the £5.9mln goalkeeper, though – any goals conceded will still have numerous saves to consolidate the points collection.
Next up is Kasper Schmeichel, the £5.1mln Leicester City goalkeeper. He may have conceded two in a game against Newcastle that many thought would be in the Foxes' favour, but the Dane still managed to haul a massive 15 points away at Brighton, thanks to saving Glenn Murray's penalty and keeping a clean sheet. Indeed, it's the second time this season he's prevented a goal when the ball has been placed on the spot in front of him.
The reason the son of Peter makes my suggestions this week is because he is part of a team that is initially off to Turf Moor and then faces Southampton back at the King Power Stadium five days later. In the case of Burnley, the two sides have met five times in the Premier League, of which three have ended up with clean sheets in Leicester's favour. Looking at the record between Kasper's team and hopeless Southampton, again not many fixtures have been played under the guise of the Premier League; however one stat you can take is that three of the seven games have been clean sheets for the East Midlands team.
Whilst Tom Pope is overshadowed by the potential return of Tom Heaton, I still feel the £5.0mln goalkeeper is worth a mention if you already have him in your team. With Leicester and the disorganised Chelsea coming to Turf Moor in the DGW, there is certainly points potential for the shot stopper, as he looks to cement his place in the starting XI. Like De Gea, he may have conceded recently, however the countless saves contribute to a crucial extra FPL point or two.
Defenders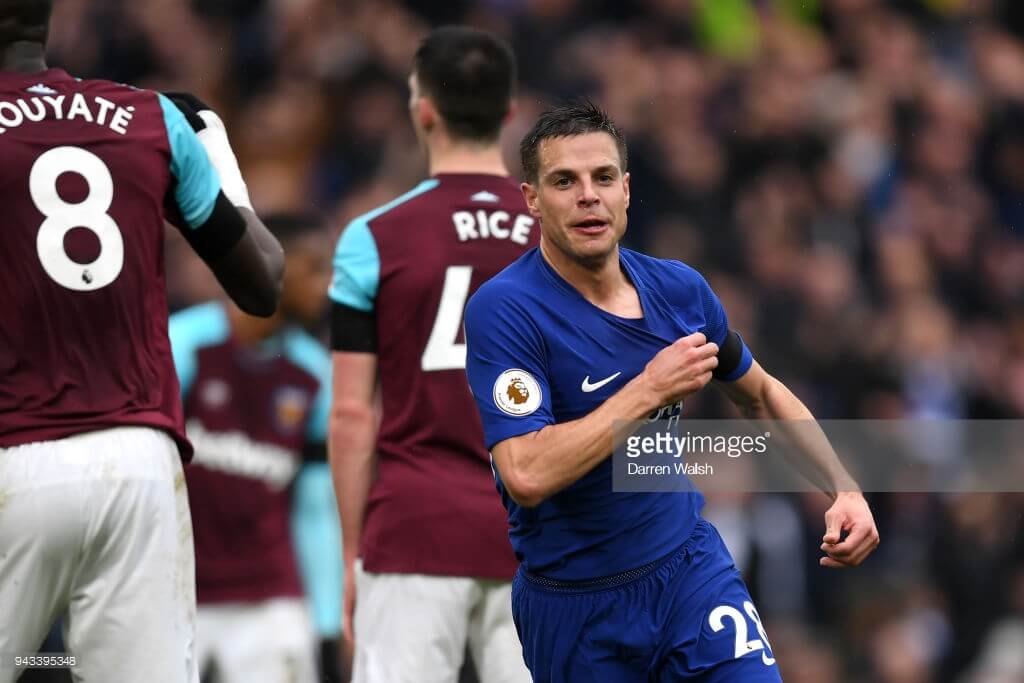 This week marked a return to points scoring for César Azpilicueta, as his goal and three bonus points contributed towards an 11-point haul. Unfortunately for his owners, a clean sheet wasn't meant to be, thanks to Chicharito's late equaliser in the same game. This is a theme that has run for five games now, with the 3-0 win over West Brom being the last time the ball didn't find the back of Chelsea's net. That said, César has enjoyed six assists and two goals over the season so far, which has surpassed the defender's previous best of the 2015/16 season, meaning he presents good value going forward. In fact, only Willian has set up more goals in the Blues squad this campaign.
Whilst he has a premium price tag of £6.9mln, that still hasn't stopped over 12,000 people from bringing the player Chelsea fans call Dave in at the time of writing. It won't be long until his 14th clean sheet of the season comes along – especially when you look at the fact this double-gameweek sees him face Southampton and Burnley. Facing the Saints, Chelsea go into the match with a record of six wins in the last 10 fixtures between the two sides, including the last four times they have met. As for Burnley, The Clarets have scored 10 in the last six and there is a danger they could wipe out a Chelsea clean sheet too, having found the back of the net in five of the seven times the two clubs have met in the Premier League. In that time, however, 15 have been scored in return by the Blues and so Azpilicueta's prowess going forward, as he links up with Morata, could add to that record.
Costing just £0.1mln over Ben Davies, the main difference between the Welshman and Jan Verthongen is that the latter carries with him dependency when it comes to making the starting XI for Spurs, having played more than the crucial 60 minutes in all but two games this season. In fact, you would be right in being confused at why I have included a player who faces Man City this week, as much as he will be playing against Brighton the week after. Well, as likely as it is going to be difficult to face Pep's men as they look to recover from the 3-2 loss against Man United and being knocked out of the Champions League by Liverpool, Verthonghen's season-long stats speak for themselves. He has managed to collect 13 clean sheets over the course of the campaign, only two less than the leader Antonio Valencia and just one short of Kyle Walker and Nicolas Otamendi.
After the storm of the game against the league's eventual winners, the Spurs defence can look forward to the relative calm of Brighton at the Amex Stadium. The Seagulls only scored for the first time in three games when the ball sneaked past Huddersfield's Lossl in the 1-1 draw that saw horrendous mistakes from both sides.
Like last week, I can't resist the urge to recommend the Burnley pairing of James Tarkowski and Matthew Lowton, however their colleague Kevin Long attracts my attention for this article thanks, mainly, to his price of just £4.0mln. Yes, a pound shop defender – something that has been a very rare occurrence this particular season. The reason I feel confident in suggesting the player for just this game-week is because the player he would stand in for, Ben Mee, is likely to miss both the Leicester and Chelsea games with his shin injury.
Making his first start for three games – basically since the last time another of his colleagues was crocked – the defender managed to register an assist against Watford in The Clarets' 2-1 win over the Hornets. Whilst I wouldn't expect much in the way of attacking returns, you could do a lot worse than have him in your team to free up crucial funds for the likes of Kane and co. who cost so much of your available budget.
Talking of injuries, Christian Fuchs is eyeing up a return which could put Ben Chilwell's place in the Leicester squad in jeopardy. For that very reason, my next suggestion is Wes Morgan who costs just as much at £4.4mln. Whilst he may not have as much in the way of attacking returns – OK, he hasn't had anything in that department this season when it's come to the league – you do have a sure-fire starter in him, with the only games missed this campaign as a result of injury.
As previously mentioned, Leicester have games against Burnley and Southampton which carry with them clean sheet potential. The Foxes look to bounce back to winning ways after their defeat against Newcastle last weekend.
Midfielders

My first pick is a player who would have rewarded managers who decided to take a punt on him after his recent performances, though they may have expected a bit more than an assist against a pretty poor Stoke City side. Dele Alli was on my watchlist last gameweek and I wouldn't be surprised to see him capitalise against a suddenly porous Man City defence, along with Brighton's backs who haven't kept a clean sheet since the 0-0 draw against Newcastle all the way back in GW21.
You could argue that Eriksen should be my selection instead, as he managed to bag two goals against the Potters, which nicely followed on from scoring against Chelsea in the 3-1 win. I believe, however, the £0.4m cheaper option of Alli – money that could be used elsewhere in your squad – is a better punt when you look at the form statistics. Over the past four games, a massive 37 points have been amassed by the Spurs number 20, which surpasses any other period of the season for him. With eight goals and 13 assists this campaign, it's been quieter than 2016-17, though, with the form the player is enjoying, he could still beat the record from the year before where he found the back of the net 10 times.
Next in line for your perusal is a return for a previous FPL favourite. A disjointed start at Man United has forced managers to avoid Alexis Sanchez as his points hauls have been few and far between. That was up until Swansea at home the game before last, where the Chilean scored one and set up another, notching up 14 points to his name in the process. The next match, against Man City, saw him register 10 points thanks to two assists and 2 bonus points along the way, as he made the most of the Cityzens' panicked defence by telepathically lining up with Paul Pogba.
This gameweek, owners will have their fingers crossed he can keep up this excellent form as the Man United number seven faces West Brom and Bournemouth. Whilst the Baggies may have been scoring in the past few games, their defence has still managed to be horrendously leaky, having conceded 12 in their last six league fixtures – contributing towards the 52 that have been put past poor Ben Foster since day one of this campaign. In fact, the last time West Brom kept a clean sheet was back in GW23 when they beat Brighton 2-0. If you also look at the fact the Red Devils have scored 11 goals against the very same team in the last eight meetings, there's a good chance the Old Trafford faithful will be celebrating, with Sanchez at the heart of it.
Next in line is a player who, admittedly, only has one game this gameweek – but I just can't look past Mo Salah. A whopping 291,000 FPL managers booted the Egyptian out of their team before the Merseyside derby and a further 66,000 have followed suit at the time of writing before the Bournemouth match as well. I wonder how many of those have suddenly wondered if they made the right decision as he scored against Man City in the 2-1 win at the Etihad on Tuesday night, as much as the Champions League semi-finals could mean further rotation? With the value tied up in Salah, along with knowing the fixture this weekend, I decided to keep the faith and so, fingers crossed, that will be rewarded!
Bournemouth have now gone eight games without any clean sheet and, with a potentially full Liverpool squad facing them this weekend, there aren't many hopes this fixture will break that duct. In fact, of the five times the two sides have met since The Cherries were first promoted to the Premier League, the Merseyside team has put 12 past them in total. Salah may have played the south coast team only once, but he has already got one of those 12 and this game is just asking for more from the Egyptian as he chases down the Golden Boot award.
You may remember in last week's article that I presented the cases for both Pascal Groß and Jesse Lingard. Well, both players may have scored just two points last gameweek, however it's fair to say Man United and Brighton as teams had a difference in fortunes, which would put Lingard in favour. In fact, 15,000 more people have decided to go for the Red Devils midfielder in comparison to the Seagulls number 13.
As previously mentioned, United have better fixtures as they face West Brom and Bournemouth, whilst Brighton face Crystal Palace and then Spurs. If you have a worry on Lingard's game time, he's played more than the crucial 60 minutes in all but two games since GW21 and so, hopefully, should be dependable for DGW34.
The strikers section is, admittedly, rather predictable – and so I'll begin that theme now with two more expected additions for the midfield section. Willian and Riyad Mahrez, brought in by 30,500 and 16,500 FPL managers respectively at the time of writing, may have blanked in the last two game-weeks, however don't let that put you off their potential when it comes to this set of fixtures.
Looking at their historical stats, Willian's Chelsea have scored nine goals in the last four meetings against Southampton, whilst 15 have been put past Burnley in the last seven. Mahrez, meanwhile, likes to play against the Saints, having scored three and assisted one against them in five appearances. In fact, he was one of the goalscorers the last time the sides met as the Foxes came away from St Mary's 4-1 victors earlier this season.
Forwards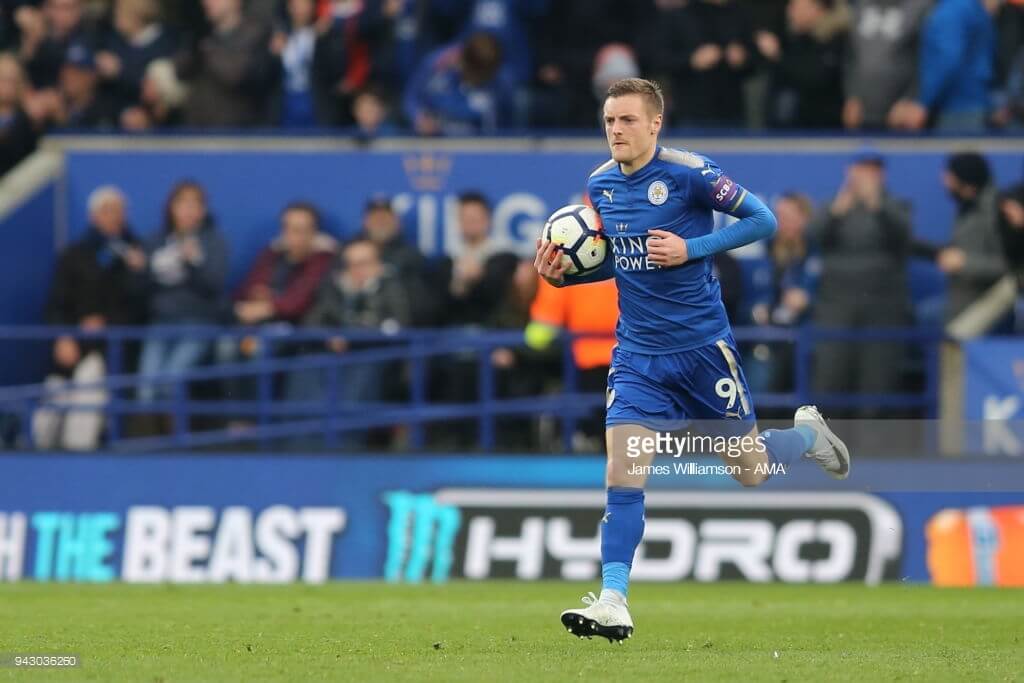 Just to keep you on your toes, I'll veer away from the obvious picks when it comes to the first striker selection and tip Jamie Vardy. Not that there's anything wrong with him, of course! The Leicester number nine is in full Vardy Party mode as he's now found the back of the net three times in as many games and so there's little surprise he's the most transferred-in forward behind Harry Kane. That's now 16 all season, with two assists thrown in for good measure.
Playing away at Burnley and then at home against Southampton, there's no reason why the celebrations can't continue, especially when you look at the fact Leicester have beaten the Clarets three times in the last five meetings, with nine goals netted by the Foxes in the process. As for the Saints, it's a slightly more mixed affair as there have been three wins out of seven for Jamie's team with nine scored in the same period. That said, Southampton are unfortunately a rather different prospect this season when compared with previous campaigns and have conceded 10 in the last five league fixtures, so Vardy and Mahrez – or Vahrez for short – could do well.
Unable to keep it in any longer, I now present to you another Man United player in the form of Romelu Lukaku. Now owned by almost 30% of FPL managers again, having been sold in droves from GWs20-28, the player has enjoyed great form since with three goals and two assists in five games. Only the Man City game saw him draw a blank, but it's quite a trademark the player fails to score against the top teams. Thankfully, West Brom and Bournemouth are up next for the Belgian striker, which should allow him to get back on track. In the case of the latter team, let us not forget the fact the Cherries were at the end of four of his goals in one single match, back when he played for Everton.
OK, here's another player who comes in with no surprise: Harry Kane. Now costing £12.9mln thanks to a largely unexpected price rise on Monday night, the striker is still campaigning for his shoulder goal against Stoke to contribute towards the season total and, ultimately, Golden Boot award. Whether he did or didn't score that goal, the points now stand and so the 300,000 FPL managers who brought him in in anticipation of a haul against the Potters were very disappointed.
Now he has had his one game of doing nothing – officially – like after his last return from injury, we look forward to the England striker picking up where he left off before the Bournemouth match. Here's to him rewarding his FPL managers scoring against Man City's poor defence before then punishing the Brighton squad for being so bad at the back. Don't expect his goal tally to remain at 24 for too much longer.
Finally, if you're running on a 3-5-2 formation and are looking for a cheap striker to make up a bench boost position this gameweek, look no further than Burnley's Ashley Barnes, who is just £5.4mln. Whilst Watford managed to keep him quiet, you can't look past the four goals in as many matches on the run up to the Vicarage Road trip which have contributed to the most lucrative season at Burnley for the lad from Bath.
This week, Leicester and Chelsea pay visits to Turf Moor. These are two teams who have been familiar with picking up the ball from the back of their net recently and I'm sure Barnes will look forward to the prospect of making either team do just that when he plays them.
Thanks for reading Fantasy Football Tips DGW34
This article was written by The Swirly
The League Codes for FF247 for the 2017/18 season are as follows:
Gameweek Tracker GW34-38