Fantasy Football Tips Gameweek 14
Welcome to Fantasy Football Tips Gameweek 14
Whether you're superstitious or not, the number 13 when it came to fantasy football was unlucky for a good number of people. As the gameweek with the same number, the alleged curse struck those who had kept faith in Mason Mount as he started the match at the Etihad on the bench, whilst Raheem Sterling continued to do nothing but a wrongly disallowed goal at the end – he did actually play in that match, you know – and Pierre-Emerick Aubameyang, in a 'sure fire' of a game against Southampton, also only raised an assist. Those who captained Vardy, however, thinking he was going to follow on from what he did against Arsenal, would be entitled to wonder what the fuss of such a 'hex' was all about, however, whilst those who thought they'd take a chance on Heung-Min Son were also handsomely rewarded.
Perhaps, you know, that's just the nature of FPL and that could be pretty much any week. As much as it's a game of skill with the inclusion of the right players and, in the case of the price changes, the right timing, there's sometimes no accounting for what can happen on the pitch in those 90 minutes. Especially this season, where VAR still can't be used correctly in a depressing amount of occasions a third of the way in.
If you are, again, looking at your team in horror, I'll just reiterate what Kop said last week in that the barrage of gameweeks between now and the start of 2020 mean that you can transform your fortunes within a short amount of time. Transform to what remains to be seen, however this article will hopefully point you in the right direction! I'll just say to not forget there's a midweek deadline next week and that the large amount of games usually means the festive period sees a lot of rotation within Premier League squads. It's good to have players on your bench that will actually play, should their services be called upon.
Goalkeepers
My first recommendation for goalkeepers is the Fantasy Football 24/7 favourite,
Nick Pope
. Having kept a clean sheet and collected two bonus points for two games in a row, the England player is now joint-second with Bournemouth's Aaron Ramsdale when it comes to points, as Kasper Schmeichel and Mathew Ryan both sit pretty at the top with four more. As many have opted for him to be their only playing 'keeper, that means he has amassed 54 of your total points total so far, certainly not bad when you consider the fact you don't expect much from the guy who stands between the sticks.
Following on from the 18 points collected against West Ham and Watford, the fella who will now set you back £4.7m can look forward to playing against Crystal Palace, a team that has scored as many as Newcastle with 11 – only Watford have scored fewer. That's 0.85 per match and so it's clear to see where the Eagles' problems lie. Things do get quite a bit tougher for Burnley over the next two matches, as Man City then visit Turf Moor on Tuesday night and it's a trip to a potentially revitalised Spurs shortly afterwards. Still, there are always those save points you can rely on him, as Aston Villa, Chelsea and Leicester are the only sides that have left him with just one point so far this season.
If you've got a bit more cash to spare and you don't already have three Leicester players, you may like to consider the Foxes' Kasper Schmeichel, costing £5.2m. Whilst his 33 saves would put him 13th in the table when compared to his fellow gloved-players, the Dane has proved to be one of the main assets in Brendan Rodgers' team as he has kept six clean sheets. That's the highest in the league at the moment – which has, of course, been very handy for owners of Soyuncu, Pereira and Chilwell – and nicely coincides with the fact he has conceded the fewest number of goals of any 'keeper who has played all 1,170 minutes. It's not exactly a shock the guy, who was the target of Palace fans' paper aeroplanes early in the month, is now able to boast having the highest number of FPL points in that position.
You now have to look back to the match against Burnley in Gameweek 9 for the last time Peter's son had to pick the ball up from the back of his own net and the games between now and Gameweek 18 show there is a real chance for that excellent form to continue. First up will be Everton at home and with a record of only 13 scored so far this campaign, a Leicester clean sheet and the vultures sitting in the trees next to Marco Silva look more and more likely. Fast forward just three days and it's then the turn of Watford to pay a visit to the King Power Stadium, a squad languishing at the bottom of the table, both when it comes to the league and the amount of goals. Eight scored in 13 is relegation fodder. As if those two games weren't enough, there are then games against Aston Villa and Norwich before tougher fixtures against Man City and Liverpool that will really test their credentials.
My final pick is more of a punt as Alex McCarthy has only played three games for Southampton so far this season, which happen to be the last trio of fixtures where he has collected just five points in total. However, in his defence, two of those were against Man City and Arsenal and he now has five games ahead of him which could be pivotal to the Saints calling themselves a Premier League club next August.
Costing just £4.3m, he seems to be favoured over counterpart Angus Gunn and will theoretically face the aforementioned Watford this week, a team that, along with their current dire state of affairs, hasn't beaten the Saints in the last four meetings across all competitions. Norwich then make the journey to St Mary's for the Wednesday night tie who, funnily enough, have scored the same amount of goals as their hosts at the time of writing, as an assist in the last game is all that remains of the Pukki Party we all invited ourselves to at the start of the season. After that, ties against Newcastle, West Ham and Aston Villa then await. Perhaps, with Pope having those two tough games, this guy with his cheap pricetag could be your second-choice instead of the likes of the non-playing David Button, if you have a transfer that needs to be used up and £0.3m going spare?
Defenders
Liverpool have not had the best defensive record so far this season, quite the contrast to the last campaign when they kept 21 clean sheets. In 13 games, there have been two such occasions from the 3-0 and 1-0 wins against Burnley and Sheffield United, so the premium pricetags of those players do not seem such great value at the moment. Frustratingly, it's been consolation or error-based goals that have been conceded, which have led FPL managers to receive the confirmation of what they had been expecting for the entirety of the match beforehand. Such inevitability has now made us all question: would we have taken on these players, had we known there'd be so few clean sheets this season? On the plus side, however, the next four games bring with them both clean sheet and goal scoring potential for the Merseysiders and so I still feel happy to recommend a player who is more than capable either end of the pitch.
Andy Robertson is the second-most transferred-in player so far this gameweek, as he is beating his £0.2m-more-expensive colleague Trent Alexander-Arnold in their assists competition. Crucially for us, there is also a nine-point gap between the two players in the FPL stakes, with Virgil Van Dijk now 21 points behind. The last five fixtures have been at the centre of the left back's points haul, as he set up three and scored one himself, netting 30 points in the process.
The 30,000 people who, at the time of writing, have put their faith in him and pressed the 'buy' button this week are no doubt buoyed by the fact Brighton are coming to Anfield. That's a side that has lost all seven of its last encounters with the Reds, having failed to find the back of the net in the most recent trio of fixtures. Indeed, it's a side that Robertson likes to play against, as he has featured in all three of those games and also scored and set up another in the Seagulls' 4-0 drubbing in the last game of the 17/18 campaign. Before you know it, the midweek Gameweek 15 fixture will come, which just happens to be a Merseyside derby against Everton, whilst Bournemouth away and a visit from Watford both carry with them great potential as they are two sides that Liverpool love to score a good few against. The Scot could well be in and among the points for all of those ties, however it is worth noting he does not have a game in Gameweek 18, as the meeting at the London Stadium against West Ham will need to be rescheduled.
Following my recommendation of Kasper Schmeichel, it may come of no surprise that my next recommendation is from the same team. This one, however, bears a slight resemblance to Lord Farquaad from Shrek. Caglar Soyuncu has proven to be a shrewd signing from SC Freiburg, as Harry Maguire's move in the opposite direction hasn't quite had the same effect yet. Whilst his FPL scores were quite average from Gameweeks 1 to 9, the Turkish international has earned himself 34 points in the last four matches, with the goal in the 2-0 victory at Crystal Palace the icing on the cake. That has led to him leading the way in the defensive form stakes – with an impressive 9.3 – and the guy is fourth when it comes to clearances with 74. It's no shock that his price has risen from the £4.5m it was at the start of the season to the £5.0m it is now and, should the Foxes continue to keep up their excellent form, it will only go higher.
Now in 15.8 per cent of teams, no doubt because he is cheaper than his defensive counterparts of Jonny Evans at £5.1m and, most significantly, the £5.8m Ben Chilwell and Ricardo Pereira at £6.4m, the number four faces the Toffees this weekend. That's a team which doesn't have the greatest threat on goal as three in the last three accurately reflects their 13 in 13 over the course of the season. As you'll have read from Kasper Schmeichel's appraisal, Watford, Aston Villa and Norwich then make up the next trio of games, three of the current bottom six sides.
Another player who follows on well from another goalkeeper suggestion is Burnley's Charlie Taylor. Sean Dyche no doubt gave his side a rollicking at half time in their 3-0 defeat against Sheffield United and this fella came on to shore things up in the remainder of that tie. Since then, the Lancashire side has kept two clean sheets making a season-total of five – the second highest in the league, now in company with Man City and Sheffield United – and this guy presents great value at just £4.2m. Though he costs £0.8m more at the time of writing, it's also worth mentioning James Tarkowski as the number five picked up an outstanding 17 points in the 3-0 dismantling of Watford, which also followed on from the 12 collected in the same result against West Ham before the international break. Along with the all-important 'zero' in the scoreline of the opponents, these tallies were also created from two assists and a goal which is about half way to what he managed in the whole of the last season.
The Burnley duo's fixtures this week and then in Gameweeks 17 to 19 are rosy, however there is a small matter of facing Man City and Spurs in-between – two teams that will definitely be looking up the league to reach their target set at the start of the campaign. Don't let that put you off, however, especially if you can rotate your defensive line up, as the visit of Crystal Palace could make it a hat trick of clean sheets and the ties against Newcastle, Bournemouth and Everton around the same time as we hear jingle bells and tidings of joy also bring great potential.
I'll finish this section by just adding a note about John Lundstram, on the presumption that you own him. There's a good chance you do, as his ownership is now at 43.5 per cent – a figure that has consistently increased week-on-week and is only surpassed by Tammy Abraham, who is picked by almost 51 per cent of FPL managers. In the case of the Sheffield United player, he now has more FPL points than Mo Salah, Sergio Aguero and Raheem Sterling!
With a lot of the most popular backs theoretically having favourable fixtures this gameweek as Liverpool face Brighton, Leicester welcome Everton and Chelsea take on West Ham, it may be the case that you need to place the Blades' number seven on your bench if you play a 3-4-3 or 3-5-2 formation. Well, try not to worry too much about doing that, even with the assist that he managed to pick up against Man United and that 21-point haul against Burnley still fresh in the memory. Though Sheffield United have proved many doubters wrong this season, as they currently lie sixth in the table, Chris Wilder's men do not have the best record against their opponent this weekend, Wolves. Of the past seven meetings between the two sides, they have won just one and you have to look back further to 2002 for the last time the northerners made the journey to the Midlands and came away with a win. In addition, Nuno Espírito Santo's squad have found some great form, as 14 September was the last occasion they lost in the league. Rest assured that a look at Lundstram's fixtures afterwards, between Gameweeks 15 and 19, will make you want him back in your starting XI.
Midfielders
Forgive me for starting this section with a Christmas number, but for
Heung Min-Son
, it's the most wonderful time of the year. Year on year, he always seems to pick up in form around the tail end of November and on the run up to Christmas. Last year, he scored one in Gameweek 13 and then proceeded to find the back of the net a whopping seven times in all competitions to see out the rest of the calendar year. Of those, six were in the Premier League, which accounted for half of his entire season. Rewind further to Christmas 2017 and it was four over the same period, which was still an impressive third of that campaign's total.
Going into Gameweek 14, the South Korean has scored four and set up six so far this season, of which he has beaten the goalkeeper in each of the last two games and assisted in three of the most recent four. If you had gone the opposite direction to the hoards of FPL managers who sold him in Gameweek 10, he would have brought you 28 points in that timeframe. Perhaps it's not always best to follow the trends, which is, perhaps, an ironic thing to say as the number seven is the most-bought midfielder this gameweek – and by a country mile at that. At half time of the Spurs v Olympiacos match, 185,000 people – equivalent to the population of Swindon – had already seen it fit to include him in their team.
Looking ahead to this weekend, Son faces Bournemouth in what will be Jose Mourinho's first home tie in the league. I can't speak for the Portuguese manager's record against Eddie Howe's men; however the South Korean's is rather impressive, as he has scored five goals in six games against them, of which three of those have been at home. His five games against Man United admittedly haven't produced anything; however Sheffield United showed that the Red Devils aren't exactly the strongest at the back – especially if Phil Jones plays. Things are better against the opposition in Gameweek 16 as the 27-year-old has registered three assists in as many fixtures against Burnley.
Whilst Son is leading the way on midfielder acquisitions, James Maddison is still proving to be popular as 63,000 people have brought him in – or, following on the UK town theme, the population of Kettering. In the case of the Leicester player, his popularity has existed for a longer period of time as you have to look back to Gameweek 8 for the last time more people sold him than brought him in. Those five rounds since then have seen the £7.5m player score twice and set up another, which accounts for roughly half of his season total already. Indeed, the 65 points he has to his name so far make him the highest-scoring Foxes midfielder, sitting an impressive fifth place when compared to Premier League players of the same position.
Leicester have been enjoying a nice run of fixtures for a while now, as Arsenal were also easily dispatched in Gameweek 12 – thanks, in part, to a Maddison goal. As already mentioned, that run continues as Everton are next in line to try and keep the number 10 under control. He didn't manage to do anything in the one time he has played the Toffees, where his team lost 2-1, however you'd be forgiven for predicting that both of those things could be very different this weekend as form and circumstances are poles apart. The next opponent a few days later, Watford, is a team the 23-year-old from Coventry has already scored against, which could also be a good omen.
Though I have made the case for two of the most brought-in midfielders, I feel the need to also briefly mention the player most people are waving goodbye to – Raheem Sterling. The thorn in many an FPL manager's side in the last three gameweeks, you can understand the decision for giving up as that £12m has been swallowed up in a single player who has scored just one goal and an assist in six matches. Of course, you could argue that, had the player – who is opening talks with his club over a new contract at the moment – had the goal allowed by VAR at the end of the Chelsea match, as it should have been, the number of sales could be much lower than the Black Friday levels they are at the moment.
I'll be the first to say that I have already sold him, making a very rare early transfer – something I usually don't do and actually wouldn't recommend – as the price changes and resultant affordability made it a necessary evil. You may also remember my last tips article which said to sell him, which turned out to be just before he only scored one point against Southampton at home. However, one thing to take into account, if you are also considering getting rid of him, is that Sergio Aguero's injury and Gabriel Jesus theoretically starting presents an interesting fact. Of the four most recent games the 24-year-old has started with the Brazilian and not the Argentinian, he has averaged 10.8 points per match and scored five of his seven goals. That's in stark comparison to only 3.3 points per match in the time he has started alongside Sergio. Of course, that statistic doesn't take into account the opposition, or other factors, but it's worth noting.
Looking elsewhere within the Man City squad, Kevin de Bruyne once again showed his worth as he scored his third goal of the season in the 2-1 victory over Chelsea. Looking ahead to the trip to Newcastle, the Belgian has registered four assists and beaten the goalkeeper once in the five games he has played against them, whilst Burnley, the next opponent, also don't like playing against him. In four meetings, they have let in one of his goals and allowed him to set up two others.
Another player that FPL managers are, understandably, releasing from their side – and collecting the cash they have accrued in the process – is Mason Mount. Ahead of West Ham, Aston Villa, Everton and Bournemouth, who have conceded 23, 20, 20 and 17 goals respectively, I would suggest just giving the young lad a bit more time as much as he has just one assist in the last five games. If, by any chance, you are on a wildcard and have £0.8m going free, then perhaps instead take a look at Christian Pulisic for your Chelsea midfield coverage. Having scored 13 points in the first four gameweeks, he then failed to start a game again until that fixture away at Turf Moor where the American certainly came back with a bang. A hat trick and all three bonus points led to 20 points and an influx of purchases, as managers were then rewarded with a further 17 points over the next two matches. That puts him fifth in the midfielder form stakes and those favourable Chelsea fixtures coming up could also prove to be lucrative.
Another element of my previous tips article was where I said it wouldn't be long until Sadio Mane gets to the same price as his teammate Mo Salah. Well, that has now already happened as they each cost £12.2m and it appears the Senegalese's value is continuing to grow, whilst the Egyptian's sinks thanks to all the people selling him. Whilst Mane would be my preference out of the two at the moment, enjoying form of 8.2 compared to Salah's 4.2, it is actually Mo who has a better record against Brighton, having scored thrice and set up two in four against them. Sadio, on the other hand, hasn't yet got anything in three games against the Seagulls. As for Everton, the Gameweek 15 opposition, it's one goal in three for the one with the beard and two in six – when playing for Liverpool – for the one with the questionable hair line. Interesting. Just a reminder, too, that they don't have a fixture in Gameweek 18.
Forwards
To quote a certain Marshall Mathers, "Guess who's back? Back again?". Well, it's
Raul Jimenez
, that's who. Back in terms of getting into fantasy football managers' good books, anyway. One of the most owned forwards at the start of the season, his popularity then massively waned as he blanked in five of the first seven gameweeks. The following six matches then proved to be highly beneficial for those who kept hold of him or, even more impressively, brought in the Mexican at just the right time. Over that period, he has notched up 44 points thanks to two assists and finding the back of the net four times, with the highlight being the duo of set-ups in the 2-0 victory at the Etihad. Ahead of the game against Sheffiled United, the guy – who scored what happened to be the decisive goal at the Vitality Stadium last weekend – now has eight in eight for club and country. In fact, in the 47 fixtures across all competitions since the start of 2019, he has slotted it away 25 times and set up six others.
Back in my Lundstram appraisal, I mentioned Wolves have a good record against the Blades. That's a team who managed to concede three Man United goals, resultantly moving down to a still very respectable third when it comes to the least goals scored. Another home game is then on the cards, as West Ham make the visit to the Molineux, a side that Jimenez has scored against twice in as many meetings.
The next suggestion is another return for one of the favourites of last season, as Harry Kane appears to have hit some form. Sure, he seemed to look to Pochettino as a fatherly figure, however the new Dad, the Special One – sorry, you just knew that was going to be included somewhere – has brought out the best in him from the offset. Having scored one in the 3-2 victory at the London Stadium, the guy who has, so far, been brought in by 81,000 FPL managers this week then contributed a further two in the 4-2 win over Olympiacos.
As you have already read, Harry's teammate Son has a great record against Bournemouth. It turns out that the Spurs number 10 joins the number seven on that front, having scored seven and set up another for good measure in the six times he has faced the Cherries. Gameweek 15 opponents Man United, meanwhile, have a better record against the 26-year-old, as they have only conceded two in 10. Should he blank in that, however, there's then the potential for more points versus Burnley, on the back of six goals in the last eight meetings.
Here we are then, the last suggestion of this article. Well done, hold firm – you've already read over 4,000 words. Of course, as a finale, I couldn't resist mentioning Jamie Vardy and, if you don't have him already, you really should make it your priority before you lose any more ground to your league rivals. It's no great shock that he has the best form at the moment with 10, having scored a ridiculous 58 points from the last five games. Broken down, that's a goal in the 2-1 win against Burnley, a hat trick in that 9-0 thrashing of Southampton and then a further three in following trio of fixtures against Crystal Palace, Arsenal and Brighton. By now you will already be well-versed in the future Leicester games, thanks to my appraisals of Kasper Schmeichel, Caglar Soyuncu and James Maddison and so I'll just say buy, keep and/or captain. Done.
Thanks for reading Fantasy Football Tips Gameweek 14. This article was written by Swirly.
FPL FIXTURE TRACKER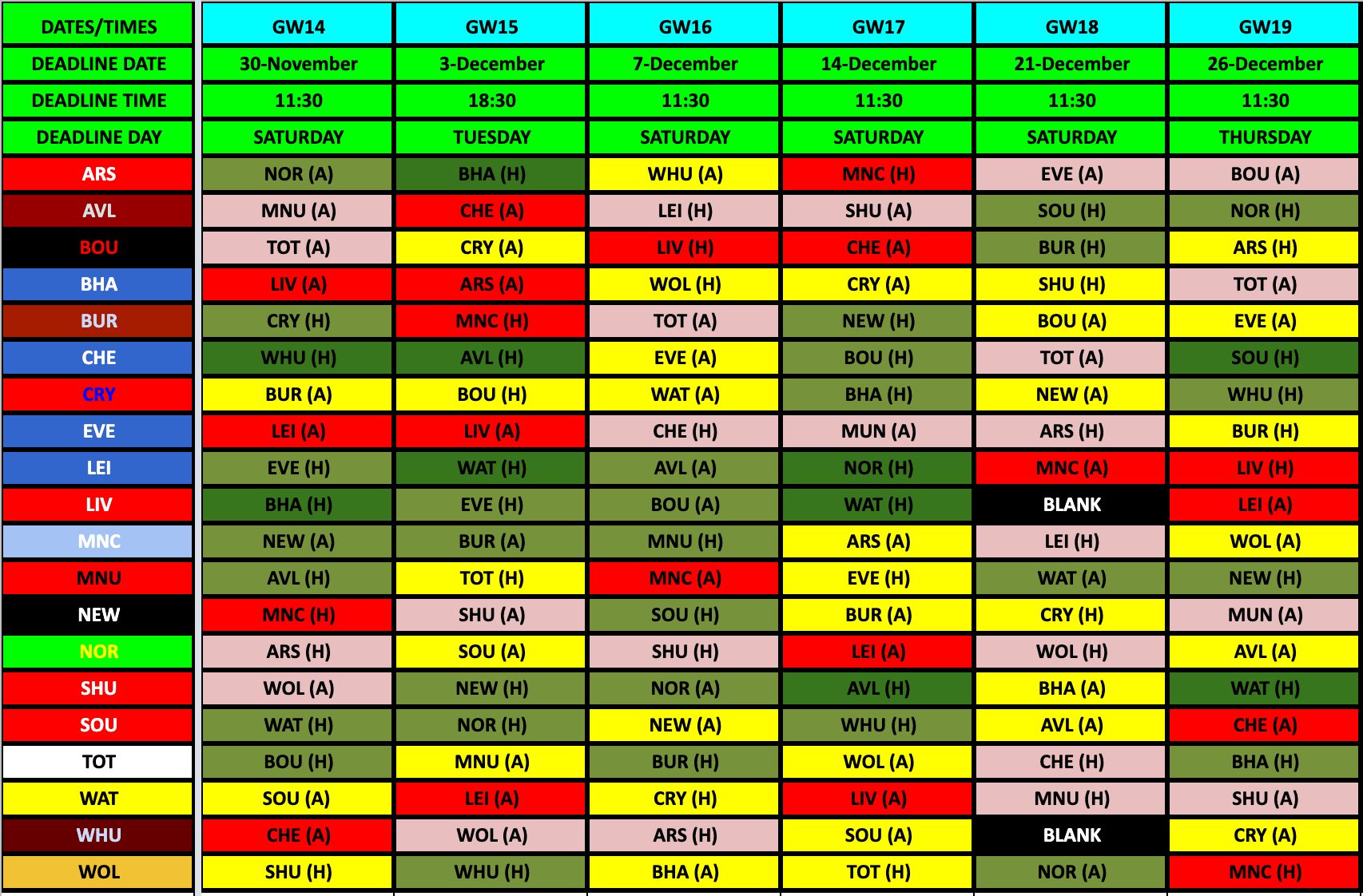 FIXTURE TRACKER LINK
Fantasy Football 247 League Codes: