Fantasy Football Tips Gameweek 28
Welcome to Fantasy Football Tips Gameweek 28. The god-awful Winter break is thankfully a distant memory, just as well, as we're officially heading into silly season (proper) as the first of the end of season blanks and doubles begin this very game-week. Hopefully, everyone who spends any time here has been well aware for some weeks now, you've planned it all out, you can still get a full 11 out without hits and all is calm. If not, spend a few minutes panicking, take a few hits and make a note to not make the same mistake again next season (this is more a note to self).
I'll be completely ignoring Liverpool in this article, by now you either have your 3 Liverpool players or you're a glutton for punishment. I'll not be totally ignoring the blanking teams as I feel that my tips are not focused entirely on GW28 and neither should your transfers be.
Goalkeepers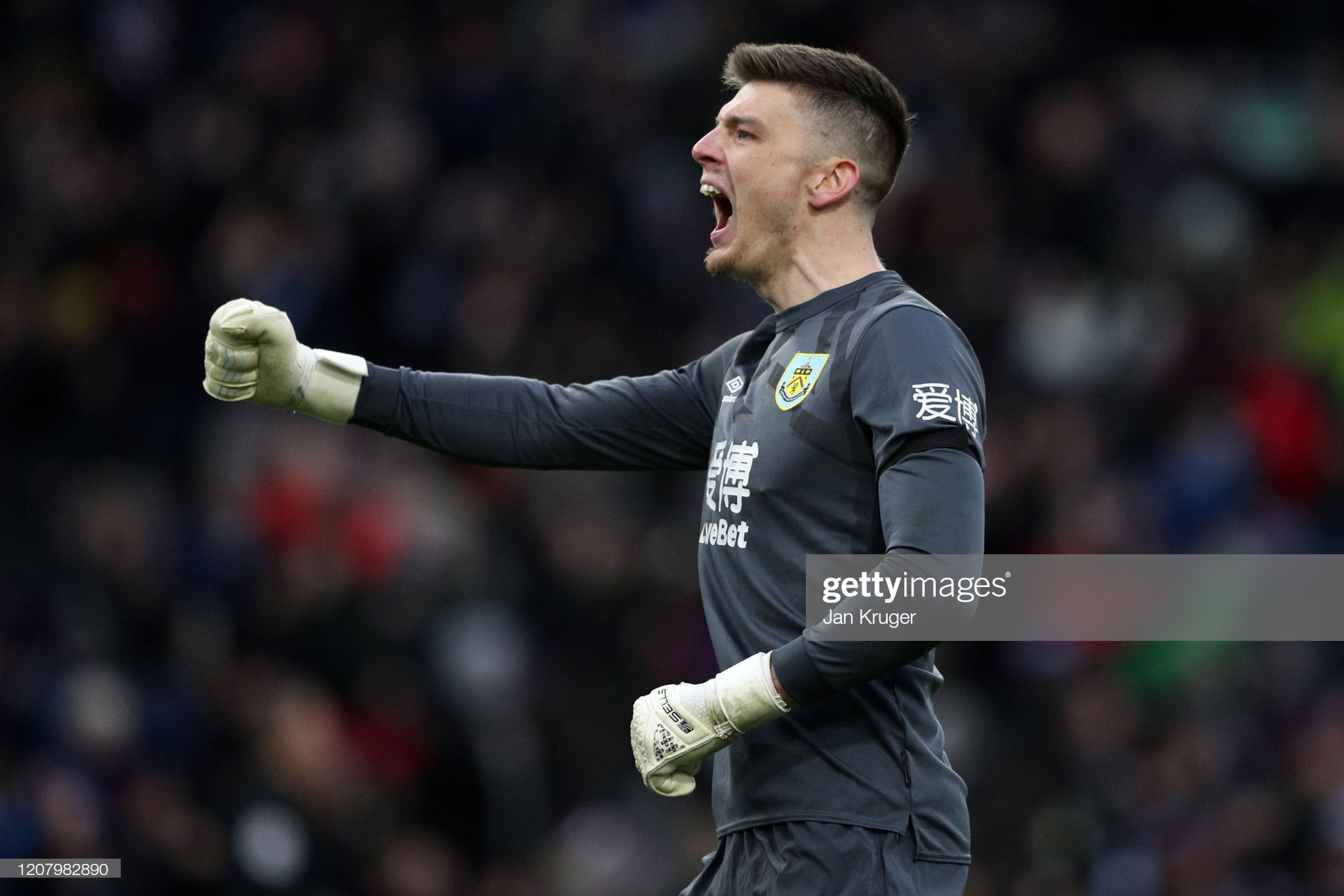 My number one tip for goalkeepers is that unless you're on a wildcard, don't change your keeper. It feels a bit like the old yellow snow joke, but time and time again it has proved sage advice. However, for the sake of this article, as Kop did last week, I'll throw a few names your way.
Nick Pope (£4.7m) was sold in droves back in GW22 following a series of disappointing performances and seemingly difficult fixtures on the horizon. He, of course, goes on to pick up 39pts in his next 5 and now sits top of the GK pile on 116pts. Obviously. Kop tipped Alex McCarthy (£4.4m) last week, he picked up a clean sheet at the weekend and with favourable fixtures he's a solid choice at a bargain-basement price, he'll likely have a DGW at some point too.
If you can stretch your budget a little further, then both Martin Dubravka and Rui Patricio (both £5.1m) have strong fixtures although I'd probably swerve the former for the sake of your sanity. My final pick is a little pricier, but Kasper Schmeichel (£5.3m) heads into GW28 on the back of a 12 pointer at home to City courtesy of that penalty save against Sergio Aguero and it's a sea of green in the run towards the DGW's.
Defenders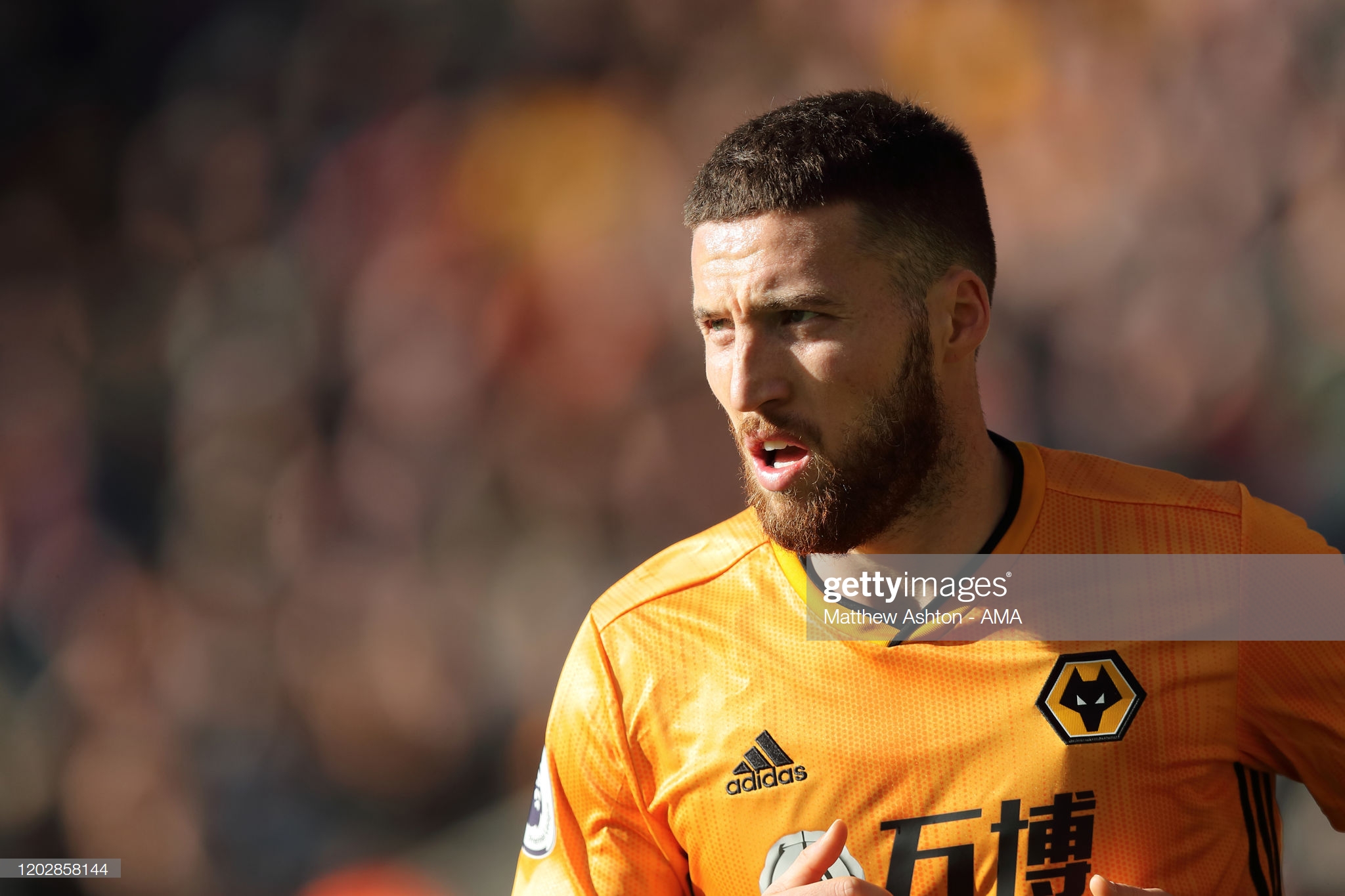 With a guaranteed fixture in BGW31 and favourable fixtures in the surrounding weeks, the Wolves backline is a safe pick. Kop flagged them last week and I don't disagree with his assessment. If you haven't read it then click here and for the lazy amongst you, in essence, get Matt Doherty (£6.1m) if you're Rockerfella and Wily Boly (£4.7m) if you're not.
If you've held onto your Leicester defenders as I have, you'll be relieved to see they have a run of fixtures that could see them add to the meagre 2 clean sheets they've managed in their last 12. Indeed, you would have to go all the way back to GW13 for the last time they managed successive shut-outs. However, fixtures against 3 of the bottom four (Norwich, Villa, Watford) and Brighton in their next four fixtures mean that if you have moved away, it could be time to head on back to Brendan's boys. It's testament to their early season form that in the top-scoring 11 defenders on the season, the Foxes back-four all feature. As ever it comes down to money, if you have it, get Ricardo Pereira (£6.3m) he provides a greater chance of adding goals (3) and assists (2) to his CS's and no defender can top his 8 goal attempts in the last 4. If you're cash poor then look to centre backs Jonny Evans (£5.2m) and Çağlar Söyüncü (£5.0m), both trail team-mate Pereira by 14 and 20pts respectively, but offer good value none the less.
They don't have a fixture in GW28 but if like me you don't have one yet, then it's still worth investing in Sheffield's defence. Enda Stevens (£5.1m) took the plaudits with his second goal of the season in GW27, and although I'm beginning to sound like a broken record if you have the money that's where I'd spend it. However, team-mate John Egan (£4.6m) is worth a look having had 6 goal attempts in his last 4, second only to the aforementioned Pereira.
With just 5 clean sheets this season, my last tip comes with a note of caution. However, given their fixture run, it would be remiss of me not to mention Chelsea. Other than GW31 (when a lot of us will play our FH) and DGW37 (where a lot of us will have just played our WC), they have a fixture run that should not be ignored. The biggest issue is which of their back-line to go for. César Azpilicueta (£5.8m) is your safest bet having featured in all but 2 of their 27 fixtures thus far, Antonio Rüdiger (£6.0m) seems to have secured his spot in Frank's starting 11, and whilst he is partial to a goal or two (perfectly illustrated in GW25) he sometimes forgets which end he should be sticking them in (perfectly illustrated in GW27). If those prices are a little steep then Andreas Christensen (£4.9m) could be something of a bargain if he can continue to retain his place, and for just £0.1m more, Reece James (£5.0m) offers a slightly more offensive option but carries the same rotation risk as his team-mate.
Speaking of Chelsea, former FPL royalty Marcos Alonso (£6.0m) was back doing what he did best in seasons past at the weekend, as was a man who always seems to end the season well; a goal, clean sheet and maximum bonus give Patrick Van Aanholt (£5.5m) his annual 15-pointer. My tip? Don't be fooled, you're more likely to see another errant ball boy (or girl) on the pitch sooner than Alonso's next outing, and Van Aanholt won't be playing Newcastle every week.
Midfielders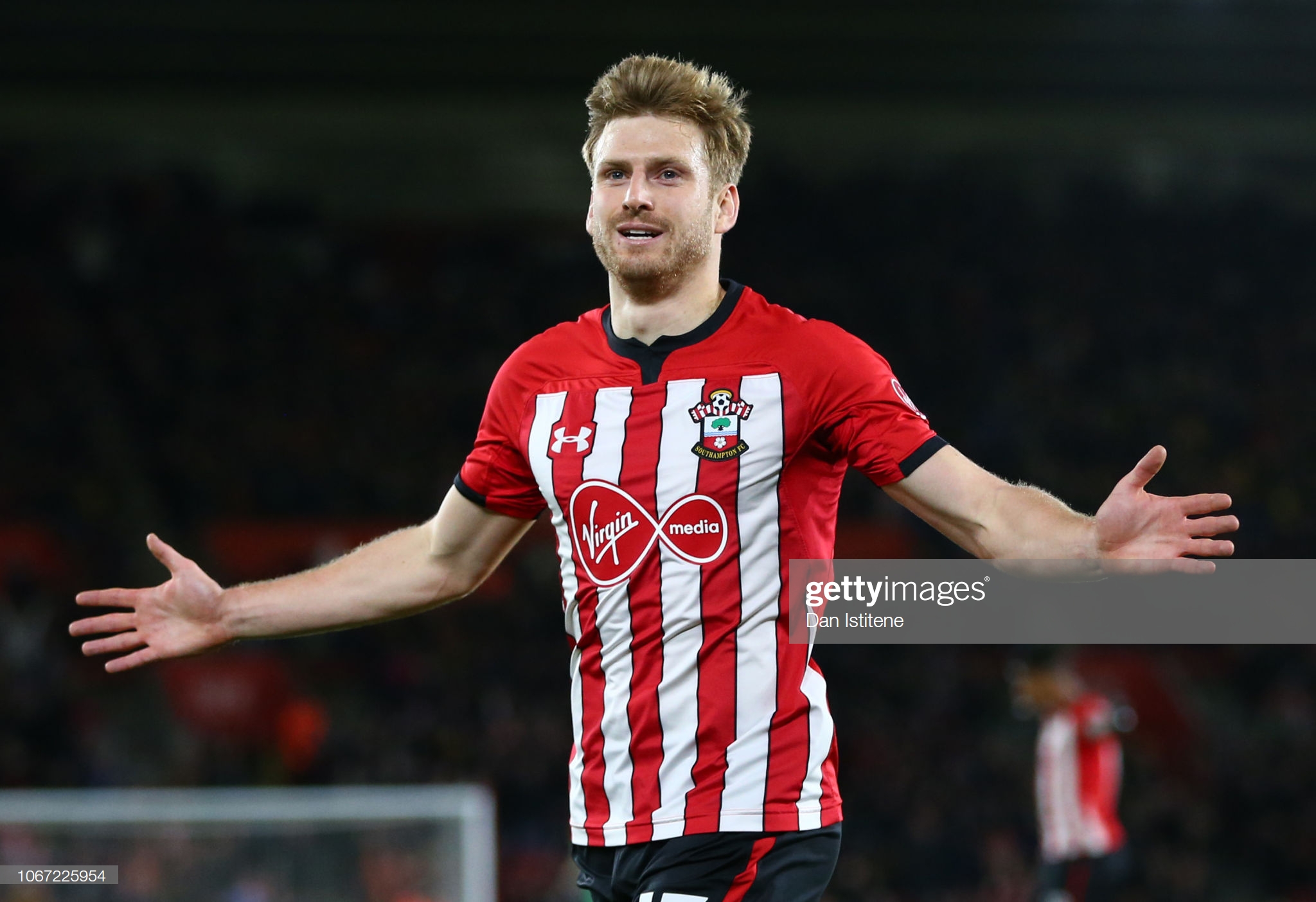 The fourth and fifth midfield spots are arguably the trickiest to nail, but also the most fun and rewarding if you hop on, and off the right players at the right time. For those of us with players such as Jack Grealish (£6.7m) and Adama Traore (£5.8m), it may be time to look for the next low budget alternative with a blank and poor fixtures for the former, and a lack of starts for the latter.
If you're looking to save money (or just spend it elsewhere) then Stuart Armstrong (£5.2m) could be worth a look. The Saints have 4 good fixtures in their next 5, and his goal in GW27 was his third in his last five. A look at his underlying stats show this is no fluke; only Mo Salah (19) has more than the 16 goal attempts made by Armstrong in his last 4. Team-mate Moussa Djenepo (£5.2m) is also worth a mention as he was unlucky not to add a couple of goals to the assist he grabbed against the hapless Villians at the weekend.
Kop tipped Harvey Barnes (£6.0m) in last week's tips, again, I agree with everything he wrote (go read it and save me a few words!), I wouldn't be put off by his benching against City at the weekend and fully expect him to get plenty of minutes in their coming favourable run. For more security of starts, however, James Maddison (£7.4m) is a safer bet. This is a classic case of form versus fixtures, in that Maddison has lost the former but given then latter it may be time to go back to the Foxes premium midfield asset. Owners and potential suitors should be encouraged, in the last 4 matches, only KDB and Grealish have created more chances than Maddison (13).
The FPL game is dominated by stats but sometimes all the statistics in the world cannot beat simply watching a game. A firm favourite at the start of the season, Mason Mount (£6.1m) was sensational in the Blues win over Tottenham at the weekend. He ran himself ragged on Saturday and was a constant thorn in the side of the Spurs back four, he may not have registered FPL points but that may mean he sneaks under the radar of those who don't actually watch matches (unbelievable I know!!). I've already highlighted the Blues favourable run of fixtures, it would perhaps be a shrewd move to be proactive and quietly restore Mount to your FPL side whilst your opponents are looking elsewhere.
When Manchester UTD signed Bruno Fernandes (£8.2m) I immediately turned to our resident Portuguese and Sporting Lisbon fan DMC for the lowdown. His reply :
'He's one hell of a player, second to none for distance, work rate, accurate passing; a clever player with a 360 view of the game… not biased at all on this btw. Still, one to monitor I'd say given the typical adjustment time to England and the league etc.'
Well, we're three games in and I'd say he's adjusted just fine. It was a dominant performance from the 25-year-old in the 3-0 win over Watford in GW27, he was involved in every goal, he scored the first from the spot (having been brought down in one of his many marauding runs), he then put Martial through only to see his shot saved (but then score with a cheeky chip on the follow up) and then he teed-up Mason Greenwood for the third. 14pts, the secret is out and the masses will be snapping him up in their droves. With Everton, City and Spurs in their next three, it may be prudent to wait, but from GW31 they have a run of fixtures that could reward investment.
It should be noted that my final two pics don't have a game in GW28 but if you're still planning your FPL transfers in isolation of any single game week you're destined for mediocrity. Fail to plan, plan to fail and all that. Only time will tell if Nicolas Pépé (£9.2) will go on to become an intrinsic component in the rebirth of Arteta's Arsenal, but his goal and 2 assists in the 4-0 demolition of Newcastle in GW26 showed he's certainly capable, he followed this up with another assist in the 3-2 win over Everton at the weekend. His price may prove something of a stumbling block, but for those with a few extra shekels at their disposal, the Ivorian has a run of 'green fixtures' that could see him add to his 4 goals and 6 assists. Another player worth a mention is Pépé's teammate Bukayo Saka (£4.5m). He has annoyingly (but correctly) been classified as a midfielder in FPL but it's at left wingback where he has been deployed of late and he has excelled in this position. If he is reclassified as a defender next season he will no doubt be in high demand thanks to his attacking prowess. He came off the bench in GW27 to add another assist taking him to 3 in his last 5, he's not backwards at coming forward, and could be a bargain fifth mid as we head into the DGW's.
Forwards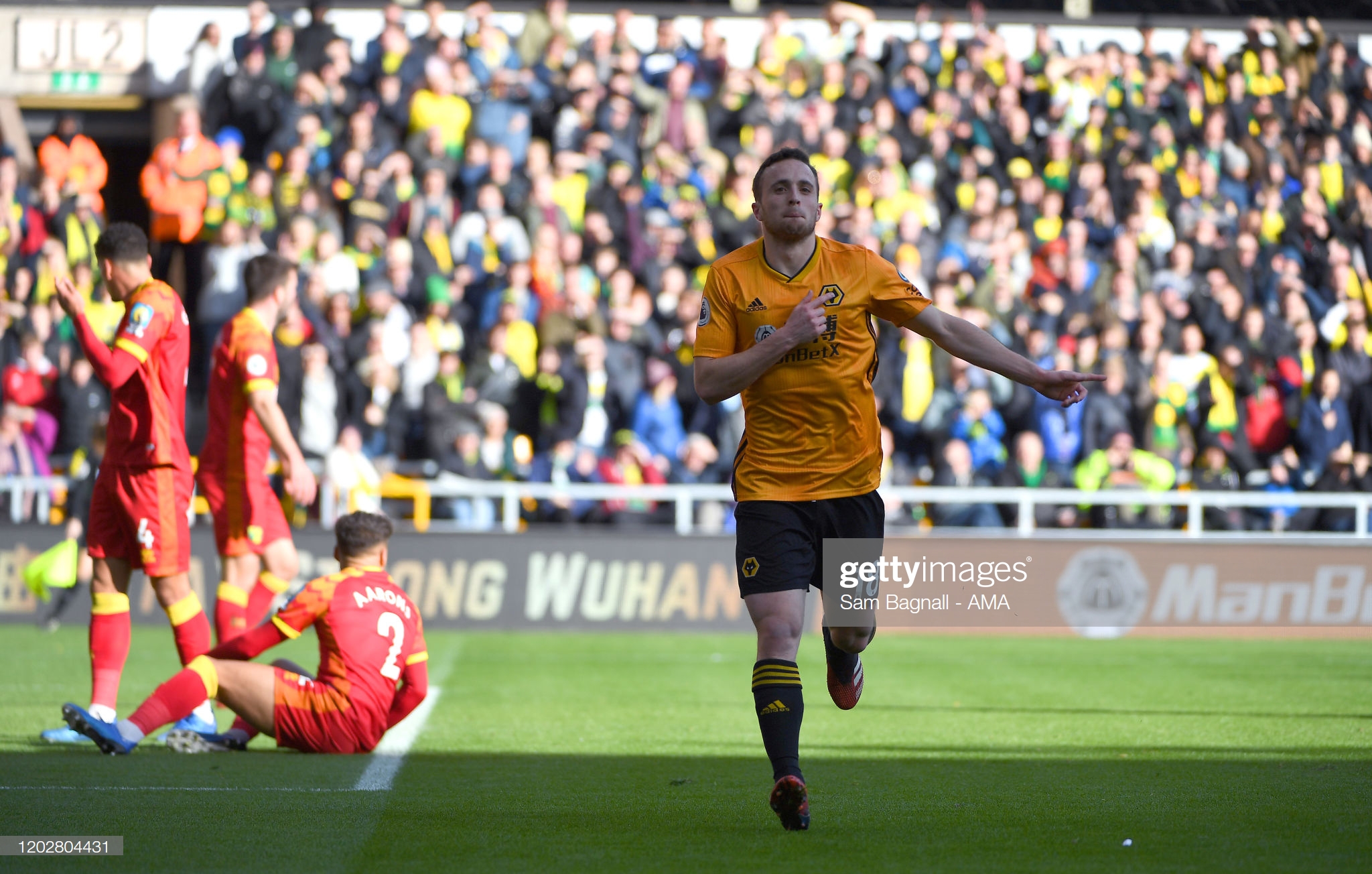 At the weekend we were all watching the right hand and missed the left hand pulling down our pants as Danny Ings and to a lesser extent, Raul Jiminez were overshadowed by fellow front-men Shane Long (£4.6m) and Diogo Jota (£6.1m). We should have seen it coming. Those fond of xG and xA (not me) will have noted that in his previous 4 games, Long was superior to Ings on both stats. Against Villa, he delivered against those stats, with a goal and maximum BPS and at a bargain-basement price he could be am decent replacement for those with the likes of Mason Greenwood as we head into a BGW. In the case of Jota, he came into GW27 on the back of a Thursday night hat-trick in the Europa League, though he hasn't scored in the league since way back in GW16 so we can be forgiven for not foreseeing his brace at the weekend. I wouldn't suggest going with Jota over Jiminez, but if he can end this season as he did last, he could be a canny addition to the Mexican at a bargain-basement price.
Best of the rest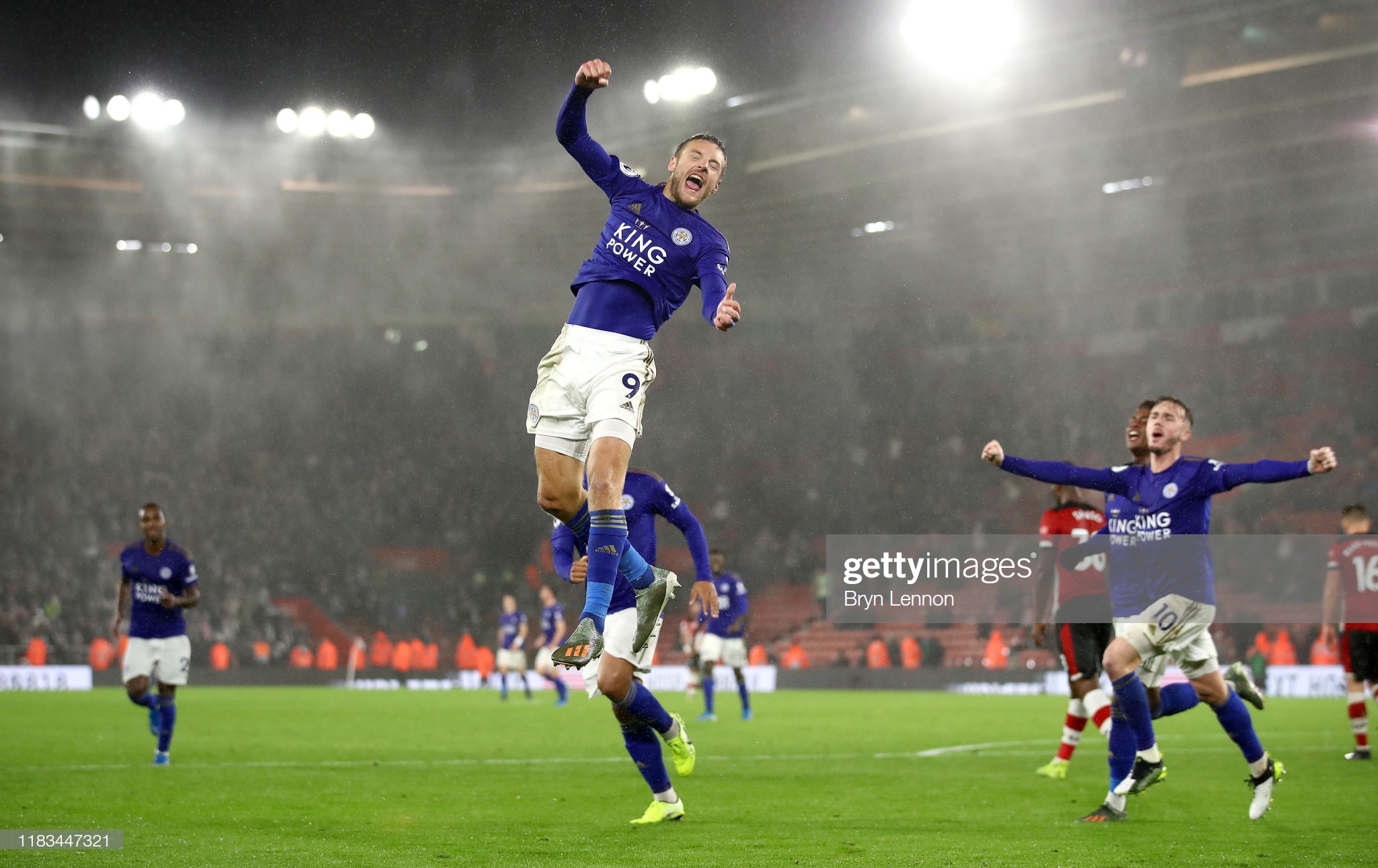 I decided to group the rest as there are pro's and cons to each and I don't feel a diatribe on any is worth yours or my time! Pierre-Emerick Aubameyang (£10.7m) the most inform striker thanks to another 2 goals in the 3-2 win over the Toffee's, blanks in GW28 but great fixtures follow. Dominic Calvert-Lewin (£6.2m), terrible fixtures but does that matter? In fantastic form and as his goal against Arsenal illustrated, he can seemingly score against anyone. Czech Republic International Matěj Vydra (£5.2m) has scored 2 games on the bounce, but do you really want to go there? No, me neither. Edward Nketiah and Mason Greenwood (both £4.3m), both scored in GW27 but neither guaranteed to start, but could be used to facilitate a shift to 3-5-2. Finally, we have Jamie Vardy (£9.7m), he hasn't scored for 9 long game weeks, but as I've already mentioned, the Foxes have a run of fixtures that could see Jamie return to form. Will he? Your guess is as good as mine, and personally I hope not as I sold the bugger a few weeks back!
That's all folks, I've had a few weeks off so may have gone a bit OTT but hopefully I dropped a few names that will pique your interest! Good luck this game-week, I hope your arrows are green and mighty.
Thanks for reading Fantasy Football Tips Gameweek 28. This article was written by Rosco.
VOTE ON THIS WEEK'S CAPTAIN POLL GW28
FPL FIXTURE TRACKER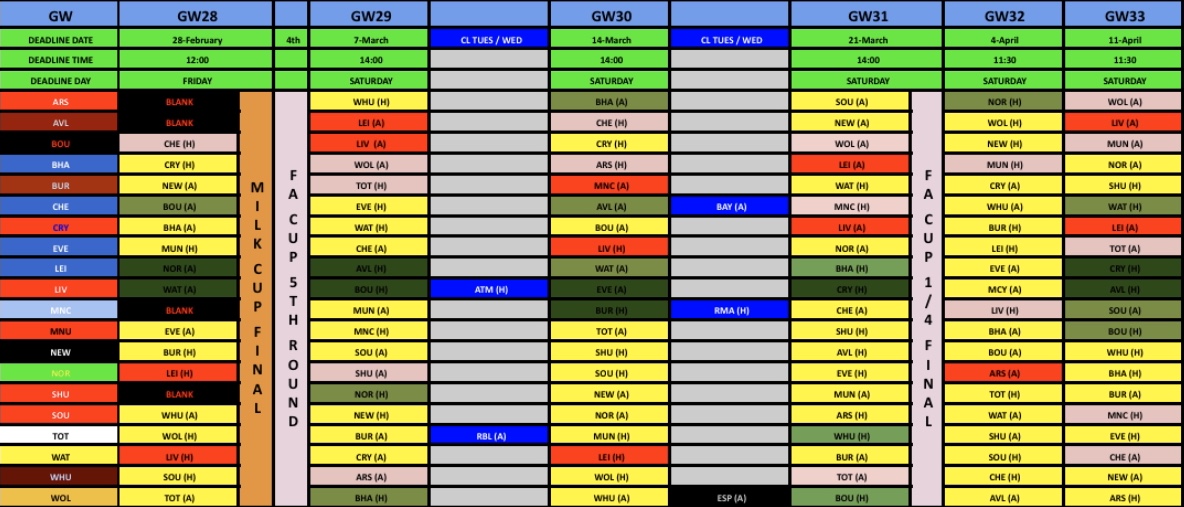 FIXTURE TRACKER LINK
Fantasy Football 247 League Codes: