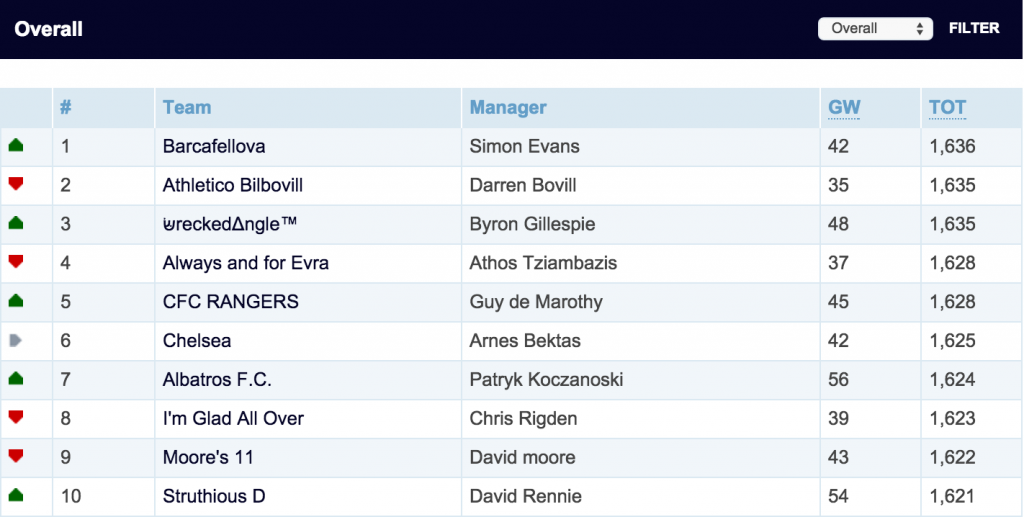 Welcome to this week's edition of Trends From the Top. I must admit that after watching the Aston Villa vs Liverpool match, I was super frustrated with Firmino only bringing in 6pts. With all the goals going in, I was hoping for more as he was my captain pick!
What was very interesting in doing my weekly research was that 8 of the top 10 only averaged 4 points for their captain picks. Let's take a closer look to see how the leaders performed.
Who was the most captained player by the top ten for Gameweek 26?
This week, 40% of the top ten managers selected Aguero (4 points) while 30% selected Lukaku (also 4 points). 2 top managers fortuitously selected Payet (26 points) with the remaining leader selecting Valencia (4 points).
[divider_1px]
Who were the most popular players chosen by the top ten for Gameweek 26?
Goalkeepers – For this past gameweek 50% of the top managers selected Cech while 20% had Butland and 10% had De Gea, Courtois and Hennessey.
Defenders – This week we saw 15 defenders make the cut for the top managers. Azpiliceuta and Dann had 50% owenership while Alderweireld came in at 40%. Fonte and Koscielny were the next most popular picks with 30% ownership followed by Smalling and Johnson at 20% and Monreal, Daniels, Cresswell, Clyne, van Dijk, Kolarov, Fuchs and Bellerin each with 10%.
Midfielders – When you look at midfielders, the top 10 managers only had 9 different picks. Mahrez was the most popular pick with 90% ownership followed by Ozil at 80%, Alli and Barkley at 70%, Payet at 40%, Firmino and Willian at 20% and Ramsey, Sigurdsson and Wijnaldum each with 10%.
Forwards – This week, the front line consisted of 10 picks among the top managers. Aguero came in at 90%, while Lukaku and Ighalo were the next most popular picks at 40%. Kane and Vardy were selected by 30%, while Valencia, Rooney, Sturridge, Costa and Naismith each had 10% a piece.
[divider_1px]
In summation, the Must-Haves for top managers for Gameweek 26 were Cech, Azpilicueta, Dann, Mahrez, Alli, Ozil, Barkley and Aguero as they all had an ownership rate of 50% or higher. And if you are curious, these 8 players tallied up a meagre score of 23 points.
[divider_1px]
Other interesting facts:
The average score for Gameweek 26 among the top 10 managers was 44.1 points which is ONLY 3.1 points above average for the week. This is the lowest we have seen. As you know, there have been weeks where the top performershave exceeded by 20 or 30 points so this is rather interesting.
The average team value was 107.3 with 110.2 being the highest team value and 105 being the lowest value.
14 points separates 1st place from 10th.
40% of the top managers are from England followed by Scotland at 20% and Canada, Sweden, Poland and Bosnia-Herzegovina each falling at 10%.
The average number of weeks our top players have been in the top 10 is 5.8 weeks.
About half of the leaders have exhausted most of their chips including both wildcards while the other half has eitherused only 1 or 2 chips.
Hope this was interesting.
Best of luck in Gameweek 27!
@bekachan
[divider_1px]
Thanks for reading Fantasy Football Trends From The Top – GW26 Fantasy Premier League 2015-16. This article was written by Rebekah H
[divider_1px_dashed]
[row][span6]




[/span6][span6]




[/span6][/row]
[divider_1px_dashed]
[row][span6]
Vote on our Captain Poll Now

[/span6][span6]
Fixture Tracker