FF247 Fantasy Football Site Team Gameweek 30
Welcome to the FF247 Fantasy Football Site Team Gameweek 30. All in all GW29 was…..ok. Maybe slightly better than ok. We scored 58pts vs an average of 46 and rose 22.5k places to just 168,903. Ok that's not great we know but it's our highest rank for a good few weeks. We have some work to do to avoid our worst ever finish but we have all our chips available.
Mahrez's last gasp goal was especially satisfying as we only bought him last week – it was just a shame he ruined Begovic's clean sheet but beggars can't be choosers.
We made the mistake of rolling the dice on Kane as capo and one assist at home to Huddersfield was, to be honest, a let down. Salah scored, of course.
A clean sheet for Otamendi was welcome as was Lowton's assist and 2bps. See, we are easily pleased. Firmino added an assist too so it was only Shaqiri, Walcott, Lingard & Alonso that truly let us down.
It's lucky Walcott has GW31. Lingard may not escape so easily! Let's see what we have decided to do this week…
Last weeks result…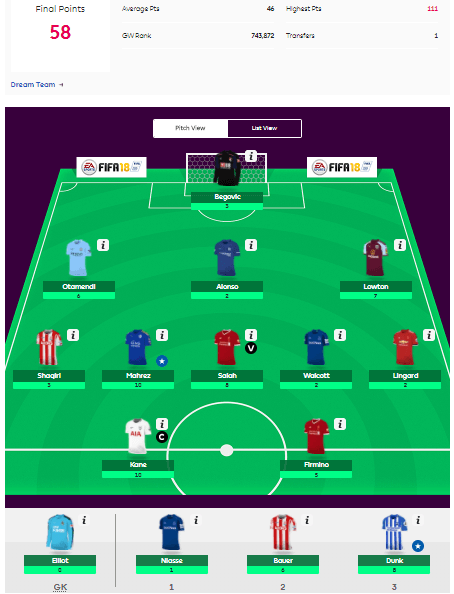 This week's transfer – we have indeed sold Lingard and bought Pritchard
Well he can't say he wasn't warned! With a tight match vs Liverpool expected this week and a blank next week, young Jesse has kicked the bucket and left our side. Oh the shame. What's worse for him is that his replacement is a yellow-flagged Huddersfield midfielder! Alex Pritchard has of course made an impressive start in the top flight since his January transfer – let's just hope he does recover from a dead leg as expected. Huddersfield of course feature in GW31 when they host Palace and this week they welcome Swansea – with a goal and two assists already recorded we're backing Pritch to continue his decent form over the next few weeks.
The team in full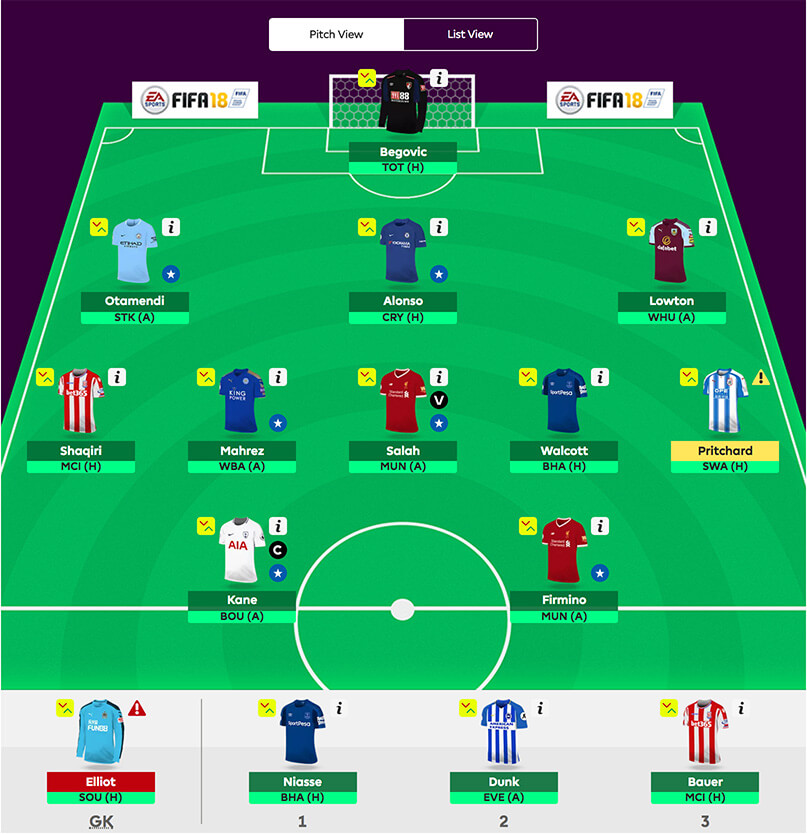 Our captain is Harry Kane
We know you're surprised we didn't capo Pritch given the glowing report above, but we're a conservative bunch. Kane's record vs Bournemouth is of course good and we're hopeful that Spurs will bounce back from their midweek CL disappointment.
If you wish to follow the teams progress more closely you can do so by clicking here.
Thanks for reading FF247 Fantasy Football Team Gameweek 30
The League Codes for FF247 for the 2017/18 season are as follows:
Gameweek Tracker GW30-38