FF247 Fantasy Football Site Team Gameweek 32
Welcome to the FF247 Fantasy Football Site Team Gameweek 32. Our steady and unspectacular rise up the rankings continued with another green arrow, our 7th in eight weeks. However, we only rose 10k places and now sit in 156,626th place after a score of 86pts – not bad considering we only had 7 players playing! Salah was of course the star here – captain fantastic with 58pts. A goal from Firmino and two assists for Mane saw his sidekicks join in the fun. Even Theo contributed an assist, bless him. Shaq and Begovic did nothing, Baeur and Niasse didn't even show up and the rest of the crew had a week off anyway.
All our chips remain in hand, some plans need to be made!
Last weeks result…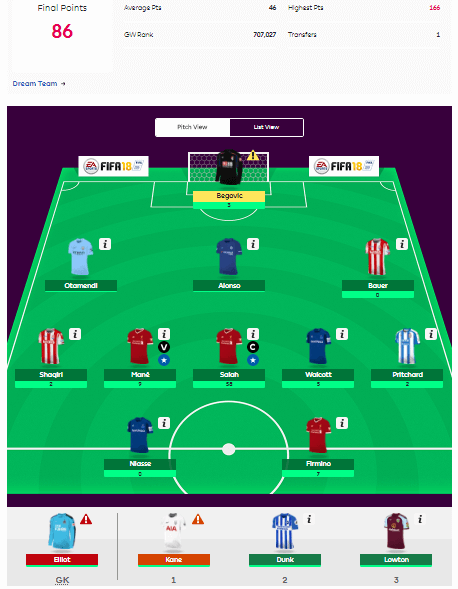 This week's transfer…..IT'S WILDCARD TIME!!!!
We have pressed the button on our second wildcard which we think makes sense given we have all our other chips still available to play. Basically, we plan to Bench Boost in DGW34, Free Hit in GW35 and play our Triple Captain in DGW37. The temptation of TC'ing Kane in DGW37 sort of forced our hand in respect of BB'ing in DGW34. Had we not had the TC still available we'd have almost certainly played this all very differently and may not even have wildcarded this week.
And so our squad is now as follows, along with a race-card style rundown on each player –
Goalkeepers – David de Gea & Mathew Ryan
DDG is the highest scoring keeper in the game, has the most clean sheets and faces doubles vs West Brom and Bournemouth and then probably Brighton and West Ham – not really much not to like and his selection speaks for itself.
Ryan on the other hand is not an ideal choice but he at least doubles in 34 and Brighton host Huddersfield in GW33 so he is an option to play if we feel like benching DDG when United visit Man City.
Defenders – Bailly, Morgan, Tarkowski, Lowton, Dunk.
Bailly we hope won't be rotated by Jose. He is the lynchpin to the United defence and is the most nailed on behind Valencia and DDG. We like the double up (with DDG) and we couldn't afford Valencia (crap TV!).
Morgan – cheap, club captain, nice fixtures, two doubles, Leicester just need to remember how to keep clean sheets.
Tarkowski & Lowton – fixtures are ok (in fact DGW34 is probably their worst of the fixtures ahead!!) Solid defence, well drilled, like Leicester they just need to remember how to keep clean sheets!
Dunk – hmmm, A Brighton double up is not ideal but he's cheap and we love cheap…. and playing.
Midfielders = Mahrez, Salah, Son, Ibe, Willian
Mahrez – is in great form, has great fixtures, two doubles and is playing for a transfer…. again.
Salah…….
Son – remains great value with his output, we just need to get lucky with his game time.
Ibe – hmmm, cheap midfield options are not ideal for DGW34 but at least he has some good fixtures outside of the double.
Willian – Chelsea's inform budget midfielder. Chelsea have two decent doubles and while game time may be shared with others he has found some sort of consistency and needs to continue that to justify his place.
Forwards – Vardy, Murray, Aubayemang
Vardy – five goals in his last seven for Leicester and he scored for England vs Italy. What's not to like? See Mahrez for fixtures, two doubles, blah blah blah. Great value.
Murray – budget option for a team with little cash! Five goals in his last six, plays Huddersfield before DGW34 and Palace in DGW34 part one. Likely to be dumped in GW36!
Aubayemang – will become Lukaku or Kane for DGW34. Before then Arsenal host Stoke and Southampton and PEA cannot play in Europe. Kerching!
And crucially… we have kept the cash in the bank to finance Kane's re-entry as and when….
As you can probably tell we aren't overly enamoured with a few of our picks there but the options that DGW34 presents for the Bench Boost at the budget end of things are a bit sparse. We know many are in the same boat and it is also why many have decided that DGW37 may be better suited for the BB. If only we'd already played our TC on Kane in the last DGW….
The team in full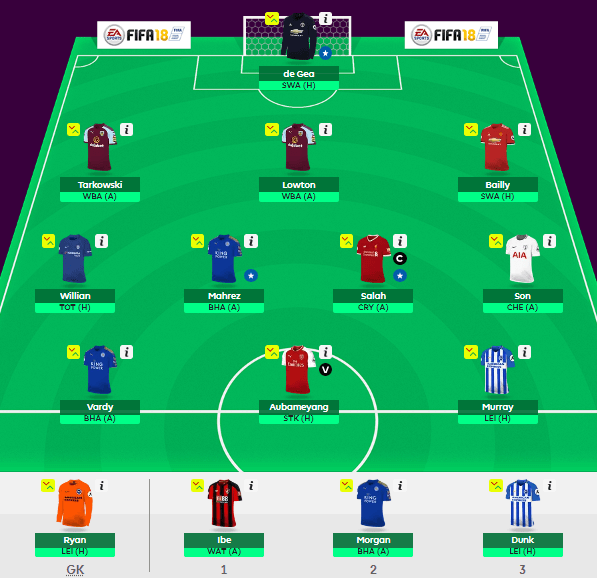 As ever, with a freshly wildcarded team, there comes a few 'benching' issues. This week's mainly concerned the defence and we could have cut it up many different ways. We've decided to go for a simple double up on two teams and as such we will be hoping that Jose is in a conservative mood, as usual, and doesn't suddenly come over all 'Pep', if you sort of pardon the expression! And that both West Brom and Burnley play to type. Ibe (at Watford) probably deserves to play also, and again we could have found a spot for him but it was a tough one to call. We are sure many would have picked this differently and of course, as ever, we are all ears so if you do feel strongly about any of it then let us know in the comments as we have been known to make last minute changes based on your feedback.
Our captain is Salah, vice captain is Aubayemang
We know it comes as a shock to you all! Difficult not to capo the league's highest scorer who scored four last time out. His other stats need to no introduction (see this week's Captain article if you really have to!).
If you wish to follow the teams progress more closely you can do so by clicking here.
Thanks for reading FF247 Fantasy Football Team Gameweek 32
The League Codes for FF247 for the 2017/18 season are as follows:
Gameweek Tracker GW32-38

INTRODUCING FANTASY TOTE…
Our new partner has a few words to explain their wonderfully simple to play daily fantasy game. Please do them and us a favour by clicking on the banner link below, have a browse and give their game a try. Over to them…
Fantasy Tote is the next evolution in Fantasy Football. Play daily & weekly games to win real cash prizes.
There are no budget restrictions like in FPL so it's open season on the big players and makes it easy and quick to play. But can you pick the right team to win big?