FF247 Fantasy Football Site Team GW1
Knee deep in…
It seems like only yesterday that we were picking our GW38+ team… oh, hang on. Well, we might not be refreshed but we are certainly back regardless and much like many an FPL manager we have been struggling to find those dirt cheap defenders, whilst being knee deep in premium mids and wondering how on earth we then go about accommodating the Manchester contingent once they bother to grace us with their presence. Let's go and see how we have decided to tackle it all, but first a quick recap on how last season ended for us:
2019/20 Result
Could have been better, could have been a lot worse. We wrapped up the season in GW38+ with 65 points. That saw us get a small red arrow but we only dropped a few thousand places. Overall we landed at 45,446th. Not great but not bad. Pre-lockdown we rose from about 165k to 45k so we were pretty pleased overall. That saw us with another top 50k finish, which we have now achieved in 4 out of our 6 attempts, and it's also 5 out of 6 in the top 100k with 2 top 6k finishes in there. Again not bad, but nothing to write home about yet.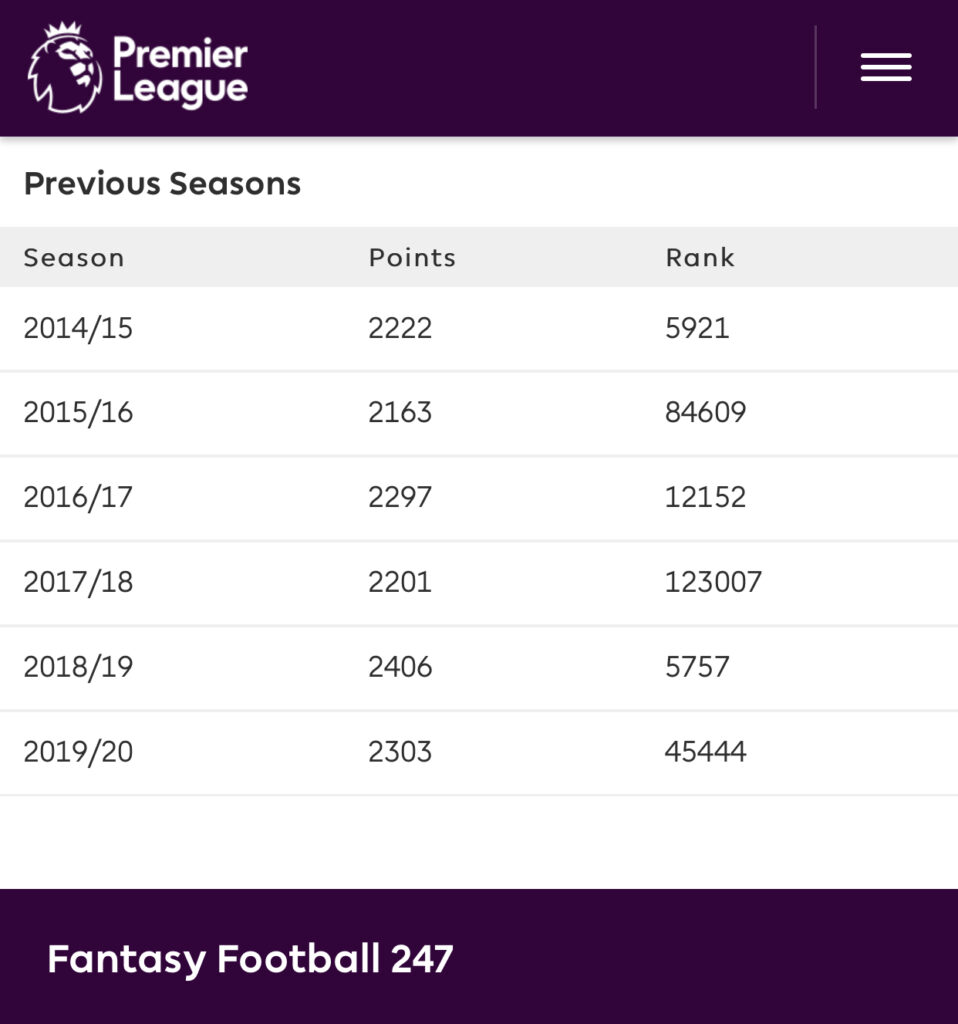 GW1 Musings
Goalkeepers

We've gone for two rotating £4.5mln keepers between the sticks. It's not everyone's cup of tea but unfortunately there isn't a clear set and forget £4.5mln option like Pope this season. Brighton's Mat Ryan and Southampton's Alex McCarthy rotate pretty nicely, giving us a fixture run of Palace, Newcastle, Burnley, WBA, Palace (again), WBA (again), Villa, NEWCASTLE, Villa (again), MAN UTD, *play each other*, SHEFF UTD, Fulham, SHEFF UTD (again), Fulham (again) and WEST HAM over the first 16 weeks of the season. Hopefully we can just leave them rotating and watch the clean sheets and save points roll in. All for just £9mln!
Defenders

Some of this is quite easy to explain, some not so much and other bits may require major surgery sooner rather than later!
The easy one is of course Trent, no explanation needed there. What we didn't see coming was that he would have company in the (rather large) shape of Big Virg alongside him. One of our earliest votes was to decide which Liverpool assets to have with the intention of building from there. Rather surprisingly Salah was usurped by Andy Robertson leaving us knee deep in Liverpool defenders (quasi-midfielders). Which rather begs the question of how VVD got in there… Long story short, we needed a £0.5mln buffer in the bank to accommodate the arrival of said Mancs and so a downgrade was needed along the way (even that plan changed but more on that later..). Whilst considering a myriad of options our minds raced back to Kop's Tips Article and his preference of VVD over Robertson. The rest is history.
With that pair set to be two of our intended back three every week we sort of lost interest in the others (as you'll soon begin to notice) as only one of them will ever be called upon, barring any disasters. So cheap and cheerful was the order of the day. Burnley usually offer good value at the back and so Charlie Taylor got the call up. Ruben Vinagre is one of the cheapest ways into the Wolves defence, that's assuming he doesn't get sold soon as per the rumour mill. Young Tyrick Mitchell makes up the numbers at the back for us. He's another potential timebomb but at £4.0mln we shall ride his wave until such a time as Van Aanholt returns and then he can go take his rightful spot at the back of our bench.
Midfielders

Having already decided on no Mo, or indeed Mane, our premium slots went to Aubameyang and Bruno. And to an extent Havertz. By way of explanation: we had an initial plan which seemingly involved lots of transfers to bring in the likes of Bruno and KDB. Including the former in our squad from the get go, and benching him, cut those down a bit. Havertz snuck in at the last minute at the expense of Alli. Essentially he ate up our aforementioned £0.5m buffer but with Bruno already in and KDB likely to come in for Auba in a few weeks, freeing up another £0.5mln, we felt comfortable with the switch, certainly more comfortable than we did with no Chelsea coverage.
Now that Allan Saint-Maximum has an actual forward to aim his crosses at rather than simply a deckchair, we felt he was worthy of a spot, especially as he was one of the more outstanding players during the 'restart' period.
Tomas Soucek managed to make his way in and out of our team at least 6 times during the final meeting. He clung on in there, although we expect he may be on our bench more often than not after this week given the above quartet. Truth is that had Bruno been playing this week we would have probably dropped him to a £4.5-er.
Forwards

We had Timo Werner in every draft until yesterday evening. It was then suggested that Leicester had better opening fixtures than Chelsea and with Vardy a 'tried and trusted' Premier League scorer we saw an opportunity to grab some ground on the 48% of managers who currently own Werner. We may well look to get Werner in GW3 or thereabouts once Chelsea have got their visit of Liverpool out of the way. It's a gamble not going with Werner from the start but one we expect (hope) may just give us a slight edge early doors.
Joining Vardy are Callum Wilson and Aleksandar Mitrović. Wilson has decent top flight pedigree having recorded 14 goals and 12 assists in 2018/19 and though he struggled in a faltering and disjointed Bournemouth side last season, we feel his move to Newcastle could well rejuvenate his career, especially as he is joined at the Toon by his old mucker Fraser and will also have ASM and Almirón teeing him up. Newcastle play West Ham, Brighton and Burnley in their first four matches which should give Wilson the chance to reward our faith. If not, there are others at similar price points gagging for the chance to please us.
Mitrović also had a decent 2018/19 as he scored 11 goals and four assists for a relegated Fulham side, while last season he scored 26 goals to win the Championship Golden Boot. The Cottagers have a mixed start and are expected to struggle but if Fulham score, the Serbian is generally involved. Home fixtures vs Villa, Palace and West Brom coupled with an early trip to Leeds certainly give Mitro the chance to extend his reputation as a goal scorer.
Captain – Pierre-Emerick Aubameyang
A clean sweep of the votes here, again it probably needs little explanation. Vardy is vice.
Our GW1 team in full…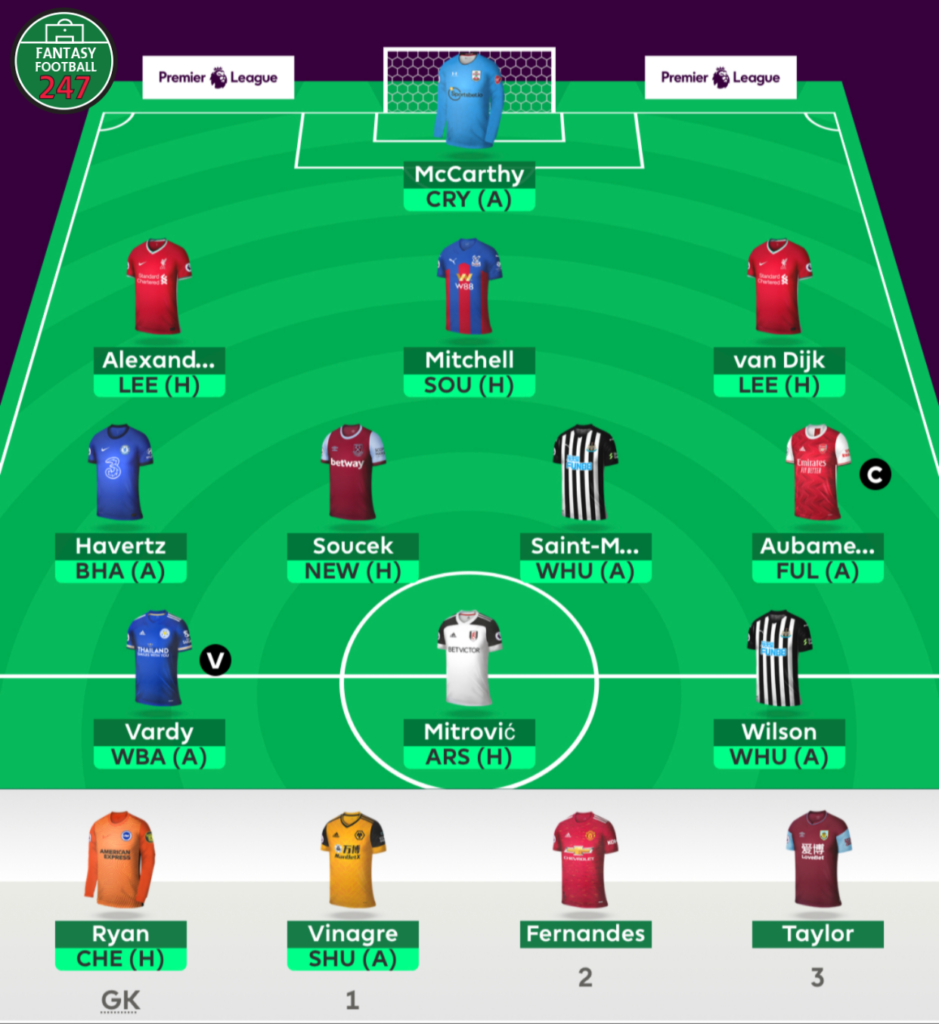 Should you wish to follow the FF247 Site Team's progress you can do so here.
Thanks for reading FF247 Fantasy Football Site Team GW1
VOTE ON THIS WEEK'S CAPTAIN POLL GW1
FPL FIXTURE TRACKER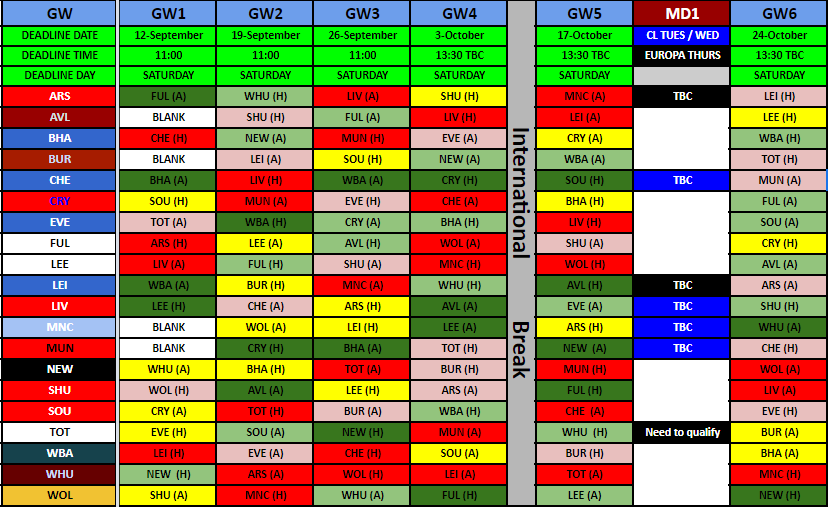 FIXTURE TRACKER LINK
For those who want their own tracker to play with, just make a copy using the link below;
Fantasy Football 247 League Codes:
All prizes must be claimed within 30 days of the final GW.