We're back! Last season was something of a disappointment as we finished with our lowest rank since we first introduced the site team back in 2014/15. We don't set ourselves any goals at the beginning of each season but at the very least we want to beat last season's final rank. Hang on, is that a goal?! Just like the rest of you we've spent five minutes hours agonising over who to include in our GW1 squad and we're finally there. Are we happy? Ask us that around 6pm on Sunday evening!
Below we have outlined some of our thought process when picking our squad. Hopefully it makes sense!
Goalkeepers
When we posted our very provisional squad a couple of weeks ago we had two £4.5m keepers. This then became a premium and a £4.0m option before reverting to two £4.5m keepers. Finally, we landed on Rui Patricio (£4.5m) and Ben Hamer (£4.0m). Why this option? Money. It's as simple as that, we needed to free up cash for investments further up the pitch. Why Patricio and Hamer? Wolves were a solid outfit in the Championship last season and on the face of it, it would appear as though they've strengthened their squad over the summer and they should hopefully be a source of some early season clean sheets. As for Hamer…well he could be any £4.0m option.
Defenders
Initially we had Ederson as our keeper but following his display in the Charity Shield, Benjamin Mendy was drafted in for some City defensive cover. City will undoubtedly pick up their fair share of clean sheets over the opening game-weeks while Mendy should also chip in with some attacking returns.
Andrew Robertson has been in our squad from the beginning. Along with VVD he appears to be the Liverpool defender least susceptible to rotation and with a certain Spaniard as his competition he really should start every game!
Luke Shaw is something of a gamble. With Ashley Young as his competition he really should see more game time but Jose clearly isn't a fan. We accept he's probably a transfer waiting to happen but we're banking on a couple of early season clean sheets before Young returns.
Our defence is completed by the Crystal Palace pair of James Tomkins and Aaron Wan-Bissaka. Both Palace and Tomkins finished last season in fine form and the hope is that they carry such form into this season. We'll probably require Tomkins sooner rather than later thanks to Jose and Shaw! Wan-Bissaka is in due to the fact that he's £4.0m and is
set to start the season at right back.
Midfielders
Mo Salah is Mo Salah.
Christian Eriksen was a late arrival to our squad. If we're being honest we probably wanted a City midfielder but with uncertainty around which of them will start we've gone with the safety of the Viking and with an opening day fixture against Newcastle he could very well be amongst the points. The eagle eyed amongst you will notice that we have £0.5m left in the bank and the likelihood is that this will be used to bring KDB in for Eriksen in the very near future.
Richarlison is in simply because of Everton's fixtures. This is most certainly a fixtures over form punt. We're hoping that his reunion with Marco Silva will see him rediscover the form he showed when he first linked up with Silva at the beginning of last season.
By the time we got to our last two midfield spots money was rather tight. Tom Cairney was chosen on the basis that that Fulham try to play an attacking brand of football and he is the attacking cog in their midfield. We don't expect very much from Dale Stephens, simply that he delivers two points when called upon.
Forwards
Given City's early season fixtures Sergio Aguero was one of the first names on our teamsheet. We're well aware that he may be rotated with Jesus but he only needs 20 minutes to rattle in a few goals.
When Roberto Firmino scored and assisted in Liverpool's final preseason friendly the following question was asked, "Did Firmino scare us into reshaping the team?" The answer was yes. Mo Salah might score the majority of the goals but without Firmino the Liverpool attack doesn't function. This means that unlike many other forwards he's a great source of assists as well as goals.
Josh King takes the 3rd forward spot in our team thanks to his preseason form and Bournemouth's early fixtures.
Our GW1 team is…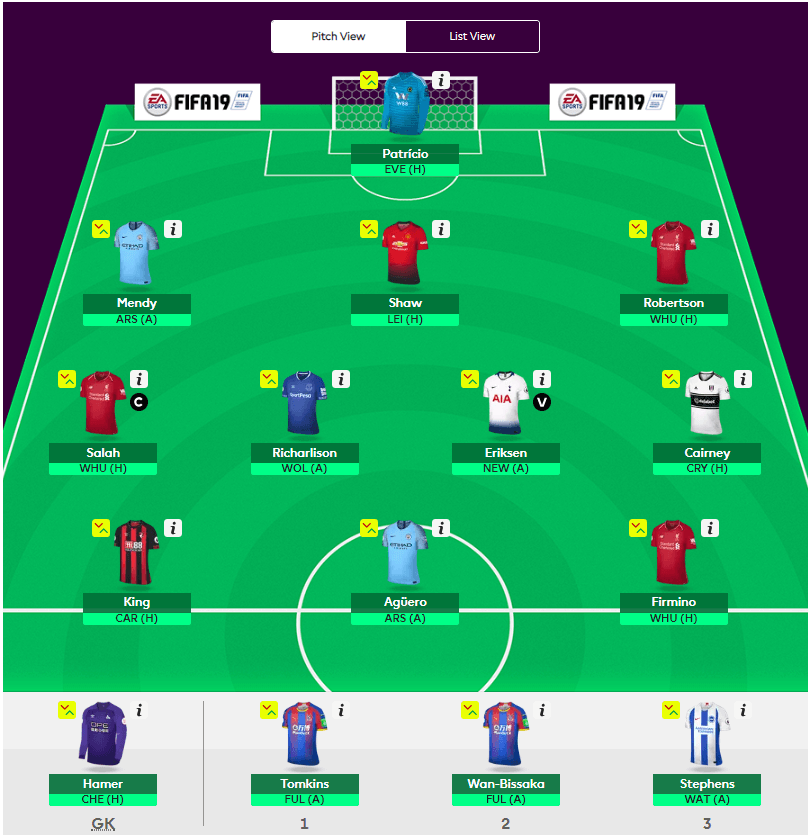 Captain – Salah
We could say that this was a unanimous decision but that would suggest we actually took a vote! Someone suggested Salah as captain and nobody disagreed. He's the obvious candidate.
Thanks for reading FF247 Fantasy Football Site Team GW1
HELPFUL LINKS –
PRE-SEASON FRIENDLIES
Usually we run an article and ask people to get involved and cover the friendlies with any info they can gather. And it's usually fun but in all honesty it's usually also a bit messy and difficult to refer back to. This season we have one link that you will need need for all such info, courtesy of Mito –
Here you will find all the pre-season info you could ever wish for in one place – line-ups, scorers, assists, match info, sarcastic comments…
SET-PIECE TAKERS LIST
This is a work in progress as we make our way through pre-season but again Mito is all over it as it's an invaluable resource and can be found here
FPL FIXTURE TRACKER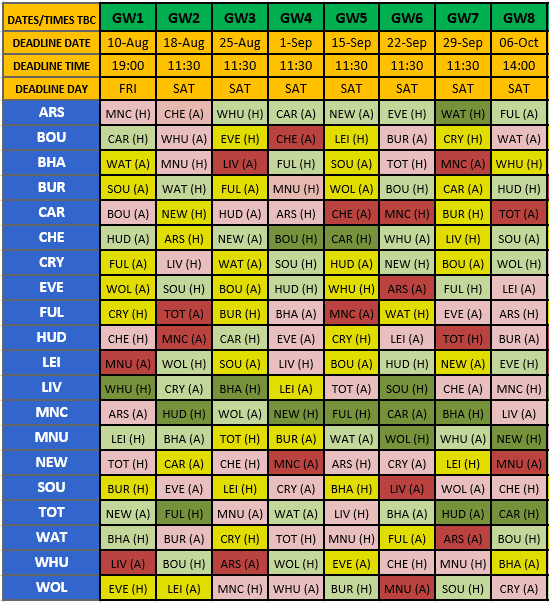 FIXTURE TRACKER LINK
Welcome to our Fantasy Football leagues section.
The League Codes for FF247 for the 2018/19 season are as follows –
Thanks to our friends Follow @ff_surgery and please give them a follow.