FF247 Fantasy Football Site Team GW2
DODGED A BULLET
All that tinkering and furore ahead of GW1 and we didn't even select the most obvious player. But we had our reasons and we felt justified, although watching Salah open up with a hat-trick was a tad galling for us and no doubt all of the other non-owners out there. In retrospect we probably got away with it better than most as we scored 59pts vs an average of 50. Captain Aubameyang opened up with a rare goal on his travels and 7pts (doubled) is acceptable and far from a failure. Mitrović on the other hand was a complete shocker as he couldn't even claim a start and got just 27mins off the bench.
Our secret weapon Tyrick Mitchell was a definite win though as he bagged a clean sheet vs Saints, while Van Dijk at least combined his comical defending with a goal. We won't mention TAA. Or Havertz. Or Saint Maximim. We were chuffed with the selections of Vardy and Wilson who delivered 21pts between them and look good assets for the foreseeable. Well for this weekend at least.
Ranks mean nothing at this stage, but for the record we go into GW2 with a position of 1,737,686.
Our GW1 result…

Let's go see what was decided…
Our GW2 transfer(s)
None! We decided that we were so happy with not having Salah the first week that we would do it again. Fool me once shame on thee; fool me twice, delete the team. Funny thing is, Salah didn't even come up, no one seemed too worried about not having him. It was one of the fastest votes ever. I mean there was one committee member that suggested we wildcard, but that was quickly dismissed by (all) the others rather emphatically.
Sorry, back to the team now, hate you had to see that. The idea with having Bruno from the go was so we could possibly save a transfer this GW and get a little more time to evaluate players before we start bringing them in. So in the end this is us just sticking to our guns and seeing this mini plan through. Well, seeing that we have made no transfers, let's just get to the captaincy decision.
Captain – Pierre-Emerick Aubameyang
Unanimous again, what is going on? One right after the other voted to give Auba another go at the armband. In part, because he plays West Ham who as a club will probably be too busy fighting each other to worry about marking Auba. If for some reason Auba doesn't make his match we have the penalty king Bruno Fernandes waiting in the wings as our vice captain.
Our GW2 team in full…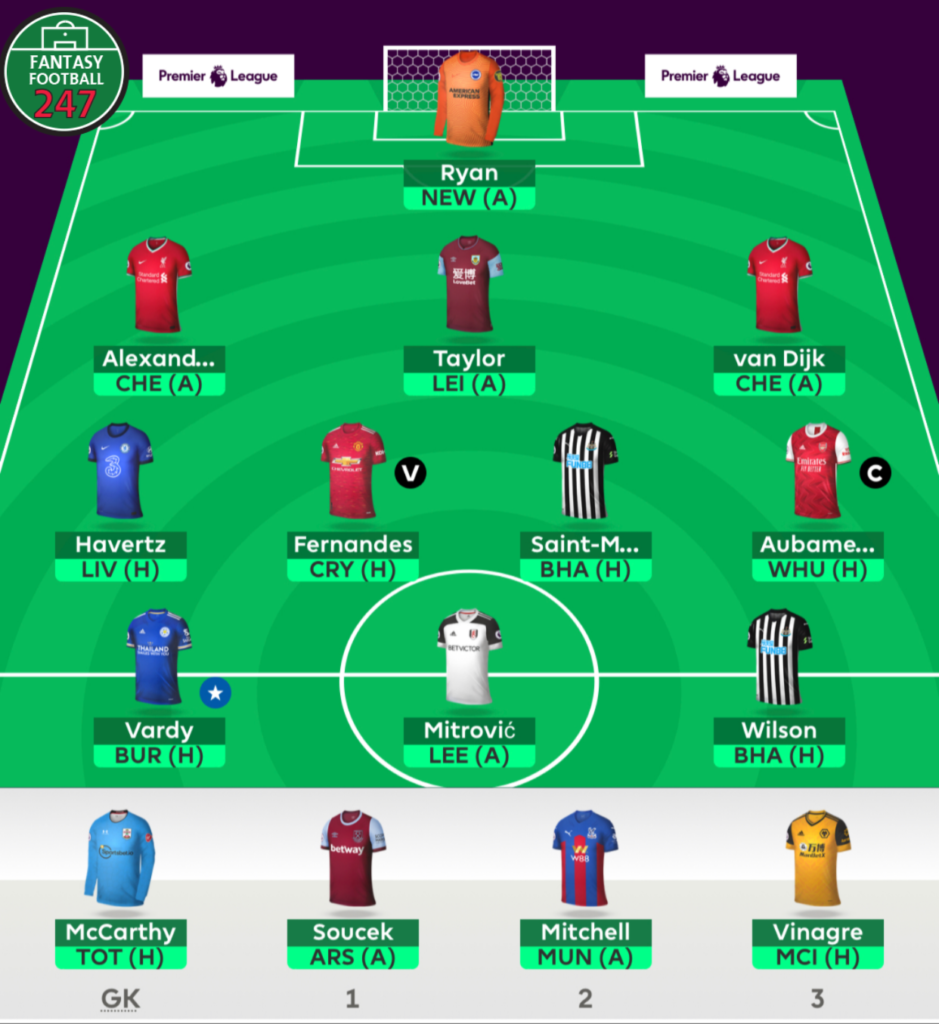 Should you wish to follow the FF247 Site Team's progress you can do so here.
Thanks for reading FF247 Fantasy Football Site Team GW2
VOTE ON THIS WEEK'S CAPTAIN POLL GW2
FPL FIXTURE TRACKER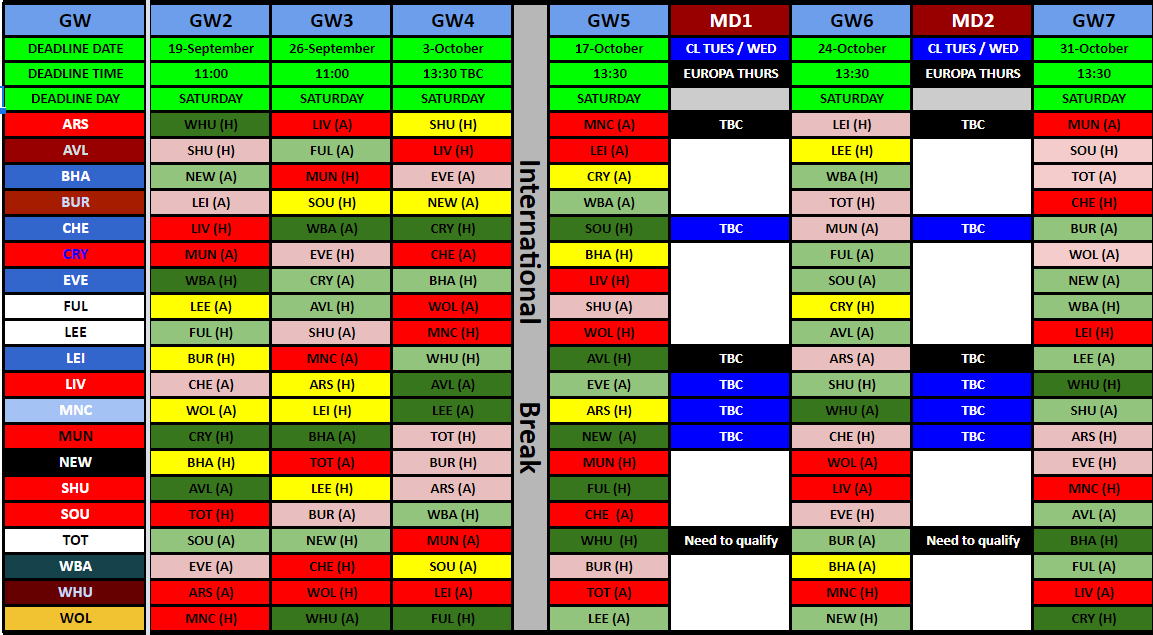 FIXTURE TRACKER LINK
For those who want their own tracker to play with, just make a copy using the link below;
Fantasy Football 247 League Codes:
All prizes must be claimed within 30 days of the final GW.