FF247 Fantasy Football Site Team GW29
No Kun do…
When the week begins with the ever consistent Jimenez blanking against bottom club Huddersfield and then Doherty conceding a clean sheet in the dying minutes you could be forgiven for thinking it would be another one of those weeks. The truth is, it very nearly was. It took another attacking full back to pull us back from the brink really, as TAA weighed in with an unusual hat-trick of assists, a clean sheet and full bonus points for an unexpected haul of 18. Just as well really as the rest of them were a bit lacklustre. Digne got us a clean sheet, spoiled by an inevitable yellow, idiot that he is. Shaw and Pogba both chipped in with assists and Aubameyang got us a goal but it wasn't quite the haul we were hoping for, especially when Liverpool score five at home and your captain is Salah…
All in all it netted us a reasonably respectable 55. Albeit just 2 pints above the average. It did however mean a small drop in overall rank of just over 1k places and we now sit at 36,274th.
Last week's result…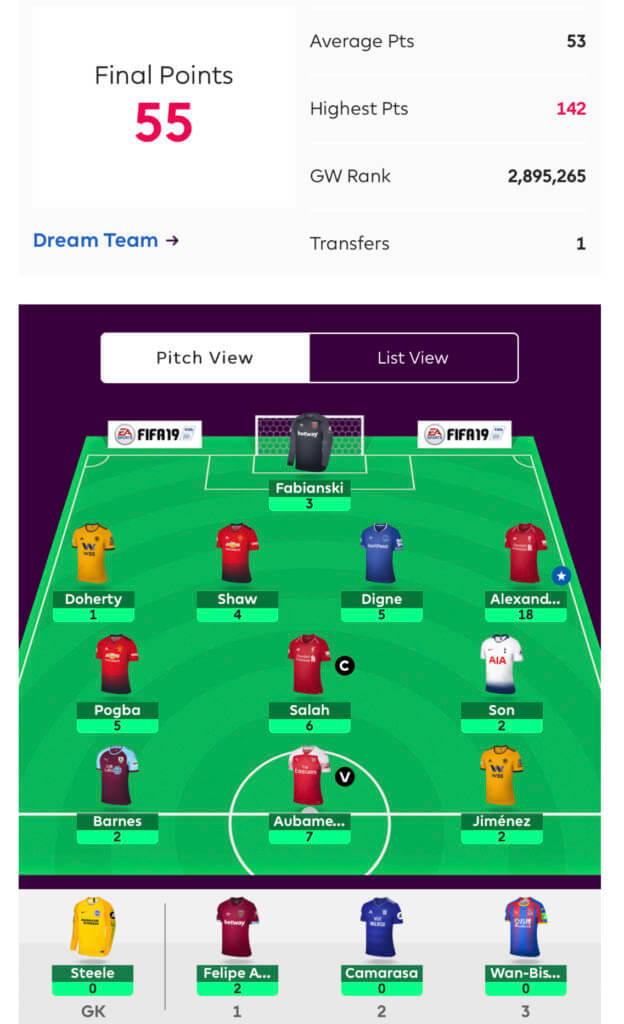 Before we get going on this weeks decision we should remind you that;
THIS WEEKS DEADLINE IS; SATURDAY @ 11:30
This week's transfer decision…
This week we had 1 FT and £3.4m in the bank, aka the Kun fund…
We've had a chequered history with Kun this season, most of it being black. With Pep usually only talking on a Friday and with us usually having to make a transfer decision on a Thursday we are often left scratching around in the dark in regards to whether to sell him, buy him or indeed captain him. The truth is that had we done this article on Thursday we may well have been edging very closely to buying him again. The fact that fate pushed us back a day meant that we had full sight of the pressers and in particular Pep's revelation that Jesus has risen again. Coupled with Pep's midweek comments about Kun being exhausted we have decided to swerve our original plan. Onto plan B. Or C…
Plan B was always to simply hold the transfer, and an eminently sensible one it would have been too. Until someone popped up with a whole more exciting and aggressive Plan C. Which was to chase the Fulham spiral, namely with Hazard. The fact that he also adds an extra body to our BGW31 team, along with a potential (very favourably fixtured) one for DGW32 helped pushed this over the line. The big downside was that we were £0.2m short of Anderson being the fall guy, and unfortunately Son has had to leave instead. We are sure we shall meet again though, some sonny day….
To confirm then; we have BOUGHT HAZARD & SOLD SON
Our Captain is Hazard, our Vice is Pogba
Hazard went full circle from not only not being in our team, or indeed not even being a faint consideration to be, to getting a full house of captaincy votes, all within about 30 minutes. Don't ever say we don't do things by halves!
Our team in full…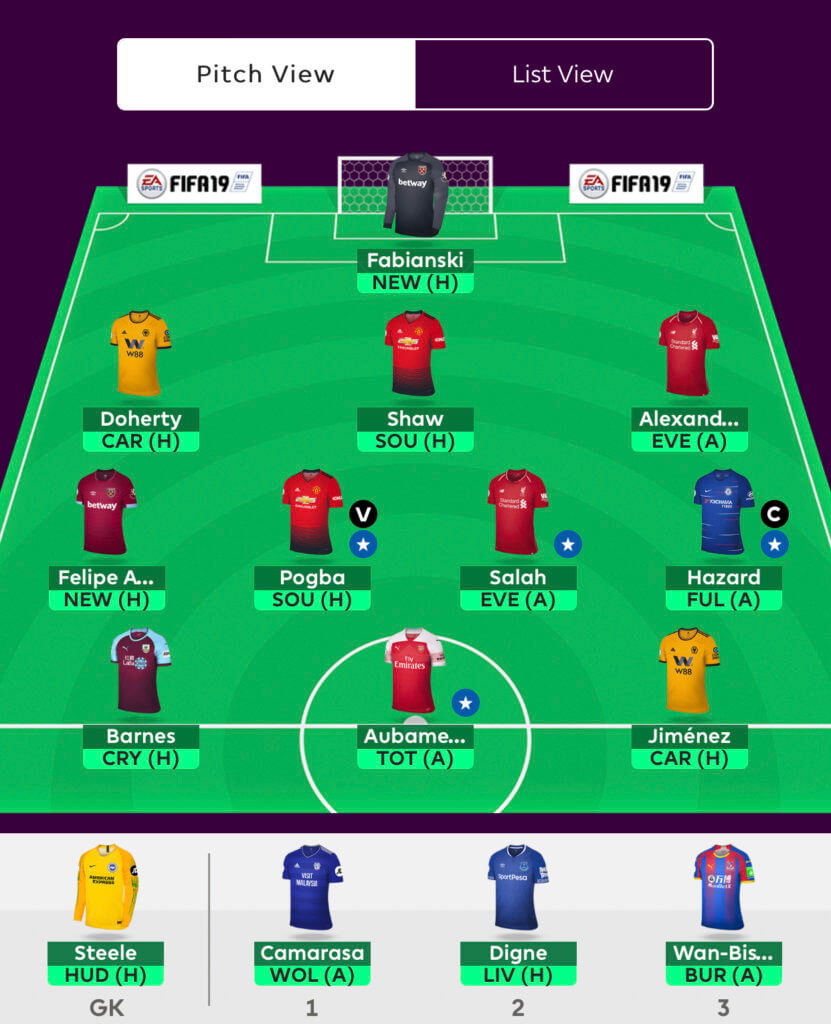 Planning Ahead…
We feel compelled to keep touching on this given the questions on the site about it. The truth though is that we still don't have a definitive plan, and we may not do so until the remaining DGW32 fixtures are announced, which won't be until after GW31, which is a bit of a Catch 22 situation in itself. We did ask for some serious planning suggestions from the committee though and we got 3 different plans back;
1. WC30, FH31, TC32, GW33 (use to 2fts to field 6/7), GW34 (save ft or switch to double players), BB35 (4/5 won't have a double but 3 of those will be Liverpool).
2. Build for 31, FH32, WC34, BB35, TC ON A SINGLE.
3. Build for 31, WC32, FH33, BB35, TC ON A SINGLE.
All of which have their own positives and negatives, all of which probably leave us looking short for either BGW31 or BGW33. The fact that there were three laid out on the table as preferences probably tells you all you need to know in terms of there not being a correct answer at this stage.
Out of interest this is how our team looks in relation to the (admittedly finger in the air) Fixture Tracker;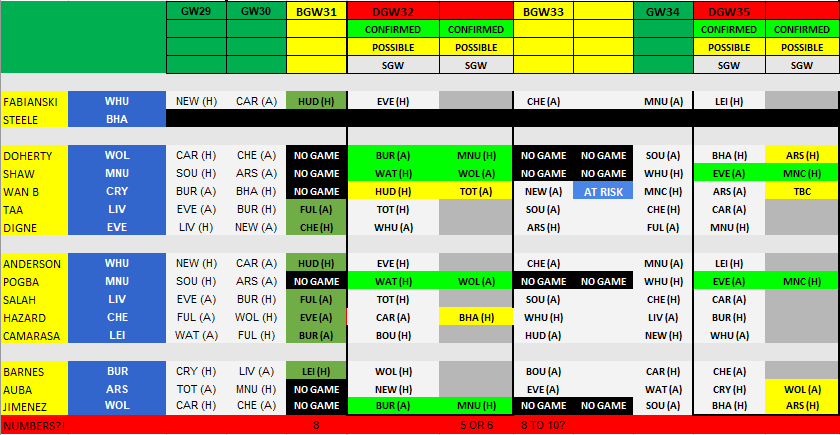 All we can do really is keep an eye on it
You can follow the site teams progress all season by clicking here
Thanks for reading FF247 Fantasy Football Site Team GW29
FPL FIXTURE TRACKER
FIXTURE TRACKER LINK
Welcome to our Fantasy Football leagues section.
The League Codes for FF247 for the 2018/19 season are as follows –