FF247 Fantasy Football Site Team GW3
The 'W' word…
Welcombe to FF247 Fantasy Football Site Team GW3. After a rather impressive 95pts in GW1 we were brought back down to earth in GW2 with a somewhat mediocre 52pts. We won't complain though as it was 11pts above the average and resulted in a green arrow, lifting us to circa 83k.
Two of our defenders accounted for close to 50% of our points. Lucas Digne returned an assist, a clean sheet and two bonus points. Digne's points were of no surprise to us. However, John Lundstram picking up a goal, a clean sheet and three bonus points led to one of the management committee hollering for doughnuts! Aside from a goal from Raheem Sterling the rest of our team did SFA.
We move onto GW3 with 2FT's burning a hole in our pocket. Obviously we're happy with the start we have made but we do have a number of concerns. With Liverpool yet to pick up a clean sheet do we need to double up on their defence? The form of Ayoze Perez is also a concern. While the form a certain ginger midfielder has caught our eye.
Our GW3 Result…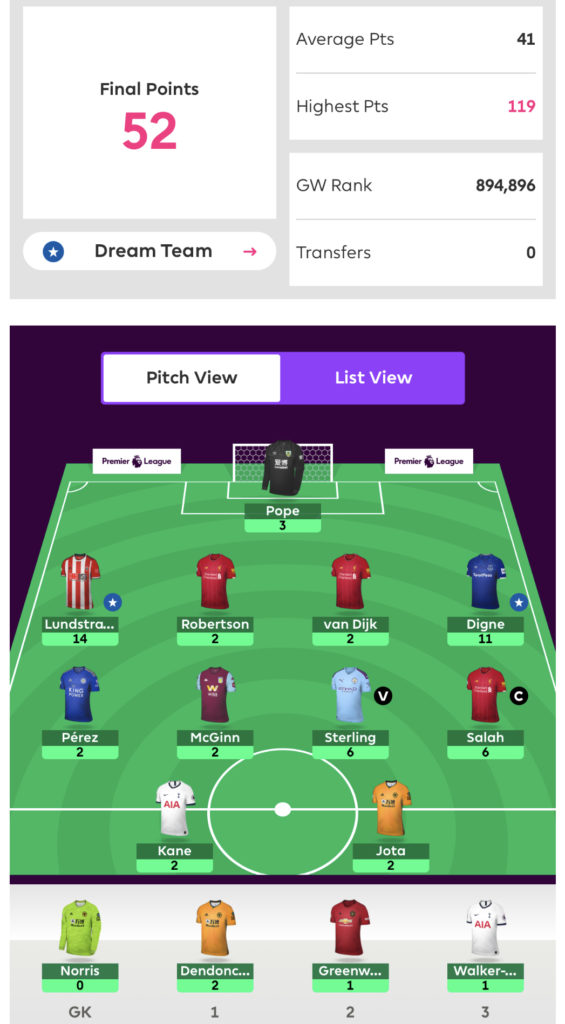 Let's go see what was decided…
Our GW3 Transfer(s)
Wildcard. Must resisit the urge to Wildcard…. But everybody else is Wildcarding, KDB looks nice and shiny, Pukki is made of goals, Salah is dead, long live the Mane. Etc, etc…
To be fair we did resist, but it was hard and it was a fight. Especially given that at least half of the committee are on a Wildcard of their own. Why didn't we? Well, we just couldn't actually come up with that many (worthy) changes which would justify it. KDB seemed to be the main lure but ripping up a decent squad just to accommodate a player who will probably get injured again in the next few weeks just wasn't cutting it.
Beyond that though we were a bit stumped, truth be told. We had 2 FT's and £0.0m ITB, a few players we were unhappy with (looking at you Perez) and a few we coveted (KDB of course) but no real way of getting there without losing some other big hitters. So instead we lowered our expectations (and budget) and turned to the other apple in our eye; Martial. Priced at £7.7m and playing OOP (up top) for a Manchester United team who look like they may actually want to attack for the first time since Fergie left seems pretty alluring.
But we still needed to raise some dough to get him and as a result we turned our attentions to the other end of Old Trafford and new recruit Obi Wan Bissaka. Since him and Maguire have come in they do look a whole lot more solid and dependable and it took a wonder strike from wolves to breach them on Monday. But who to lose to accommodate them? Well, Perez, obviously. As for the defender involved we didn't, ideally, want to lose Robertson but sitting with double Liverpool coverage at the back with them looking less than assured and with him being the premium priced one we had to wave goodbye to Robbo for a bit. We are sure we shall meet again one day…
To confirm then we have SOLD Robertson & Perez and BOUGHT Wan-Bissaka & Martial
Captain – Raheem Sterling. Vice Captain – Harry Kane
Oooof, this was a close call. Raheem edged Harry out by three votes to two. This may actually go against the grain when the final captain stats emerge on Friday night but we do feel that Sterling is almost approaching 'perma capo' status, such is his form. And we all know what 'Arry did last season in some of these so-called 'easier' fixtures, Cardiff comes to mind. As does a phrase used earlier: SFA.
Our GW3 team in full…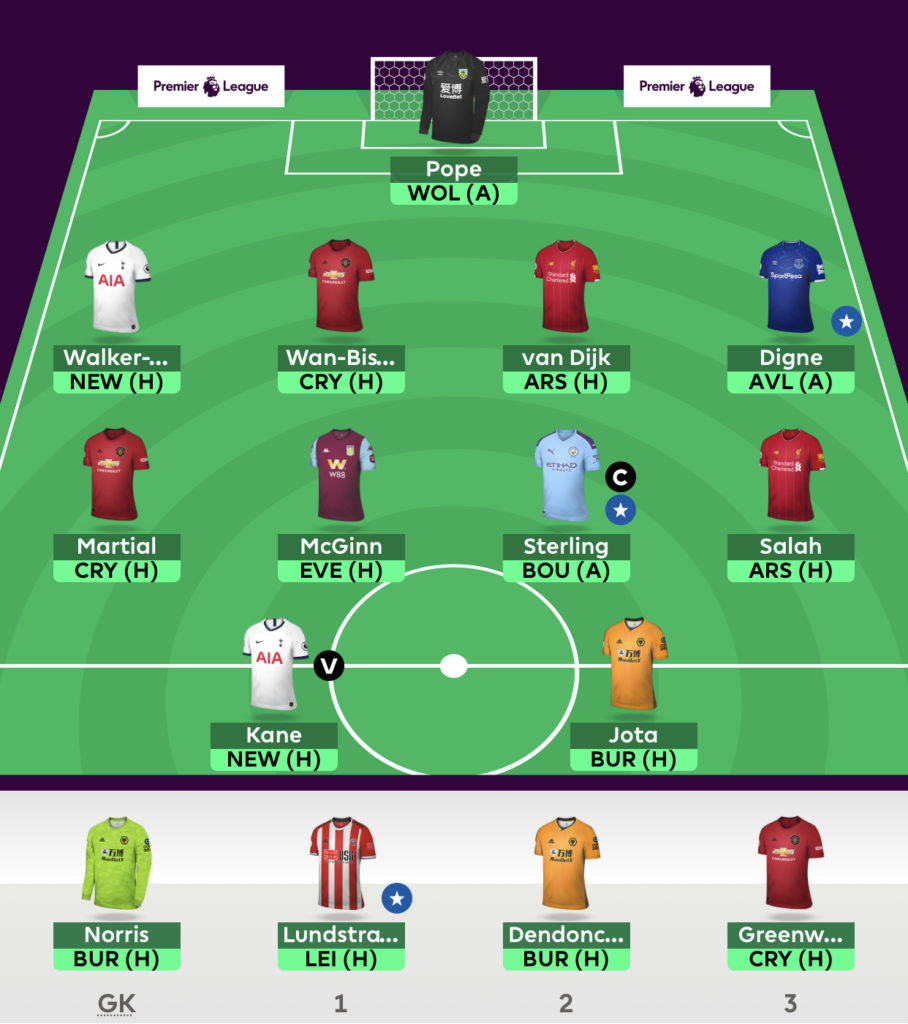 Should you wish to follow the FF247 Site Team's progress you can do so here.
Thanks for reading FF247 Fantasy Football Site Team GW3
FPL FIXTURE TRACKER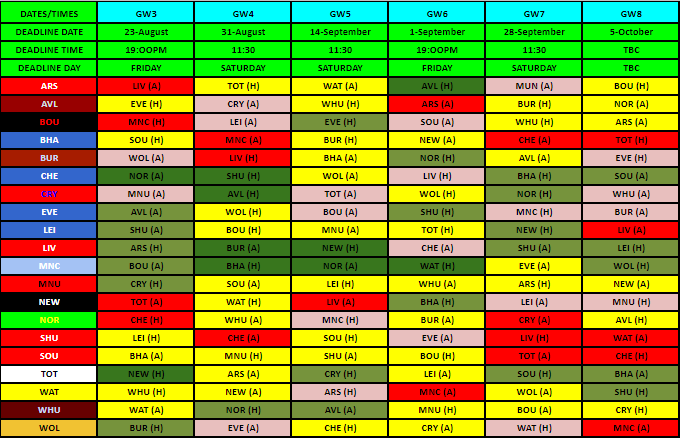 FIXTURE TRACKER LINK
Fantasy Football 247 League Codes: