FF247 Fantasy Football Site Team GW36
Welcome to FF247 Fantasy Football Site Team GW36.
"I tender my resignation…."
Oh dear, oh dear. What a shambles. We of course cancelled our proposed Bench Boost and opted instead to play our Triple Captain chip on Aguero. You know the rest. Kun contributed a mere single assist in 2 matches while Dunk & Duffy recorded a clean sheet apiece and came within a whisker of doubling that. At least it was Eriksen that broke Brighton hearts.
Overall we scored 91pts which in all honesty is hardly bad. It was still 24 above the overall average but it could and should have been triple figures and those opportunities don't come around often. Had we followed our original plan and bought Wilson and then Bench Boosted we'd have landed on 107. Which is not untypical of how the gain looked overall for those who chose to TC vs those who went with BB. Lessons learned and all that…
We were saved late on by goals from Doherty & Jota. That was the highlight. There were too many underperformers to name and shame them all.
Despite a weekly rank of 416,343 we still lost a small amount of ground, falling to a season long rank of 12,518 from a previous 11,785.
But it's now a Big Bench Boost week for us so anything is still possible, quite literally!
Last week's team in full…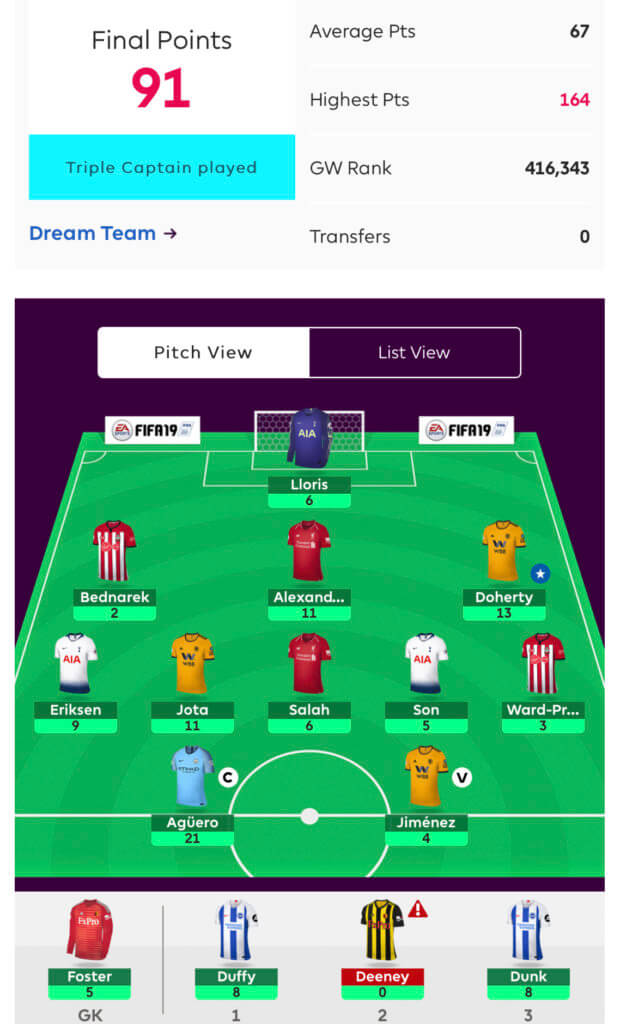 This week's transfer – we have sold Eriksen & Deeney and bought Mané & Zaha. And we are (finally) playing our Bench Boost Chip

You couldn't make this up. We are nothing but reactionary. Having cancelled our Bench Boost last week we were running out of options of when to actually bother with it. The choice was realistically GW36 with our two Brighton defenders home to Newcastle or the lottery of GW38 when we could potentially load up on Saints at home to Huddersfield.
The committee meeting was a little dispirited – two members tried to resign, while another mumbled something about retirement. And the cold hearted one didn't bat an eyelid and carried on as if nothing had happened.
With two free transfers in hand Mané and Mitrovic and the activation of Bench Boost was the opening suggestion from one of the potential quitters. Pérez was briefly mentioned as an alternative to Mitro but the opening motion was carried unanimously – it appeared that no-one had the balls or energy to argue.
So that was decided. Or so we thought.
However, a few hours later the other resignee pointed out that despite scoring from the spot last week, Mitrovic had previously gone 10 GW's without scoring. Zaha was thrown up as an alternative.
We were now entering dangerous territory. It was this sort of last minute ambush that initiated our problems last week.
Worryingly, Zaha narrowly won the re-vote. Given our current state of decision making we recommend you all go out and buy Mitrovic! And avoid Zaha. And stick to your own plans

Later on we felt slightly better by Rosco tipping both Zaha & Perez in his article… and Mitrovic wasn't mentioned. A good sign? Let's hope so.
So Dunk & Duffy get another go. Gulp. A lovely looking home fixture vs a team that struggles on the road – what could possibly go wrong?
Our Captain for GW36 is Mo Salah. It was him or Mané and the Egyptian narrowly won that one. Mané is our vice captain in case Salah is still feeling the effects of the violent assault he suffered at Cardiff last week.
Our Team In Full For GW36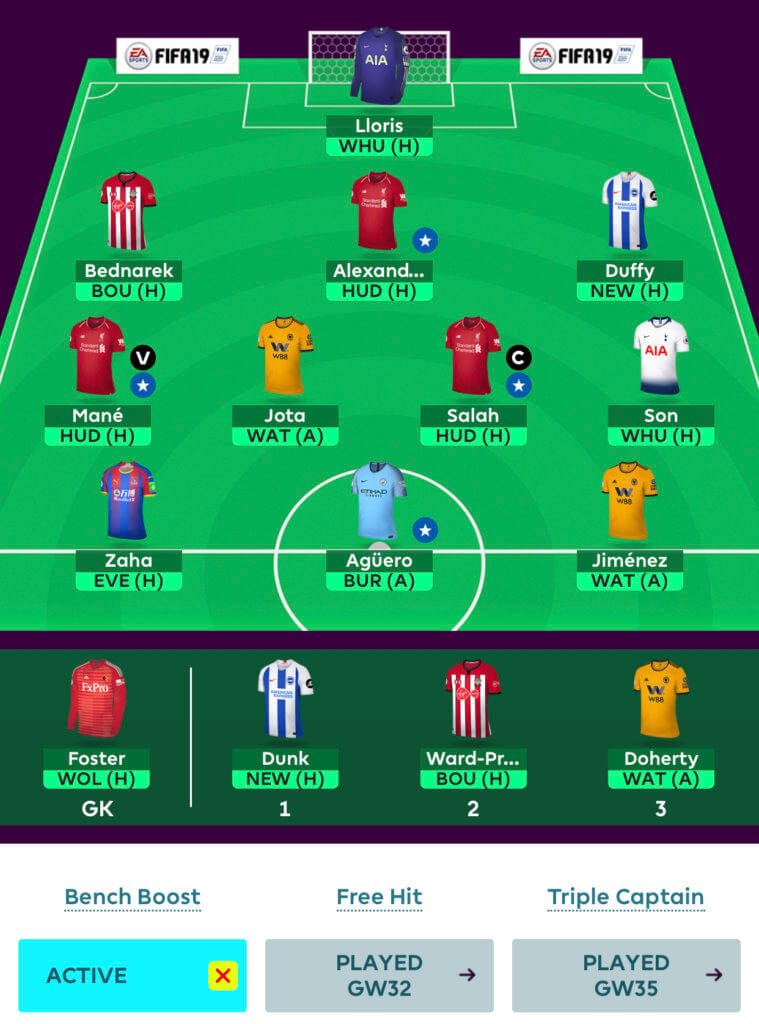 You can follow the site teams progress all season by clicking here
Thanks for reading FF247 Fantasy Football Site Team GW36
FPL FIXTURE TRACKER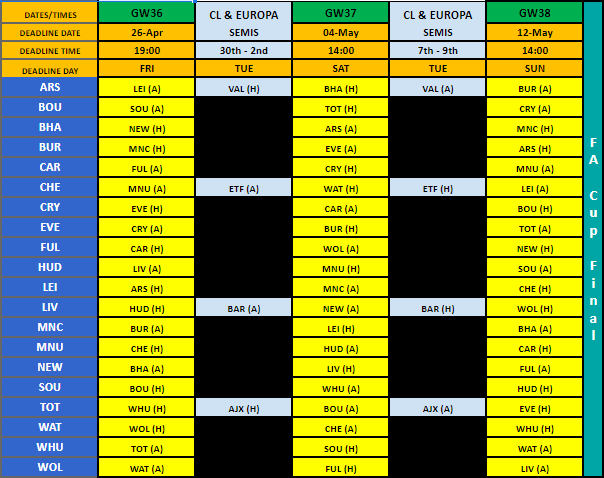 FIXTURE TRACKER LINK
Welcome to our Fantasy Football leagues section.
The League Codes for FF247 for the 2018/19 season are as follows –