FF247 Fantasy Football Site Team GW37
Welcome to the FF247 Fantasy Football Site Team GW37. No sooner had we made giant strides into the top 100k after a run of 9 successive rises, our world and ranking came crashing back down. We scored 42, net 38 – below average and we slumped down to 87k. We're not massively surprised as we all took a look at our team post Free Hit and cringed. Our only City player was not Sterling, or Jesus, or Sane. Nope we had Gundogan. And we didn't even play him. Our best success was at the back with clean sheets from Dunk and our Burnley duo. Kane with a Monday night tap-in was our only goal of the week. Yep, it was that bad that even Captain Salah blanked.
We move onto this week – the big double and hope our luck changes. Some decent City coverage would help…..
Last Week's Result –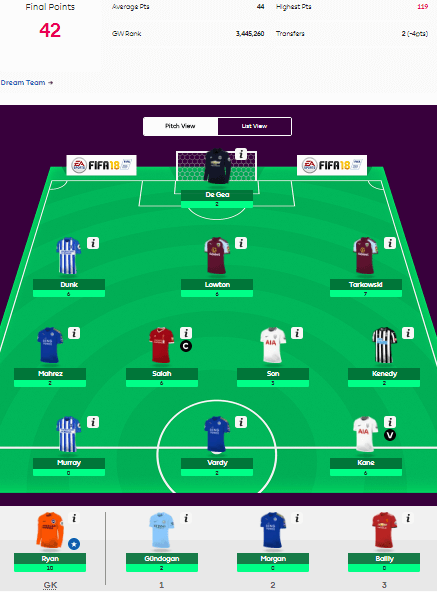 Let's go and see what we have decided to do this week…
This Weeks Transfers –
Sold Vardy, Salah and Bailly & Bought Jesus, Sterling and Chambers
Selling Murray was our initial priority, as we don't feel he will do anything this week, until it became clear that doing so meant that the replacements suggested were all a bit sub standard as a result. Selling Vardy gave us a bit more scope. But still not quite enough scope to reach our intended targets of Jesus and Sterling. And so reluctantly, sort of, Salah came in to our firing line. Is it possible to say that a 43 goal, multiple player of the year winner has looked a bit off the pace in his last two games and may bomb again this week? That's not to say he won't suddenly go bang again against Chelsea, he may well do, but we were scratching around for any small reason to sell him to aid our other desired transfers this week!
Jesus and Sterling need little explanation, just take one look at their fixtures and form. We just need Pep to play ball now and start them both!
Chambers fell in to our lap, much as Arsenal did in to Simeone's. We were already debating a move for the much more expensive Monreal in a different combination of transfers and then Koscielny got stretchered off and low and behold a cheap route into the Arsenal defence presented itself. Don't look a gift horse in the mouth and all that…
The Team In Full…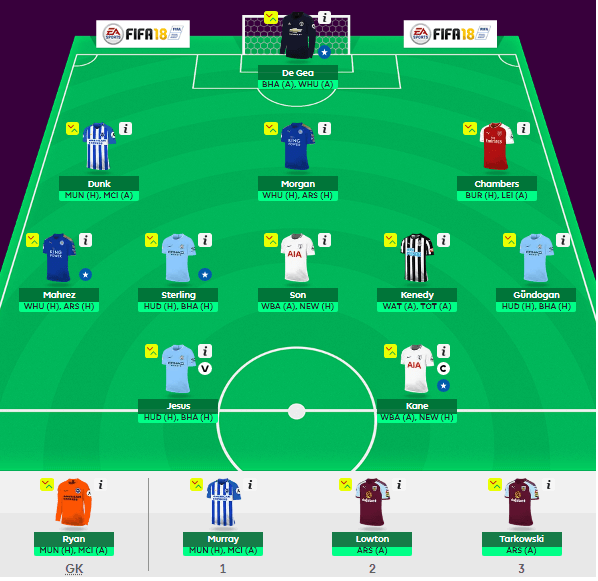 Triple Captain Time! – Harry Kane
We are on our Triple Captain this week and the voting was close. Although, strangely, young Raheem wasn't involved! We expected a split vote between him, Jesus and Kane and yet Jesus and Kane got all the votes between them. It was so close in fact that the deciding vote was cast by proxy by someone who didn't even know the vote was occurring and was almost certainly asleep at the time! We won't bore you with the details but suffice to say we've known him for 10 years, to say he's risk averse would be an understatement, and he captains Kane more than Kane would captain himself.
The truth is that there is no clear cut candidate this week. All 3 could stake a legitimate claim and as we all know the correct answer will probably end up being some random player who nobody expected. Probably Glenn Murray knowing our luck!
If you wish to follow the teams progress more closely you can do so by clicking here.
Thanks for reading FF247 Fantasy Football Site Team GW37
The League Codes for FF247 for the 2017/18 season are as follows:
Gameweek Tracker GW37-38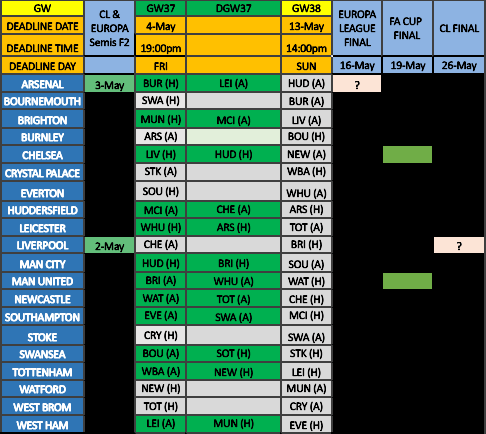 INTRODUCING FANTASY TOTE…
Our new partner has a few words to explain their wonderfully simple to play daily fantasy game. Please do them and us a favour by clicking on the banner link below, have a browse and give their game a try. Over to them…
Fantasy Tote is the next evolution in Fantasy Football. Play daily & weekly games to win real cash prizes.
There are no budget restrictions like in FPL so it's open season on the big players and makes it easy and quick to play. But can you pick the right team to win big?