FF247 Fantasy Football Site Team GW4
Form over faculties?
Welcome to FF247 Fantasy Football Site Team GW4.
GW3 was tough. Really tough. We brought in a couple of Ole's babies and one eeked out an assist, the other sh*t the bed, to be frank. Martial got us 5 points for his troubles, Wan-B got us zero after a yellow card and a late goal conceded. Not every transfer decision can be perfect and Palace at home screamed clean sheet. In theory…
Wan-B's defensive compatriots didn't fare much better as they amassed 7 points between the sorry lot of them.
Our 'left-field GW1' pick McGinn got us an assist to keep things ticking along in the midfield budget basement. Our premium mids did what they do with Salah and Sterling (C) bringing home 31 between them.
Up top we may have some issues as Jota and Kane got two points apiece.
Overall we got 53 points, which was 9 above the average. It somehow meant a green arrow, albeit the tiniest of ones and we moved up 300 spots to sit at 82,365th.
Our GW3 Result…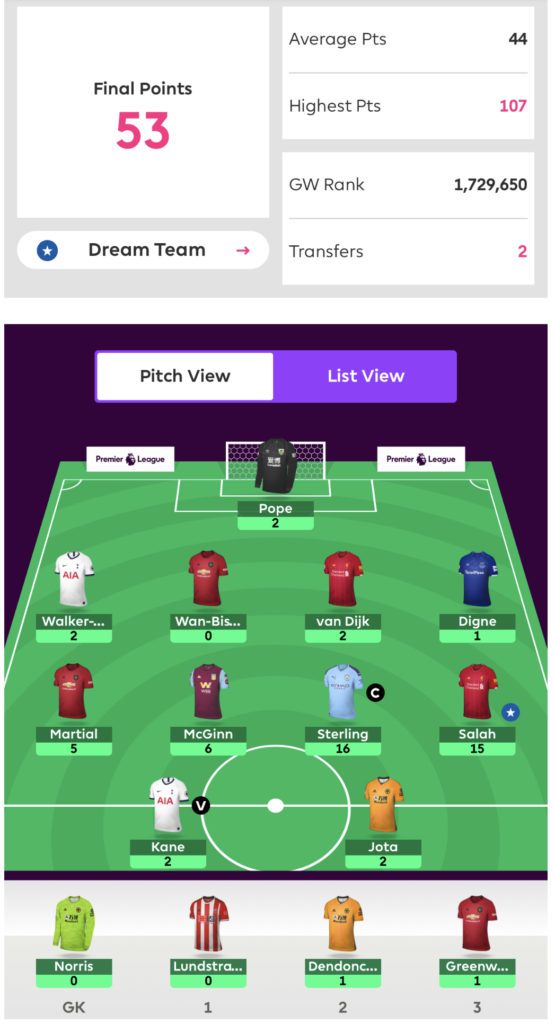 Let's go see what was decided this week…
Our GW4 Transfer(s)
Problems have been mounting as Martial has been ruled out, Walker-Peters looks likely to be so, our front-line is mis-firing, our back-line is conceding and even our sub keeper was getting so fed up with them all he buggered off on loan to Ipswich for the season. Now we could have ridden some of this but in all honesty a mini overhaul was on the cards and we wanted to jump on some in form players early doors before their prices prohibited us from doing so. As such we voted to WILDCARD this week.
As for our actual picks many (most) need little or no explanation as quite frankly it looks like a who's who of who has scored the most points recently. We believe that is called 'form' though and so make no apologies for doing so. Our front-line is a case in point; it now consists of the three highest scoring forwards in the game. Chasing points much, you may ask. In all honesty no because they are simply the form guys and we wish we had had the hindsight to pick them all from GW1!
If you have further questions about the choices please feel free to ask them in the comments below and we are sure one of the committee will be on hand to offer any explanations but as we say it looks pretty straightforward as to the why bit in most cases.
To confirm then we have WILDCARDED
Captain – Ben Stokes Sergio Aguero
If we could have captained our hero Ben then we would have (many did in the Captain Poll!) but it was a toss up between Kun and Sterling and it could have been either way round really. We clearly feel that City may go on one this week, despite Brighton's promising start. Kun edged it narrowly, Raheem will back up if Pep suddenly decides to lose his mind rotate.
Our GW4 team in full…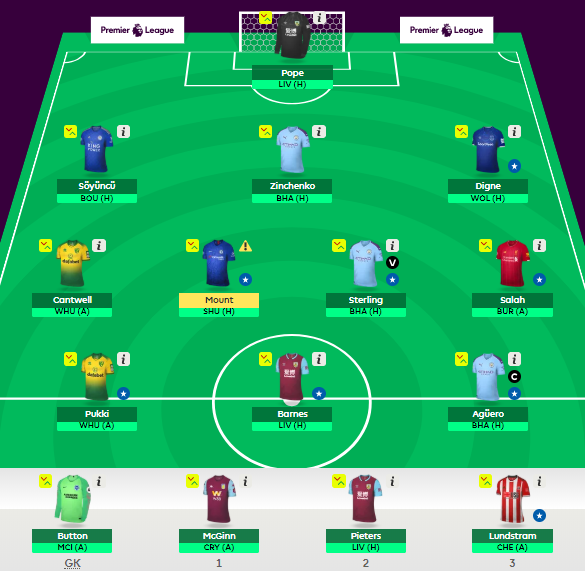 Should you wish to follow the FF247 Site Team's progress you can do so here.
Thanks for reading FF247 Fantasy Football Site Team GW4
FPL FIXTURE TRACKER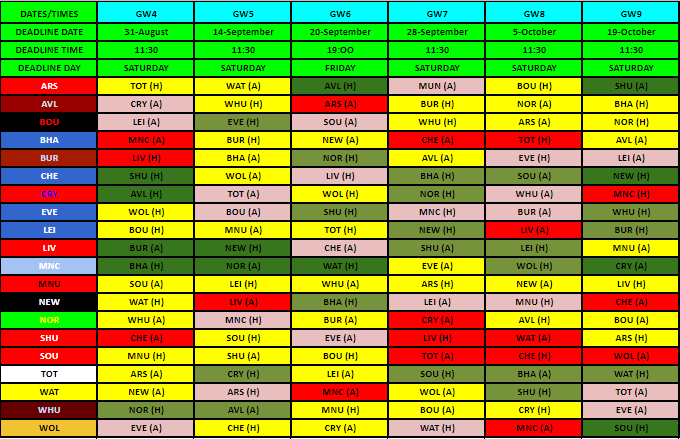 FIXTURE TRACKER LINK
Fantasy Football 247 League Codes: