FF247 FPL Team GW10
Welcome to FF247 FPL Team GW10
Gameweek 9 was the first week of our wildcard.
56 points. ONE point above average. It's not one point BELOW average. Every cloud and all that. . . .
OK so we've always said that a Wildcard is for life not just for Christmas – i.e. you wildcard with a long term view. At least that's the theory. We're still happy with our lot or at least we haven't discussed it much so there can't be too many among us particularly worried.
To mix it up, we'll look at the bench first this week to see if there's any immediate regrets. No there wasn't. We had Forster (scrub), Bissouma (1), Dann (2) and Kilman (2) so at least we didn't get any of the big calls wrong.
The starting eleven's star man was the heir to Duncan Ferguson's throne, Dominic Calvert-Lewin with his huge 13 points. Thanks Duncan-ic … Domican … Dunconic – I'll work on that one.
Staying on the strikers and Kane and Vardy each got four points which many consider to be the cut-off for failure/return. Unfortunately for JV9, those four came as captain so he's let us down there. With Fulham ahead, something tells me he will be forgiven.
The midfield brought home 15 points and Diogo Jota got 9 of those. Ziyech (3), KDB (2) and Grealish (1) – must do better boys.
Clean sheets from Chilwell and Coufal were just the tonic but Targett did not live up to his name by blanking.
Alex McCarthy didn't get a clean sheet this week but not to worry because he made up his points with 2 save points and 3 bonus. 7 points from your goalkeeper in a 1-1 draw = Legend.
56 points then resulted in a ranking drop of about 80k to land us on 2,049,297 overall. Plenty of room for improvement.
Our GW9 Result…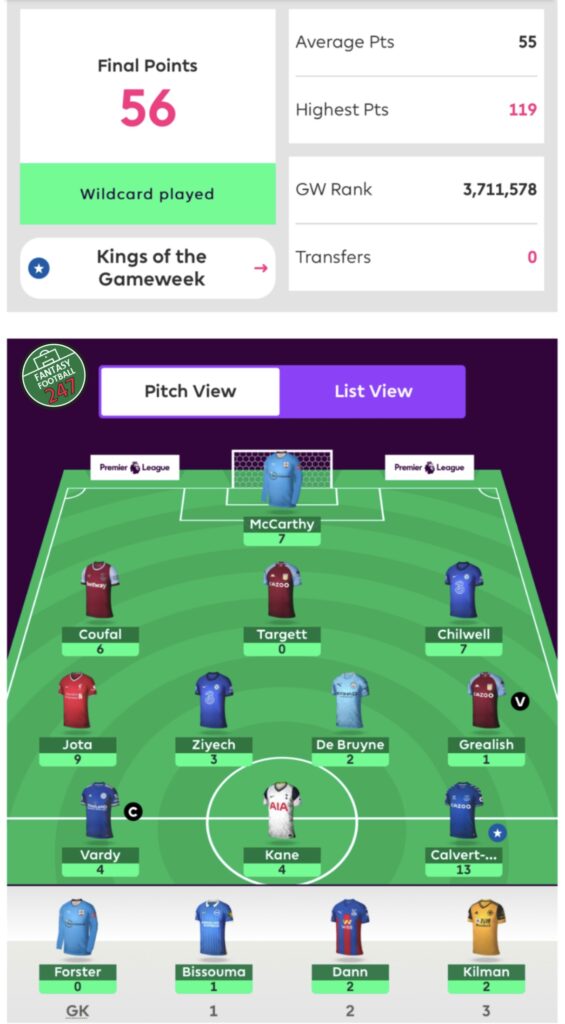 With 1FT and just 0.2 left ITB go see what was decided this week…
Our GW10 Transfer(s) decision
Not a lot to decide, if truth be told. We played our WC with a view to what was ahead, and now whilst that may not necessarily be rosey every week we are satisfied enough to hold what we have for now.
To confirm then we have HELD our FT
Captain – Vardy
We didn't even vote on this, it was more of a given.
Our GW10 team in full…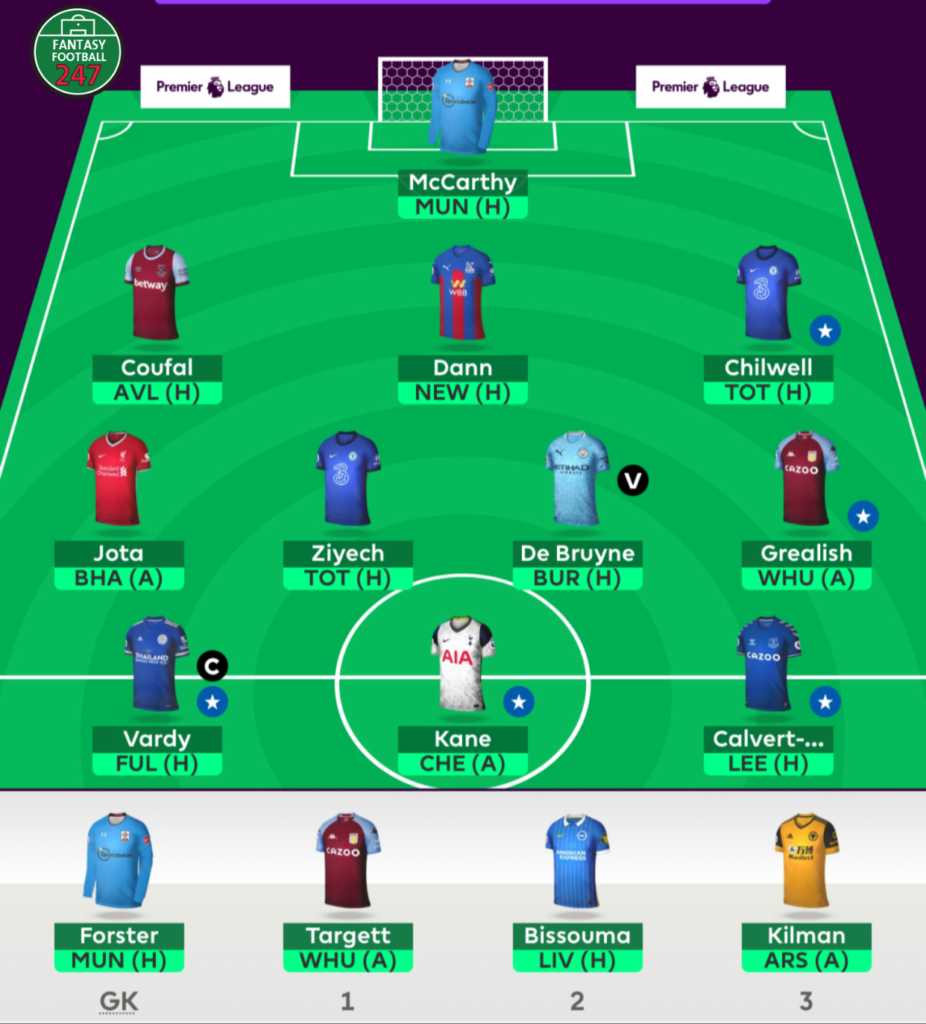 Should you wish to follow the FF247 Site Team's progress you can do so here.
Thanks for reading FF247 FPL Team GW10
VOTE ON THIS WEEK'S CAPTAIN POLL GW10
FPL FIXTURE TRACKER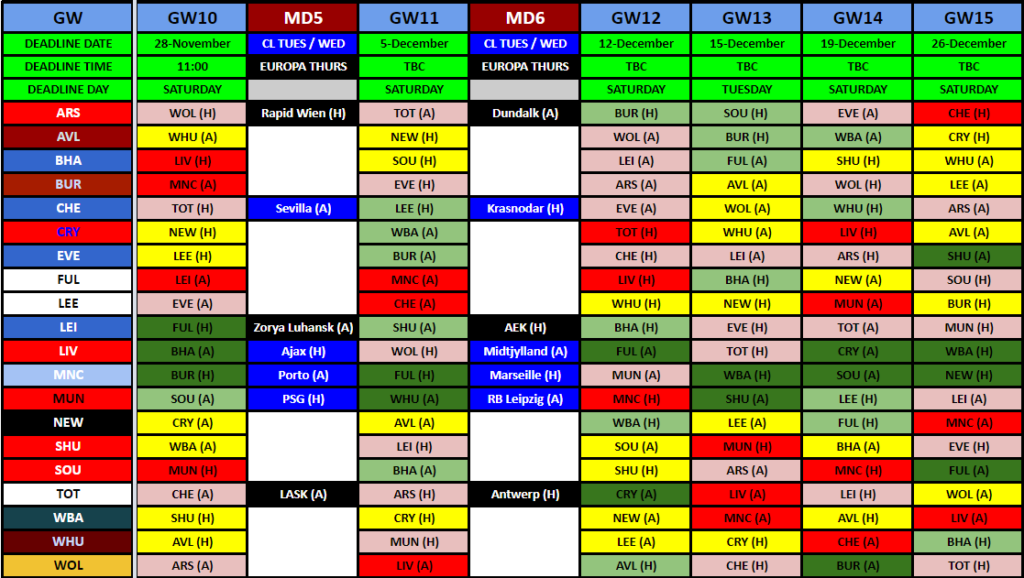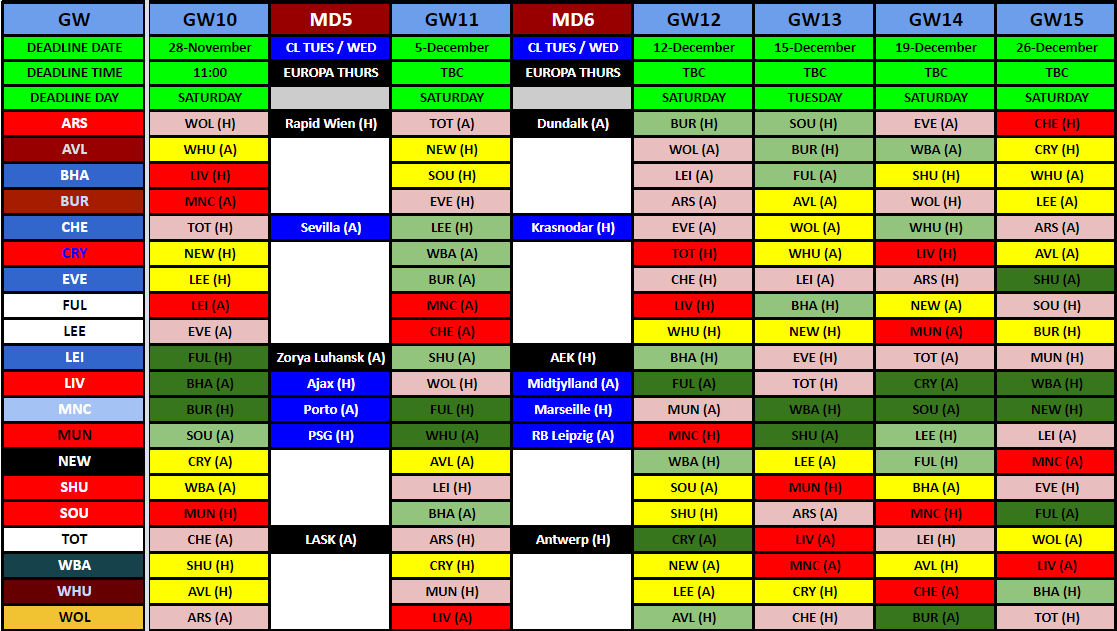 FIXTURE TRACKER LINK
Fantasy Football 247 League Codes:
All prizes must be claimed within 30 days of the final GW.