FF247 FPL Team GW30
Welcome to FF247 FPL Team GW30
Remember FPL?
A week is a long time in politics. And in football, well times that by a billion for an FPL gameweek. That's BEFORE we factor in that it's an international break. AND we're off the back of a woeful gameweek with only four fixtures.
We can forgive ourselves for putting FPL to the back of our minds for a bit. However, we are now approaching GW30 and before we discuss that, we must look all the way back to GW29 to see how good/bad/indifferent it was for us.
We scored 39 points and the average was 25. That's all right we suppose. Although we did have Gareth Bale who didn't play and no sub to replace him (great!). That might put a bit of positive spin on it we guess. But it was a red arrow regrettably – from 408,682 to 433,614 – and our second red arrow in a row. Eek!
The only winners for us were our captain Harry Kane (14) and a midfield duo of Lingard and Raphinha collectively landing 20 points. Nothing else to write home about.
Our GW29 Result…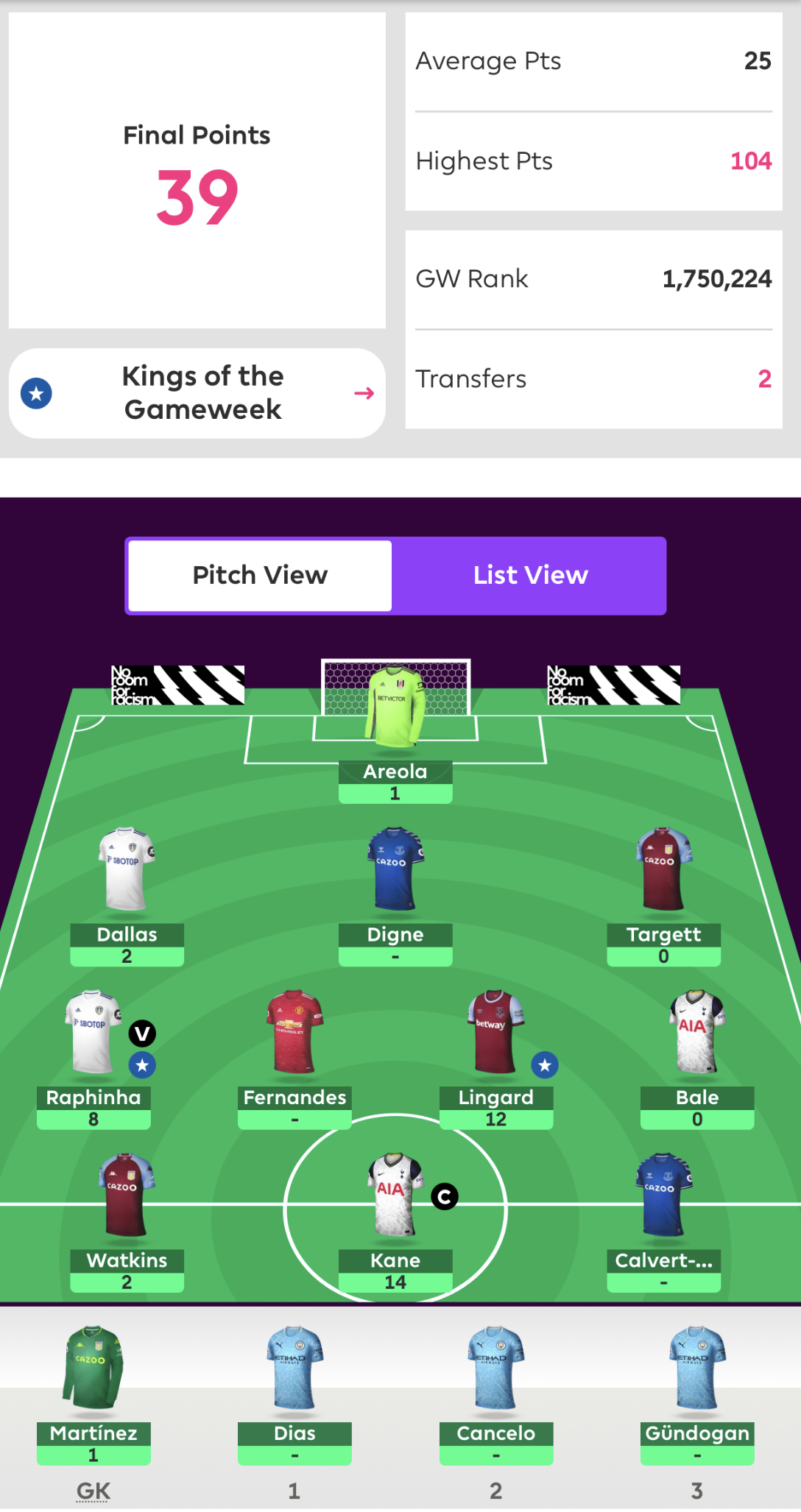 Let's go see what was decided this week with 1 FT and £0.0 ITB…
Our GW30 Transfer(s)
Disagreement?
Looking at our team, at least initially, the argument was rather more who to bench than who to transfer in. And we had settled on that as an argument, not expecting a further argument about transfers. It was argument itself, and needed no further argument, other than the argument that was to follow…
Having settled the argument that there was no argument and that there really was no point in even arguing about the bench order given that there was an argument in favour of all suggestions, and an argument against them all too… until some d*ck mentioned Azpi!
The argument for Azpi was simply that we had too much Man City coverage and that Chelsea had great fixtures coming up. Having 'too much' Man City may seem like an oxymoron but with the league more or less won and a big CL tie or two in the offing it is a valid argument.
And to be fair it got little argument.
Which one to cull though? Cancelo is the sexy one to own, Dias much less so. We opted for the duller but more reliable one to stay.
As for the benching issue we had so many different combos we gave up arguing about it!
To confirm then we have SOLD Cancelo and BOUGHT Azpilicueta
Captain – Harry Kane
The undisputed champ is… Harry got all votes going, end of.
Our GW30 team in full…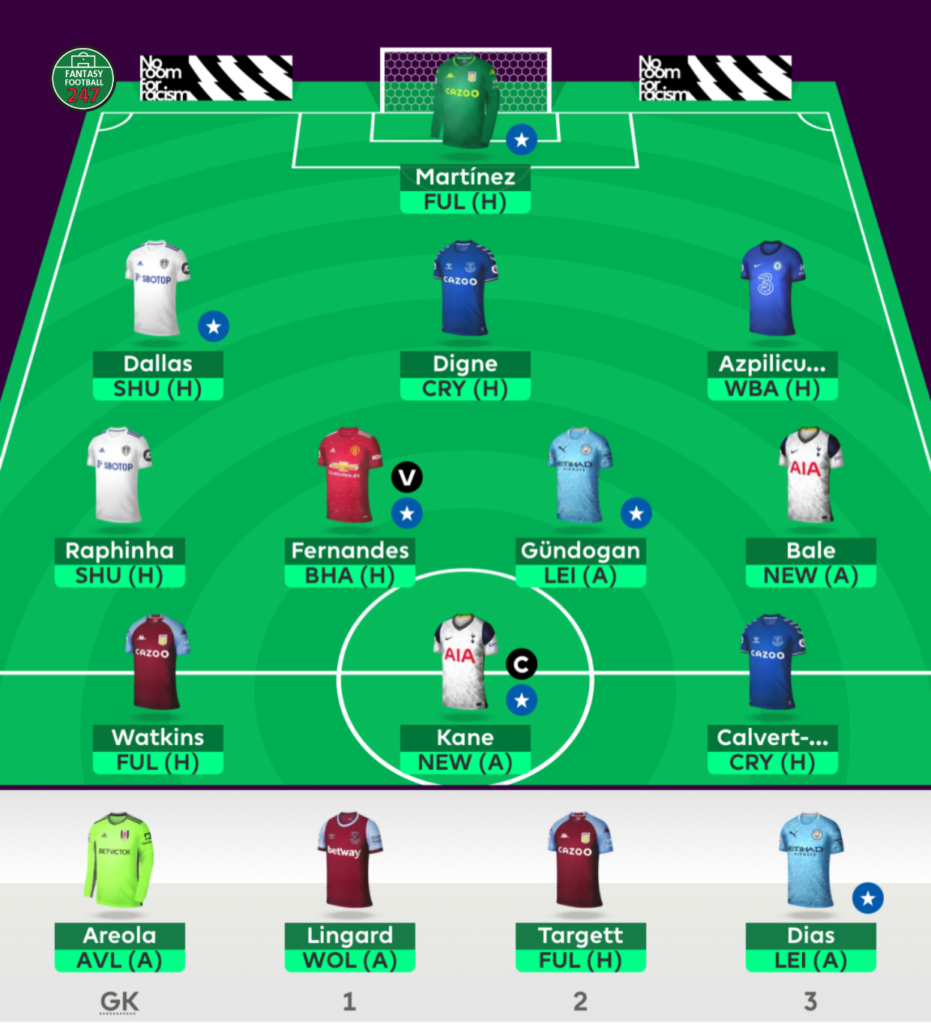 Should you wish to follow the FF247 Site Team's progress you can do so here.
Thanks for reading FF247 FPL Team GW30
VOTE ON THIS WEEK'S CAPTAIN POLL GW30
FPL FIXTURE TRACKER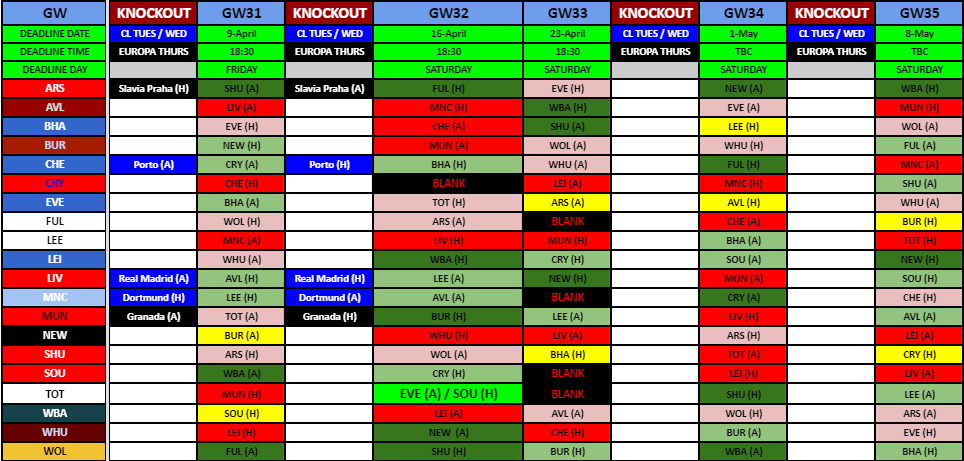 FIXTURE TRACKER LINK