FF247 FPL Team GW31
Welcome to FF247 FPL Team GW31
No case for the defence
We realise that it is the headline figure of the gameweek score which is the most important thing and not obivously the nuts and bolts of who did what within. Thankfully. Our defence was wickedly bad this past week. Martinez got 4 in goals thanks to six saves against Fulham and oh but for Tyrone Mings gifting Fulham their goal, we could have had a Martinez special.
The back three combined for THREE points – hindered by Azpilicueta's Zero and *cough* 'boosted' by Dallas' 2. Digne was Joe Average. Speaking of average, Gareth Bale has not often been called that but this past week, he was even sub-average with 1 measly point and DCL, whose form is off a cliff, at least got two.
Onto the good stuff!
In ascending order of fantasy brilliance we had Bruno Fernandes (5), Raphinha (6), Ollie Watkins (7), Jesephine Lingod (12) and Sir Harold of Kane with TWENTY SIX, albeit armband assisted. By one point, we called our captain correctly. Buzz-ing.
Our 66 gameweek score, 20 points above the average, shunted us up to 370,330 in the overall rankings and a green arrow. Very welcome indeed off the back of two consecutive reds. Go us!
Did we mention that Lingard was an autosub for Gundogan's no-show? No? Good. Forget we said anything.
Moving on swiftly….
Our GW30 Result…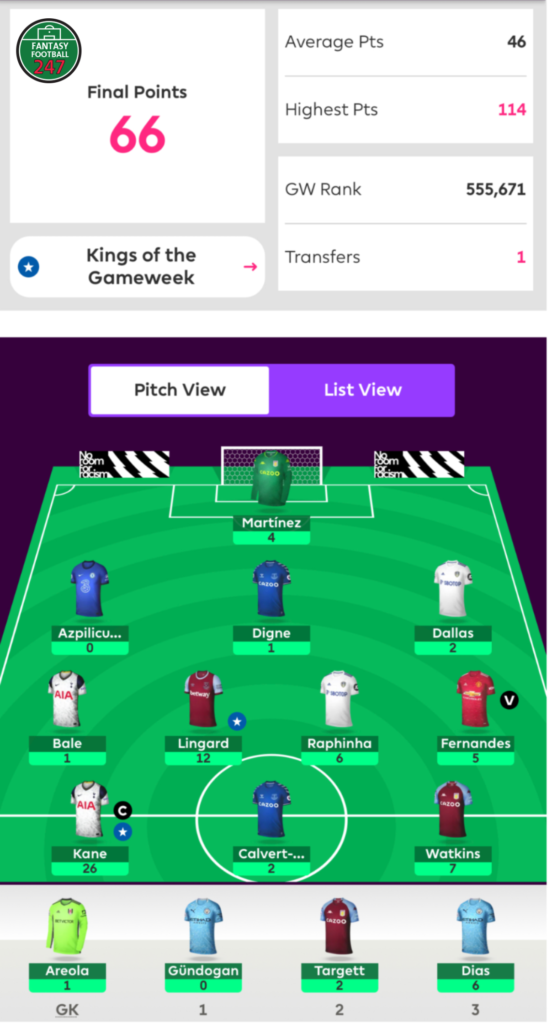 Let's go see what was decided this week with our 1 free transfer…
Our GW31 Transfer(s)
We are all now of the opinion that if there were points given in FPL for footballers with a good golf handicap then we would have probably kept Gareth Bale and offered him the armband. But alas, no. We have no patience room for sentiment and we let go of the on-loan Real Madrid forward and put it down to one of those "for old time's sake" moves. Much like when we all bought David Silva for last season's GW38 send off and how we'll probably buy and captain Sergio Aguero in 38 this.
Liverpool's Diogo Jota comes in by the way, winning the first four votes in the poll. Unanimous.
To confirm then we have SOLD GARETH BALE and BOUGHT DIOGO JOTA
Captain – HARRY KANE
Two votes for Harry and two votes for Jota mean that the 'C' and 'VC' would be shared amongst them. The fifth vote went to Harry meaning that he takes the armband again – 13 points last time out – can hardly blame us.
Token gesture perhaps, but if worst happens, Jota picks up the slack as vice.
Our GW31 team in full…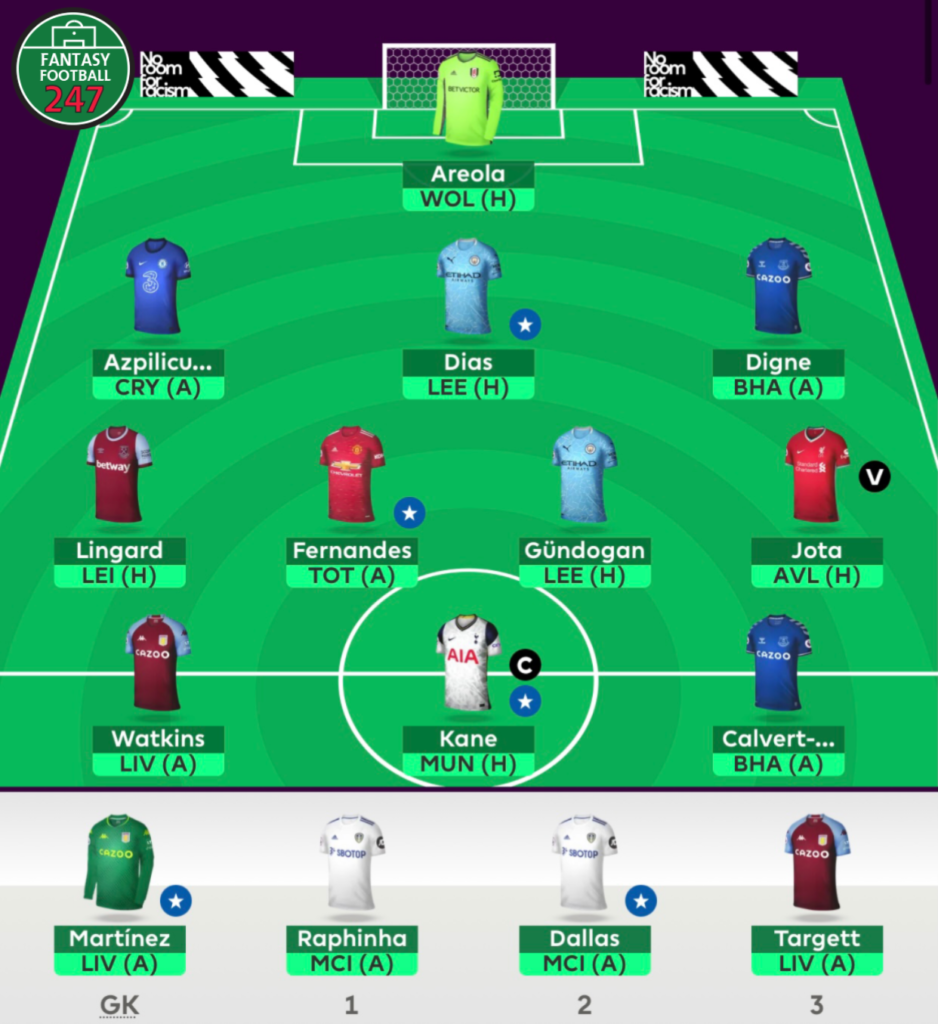 Should you wish to follow the FF247 Site Team's progress you can do so here.
Thanks for reading FF247 FPL Team GW31
VOTE ON THIS WEEK'S CAPTAIN POLL GW31
FPL FIXTURE TRACKER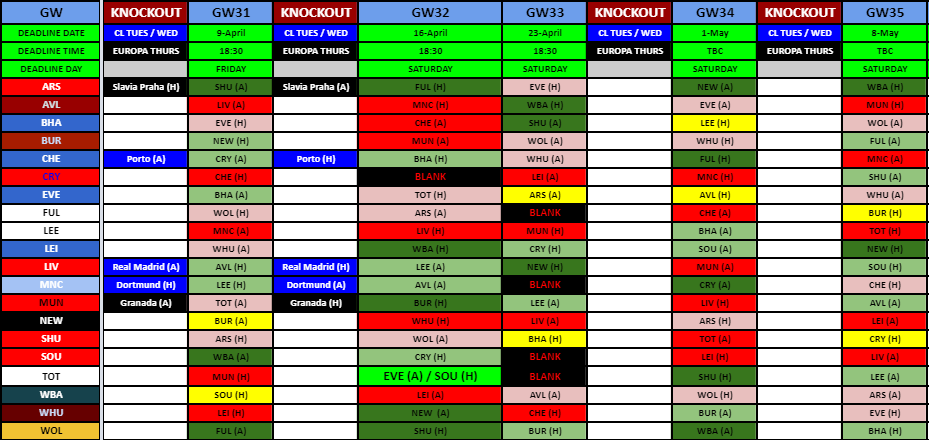 FIXTURE TRACKER LINK