FF247 FPL Team GW6
Welcome to FF247 FPL Team GW6
In our defence…
It's fair to say that when we decided to start the season with a double up of Liverpool at the back we were hoping for more than just the solitary clean sheet, and we certainly weren't expecting that they would have conceded an average of nearly two per game (albeit it somewhat skewed by that Villa thrashing). The hapless duo got us two points this week, between them. We can then only assume that a certain Mr Pickford had seen our team and decided that enough was enough…
They weren't alone though as Ryan and Mitchell served only to double the entire total of our back-line to four points. Taylor sat laughing at us from the bench with five.
Things got a bit better up top with goals galore as Havertz, Jimenez and DCL all chipped in, Bruno got all sorts of points (both positive and negative) and our Captain Son did similar to give us a pleasing 26 from the armband.
All that left us on 66 points and a small green arrow which saw us jump up to roughly 1.4m overall. Slowly, slowly and all that…
Our GW5 Result…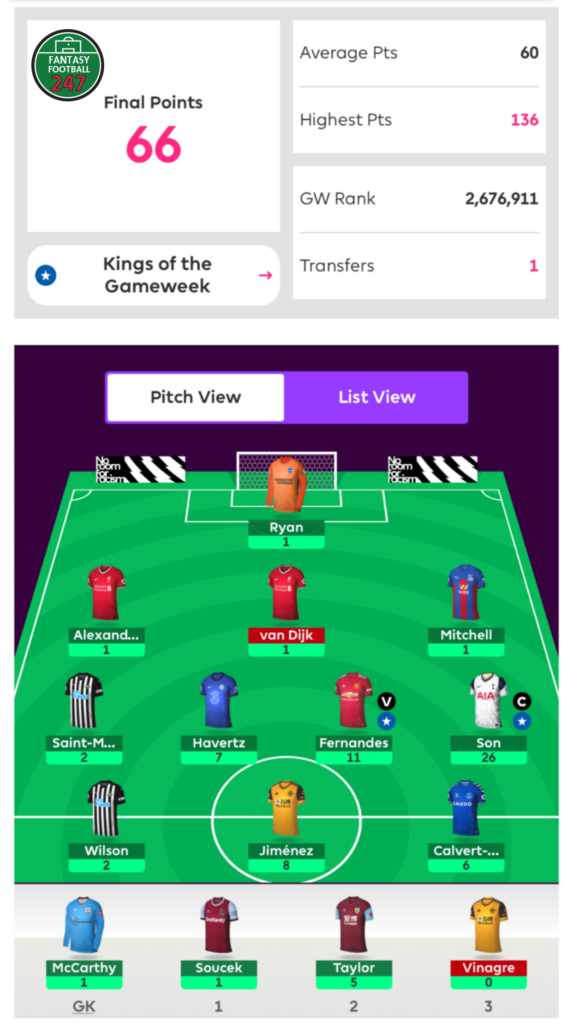 With 1FT and £2.8m ITB let's go see what was decided…
Our GW6 Transfer(s)
Mane is more explosive
OK so this is a bit of an in-joke here – one which precedes this particular author's joining of the site team – however I like to pile on when there's a good ribbing to be dished out. One member of the site team once famously claimed the explosiveness factor led him to pick Mane over Salah. Right before Salah scored a bazillion points against Watford and Mane scored ONE assist.
To the present day and the same opportunity now presents itself. Mane or Salah? Salah or Mane? Luckily the democratic will was seen out and Salah comes in for the Site Team this week.
Oh and Virgil van Dijk – we need to sort him out (not in that way Jordan!)
In order to accommodate the transfer of Salah in for Kai Havertz, we needed to downgrade VVD to a 5.3mln or less and whilst Roman Saiss of Wolves was discussed quite extensively, we have taken a look at the bigger picture and we realise that in all truth, we are going to have to upgrade our fourth midfielder sooner or later. With cash in mind we have looked towards Aston Villa and we have chosen to go for Konsa. It might not be a glamour purchase but Villa do have a decent looking run of games ahead.
To confirm then we have SOLD Kai Havertz AND Virgil van Dijk and BOUGHT Salah AND Konsa at a cost of -4 points
Captain – Mohamed Salah
We hope he kicks off his stint with us with a bang against Sheffield United and in case the worst happens, Son of Spurs at Burnley holds the vice.
Our GW6 team in full…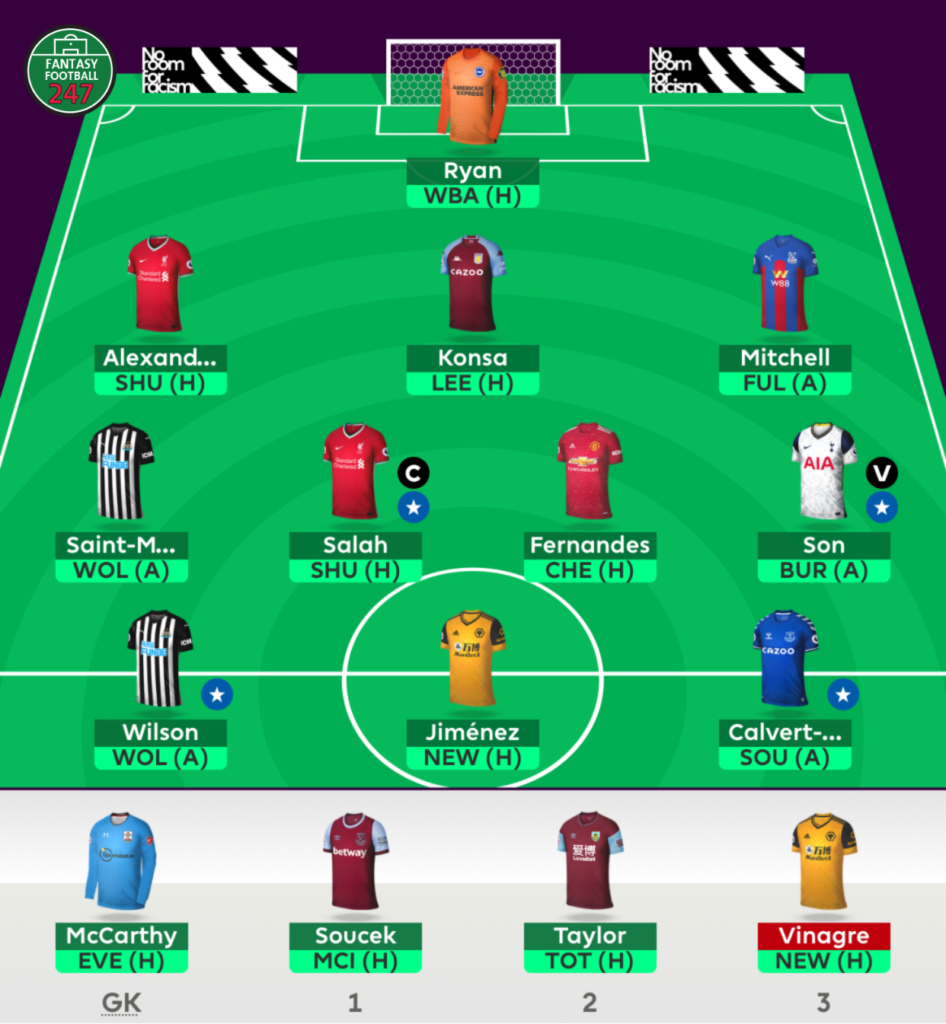 Should you wish to follow the FF247 Site Team's progress you can do so here.
Thanks for reading FF247 FPL Team GW6
FPL FIXTURE TRACKER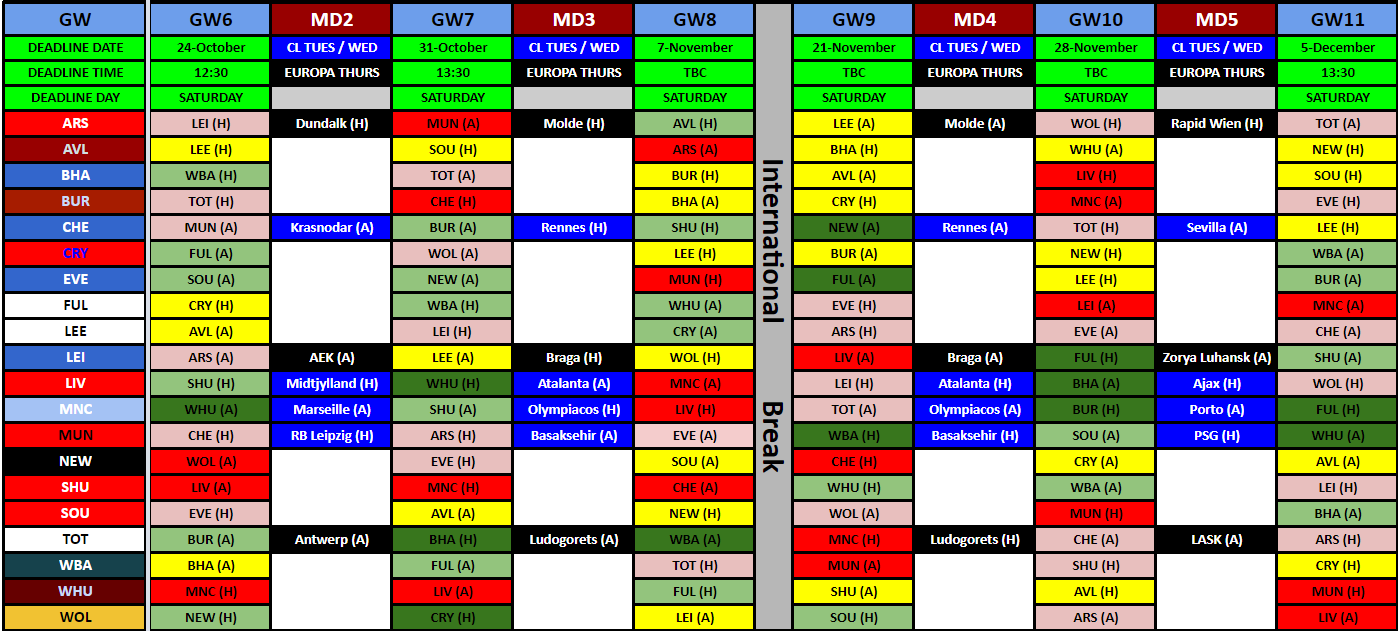 FIXTURE TRACKER LINK
VOTE ON THIS WEEK'S CAPTAIN POLL GW6
Fantasy Football 247 League Codes:
All prizes must be claimed within 30 days of the final GW.