FPL Devil's Advocate
Welcome to the second edition of Devil's Advocate. I have asked popular site member/writer Smash to battle it out with me again. I asked him to pretend he had played his wildcard this week and to present that as his team going forward. So he went about building it and after I got a look at it, I tried to pick it apart a little. A lot….
Here is our discussion about his imaginary wildcard team.
Team Smash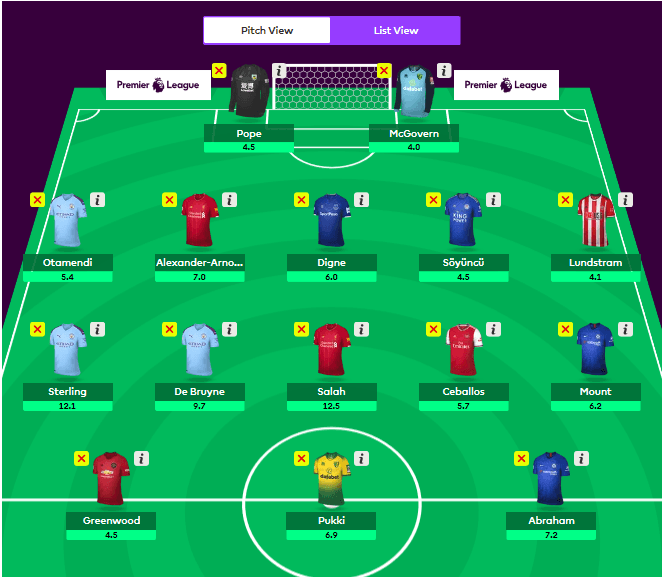 Keepers
Mito: I get it, Pope feels like the right buy and his fixtures are fixing to get considerably easier after a tough start. The man is second in saves so far, as many of us expected and top 5 in FPL points for keepers despite having faced Arsenal, Liverpool and Wolves in 3 of their first four. So I won't sit here and argue with you and look a fool, instead I will take your glory and name the reasons why you have him. Sorry, not sorry. I will however question your second keeper. Many might ask why and why would I bother and that be a good question. Nevertheless, I will anyway, It is something minor and something unlikely to ever pan out, but if you are going to use a 4.0 guy who doesn't play, why not get one like Stekelenburg? He is a Pickford injury away from being the starter for Everton or maybe a red card away from getting you a couple of games. Same could be said for Button of Brighton, but obviously that is not as appealing, still, why not just go there instead of McGovern on the off chance you luck out?
Smash: Pope seems the stand out keeper for me. Burnley look a lot stronger they always encourage shots from outside the box. Pope is up there for saves and has a decent run of games coming up. Could put Adrian in there but then that's a transfer later. Does anyone actually know when Allison is back? Seems to be a mystery. The second question you kind of answered why bother what's the point? If Pope gets injured I'd have to replace him anyway. Button could be better as he's second choice so is probably worth changing as it doesn't look like he's going to drop in price. I think Lossl is second choice at Everton now that he's fit, but who knows? I will probably change the sub keeper as that's a good point, Norwich have a lot of cheap players so you never know.
Mito: So the reason you might change the second keeper is to make sure you have room for a possible third Norwich player at some point?
Defenders
Mito: I am going to let you slide with TAA for now. The guy has 3 assists in four games, imagine when he starts picking up clean sheets, but even if he doesn't he is still bringing in points. Similar stuff can be said for Digne, so not going to really question him either. Lundstram is what he is, a very cheap defender who is playing OOP and has started every game so far. The last two picks though are a bit more questionable. Soyuncu is cheap, I will give you that, but if you are on a WC why have him considering his next couple of fixtures? I doubt you will play him much if at all, except the Newcastle game I guess, but would you not rather get a cheaper guy and keep the money in the bank so you have more flexibility? To be honest the one that stood out to me was Otamendi, it was the one I wanted to get at the whole time. Full disclosure, I think he is shit. I get that he plays for City, but I think he considerably lessens their opportunity to keep clean sheets. Furthermore and possibly my biggest problem with owning Otamendi is that it becomes the Zinchenko problem all over again. There was probably a ton of owners who wanted Kun this past week but already had a third City guy in the team like Zinchenko so the move involved two transfers at the very least. With Kun producing the way he is and the City attack in general, do you really want to tie up a City spot with a crappy defender?
Smash: TAA might be the nearest to essential player out there. Always looks like getting attacking returns he has created 14 chances in just four games. He also already has three assists to his name with only D Silva and KDB with more. I think Liverpool have been a bit unlucky to not keep more clean sheets and I think that's coming now that the preseason rust is out the way. Digne just looks great going forward. Coleman even comes inside now to form a three man defence when Digne goes forward. He's on set pieces and Everton seem fairly solid at the back. Lundstam is playing in midfield. Sheffield United look pretty solid and I'm gutted I went with Rico instead on my regular team. Soyuncu is a regular for Leicester and they are really playing well he's only 4.5. They have three tough games, but I don't need to play him in them: a wildcard is not just for the next couple of games it's much more than that. Leicester have shown already they are going to be closer to the top of the table than the bottom. I don't get the Otamendi hate. Yeah true he's not Laporte but he's a more than capable defender in a very strong City defence regardless. Let's face it most teams can't get the ball off the City midfielders most of the time anyway. I think he's nailed as his aerial presence will be necessary. Laporte is going to be out injured for months and there really is not any alternatives. Otamendi was the number one CB before Laporte and they don't have many options now. Zinchenko has Mendy lurking now who has not had a set back as yet. I'm happy with a City defender I don't think I can afford Aguero so there is no one else I would want. I have seen teams with Aguero in there as well but that's with a cheaper defence and I don't like that. That would mean relying on Soyuncu every week and Palace defenders for example. I think Abraham as an example up top and three defenders that are decent out score Aguero and general dross.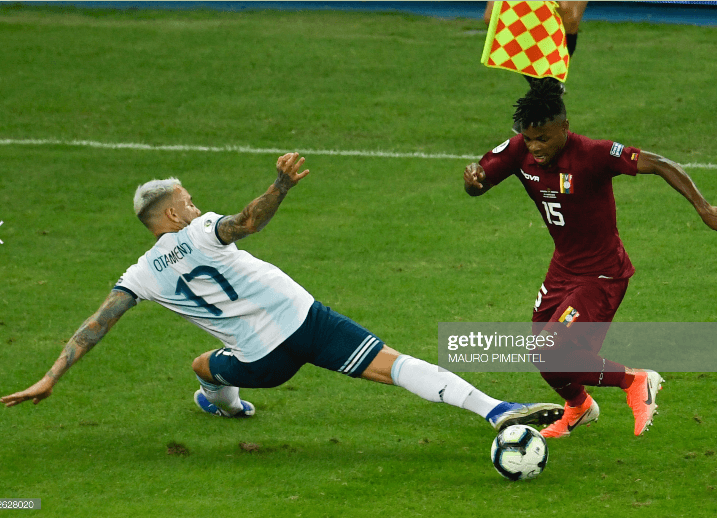 Mito: Do not get into an Otamendi pissing match with me, I guarantee you I have the receipts of him being crap and even have the errors leading to goal stats to back me up. Plus I watched Argentina this summer, he might have been the worst player I saw in the whole Copa America. But I get your point on owning him (well, a City defender), if you don't feel like you can own Aguero.
Smash: I want a City defender and I think Otamendi is the most nailed now that Laporte is injured. He's a different player for City than the random Argentina side who sometimes don't deem Aguero good enough to make the squad. No wonder poor Otamendi is confused.
Mito: You think Otamendi is confused, you ought to see the Argentinian public every time they see his name on the team sheet.

Midfielders
Mito: Sterling, KdB and Salah are the top 3 scoring mids in the game, so way to go out on a limb there. 😉 Mason Mount is becoming a favourite for many FPL players. His production so far has been good. I don't doubt that he will be good value throughout the season, but I believe I saw you say on the site, that a double up on Chelsea attacking assets was probably not the best idea because of their upcoming fixtures. I could be wrong on you saying that, but the question of a double up on Chelsea does seem one that should be asked. Although this is the mids section, is combining Tammy and Mason a good idea considering they play Wolves and Liverpool next? With Ceballos, it is not a question of talent it is whether he is worth the anguish of starting him for one point cameos and then benching him when he starts and gets double digits? It would drive me insane, why not just take a McGinn or simply gather up a bit more cash and get someone in the 6.0 or above bracket or a steady eddie at a cheaper price? Is the upside on Ceballos worth the risk?
Smash: The team is built around Sterling, Salah and KDB. KDB looks to be back to his best. I think he could have scored even more as he's missed chances. There's no sign of him going back to that quarterback roll and he's getting forward a lot. Sterling kind of picks himself, City score goals for fun and he's usually involved. I prefer him to Aguero as he's more nailed and look at the returns he has already. I could be wrong, but I think Sterling got more points last season than Aguero's best ever and he gets the extra point for a goal and clean sheet. I prefer Salah over Mane the key with those two is just to stick with one. I like Salah as he's more selfish and is always looking for a goal. I personally just prefer him as a player. I think he's worth the extra one million over Mane and with Milner getting less game time he's on pens as well (Mito note: ok we get it you like Salah over Mane, just be happy Sadio probably won't see this, otherwise you also get told off). Mount has looked good he's right up there in the number of shots taken stats. He's clearly number one in that position now over Barkley. The next two fixtures are not great for Chelsea which is probably why I've not quite triggered the wildcard as I feel I can hold off. This is more what I'm working towards plus the wildcard team is not for the next two weeks it's for the next few months. Going forward after that I'll be happy with two Chelsea attacking players. They are playing attacking football and will clearly concede and score many goals. It must be remembered that they are so cheap as well so present great value. I'm not sure on Ceballos, I must admit. I'd prefer the risk over McGinn who will get the odd return but he's not going to set the world alight, more of a steady option. I don't see there being many one point cameos as I think Dani will start more often than not. He's looked like getting returns when I've seen him play. Arsenal have a great run of games coming up and will certainly score goals. In an ideal world I'd love Auba or Laca but unfortunately they are really expensive and I prefer the other premium players available. If he does start spending more time on the bench, he could be a problem. Hudson-Odoi is back after the break as well so he might be a better option and I'd love to have him in my team. I could even sacrifice the Leicester CB to have him over Ceballos and go triple Chelsea. So you can tell one I'm a Chelsea fan and two why I'm trying to wait another one or two weeks before I activate my real wildcard where there is a fixture swing.
Mito: Wait, you just say triple Chelsea?
Forwards
Mito: So your front line consists of two guys who played in the Championship last season and a teenager who has four 1 point cameos. I like it, should help my cause in passing you in the FF247 Contributors League. 😉 I get Greenwood with his price and all that, why Pukki and Tammy over say Haller and Barnes? Pukki has looked good and you might not buy into the whole expected goals stat, but you still can't help but notice that Pukki has outperformed his expected goals by more than any other player in the PL. Which could just be a sign of him being a great finisher or that his current goal pace is likely to drop over the coming weeks. Tammy scored all his goals against teams that were in the Championship last season, but did nothing versus PL sides he faced. His next two have that blank smell, can you smell that? Playing a WC and banking on two unproven (yes, still unproven) strikers is a felony in FPL, how dare you! Ok, maybe it's just a misdemeanor, it is still a crime though. Say Kane starts producing more or Kun keeps up his pace, what is your plan to turn one of those mopeds you call a striker into a Harley?
Smash: Wow so you are a big fan of my forwards. Greenwood is fine he gets one point and if he breaks into the first team it's a bonus. A sub that plays don't need much more than that. United don't have loads of forward options either so he's not miles off starting. I think Pukki looks good when I've seen him play. He looks like he's a decent finisher, yeah he's new to the league but Norwich have had a tough start and he's scored against Chelsea and Liverpool (with VVD) already. He's only blanked away at West Ham I think he's a great option. He plays for Norwich though who won't score every week. Norwich are very attacking and when they do score he's always going to be involved and I like that. His movement is great so I think he will score goals. Abraham is 7.2 playing up up top as the lone striker in a Chelsea attacking team that's great value. He looks like he's the number one forward. The concern is he's only scored against fairly weak opposition but after the next two Chelsea have a great run of games. It must be noted about Barnes that he (who I currently own in my own team) has a fantastic run of games coming up. Burnley won't score as many goals as Chelsea though and he is prone to a booking and little bonus which is the downside. Haller is new to the league and does also look to be an excellent option especially now that Hernandez has gone. He looks like he will score goals as well and I might prefer him slightly to Tammy but budget constraints do exist in FPL unfortunately. Ultimately I think all four are great options and are at a similar price point so can be moved on with each other throughout the season. As for a premium striker the thing is you can't have them all. You can't be wasting transfers on swapping the premium players I'd love to have Kane, Auba and Aguero instead, but I just can't afford it. I prefer Salah and Sterling plus I think KDB is fantastic value. Yeah I could squeeze one in but that will mean a cheap defence. Then if my premium striker blanks I'm likely to have a poor week while I'm confident my three defenders will pick up points on a consistent basis. Vardy is also a very strong option as well who must be at least considered. Under Rodgers in 14 games he has 12 goals and 2 assists. What puts me off is his awkward price in terms of flexibility and tough run of games.
One last question
Mito: You have some cash at the back, but it is not like the huge back line teams we saw pre GW1, do you not think that there is equal if not better value in defenders? Over a season do you see a Mason Mount, Ceballos or one of your current forwards outscoring say a VvD or a Robertson? Why not just keep the money there, surely them two will be anywhere from 170 to 200 by the end of the season whereas your value mids and strikers will find it hard to match those point totals. Vardy has averaged a hint over 170 points over the last 3 seasons and surely we think that it is unlikely that any of those players ends up with that, but probably feel that it would be somewhat of a disappointing season for the other two Liverpool defenders if they only reached 170.
Smash: I have money in defence and I really like Otamendi, TAA and Digne in there. I don't see loads of other options though. I could have Matip instead of Ceballos. Problem with that is they both have competition for their places. I have Robbo still in my current team and I think he's been unlucky not to score more points and quite frustrating to own because of that. Liverpool's fixtures do get a bit tougher though so double Liverpool at the back is a bit much, possibly after Newcastle. How much longer do you give the guy to get an attacking return? Would I want a United, Chelsea or an Arsenal defender? On current form I really do not think so. There's not much else out there. Mount if he continues to play behind the striker will get a fair amount of points. Ceballos probably won't, but there's a price difference there to contend with. In conclusion, I like this team going forward. I would like maybe a week or two of more information on some of these players before committing. Chelsea having a couple of tough games before the long run of games is a slight concern, but I like it for the longer term. I would like to see Ceballos, Hudson-Odoi, Abraham, Robbo and Mount for two more games before committing on the wildcard. The rest of the players here I feel I have seen enough to be confident in them to score enough points.
Mito: Well, thank you Smash for taking part and the best of luck over the coming weeks, make sure to post that wildcard team on the site when you actually do play it.
Thanks for reading FPL Devil's Advocate. This article was written by Mito21.
FPL FIXTURE TRACKER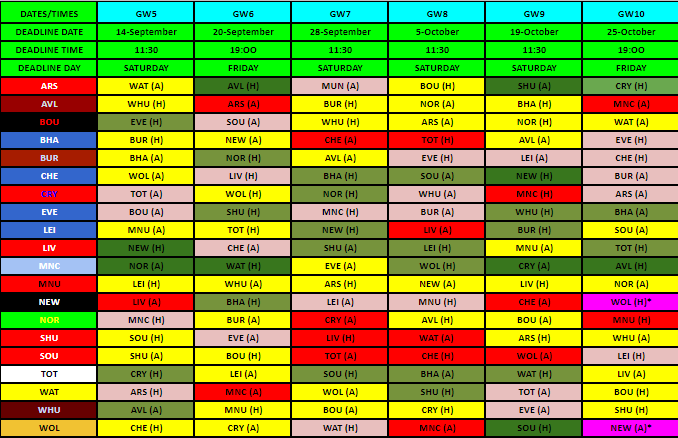 FIXTURE TRACKER LINK
Fantasy Football 247 League Codes: