Fantasy Football Interview – Plans & Strategies
Welcome to Fantasy Football Interview – Plans & Strategies. As we all continue to tinker with our squads and work out how to include as many of the top players as possible we thought it would be helpful and interesting to pick the brains of some veteran and well-known FPL players. By veteran I mean by way of experience in playing FPL, not in seniority in years! I have to admit to being quite excited at getting our selected panel together – between them they have numerous finishes in the top 1k, throughout the season they spend hours helping others with sound FPL advice as well as entertaining thousands on their various sites or twitter with merciless banter and wit. Allow me to introduce them to you.
FPL Fly – Fly has been playing FPL since 2006, has recorded five finishes in the top 10k with a best finish of 596 last season. Best known for his twitter contribution where he could easily be described as the Piers Morgan of FPL, Fly is never short of a wind up or controversial comment and takes particular pleasure in reeling in fans of Liverpool, Man Utd and West Ham. As a lifelong and dedicated Wolves fan, Fly is particularly excited to see how his team can tackle the Premier League given their rich backing and ambition from the owners.
Inittowinit – Well known to you all, Init boasts one of the most impressively consistent FPL records you'll see. In eleven season playing FPL, Init has recorded four top 10k finishes, two top 1k finishes with a best of 422. Last season he finished in 914th place. A devout Evertonian, Init will be confident for an improved showing from the Toffees yet the smart money will be on him to outperform Marco Silva.
Mito – Real Madrid loving Mito has spent recent days looking for a new hero following Ronaldo's departure. Despite claiming to watch little English football, his knowledge of the Premier League teams and players is extensive to say the least. However his bigger joy is to have fun at the expense of Arsenal fans especially on matchdays. Three top 12k finishes in 6 season demonstrate his consistency.
Pathetico Morbid – well known for being one half of the Potty Morbid duo with site friend Potty, Pathetico Morbid is in the fantasy form of his life. He finished in 288th place globally in FPL last season while also winning his H2H leagues and cups, he was no.1 in the world for many weeks in FMLS and to cap it all he won Potty's World Cup title.
Ok chaps, it's great to have you altogether. I hope you've enjoyed the summer, but now it's time to focus on FPL once again!
Tell us, how do you even start to build your squad for GW1?
PM: I don't and that works for me. Oh yes I watch the odd pre-season friendly but the real planning starts after the Charity Shield game has finished, you get an idea who will be playing the following week in GW1 as most Premier League teams have a settled potential line-up once all those preseason friendlies have been played. I have found a method which works for me and that is very important. In the past I have over thought things to such an extent that it clouded my judgment. My current modus operandi is to log in on Friday 10th August and pick my final squad. Although I have to admit that I have just picked an initial squad but I won't tinker with it again until Friday 10th August.
Fly: I have a tried and tested FPL "Battleplan" which is basically a spreadsheet that evolves and develops as the season progresses. As in real life, I believe success comes from a strong spine. For me that could be a rotating pair of GKs (although history has proven I'm not usually that successful with this method!) or a "set and forget" premium GK. Next come a decent pairing of forwards who will be in week in, week out, backed up by a 3rd Fwd who rotates kindly with a 5th Mid.
As a Wolves fan, I am always reminded of our promotion season to the Premier League back in 2002/3. The spine of our team that season was Matt Murray (GK), Joleon Lescott (Def), Paul Ince (Mid) and Kenny Miller (Fwd). I applied the same system to FPL and it's done me ok over the years too…
Mito: So, I never build my team until the last day. That however doesn't mean that I just wing it. Because I spend so much time on this site before GW1, I end up researching a lot while trying to answer questions. So when I try and build a team, I have certain players in mind. Pre-season helps me find a value player or two and possibly a defender from a top 6 type team who is somewhat cheap. City has been the top scoring team in the EPL in 4 of the last 5 seasons and United has had the most clean sheets 3 seasons in a row. So starting there and making sure I include players who allow me to take advantage of what is likely to happen again this season is a start. Try to avoid promoted teams on the attacking end and figure out what high priced player or two seems the best option. This season we all have to take into account players being rested for the opening GWs, so a punt or two is possible, but I am making sure I don't get sucked into too many otherwise by GW3 I could be forced into hits or a wildcard.
Init: From a base level, and literally speaking, I just chuck in a few 'must have' players like Salah and work back from there. I'll usually then fill it with everyone else I want to have, regardless of price, and then figure out what's left. And inevitably then half of that original 'wish list' needs to leave once I've realised I've overspent by £50m on the squad! I'll then cull that lot after I've studied their opening fixtures until such a point that I can have a workable squad within the budget.
Do you try to allocate a certain percentage of the budget to each position?
Mito: No. That doesn't mean I am not aware of what I might be spending, but that won't play a role in my decision if I am happy with the players.
Init: Not specifically. I'll have something in mind such as knowing I want a premium keeper and a budget one, knowing I'll want 2 premium defenders and 3 budget ones, knowing I'll probably take Salah, a mid priced mid and 2 punts, knowing I'll take 2 main strikers and a budget one to rotate. So actually, that said, yeah maybe I do! Each season is different though. I'll happily adapt accordingly.
Fly: Nope. I believe to do so can put you at a disadvantage before a ball is kicked and cause you to rule out some players because they don't fit into the criteria you have set for yourself. I know many do it, but I'd hazard a guess the second the season has kicked off and they start making regular transfers, that self-imposed restriction is forgotten all about.
PM: Yes, I guess I do. I usually go for the old school method, 3-4-3, 2 decent defenders & one enabler, 3 decent midfielders and one enabler,2 decent forwards and one enabler. This season is looking tough though value wise, I have seen quite a few teams posted on twitter with 5-4-1 , 3-5-2 formations. So maybe this season will be different. it's going to be interesting all the same, lets face it, it always is & that is why we all love playing FPL.
Do you look at a number of players and plan on keeping them for the whole season?
Init: Not really, it's such a changeable feast of injuries and suspensions, as well as any loss or indeed gain of form, can come out of the blue so I think it's unwise to assume you'll have anyone for any length of time really.
Fly: Not usually. There are too many variables at play to promise yourself that. Obviously, there may be times when it would be daft to dump someone…but just think back to only last season. Mo Salah was an absolute "must-own", but even then once the DGWs started to roll around managers started selling him left, right and centre in the hope of picking up someone else because Liverpool did not play twice in one GW. Having just looked back at previous battleplans, I've never owned a player for a whole season since I started keeping records.
PM: Hmm that's a toughie, I always go into the season thinking that I won't change these players in a rush and then I always end up throwing them all under the proverbial bus and use my WC before GW4 is over. For one season I'd love to be happy with my team for the first few GW's. That would be a nice change.
Mito: Absolutely not and possibly with the exception of having some kind of 4.0 guy in the team all season, I don't think I have ever had someone for the whole season. Teams rotate, guys get hurt and you must be ready to pounce on an opportunity when it presents itself.
What formation are you planning on using this season?
Mito: I was toying with the idea of a 4 back to start the season and I still might, but I do feel there is going to be some value in the midfield and I will probably go in for a 3-5-2 or the old trustworthy 3-4-3.
Fly: It's flexible as I said in the first question. I like rotating a 3rd forward with a 5th midfielder. It's very rare that I go 4-4-2 and even rarer to go 5-3-2 but it does happen from time to time.
Init: I've always preferred 3-4-3 as a basis. I can't see my history of it to back this up but I reckon I'd have started with that at least 80% of the time over my 11 years of playing. And the majority of the remaining 20% will have been a 3-5-2 with a 5th mid and a 3rd cheap striker rotating. I'm seeing plenty of 'RMT's' with a back 4 or even 5 this season, to start with at least, and I appreciate why with so much attacking talent being possibly rested after the World Cup but even so I can't see myself deviating from my usual plan much. I just like the possibility of a higher ceiling with that extra spot in attack.
PM: As I have stated above I'll probably go 3-4-3 as this system has proven to be the best IMHO. Although I have been known to play 4-3-3. Currently there is some good value in those defenders, I can see why some FPL managers have picked those initial formations .
Do you plan your first Wildcard for a specific week or see how it goes with no particular plan?
Fly: I always go into the new season thinking my lovingly crafted squad will see me through until at least Christmas, however, the reality is the last two seasons have seen me wildcard in GW5. As in life you get some people that are proactive, and some who are reactive. FPL lends itself to this philosophy too. I find being proactive is usually a better strategy in real life and in fantasy. I'm not a fan of firefighting; I'd rather there wasn't a fire in the first place. After all, so many FPL managers seasons have been ruined early by watching their house burn down…
PM: I'll probably play my WC early, I always do. After 3 or 4 GW's you can see how the Premier League teams will be set up for the rest of the season or at least the foreseeable future and a FPL template will be in motion, you need to jump on that FPL template ASAP.
Mito: I don't really plan on a specific week. I will fix the team quickly by using it early if I have to though, think too many try and hold on to it for too long and end up sacrificing too many weeks with a weaker team or simply take too many hits trying to straighten out the team without using said wildcard.
Init: I tend to plan not to WC until nearer Christmas, or at least try to hang on for as long as possible until my squad becomes threadbare and absolutely needs a refresh. I can however see the argument for an earlier one this time around with so many players returning late. The landscape may look very different 4 – 6 weeks in this time as a result. I'm happy to play it by ear though.
Do you plan on saving your TC, BB & Free Hit chips for the second half of the season?
Mito: Yeah, that has always made the most sense to me. I know some will say it didn't work or they didn't come out better by doing that last season, but in the end you kind of want to have the percentages on your side. Whenever you can give your captain two bites at the apple and your bench guys two games that seems like a better bet. Plus I like the idea of not destroying my team over a blank or double with the free hit chip also. If the wildcard, BB, TC and free hit are played to account for the doubles and the blanks is not only the points you might be able to gain, but also the points you don't lose by having to take hits to cover for the lack of coverage during those GWs.
Init: Definitely. Wouldn't dream of playing any before then. They are the preserve of the DGW's. You have to play the percentages on the chips.
Fly: Bench Boost and Free Hit almost certainly as they lend themselves to a BGW or DGW. Triple Captain less so. I took a calculated risk last season by using it on Harry Kane in GW7 when he travelled to Huddersfield. He was in a rich vein of goalscoring form after a barren August and if there's one thing we should've learned is that when Harry is scoring then he tends to go on runs. 39 points later, and although it was an anxious wait until the DGW's rolled around it proved to be the correct strategy as virtually all of the "big name" choices flopped.
PM: Us Northern boys loves chips! I intend to use my chips towards the end of the season having made so many chips blunders in the past. For example I think it's wise to save your FH chip for such things as a blank GW towards the end of the season where only 4 or 5 matches are being played due to the FA cup etc. BB & TC chips ideally to be used for those big DGW'S towards the end of the season. I haven't a good record using my chips so I'll shut up.
Do you have a specific approach to choosing your captain each week?
PM: Yes I do, I usually go with the crowd as in which player player will be captained by the most FPL managers that GW. I do this as a shield to protect myself. I'll probably captain Salah in GW1 for example. #CaptainObvious
Mito: Funnily enough, I use to just look at my team and just go with my gut for a very long time. It was when the site started publishing B&P and I started predicting scores that I started noticing that my captain pick wasn't always lining up with what I thought the score was going to be for certain games. That didn't necessarily mean that I just pick the guy from the team I thought would score the most, but that did get me paying a little more attention to who I captain and how I go about doing it. Best home fixture for a player with some form seems to be my first choice. I do however pay attention to where others are though on their captaincy. Look at some polls and gauge on twitter where the majority will be to make sure I am not missing something. Doesn't mean I will follow, but it will get me to check to see if I am missing something. Plus if you are a bit daring and you know who a good portion will be captaining, there is certainly a big risk/reward to be had if you want it.
Init: The most in form player who has the most favourable fixture usually gets mine. I'm not into taking punts on the armband.
Fly: You mean apart from "Always Captain Salah?". No, not really. Although I am a keen Twitter user, I don't allow myself to be influenced by others. It is easy to forget Twitter is not the majority voice, even though it stands to reason if you only follow like-minded people who play FPL then it will seem like it. I tend to have a glance at the stats, but in all honesty I've found over the years there's no substitute for the good old 'Mark One Eyeball'. If I think they're playing well and worth a punt with the arm band then I will. I've had some great successes over the years, although last season my decent rank prevented me taking too many risks.
What lessons did you learn last season?
Fly: I yet again had very limited luck with rotating GKs. I won't learn my lesson though and do it again this season almost certainly. I didn't get onboard the Salah train until GW12 – although to be fair I was having some decent returns from Eriksen in his place.
Init: Play your own game. A lesson I already knew but didn't heed just the once last season and it royally p*ssed me off! My main ML rival had Salah and I was afraid of what he may do as captain and as a result I brought him back in (this was late in the season when he was in and out due to BGW's or whatever) when what I really wanted to do was bring in Jesus and Sane instead. That particular week City took West Ham apart and I missed out on 30 odd points. I still won my ML but that week I didn't speak to anyone for two days!
Mito: I have been playing long enough now that I really don't learn any new lessons, the old ones just get reinforced. I find it shocking that every season I seem to fall prey to the same old things. Taking punts that require a hit to get someone in and a hit to get him back out. Refusing to make sideways moves, even if they make sense. Occasionally, and I have really cut this down, making transfers when irritated with player performances. This usually leads to hits and a tumble in the overall. At the end of the season when I look back and wonder what I could have done better, I usually look back on those moments of rage and realize there is where I cost myself a better season. Making transfers that make sense, but don't work out, that's acceptable. Making transfers that don't make sense because you are mad, that's just dumb.
PM: Easy one this one, never over think things, keep it simple, go with captain obvious and don't try and be clever plus never change your team selection last minute & make better use of the chips but most importantly HAVE FUN.
Is Salah a must-have?
PM: Being an old Man United supporter this one hurts. Let's face it Salah is special, he had a wonderful season last season and he was a joy to watch. I do feel he is a must have this season, if you want to be clever and be a smart a*rse and choose not to have him in those initial first couple of games & then Salah goes off on one then your FPL season could easily be over just like that. You'll be playing catch up for most of the season from then on. His FPL value does hurt your team and you will have to find a few enablers to play in your team to allow such a purchase. Those enablers are out there. You just have a look and go with your gut feeling.
Fly: Of course he is. And anyone who says he isn't could find themselves behind the drag curve after GW1. He will be the most owned, and most captained, most gameweeks. Sure, I've seen some saying he's not worth the £13m investment, but the fact remains that he is unlikely to suffer a major slump in form and is still playing for one of the most gung-ho attacking teams in the league. Also, don't forget – it is much easier to downgrade a £13m player if it proves necessary than upgrade a £7m player…
Mito: I never say someone is a must have, because if he gets off to a Kane type start then he wasn't. No matter how good a player is, there is always moments during the season where you could do without them. Having said that, I won't sit here and tell you is a great move to do without Salah. His ownership and likely captaincy will mean that if you don't have him you will need a lot of luck to not endure some bad weeks if he does well. Plus when you finally give in and go to buy him, you will probably be paying even more then his already lofty price.
Init: I'd say so. Certainly better to have him in from the start and be able to ship him out easily if the signs are bad after a few weeks than vice-versa and be scrambling around for the funds to do so, as well as hurting from any missed points in the process.
Is DDG worth 6mln?
Init: If he repeats last season then yes definitely. Best keeper in the league combined with a manager determined not to ship goals at the expense of actually scoring any? Perfect combo!
Mito: He is set and forget. Is not just the points he gets you, but the fact that you might not waste a single transfer on a keeper all season. Which means he not only gets you more points than the others, he probably saves you from possible hits in the keeper position. I think there is an argument to be made for Ederson and the .5 though. If he would have got the same minutes it looks like he would have finished 10 points or less behind DDG, so he is an option and I believe he is set and forget also. City did finish second in clean sheets last season. Plus if that whole Chelsea situation ends up giving us Schmeichel as a 5.0 starter for them, that would probably be to hard to pass up when the budget is just 100m.
PM: Hell yes #DaveSaves. De Gea is a great goalkeeper and will no doubt end up at Real Madrid at sometime. If De Gea is at Man United this season he is a "set and forget" FPL player. He will probably play all the Premier League games unless injured plus rack up all those bonus and saves points too. There are cheaper alternatives: Ederson (Man City), Alisson (Liverpool), Cech or Leno (Arsenal) to name but a few.
Fly: Not with so many other attractive options £1.5m cheaper. Don't get me wrong, I expect him to once again top the charts at the end of the season. Let's remind ourselves that Fabianski only scored 15 points less than him last year playing for a Swansea side who got relegated. With his move to West Ham he could beat that total and then some. For me, the real value is in Wolves new signing Rui Patricio. The Portuguese No.1 is arguably one of the top keepers in the world and for FPL managers it's win-win. If Wolves do well (as I suspect) then it will be in no small part down to clean sheets, and if we end up going down then it stands to reason our goal is going to get battered so Patricio will rack up the save points.
Harry Kane – select or ignore?
Mito: I am going to ignore him for now, unless it becomes obvious he is going to start GW1. Maybe, (probably am) I am being hard headed here, but I really don't believe in that whole August crap. It was incredible last season that he didn't have a huge August. He had an amazing amount of shots and really should have had some nice hauls. So if he is up for it in GW1, I will consider having him like I would at any point during the season.
Fly: Ignore at first I think. He has targeted a return for the opening game, but in all honesty even if his body has recovered he will be mentally drained from leading England all the way to a semi-final just 3 weeks or so previously. I don't believe either in the "August Curse", but it could come true again if for no other reason than I think the start of the season will come too soon for him to hit the ground running.
Init: Depends on news and pre-season but I can't see me going with him from the off. He looked spent by the semi-final. I'll be keeping him in mind budget wise if I don't though. Especially from September onwards!
PM: I'll probably ignore for the first few GW's, he's just had a World Cup plus he didn't look too good in those last couple of England matches, he looked slow and sluggish. He maybe carrying an injury? Has he fully recovered from that injury he received late last season? I don't know. Kane is also a notorious slow #FPL starter. I'll keep away until I know he is injury free, fresh and raring to go again.
Best budget target identified thus far?
Init: I've big hopes for Ademola Lookman at £5.5m but that all depends on whether he actually stays at Everton. RB Leipzig want him and are willing to fork out, Silva wants him to stay, let's see what he wants. Diogo Jota looks very interesting as an OPP proposition but that prospect may depend on whether Wolves bring in a striker. Kasper Schmeichel may be about to emerge as one if Real go all in for Courtois.
Fly: – Florin Andone (Fwd) – Brighton & Hove Albion – £5.0m
I have a gut feeling that this guy will be right up there with the best cheap 3rd forwards. He has signed from Deportivo La Coruna where he scored 18 goals in 66 games. Not eyebrow raisingly prolific, but for this price if he can maintain his average of a goal every 3 games he should easily hit double figures – especially with a certain Pascal Gross pulling the strings in midfield and supplying the ammunition.
PM: Kenedy (Newcastle) , Newcastle fans highy rate him and under Rafa he'll do well.
Shaw (Man United) , If Jose would just trust him and give him a run in the team then Shaw could be a very good purchase.
Tomkins (Palace) Always dangerous in the opponents box, gets the odd goal too. At 4.5 he's worth having.
Foster ( Watford) Always worth having, he's done well (FPL wise) in the past.
Any Everton player, good fixtures, decent attack minded manager, there could be bargains there to be had. Coleman, Baines, Tosun and , if fit, Walcott are all on my list.
Alexander-Arnold could be a good buy, cheaper option of the Liverpool back line ( Robertson, Dijk etc)
Daniels (Bournemouth) good attacking defender option at 4.5mln.
Cedric (Southampton) same again, good attacking defender at 4.5mln.
Jags (Everton) he could be worth having if he keeps his place in the Everton team, he's at 4.5Mil. He's scored a few goals in his time. I'd rather have Coleman or Baines despite the price.
Mito: I am monitoring Sarri and how Chelsea are looking to line-up. Very curious to see if RLC goes out on loan again or stays and more importantly if he does stay, is he a starter. Pedro could be interesting if Willian and Hazard go. Kenedy interests me a lot, but I might hold off because of his early fixtures and take a chance on someone like Ralls from Cardiff. He strikes as the player most likely to give you the kind of value that Milivojevic did last season. He looks to be on pens and he has a lot of set pieces by the looks of it. Plus Cardiff was joint top in scoring on set pieces, so Ralls could get in a lot of sneaky 5-7 point totals through the season making his price well worth it. Danny Ward could be a 4.5 mid playing up top, so would keep my eye on that possible budget pick.
Gentlemen, thank you very much for taking the time to speak to us and for sharing your thoughts preseason. We wish you all the very best for the season ahead.
PRE-SEASON FRIENDLIES
Usually we run an article and ask people to get involved and cover the friendlies with any info they can gather. And it's usually fun but in all honesty it's usually also a bit messy and difficult to refer back to. This season we have one link that you will need need for all such info, courtesy of Mito –
Here you will find all the pre-season info you could ever wish for in one place – line-ups, scorers, assists, match info, sarcastic comments….
FPL FIXTURE TRACKER
(It's scrollable btw, just swipe left or right)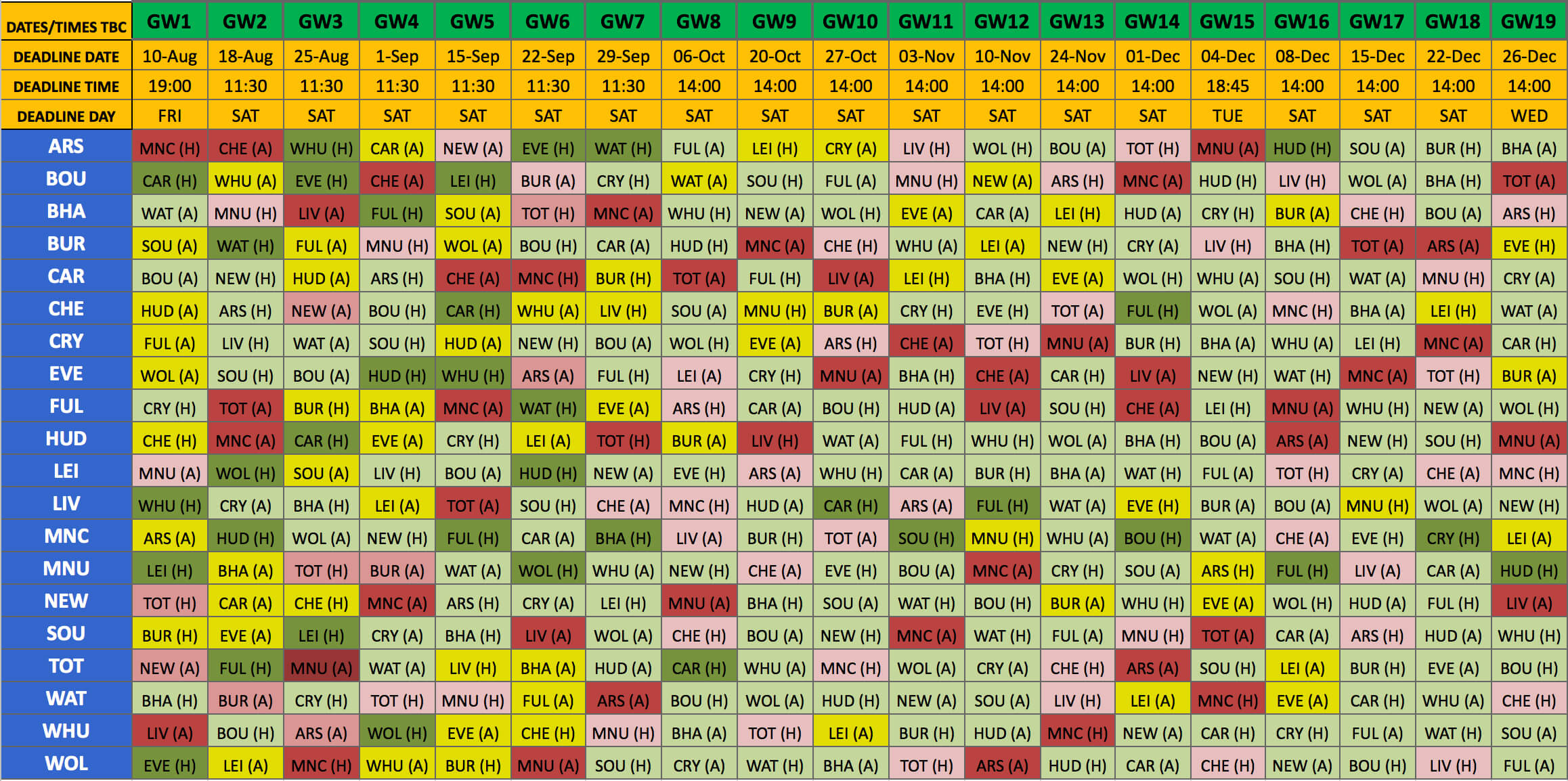 FIXTURE TRACKER LINK
It's been a busy summer already with Arsenal, Everton, West Ham and Chelsea appointing new managers, Manchester City adding to their already dominant squad, Man Utd continuing to splash the cash and Liverpool trying to protect Karius by beefing up their midfield. Spurs may even have a new home soon.
And FPL wise, this is the place to discuss strategy, learn about the promoted teams and their players while in the days and weeks to come we'll have plenty of articles, interviews, player analysis, Bore Offs, Tips, etc, etc.
So be sure to get involved in the discussions, the RMTs and the banter as we look forward to another season of Fantasy fun!
The League Codes for FF247 for the 2018/19 season are as follows –
[/vc_column_text][/vc_column][/vc_row]
Thanks for reading Fantasy Premier League Intro 2018/19. This article was written by Cookie