It has been a while since I wrote one of these and I didn't have any plans to do so this season, but I was sitting around with nothing to do in the afternoon and thought why not write about some random fpl thoughts. Years ago I read an article in fantasy NFL that I really liked called Love/Hate. I liked it so much that in the past I have included a mini love/hate section myself although that has been a while. I use to do it to talk about transfers. I would see who managers were buying and selling and state whether I loved or hated the transfer, when I was on the fence I just say I was lukewarm. It is in article that I have thought about doing this season occasionally. That is sort of what this is in many ways as I am going to be loving and hating on the ownership of players for the most part. I might include some other topic, I get distracted easily.
Anyway, let us get to loving or hating stuff.
Love – Double ups on Liverpool/United defenders.
I know you might be able to sort of begrudgingly agree with me that double LFC at the back is not the worst idea you have ever heard. Although, if you started with it last season it wasn't long before you probably got fed up with it and are probably thinking right now…
Don't go running for the hills just yet, listen, their big Dutch rock is back and I think the clean sheets will come back also, considering their attacking prowess and set piece taking, I think Robbo and TAA is back on. I know I just asked you to invest for the two most expensive defenders in the game so I should probably expand a little and I did in the comments section a few days ago. No need to restate some of that, so here is the link> Double up comment. Ok, ok, ok, maybe you let me slide on the LFC one, but surely I am crazy to mention United in there. Maybe. I did say I loved it, not that you should. I see the combo of Shaw and AWB as a poor man's Robbo and TAA. Sure, they don't have the upside, but they cost 3.5 million less combined than the LFC duo. Hear me out. Varane was bought to help that defence. Sancho will help create space for AWB on the attacking end and Shaw according to anyone that talks about him is ready to have a big season. At 5.5 for each United defender, I think that is a really good value. Good luck easily finding a mid at that price that will come near in points to the United defenders. Last season they kept five clean sheets in six games against the other members of the top 4, they proven they can defend and I think they will do it better this season against the minnows of the league, plus add the likely improvement from both on the attacking end and there is a chance that the United combo is the actual double up at the back that we will be talking about in a couple of weeks.
Love – Pep making FPL interesting.
If it wasn't for Pep constantly rotating and making it difficult on us, we would all have a similar team with the same 3 City players, Salah, LFC defender, some cheap keeper and some United players. Imagine having the best attack year after year and the best or second best defence year after year and still not seeing many City players in fpl drafts. Actually, you don't have to imagine it, you can see drafts every day with barely a City sighting. The best team in the league and they are being ignored because that bald bastard f*cks us every freaking time we think we know what he is going to do. There is no team sheet that makes more fpl managers nervous than the City one week after week. Just when you think you know, Pep says…
I have even seen a twitter account (https://twitter.com/FPLmeta ) that tracks City minutes trying to help predict the starting XI. Good luck to the fella, he is doing an almost impossible task. I used to cover the City pressers in the past and predict their XI for this site and let me tell you something, when the team sheet came out I always felt he was personally messing with me.
Love – Kai Havertz.
I won't waste your time with all the stats on how he finished last season. Won't hit you with all the Tuchel stuff on how he improved Chelsea when he got there. The reason I won't is because I have to write about Kai next week in some of the other articles, so I will save it for then. But if you must know just ask Smash, he probably has that all memorized by now as he is a Chelsea fan. Some of the reasons I like him are not even good ones if we are strictly speaking fpl. One reason is he helped stop Pep from winning a Champions League. I am a Real Madrid fan and frankly I really dislike Pep, so Kai really did me a favour there. The other reason, I owned him in fantasy Bundesliga and he was very good for my scores. It could have been that I just happen to own him at the right times, whatever it was, all I know is that he delivered for me. I remember him fondly as a fantasy asset and out of respect, I will probably own him GW1.
Hate – Martinez ownership.
Look I get it, he is a very good keeper. I love watching him succeed at club level just so Arsenal fans are left to wonder what could have been. I get that he makes a lot of saves. He might be the highest scoring keeper again, that is certainly possible. I think it is unlikely, but it is possible. Villa kept one clean sheet in their last 12 fixtures last season, that doesn't sound great to me. I think it is quite possible that his points are 25-30 lower this season and that would still be a decent season in fpl, but at that stage I don't think he be worth the extra cash that it costs to have him. Also, if he doesn't start well, he will be sold by many as the extra million spent on a keeper will be seen as a luxury that maybe they should not have afforded themselves, plus in GW4 his fixtures turn difficult. By the way I sent this to Martinez to read and he sent this back…
Hate – Kane and Grealish ownership.
Seriously, until the dust settles why do we even own them. Kane is not even training as he looks for a move and Jack just got back to training but those are murky waters also. Grealish will need a new deal or to be sold before I even consider him. Well, if sold to City then we may never own him again in fpl without feeling worried about rotation. Just stay away from these two for now. However, if you want to be stubborn about it that will be just one less person I have to worry about beating me in fpl.

Hate, sort of, actually probably lukewarm – Leeds United.
I don't actually hate Leeds, I quite like them and I absolutely love Bielsa. Wanted him as our national team coach (Colombia) for years and have always loved how his sides play. I just don't think that Leeds players will perform the same. Bamford is now at a price where he is no longer cheap, and I think it will be hard for him to match last season. Plus, I think Rodrigo might get in the way of Bamford and possibly others in terms of minutes. Dallas is no longer classified as a defender so that's a lot of clean sheet points that will be lost, Harrison and Raphinha are more expensive than last season. Although, I will admit that those two I am bit iffy on, they still might represent good value and that is why I am lukewarm about them. Anyway, back to hating, I don't expect them to finish as high this season, simply because I don't think they will feast on the lower side of the table as much as they did last season. Teams struck me as a bit naïve last season in part because Championship sides don't usually take the game to you the way Leeds does. My guess is a lot of teams will have better game plans to combat Leeds this season and some of their fpl players might struggle to match their outputs from last season.
Thanks for reading FPL Ramblings. This article was written by Mito21
FPL FIXTURE TRACKER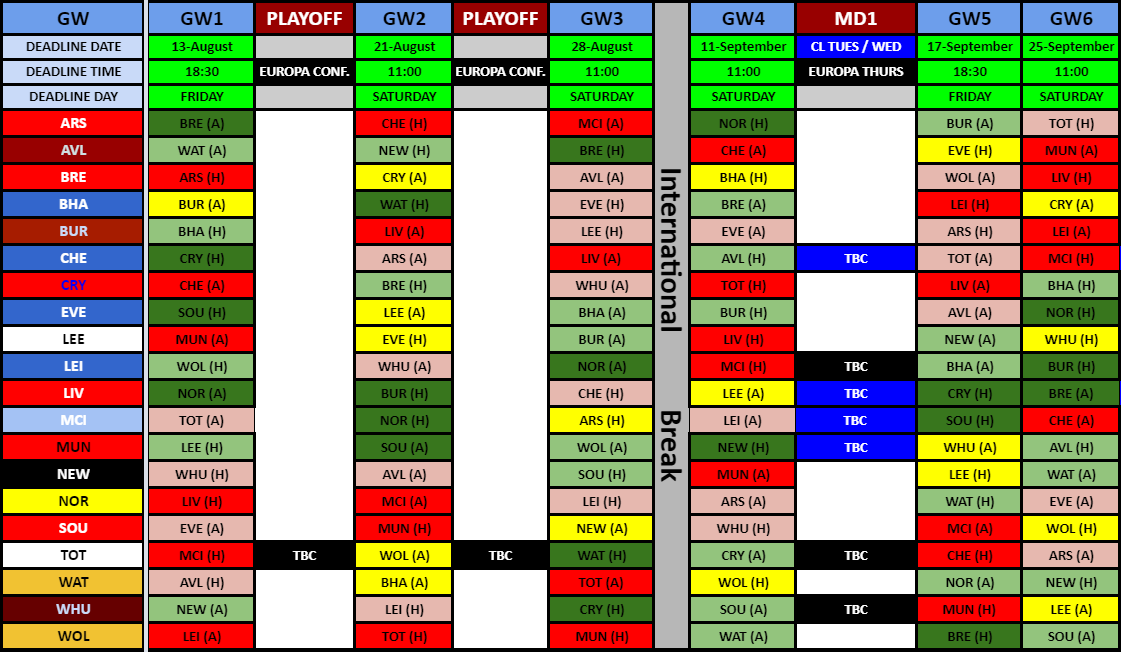 FIXTURE TRACKER LINK
VOTE ON THIS WEEK'S CAPTAIN POLL GW1
FF247 LEAGUES FOR 2021/22
Fantasy Football 247 League Codes:
Both leagues will be shut to new entrants as of 01/01/22.