I hate writing these intros, I probably spend more time on this small paragraph than the rest of the actual article. I wrote 2-3 sentences, then deleted it, didn't like it. I started again and deleted it again. Wasn't funny, didn't make sense, where am I going with that, does it even set up the article? Arghhhh!!
You know what, here are some fpl thoughts.
Team of the Week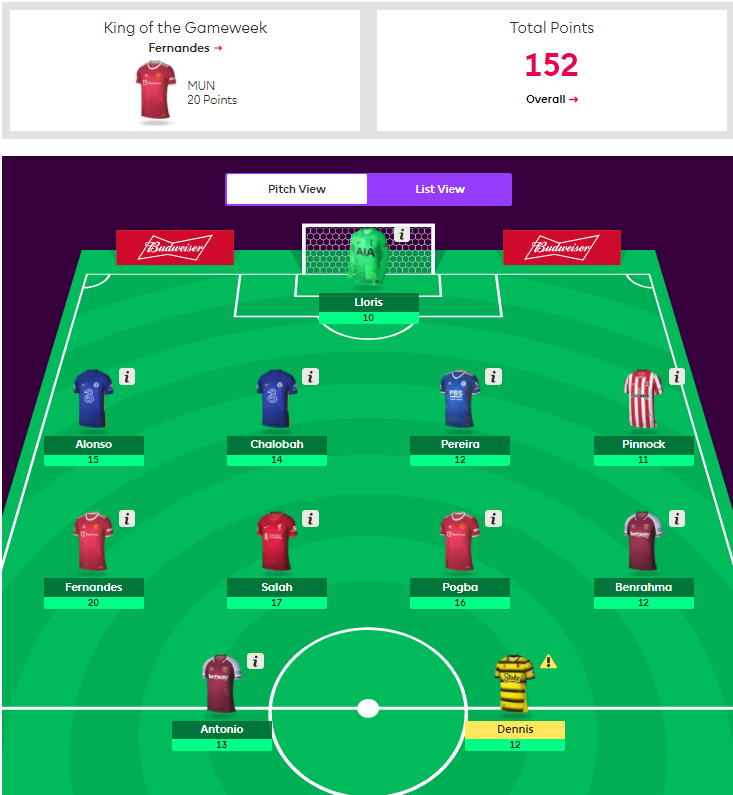 There are many places we could start, but when two of the priciest and most heavily owned guys put on a show, that is probably a good place. If you have not figured out which two I am talking about, you probably need to change hobbies. I speak of Salah and Bruno, of course. It wasn't just that they had huge hauls (top two in fpl). It was their displays, in general, that should have owners excited. Both couldn't have looked sharper, and penalties didn't even aid their respective scores of 17 and 20. If you own both, congrats. If you only own one, that must have stung a bit. Hopefully, if you captained someone other than one of these two

, that wakes you up before GW2.
Speaking of United players, what a game Paul Pogba had. If this is what fpl managers are to expect from him, sign me up, and to think that Greenwood set him up early on in that game and he could have had a goal also, which would have made him the highest scorer this GW. Only some concerns about what position he will play when United is back fully fit keeps me from being all-in on the Frenchman. Having said that, does it matter what position if he is playing at the level?
Obviously, anyone on the best XI of the gameweek team will have grabbed our attention, yet I keep gravitating to the West Ham duo. I watched that full game, and I thoroughly enjoyed it. It was two teams just flat out going at each other. Toon players certainly also caught my eye, in particular, Wilson and Saint-Maximin. Just too bad the latter is classed as a forward. Wilson will certainly be on my watch list going forward. Back to the Hammers duo. Every once in a while, a duo makes their case as a tandem. Fraser and Wilson, Vardy and Mahrez, etc… Sure it is only GW1, we need to see more from these two, but it wasn't like they just came out of the blue. They showed good form at the end of last season, they looked good in pre-season, and they came flying out of the gates. Considering their price tag, this almost feels too good to be true. It probably is, but know if you disregard one or both and they hit again, you will not only pay the consequences in the overall rankings, but when you do give in and buy one or both, they will be pricier.
Chelsea defence is what we thought it was. Alonso and Chalobah is not what we meant, though. They had great scores, and I wish I would have owned one of them, but what I take from their scores is expect whatever CFC defender you get once the fixtures ease up and we sort of figure out how Tuchel will rotate them to do well for you this season if it is those two even better, but I doubt it.
I still don't trust Lloris or Spurs, sorry.
Pinnock did well for himself, but it is not a score I expect him to approach often. I would even venture to guess that he won't score equal or more this season. Brentford strikes me as a team that might be decent at home but will take some poundings when playing away.
Pereira from Leicester made a beautiful move to set up the goal. Of course, it was a sublime finish, but that doesn't take away from the way the Leicester defender got into a position to make the cross. I thought The Foxes were a bit lucky to keep a clean sheet, though.
Dennis got a goal, assist, 3 bonus and came off with an ankle problem. We will have to keep an eye on the injury, but he did play on for a bit after being hurt, so perhaps not too bad. An impressive display from the Watford forward made even better when you look at his price tag.
Quick Notes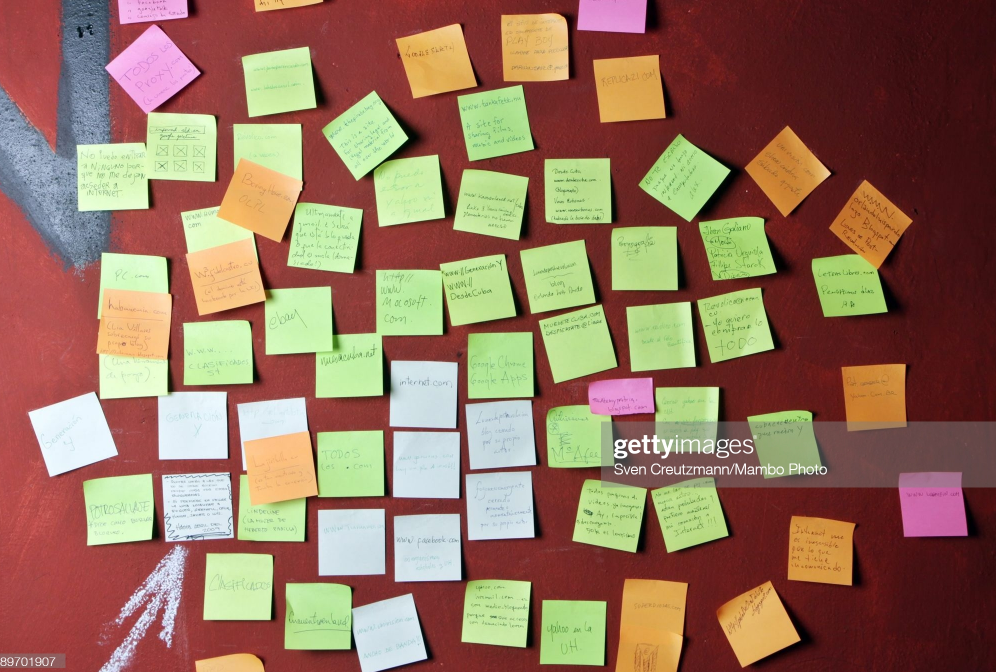 – If Traore was even half-decent at finishing, he is the talk of fpl right now.
– The aforementioned Traore was the joint leader in shots with Vardy at 6.
– Tierney had more attempted assists than Pogba. In fact, Kieran led the PL with 6.
– Amartey enjoys passing to the other team in his own half.
– Sarr was unlucky to not have an assist on Watford's first goal as Dennis hit the keeper with the original shot before punching in the rebound. It could have been a goal and assist day for Ismaila.
– There were no draws this GW. Home teams won 7 outscoring visitors 21-13 over the 10 games, so perhaps home cooking is back.
– Newcastle and Southampton had the two worst expected goals against, making their opponents the two best-expected goals for West Ham and Everton.
– City was third in expected goals, so perhaps a little unlucky.
– The top 20 players in fpl are made up of 3 keepers, 4 defenders, 10 mids, and 3 forwards.
– Emiliano Martinez might have to work miracles as he did for Messi in the Copa America if Villa is to keep clean sheets.
– If you started badly don't worry. About 10% total combined to captain Lukaku, Kane and Cavani, so you will still pass those casuals in the overall at some point.
– Pepe was involved a lot in terms of shots, set pieces and so on. It should mean something at some point this season, one would hope.
– Tarkowski was Burnley's best attacker.
– Expect DCL to match or outscore his points from last season.
– Ings was extremely lucky to get anything vs Watford. The Hornets gifted Villa a penalty that no one on this chat would be dumb enough to commit…I hope.
– Digne should have scored better. Keane gave away his clean sheet with a horrific pass. Plus, Digne almost had an assist, unfortunately for the Frenchman, the pass landed at the feet of Keane on the attacking end.
– Soucek looked as dangerous as ever. Like really good for fpl. So close to scoring a few more.
– Antonio missed a pen and hit the crossbar with a header. His score could have been massive.
– Toon don't defend very well.
– Smith Rowe looks like a solid player and should do well. One concern is that Real Madrid really looks like they are selling Odegaard, and Arsenal look like the likely destination.
Transfers in so far. (Top 10)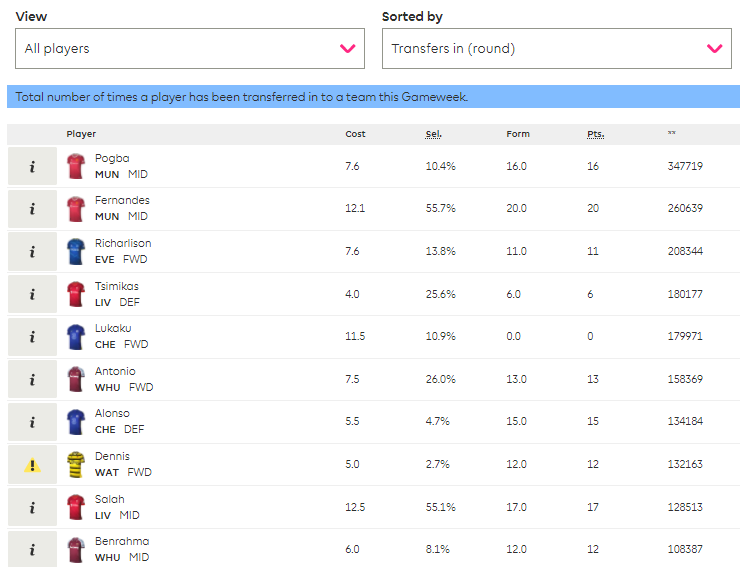 Transfers out so far. (Top 10)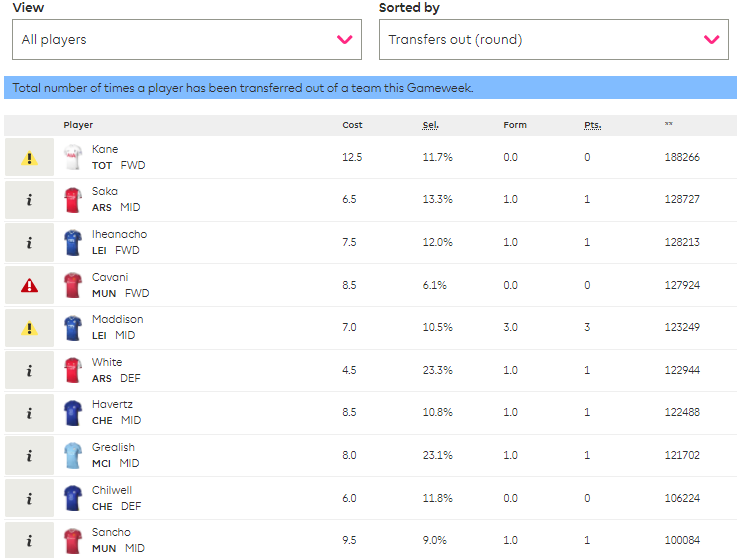 Thanks for reading FPL Ramblings. This article was written by Mito21
VOTE ON THIS WEEK'S CAPTAIN POLL GW2
FPL FIXTURE TRACKER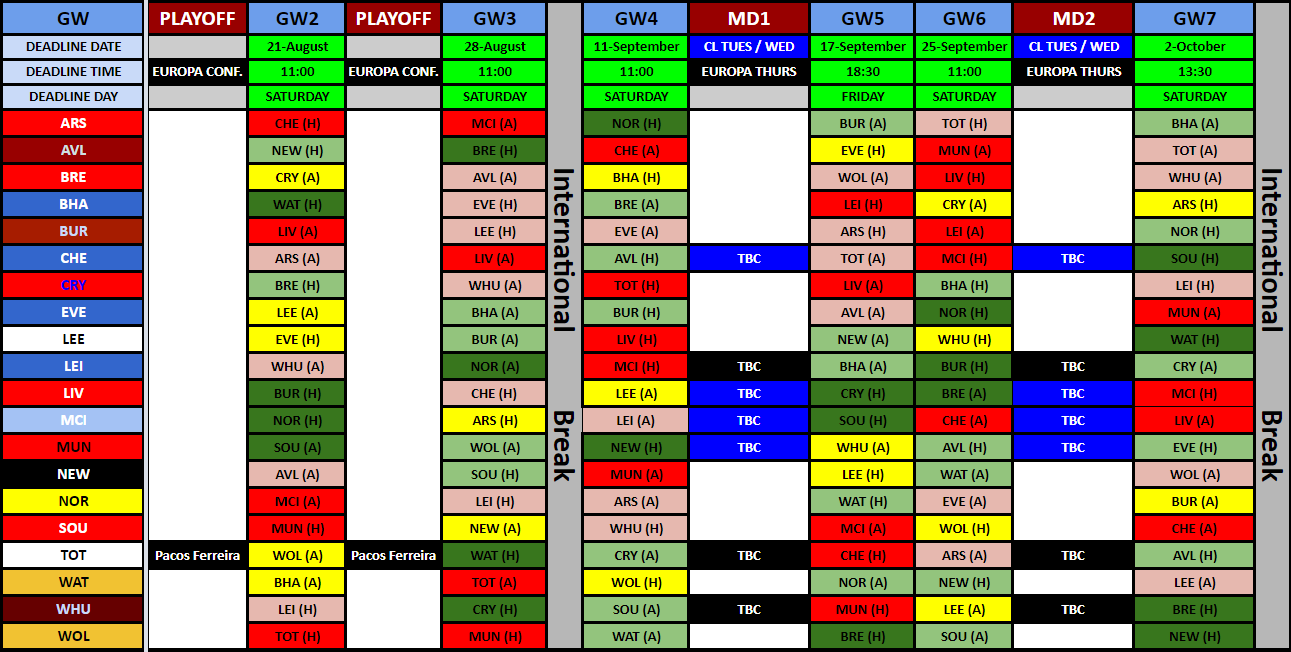 FIXTURE TRACKER LINK
FF247 LEAGUES FOR 2021/22
Fantasy Football 247 League Codes:
Both leagues will be shut to new entrants as of 01/01/22.