FPL Tips Gameweek 34
Welcome to FPL Tips Gameweek 34. Rarely do I enjoy writing a Tips article, others are much better versed and stat focused than myself. However, I thought I'd jump in this week and offer some names that will hopefully serve you well over the last few weeks or so of the season. I haven't included any Man City players as frankly I'm not prepared to play Pep-roulette with your teams at this stage and anyway you know enough of Dias, KDB, Gundo, Foden et al to make your own choices.
There are of course many other players I could have chosen but omitted. It doesn't make them bad choices, but I have tried to cover the up and coming DGW('s?) and where I have tipped players they have either shown good recent form or have attractive looking fixtures or are displaying good monetary value – in most if not all cases they have a combination of at least two of these.
Goalkeepers

With just five game-weeks of the season to go, it's quite possible that many of you will not want to use a free transfer to change your keeper. On that basis I will keep this section relatively short. Quite frankly if you don't own
Emi Martinez
, and it would appear that almost 60% teams don't, then I'm not sure I can help you much! The Villa stopper who was deemed surplus to first team requirements at Arsenal (go figure) is the highest scoring keeper in FPL, started the season at 4.5mln (and now costs 5.4mln) and still has a DGW to come. Unfortunately for you non-owners, you may have missed the best of Martinez this season as Villa's fixtures are not great from now, although he does a have DGW coming up and he continues to rack up the save points and with Everton (twice), Chelsea, Spurs and Man Utd still to come for Villa, the opportunities for save points remain.
If you fancy a cheaper model who also still has a DGW to come and better fixtures than Martinez then how about Jordan Pickford? Hear me out here. Costing just 4.8mln, in less than 5% of teams, still to play Wolves and Sheffield United, aforementioned DGW on the horizon and wanting to get back into Gareth Southgate's good books in time for the Euros, there's surely enough there to deserve some consideration. For the DGW it's quite likely you have a reasonably settled defence and don't want to splash out 6mln on the underperforming Digne, so 4.8mln for the keeper won't break the bank. When he's not throwing the ball in his own net, decapitating defenders or ruining Liverpool's season (more justification to buy), then Pickford has shown himself to be a decent keeper.
Defenders

Timothy Castagne of Leicester is just coming into form. Well at least he played great vs West Brom (and I am writing this ahead of the Palace fixture), set up a goal, hit the post and kept a clean sheet. With a trip to Southampton coming up next and then the visit of Newcastle, expect more points from the Belgian defender, who will set you back 5.8mln. You may need an escape clause as The Foxes then face Man Utd, Chelsea and Spurs, but for some short term fun he's my favourite selection. (Editor: he scored vs Palace!).
For a slightly lengthier investment Stuart Dallas should be on your radar. Given everyone seems to own him, I was amazed to see his ownership is just 26%. That may seem high but it's really not. Turn it around – almost 75% of teams don't own Dallas. He is the highest scoring defender in the game with 148pts, has scored the most goals for a defender, is regularly played in midfield by Bielsa and still has to play Brighton, Burnley, Southampton, Spurs and West Brom. 5.2mln is peanuts for an out-of-position defender.
Don't tell Kop, but I'm going to tip TAA. You can throw the lack of clean sheets, the comedy defending, the lack of VVD (buy Pickford!!) and more and I wouldn't argue. However TAA has everything to play for, Liverpools desperate hunt for a Champions League place and trying (like Pickford) to get back into Southgate's plans for the summer, plus Liverpool still have to play Southampton, West Brom, Burnley and Palace. 'No clean sheets there', I hear you say – well maybe, maybe not but Liverpool's attacking stats in terms of chances created match up against last season and with either a goal or assist in three of his last four I'm willing to bet there is still an attacking return or two still to come for TAA this term. And maybe even a clean sheet.
If you need some cash and really want to downgrade one of your defenders and are looking for a cheapie then Matt Lowton at 4.4mln could be your man. A mainstay of a Burnley defence which has just welcomed back Nick Pope, Lowton assisted at the weekend (ok, it was only vs Wolves but still…) and kept a clean sheet. Still to play Fulham and Sheffield United, Lowton could be the cheap enabler you've been looking for.
Midfielders

Over 30% of teams own
Jesse Lingard
– I don't know what his ownership was before he joined the Hammers on loan but I'm willing to bet it was less than 1%. In just seven game-weeks JLingz' price has risen from 5.9mln to 6.6mln – in 11 matches for West Ham he has scored 9 goals and created 4 assists – he's a form and confidence player and has freely admitted the move to East London has worked wonders for his state of mind. There's a reason 30% of teams have bought him over the last 2/3 months and if you don't own him, you really should. It's not too late – West Ham end the season with a series of lovely fixtures vs Burnley, Everton, Brighton, West Brom and Southampton.
My United bias may be responsible for tipping Mason Greenwood here. The young English striker/winger is a big favourite of Solskjaer and is viewed by most at United as being the most natural footballer in the team and probably the second best finisher behind Cavani. With the Uruguayan unable to start every game and being saved for United's pursuit of Europa glory, Greenwood was played vs Leeds up front and is likely to appear there again this season with Martial crocked and Cavani rested. With four goals in his last four matches, Greenwood is another hoping to join Southgate in the summer and with United still to play Villa, Leicester, Fulham and Wolves, an investment of 7.1mln on the two footed United youngster, owned by just 6% of teams, could prove an inspired differential over the last few matches of the season.
Matheus Pereira was championed in this article last week and with my usual habit or joining the party late, he's in this week's too. West Brom are, let's be honest crap, but Pereira isn't. He's involved in much of what West Brom do, is on penalties (scored vs Martinez on Sunday grrrrrr) and costs just 5.5mln. With nine goals already this season and four in his last four and with the added bonus of a match vs Wolves this Monday, he's got to be worth a punt right? Even if you didn't listen to Init last week, listen to me now 😉
Forwards

Why the heck would I bother tipping a bloke that is currently owned by 44% of teams? Well, basically because
Harry Kane
was the most sold player in FPL last week, due to his blank and ankle injury. However, blank over and recovered from injury, Kane and Spurs look to demolish Sheffield United at the weekend, not only should you own him, you should be captaining him! For those who sold him for Vardy they will need a pretty large DFS delivery for Sunday evening – personally I'll have the kids to bed early and feet up for the 7.15pm kick off and watch Kane destroy The Blades. And after that he'll destroy Leeds, Wolves and Villa also before his mandatory goal fest vs Leicester on the last day. Enjoy your Vardy and good luck with it – I just pray you have the funds to buy back Kane.
Feel free to accuse me of chasing points but c'mon Chris Wood is worth a mention. With nine attacking returns in his last six matches, Wood is the form FPL asset right now. Of course, he won't be lucky enough to play beach bums Wolves every week but he scored vs Man United the week before and with a Rice-less protected West Ham defence coming up, followed by doomed Fulham, Leeds who love to concede from set pieces, Liverpool who love to concede anyhow and then Sheffield United on the final day, Wood is certainly one who at the very least should be on your watchlist if you are hanging onto DCL, Watkins or Richarlison for their DGW. Costing just 6.3mln he is budget friendly and owned by less than 2.5% of teams – both of those figures will be rising over the coming weeks.
I mentioned DCL, Richarlison and Watkins in the previous paragraph as of course they all have a DGW coming up. Watkins is the form horse of the three with attacking returns in each of his last four matches, though personally I will be looking to get rid after Villa's DGW which will hopefully be announced for DGW35. The Everton duo have the advantage of better fixtures than Watkins, as I highlighted in the Pickford section (have you bought him yet?!) – games vs Villa (x2), Sheffield United and Wolves are a lot more appetising than Watkins' up and coming fixtures. My advice is to keep any of the trio you already hold for their DGW and then take stock – Watkins can probably be sold after the DGW while DCL and Richarlison may well get the benefit of the doubt given the fixtures.
My final tip is the popular Leicester striker Kelechi Iheanacho – he has the form (8 goals in 6 matches pre Crystal Palace), short term fixtures (Southampton (a) and Newcastle (h)) and value (costing just 6.2mln). Whether you then keep him for the run-in of Man Utd, Chelsea and Spurs is your call – I wouldn't and won't be, but for now he is FPL gold.
Thanks for reading FPL Tips Gameweek 34. This article was written by Cookie.
VOTE ON THIS WEEK'S CAPTAIN POLL GW34
FPL FIXTURE TRACKER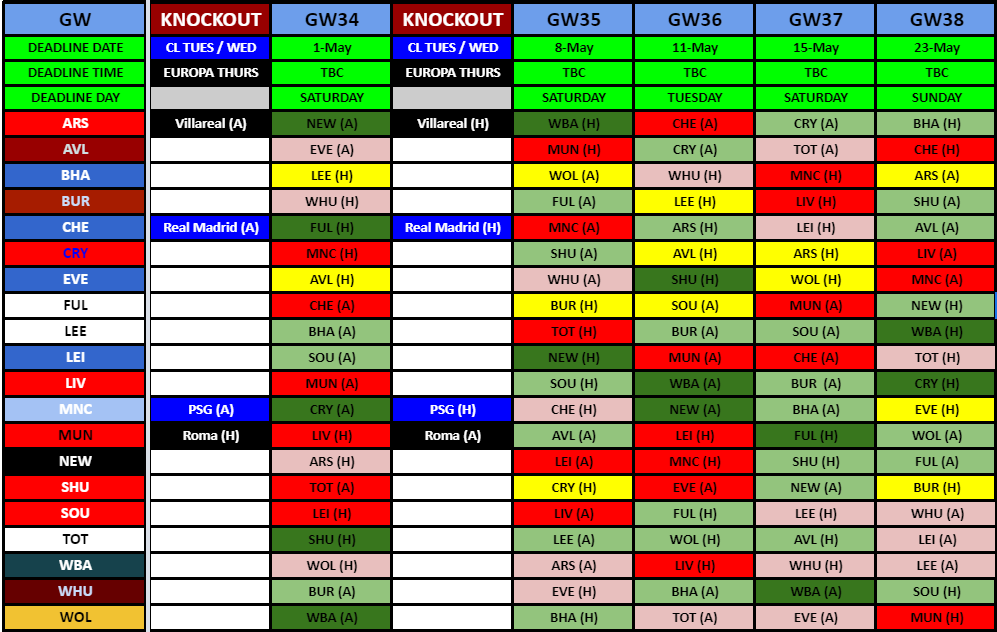 FIXTURE TRACKER LINK