Harry and Lloyd's Fantasy Predictions – Final League Table 2021/22
Hello and welcome to our final H&L article of the 2021/22 season. I'll start by saying a massive thank you to all 79 of you who have taken part in this year's competition, I'll also say a huge thank you for your patience when through no fault of our own we've had to delay posting results, often multiple weeks on the bounce.
We hope you'll all be back next season as we'll be doing it once more and will likely even throw in the World Cup fixtures as an added bonus!
While I'm thanking people I'll also say a special thanks to James Simmo, I have no idea what he did, but he made Matt very happy with some sort of Algorithm that has made Matt's counting a doddle (or something like that).
My biggest thanks goes to Matt himself though. Matt does the counting (with James' help) and it's only rarely that he asks for help, which leaves me (Rosco) with the relatively easy job of writing up the results, hell, Matt even does that for me some weeks. So thanks Pal, you've never complained and you're always willing to help me out as and when – you rock!
Ok, enough of the love-in, we have some results to get through!
GW36
The Winner back in GW36 was decided by our traditional tie-break following 16pts apiece for both OddDane and Ivan. It was OddDane who emerged victorious, his prediction just two minutes out. Third place went to DonMourinho.
GW37
Mr FF247 himself (Init) scored a massive 18pts and with it came the number one spot back in DGW37. Indeed, his overall score was a huge 3pts clear of his two nearest challengers Leprechaun and Gavy (both with 15pts). A multitude of players managed to correctly guess the FGS – Kudos.
GW38
Our final winner of the season was one of my favourite site members AJW with a solid 14 pts. Second place went to Eplnoob on 11pts and third place was shared with Otieno, SomH3i and LoudAtlas all finishing on 10pts.
And so; Many Congratulations to OddDane, Init and AJW>. Please email us here; contact@fantasyfootball247.co.uk to claim your prize.
Final League table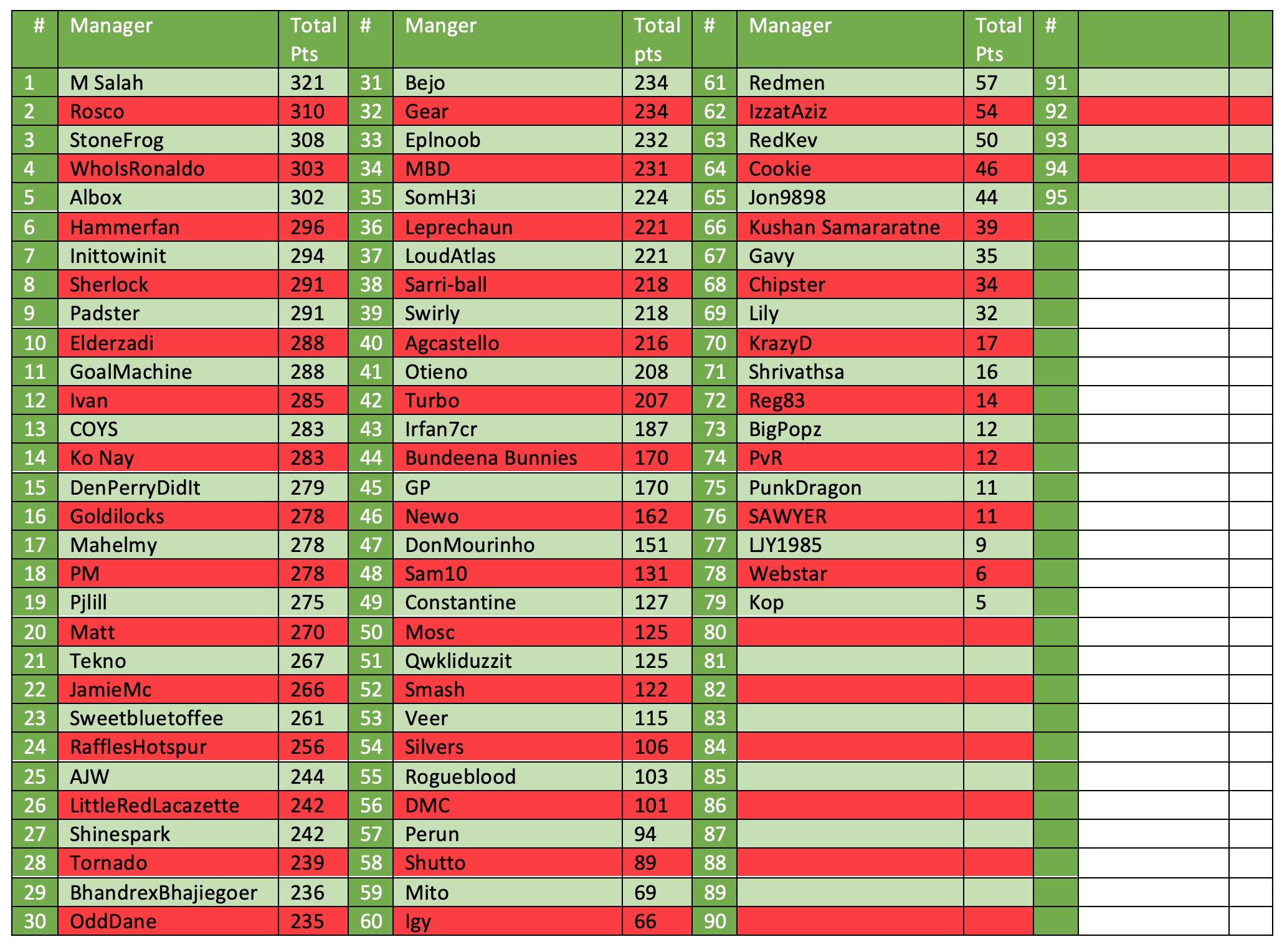 Much like my FPL season, it was a case of always the bridesmaid and never the bride. I've never been that good at this competition, but this season I've given it my all and I came so close only to fall at the final hurdle. But this isn't about me!
A huge congratulations to M Salah. M Salah has pushed me close all season and in the end destroyed any hopes I may have held of actually winning (which is probably a good thing!), finishing out the season as the league leader with a massive 11-point lead.
The Champion's League spots were filled out by our very own StoneFrog and WhoIsRonaldo, closely followed by Albox, Hammerfan and the big Bossman himself Init fighting it out for some random European competition. Congratulations to all of you, with just 16pts separating second and seventh.
And so; Many Congratulations to M Salah. Our overall league winner for the 2020/21 season!!
See you all next season and I hope you enjoy your summer!
Thanks for reading Harry and Lloyd's Fantasy Predictions – Final League Table 2021/22
This article was written by Harry and Lloyd… aka Matt and Rosco.