Welcome to New Fantasy Premier League Transfers 2018/19 – Andriy Yarmolenko, Bernd Leno and Florin Andone.
Omne trium perfectum. Perfection comes in threes. 'The rule of three' being of course a widely adapted writing principle, whether in comedy, advertising, or some other third thing. So why should Fantasy Football be any different? After trawling the breadths and depths of the Premier League transfer pond I handpicked the very best trio of recent FPL inductees.
Unfortunately they were already taken by other writers, so here are three blokes you've never heard of.
Andriy Yarmolenko | Midfielder | West Ham United | £7.0m

I remember what it was like getting my first Star Wars figurines. It felt like an addictive new world had opened up and I wanted to stockpile as many as possible. This urge to indulge in reckless profligacy eventually gave way to guilt and a hollow feeling of dissatisfaction. The initial hedonism of snapping up Han Solo and Luke Skywalker nosedived into a materialistic horde mentality via IG-88, the Rancor Keeper, and ultimately Snaggletooth.
So, it was with concerned empathy that I saw new West Ham manager Manuel Pellegrini bring in his 18th signing in 2 weeks. Andriy Yarmolenko, a £17.5m signing from Borussia Dortmund, has featured extensively in The Irons' pre-season, but it's Arnautovic grabbing the headlines so far, making the Ukrainian a hard sell.
However, if he can ride on Arnie's coattails, he could quickly become an attractive mid-priced midfield proposition. Realistically, a cautious wait-and-see policy may be the sensible option as West Ham have some tricky opening fixtures to navigate.
Ostensibly a winger, though sometimes deployed as a forward, Yarmolenko had an impressive stint at Dynamo Kiev scoring on 99 occasions in 228 appearances, before crossing over to the Bundesliga. Spurs fans may remember his first start in a Dortmund shirt, scoring a sumptuous curler in their Champions League tie.
Antonio's recent scoring return from injury will add further congestion to an impressive but bloated squad. A great problem for the new boss and a headache for us. Watching West Ham's cast of characters gel will make for an intriguing soap opera over the coming season with Hammers fans hoping history doesn't look back at Yarmolenko as Pellegrini's Snaggletooth moment.
Bernd Leno | Goalkeeper | Arsenal | £5.0m
Ben Foster, Alisson Becker, Angus Gunn, Alex Smithies, Danny Ward, Robert Green… Is it just me or has this summer's transfer merry-go-round been hijacked by a jealous union of hitherto disenfranchised goalkeepers? Brighton alone have signed 3. All aboard the glove train.
Not to be outdone, Unai Emery's been shopping on E-Bayer. Arriving for a shade over £19m, Bernd Leno poses an interesting conundrum for FPL folk should Petr Cech refuse to take the hint and vacate the premises.
(Rumour has it that Cech came back to his London mansion and found all his stuff packed in boxes with a signed farewell card resting on top. Shrugging his shoulders Petr mumbled something about the chances of that happening accidentally by itself being astronomical, yet possible. He chuckled and adjusted his headguard. He then slowly unpacked everything, returning all his belongings back to their rightful places before settling down to watch a Quincy box-set. I must reassert that this is just a rumour. Started by me. Just now.)
Leno was part of the Bayer Leverkusen side which finished fifth in the Bundesliga last season. Just don't mention that Augsburg game. He began his career at Stuttgart so fans of bilingual spoonerisms will be hoping he gets off to a 'gut start' at Arsenal.
The German stopper helped Leverkusen keep 9 clean sheets in his 30 Bundesliga appearances last season. He also holds a record 9 penalty saves in the Bundesliga. Leno's 45 clean sheets since the start of the 2014/15 season is bettered only by Die Mannschaft's keeper/left-winger Manuel Neuer (56).
Florin Andone | Forward | Brighton and Hove Albion | £5.0m
"I don't like to talk about targets in terms of goals, to put that pressure on myself. My main aim is to play as many games as possible and to help the team. My main strengths are my speed and running in behind. I'm a hard worker."
That's your guaranteed 2 points-a-game FPL benchwarmer sorted then. Any questions?
The Seagulls capitalized on Deportivo La Coruna's relegation to La Liga 2, a fate which halved Florin Andone's buyout clause to just £5.25m. He favours the role of lone frontman which should be a good fit for Chris Hughton's system, although last season's top scorer Glenn Murray will provide obstinate competition.
Yet to play alongside his new teammates at the time of writing, the Romanian international is expected to make his Albion debut in a behind-closed-doors knockabout with Nice this week. Depending on how tightly closed the doors are, we may never know.
Though unremarkable, his goal scoring record is respectable. Across the top two tiers in Spain, Florin Andone netted 27 in 58 appearances for Cordoba and 19 in 69 for Deportivo. It's hard to see that ratio seismically changing in England's top flight, but will aspire to be better than his 1 in 21 quotient for the national team. Whether he'll go on to be the next Michu, or the next Soldado, who knows. He should at least be a BPS magnet for his speed, running in behind and hard work.
Thanks for reading New Fantasy Premier League Transfers 2018/19 – Andriy Yarmolenko, Bernd Leno and Florin Andone. This article was written by Bry
HELPFUL LINKS –
PRE-SEASON FRIENDLIES
Usually we run an article and ask people to get involved and cover the friendlies with any info they can gather. And it's usually fun but in all honesty it's usually also a bit messy and difficult to refer back to. This season we have one link that you will need need for all such info, courtesy of Mito –
Here you will find all the pre-season info you could ever wish for in one place – line-ups, scorers, assists, match info, sarcastic comments…
SET-PIECE TAKERS LIST
This is a work in progress as we make our way through pre-season but again Mito is all over it as it's an invaluable resource and can be found here
FPL FIXTURE TRACKER
(It's scrollable btw, just swipe left or right)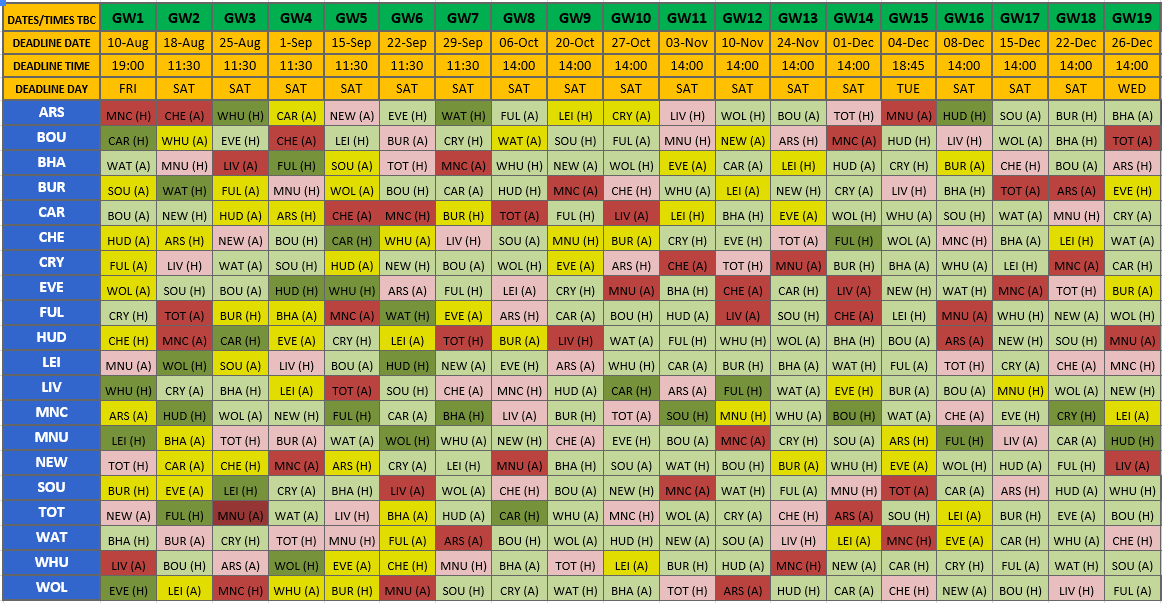 FIXTURE TRACKER LINK
The League Codes for FF247 for the 2018/19 season are as follows –