Hello and welcome to New Fantasy Premier League Transfers 2018/19 Richarlison and James Maddison. We continue our look at new Premier League transfers by focusing on two promising mid-priced attacking midfielders, namely Everton's Richarlison and Leicester's James Maddison. Richarlison you will likely remember from his time at Watford last season while you may not know so much about James Maddison unless you followed the Championship. Both midfielders are priced at 6.5mln and would appear to offer good value for money. They both also have the advantage of starting the season at their new clubs with decent looking fixtures.
Richarlison
Everton
FPL price: 6.5mln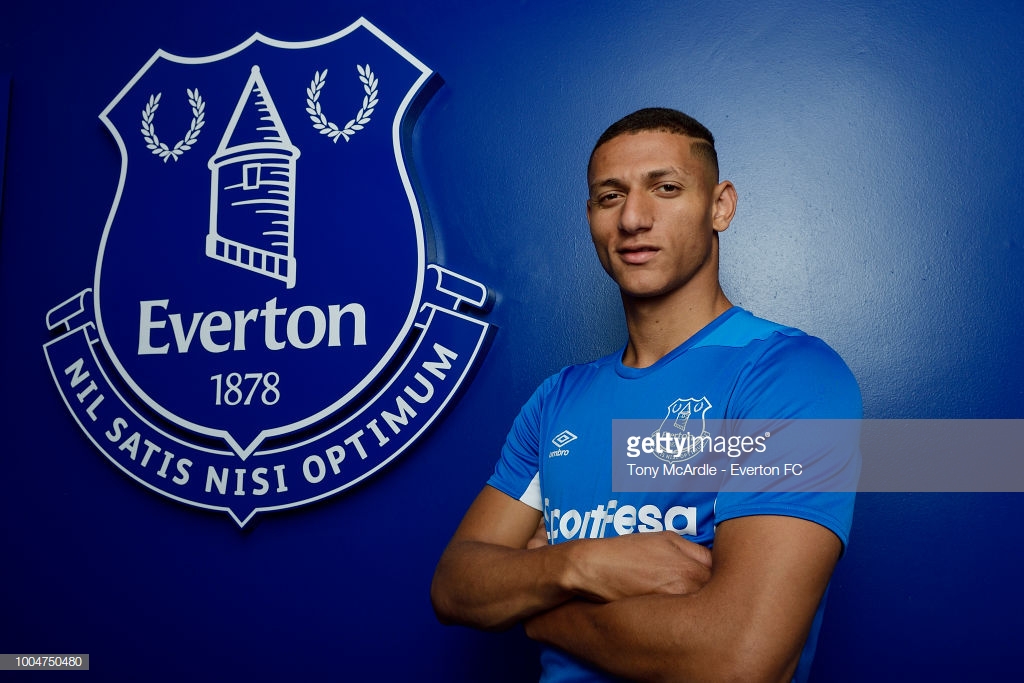 Many of us hold fond memories of early season Richarlison from last term. Having been recruited by Marco Silva at Watford, the Brazilian scored five goals and assisted four in his first 12 starts. However, his form slumped and he failed to score again as Watford were disrupted by Everton's 'chase' of Silva as their manager. The two have now been reacquainted as both look to make Goodison Park a more permanent home than Vicarage Road ever was.
£40mln may seem a lot for a player whose form dropped so dramatically last season but the market is what it is and Silva clearly has a lot of faith in Richarlison and will clearly be under pressure to again get the best out of him as Everton begin the season with an attractive looking run of fixtures. Adept with both feet, decent in the air and owning pace and trickery Richarlison has much going for him – he was the most fouled player in the Premier League last season and only Mo Salah, Harry Kane and Christian Eriksen had more attempts than him, though FPL owners will want to see an improvement in his finishing.
Richarlison can play on the left, right or through the middle providing Silva with numerous options for his first Everton signing – the signs are good that a summer break has helped the Brazilian for he assisted for Watford in their first pre-season friendly before his move to the Toffees. Silva believes Richarlison's range of attributes and fierce work ethic will make him a perfect fit for the club. "The player is fast, strong, very good technically and he can play in three positions across the front line. He can also score goals. Evertonians will see a player who will be 100 per cent committed to helping our team always."
Richarlison himself is glad to be working with Silva again and is excited at the move to Everton: "I've known the manager for a while obviously, so I know how he works. I developed really well with him while he was with me at Watford. It was really good working with him and one day I believe he can help me to be selected for Brazil in the full national team. I want to score more goals, provide more assists for my teammates and help in whichever way is possible."
With Everton's fixture list and a FPL price tag of 6.5mln, it would appear that Richarlison should be a strong contender for your squad. Despite Silva talking about the strength of the squad providing competition for places it's worth noting that Silva never rotated Richarlison at Watford. If he can settle in quickly and can find wherever he left his shooting boots he could be FPL gold.
James Maddison
Leicester City
FPL price: 6.5mln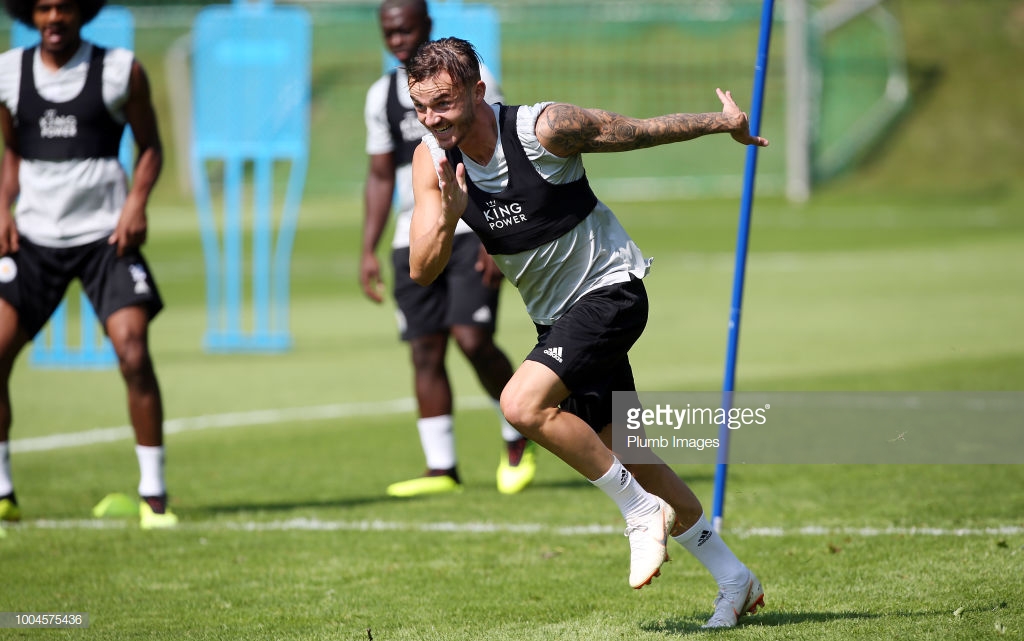 James Maddison joined the Foxes from Norwich in a deal worth around £24mln in June. Claude Puel very much sees Maddison as the replacement for Riyad Mahrez and while those may be big boots to fill, the signs are that Maddison has what it takes to prove a success for Leicester and also a very interesting mid-priced midfielder for FPL managers. Priced at 6.5mln by FPL, Maddison has flown some what under the radar – while much of the attention has been on similarly priced midfielders such as Richarlison, Jota, Sessegnon and Milivojevic, Maddison has ownership of just 0.6% of teams (at time of writing) and has hit the ground running in a Foxes shirt.
Maddison played for an hour vs Notts County and looked immediately at ease in the no.10 role that Puel very much values in his possession based system. The manager's desire to keep the ball relies on the playmaker who can find space, wants to get on the ball as much as possible and then split defences open with forward passes. Sounds like Jamie Vardy's ideal team-mate!
Maddison will also find himself on most set pieces, certainly free kicks and corners, though Vardy is expected to remain first-choice penalty taker.
Puel describes his new recruit as 'one of the most exciting attacking talents in English football' and is delighted that Leicester were able to hold off interest from Southampton, who also had a bid accepted for Maddison. In fact there was specualtion as early as January that Spurs were ready to make a bid.
The midfielder scored 14 goals and recorded 8 assists last season for a Norwich side that finished in a disappointing 14th place. Time will tell if Maddison can make the next step up and perform in the top flight but the 21 year old will certainly be given every chance and much of the play will go through him. Leicester's fixtures are generally pretty good which should help Maddison find his feet. On that regard he is certainly someone on my watchlist and I'll be keeping a closer eye on the remainder of Leicester's pre-season friendlies to see how Maddison progresses.
Thanks for reading New Fantasy Premier League Transfers 2018/19 Richarlison and James Maddison. This article was written by Cookie
HELPFUL LINKS –
PRE-SEASON FRIENDLIES
Usually we run an article and ask people to get involved and cover the friendlies with any info they can gather. And it's usually fun but in all honesty it's usually also a bit messy and difficult to refer back to. This season we have one link that you will need need for all such info, courtesy of Mito –
Here you will find all the pre-season info you could ever wish for in one place – line-ups, scorers, assists, match info, sarcastic comments…
SET-PIECE TAKERS LIST
This is a work in progress as we make our way through pre-season but again Mito is all over it as it's an invaluable resource and can be found here
FPL FIXTURE TRACKER
(It's scrollable btw, just swipe left or right)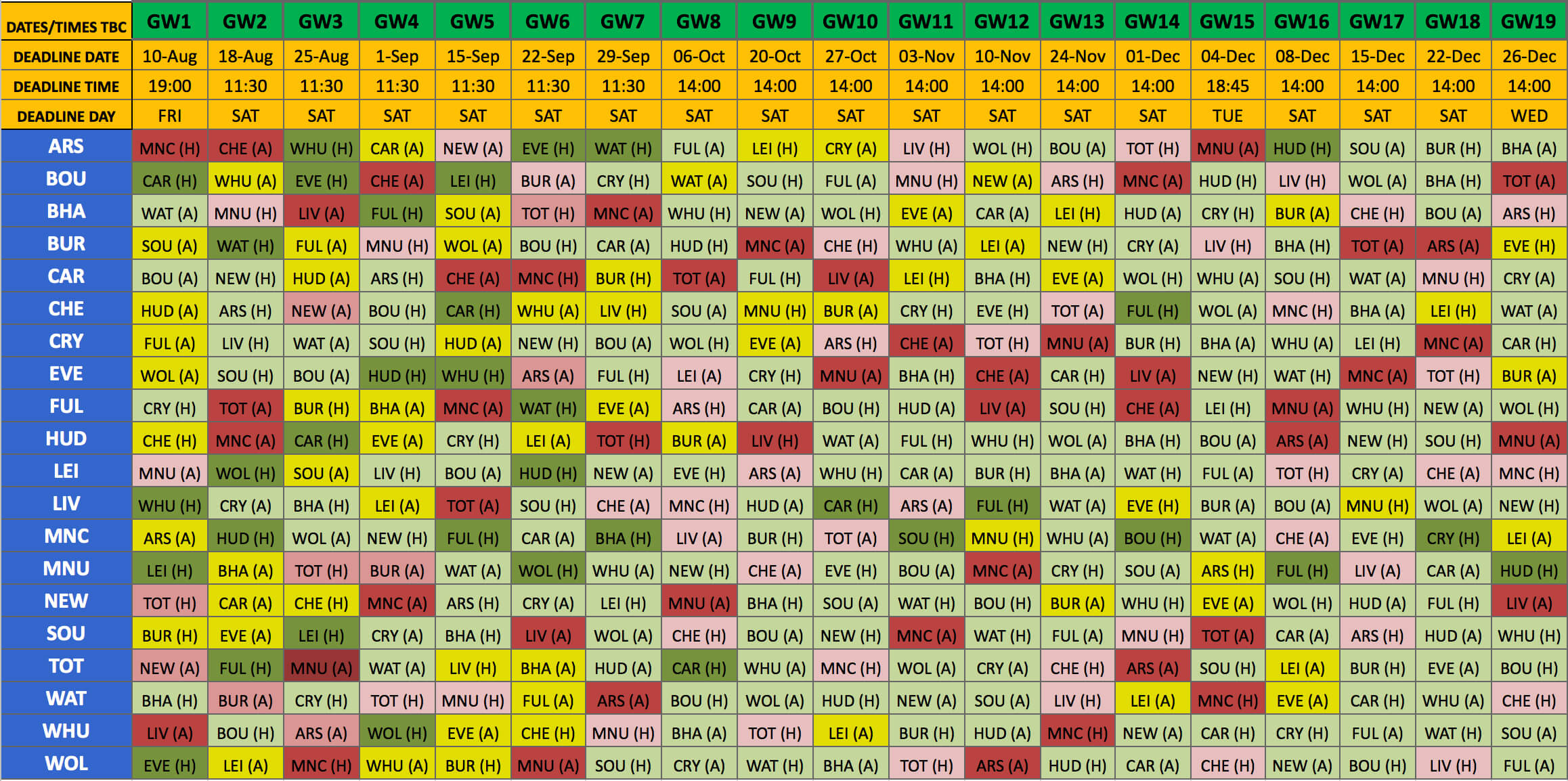 FIXTURE TRACKER LINK
It's been a busy summer already with Arsenal, Everton, West Ham and Chelsea appointing new managers, Manchester City adding to their already dominant squad, Man Utd continuing to splash the cash and Liverpool trying to protect Karius by beefing up their midfield. Spurs may even have a new home soon.
And FPL wise, this is the place to discuss strategy, learn about the promoted teams and their players while in the days and weeks to come we'll have plenty of articles, interviews, player analysis, Bore Offs, Tips, etc, etc.
So be sure to get involved in the discussions, the RMTs and the banter as we look forward to another season of Fantasy fun!
The League Codes for FF247 for the 2018/19 season are as follows –