Promoted Teams Analysis FPL 2021/22 – Watford

Guess who's back? Back again. Matt's back, tell a friend! That is right I must have done a brilliant job on the Brentford article to be writing again so soon. Or it just means I'm the biggest idiot who answered when the boss man called! Well, I'm on my three-month summer holidays and I've got very little else to be doing so why not feed my fantasy obsession! We started these new team articles with the team who came up through the playoffs, Brentford, and will now take a look at the team who got promoted in second place, Watford. This team is more known to us than the Bees as it was only two seasons ago when we were all using Kabasele, Kiko Femenia and Troy Deeney in our FPL sides. This means I won't have to give you a complete rundown of their history but for those completely new to us I'll give you a brief bio. Watford are yet another London side to the Prem. They play in Vicarage Road, are known as the Hornets and don't like to keep their managers for a long time!
They were relegated to the Championship after finishing 19th in the 2019-20 Premier League season. Nigel Pearson was the man in charge then, but he left at the end of that season to be replaced by Vladimir Ivic. Ivic only lasted twenty games and was then replaced by relative unknown, Xisco Munoz who led them back to the top-flight at the first time of asking.
The Spanish manager now has before him two of the biggest tasks of his career; adjusting to life in the Premier League and making sure he lasts a full season. One way he seems to be trying to tackle these tasks is by building the biggest squad in the league. Watford have a whopping 35 players registered on the FPL site! They can only play eleven of those players at a time and those eleven are instructed to play a possession-based style of football. This saw them have an average of 54% possession last season. Let's have a look at how Xisco might line up his team and who might be the best options from the Londoners.
Formation
Watford played with a rigid 4-4-2 under Ivic which saw him sacked after 20 games. Xisco took over and for the first eight games he stuck with this formation. Troy Deeney picked up an injury against Coventry and Munoz switched his tactics to a 4-3-3. I'm not sure if this tactic was in the works or if it was a reaction to the injury, but they didn't play 4-4-2 again and the new formation really helped them. The 4-3-3 allowed a lot more fluidity in the attack and also invited the wingbacks to bomb up the field. In the first match under the new formation, they put up a score line of 6-0 against Bristol City and never looked back. I can't see them reverting from the 4-3-3 but definitely keep looking at their preseason for any tactical changes now that Deeney is back from injury.
Started with this 4-4-2;
Bachmann
Femenia – Troost-Ekong – Sierralta – Masina
Sarr – Cleverley – Hughes – Sema
Deeney – Gray
Ended with this 4-3-3;
Bachmann
Femenia – Troost-Ekong – Sierralta – Masina
Cleverley – Hughes – Chalobah
Sarr – Pedro – Sema
Goalkeeper and defence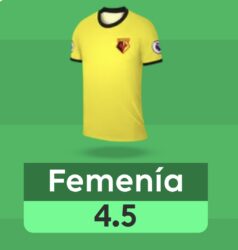 Watford offer FPL managers the perfect goalkeeper combo with Austrian keeper Daniel Bachmann (4.5) and the cycling goalkeeper Ben Foster (4.0) for a total of 8.5 mln. Foster started the first 23 games of the season but after he got injured, he was replaced by Bachmann. Bachmann appeared 23 times, conceded 13 goals getting 13 clean sheets along the way. He made 37 saves which equates to 1.6 saves a game. He also faced 3 penalties and saved one of those. There are rumours that Foster could get his no.1 spot back due to his Premier League experience so you might be best to get both as you are then guaranteed a keeper. This defence broke the record for lowest conceded goals (30) and a league best 23 clean sheets, but it is being said they got their fair share of luck at times. These good defensive stats were based on their midfield dominance thanks to Hughes and Cleverley but this midfield will no longer dominate in the Prem so the defence could struggle.
We might have to rely on save points from the Watford keeper so let's look at some stats from the previous five seasons.
Fewest goals conceded in the Championship:
16/17 – Newcastle = 40
17/18 – Cardiff = 39
18/19 – Sheffield Utd = 41
19/20 – Leeds = 35
20/21 – Watford = 30
The correlating FPL points for the GKs of these teams per 90:
17/18 – Dubravka = 4.4
18/19 – Etheridge = 4.1
19/20 – Henderson = 4.4
20/21 – Meslier = 4.4
21/22 – Bachmann = ?
This would suggest that Bachmann gets an average of 4 points a game and over the season it would equal 152 points or there abouts. If we compare that to some more of last season's keepers Martinez had 4.8 ppg, Mendy 4.6, Pope 4.5, Ederson 4.4, Allison 4.2 and Sanchez 3.7. The above numbers make it seem possible that we find this season's Martinez at Vicarage Road.
Adam Masina (4.5) signed from Bologna in 2018 and has been one of the standout players for Watford during the 2020-21 season. The 27-year-old played 25 league games during the last campaign, making 1.6 tackles, 1.5 interceptions and 2.7 clearances per game. He helped the club keep 15 of their 23 clean sheets, while also registering two important goals.
The Moroccan is the only Watford player to be included in the EFL Championship Team of the Season and his form should play a key role this season. Masina also took three direct free kicks for his side which put him in the top three of direct free kick takers. Adam has already scored in preseason this summer. One thing to worry about for Masina is the signing of Danny Rose (4.5). Both play at left back so it could spell the end for Masina if Rose has been brought in for his PL experience.
Another promoted asset, that we are all likely aware of is Kiko Femenia (4.5). In Kiko's previous three seasons in the Prem, he has got 65, 66 and 54 points, registering 2 goals and 3 assists in that time. These don't inspire much but Femenia seems to have improved under Xisco. His 5 big chances created were impressive, including producing 4 assists (the most among Watford defenders). Femenía also seems nailed on to start, and if encouraged to go forward, could be a steal. He appeared in 37 games, got 4 assists and got 11 clean sheets.
Watford were very sound last season, conceding one goal in their last eight home games and even that was an OG! The first six fixtures are fairly kind and could offer good early season differentials.
Midfield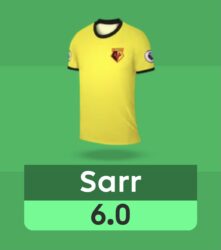 Ismaila Sarr (6.0) has been linked with a move away from Watford ever since their relegation in 2020. However, he decided to stay and went on to play an important role in their promotion last season. The 23-year-old played 39 league games in the recent campaign, scoring thirteen goals, and assisting four goals. He was awarded Watford's Player of the Season for his performances along with the Players' Player of the Season. The Senegalese winger was clearly one of the best players in their last Premier League season and will be looking to emulate his compatriot, Mane, in being a danger to most defences once again. A strength to Sarr's game is he was the second most fouled player in the Championship last season so this will give him plenty of opportunities for assists. Being fouled so much saw Sarr win five penalties last season. Sarr took two penalties last season when Deeney was not on the pitch, but he possibly has some competition which I will go into more detail below.
I want to give an honourable mention to Ken Sema (5.5) who played in 41 games and got a new lease on life after the switch to 4-3-3. Sema moved into the left side of the front three after the tactics change. He scored five goals and added five assists. All five of his goals and one of his assists came after this move to the wing. He will likely not stay in this spot this season and could lose his place altogether, but this is something we will need to keep an eye on in preseason.
Forward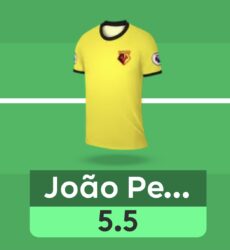 I said before that Xisco is building the biggest squad in the Premier League and this shows up top as Watford have ten strikers… TEN! That means they have 5.8% of all the strikers currently in the game. With all those strikers you'd be forgiven for thinking Watford are a free flowing attacking side, but their 63 goals scored last season only put them 6th in most goals scored even Blackburn scored more than them and they finished 15th! They are also likely going to use Sarr up top and he's a midfielder so why all the strikers?
The striker I will focus on is the young 19-year-old, Joao Pedro (5.5). Joao enjoyed a breakthrough campaign last season as he was a key player in the absence of Troy Deeney. He has plenty of pace and trickery in his toolbox which saw the youngster cause problems for sides in the Championship. He played 38 league games last year scoring nine times and assisting twice which put him second in the charts for most attacking Watford player. Joao has a similar style of play to Firmino as he drops back and is the first line of defence for his side. One worry is with the signings Watford have made Joao could go out to the left wing and one of the new signings like Dennis or Cucho could take the striker spot or even Deeney could return.
The trickery and pace I mentioned meant Joao won two penalties much like Sarr above. Also, like Sarr, Joao took two penalties when Deeney was not on the pitch but I'm not sure which one would be ahead in the order. If Deeney does not play the next in line to take pens is a bit up in the air. People on Twitter seem to be debating between Sarr, Joao, Cleverly and new boy Josh King. If I were to gamble on which one takes penalties now, I would put my money on Sarr.
I feel I have to give a mention to Troy Deeney (5.5) played 19 times last season but got injured. In those games he scored seven and assisted three, but six of his seven goals came from the penalty spot so move over Penandes because Peney is here! I don't think Deeney will be starting many games but keep an eye on friendlies in preseason.
My top three(four) FPL prospects:
1. Ismail Sarr
2. Joao Pedro
3/4. Bachmann/Foster
Thanks for reading Promoted Teams Analysis FPL 2021/22 – Watford. This article was written by Matt X
FPL FIXTURE TRACKER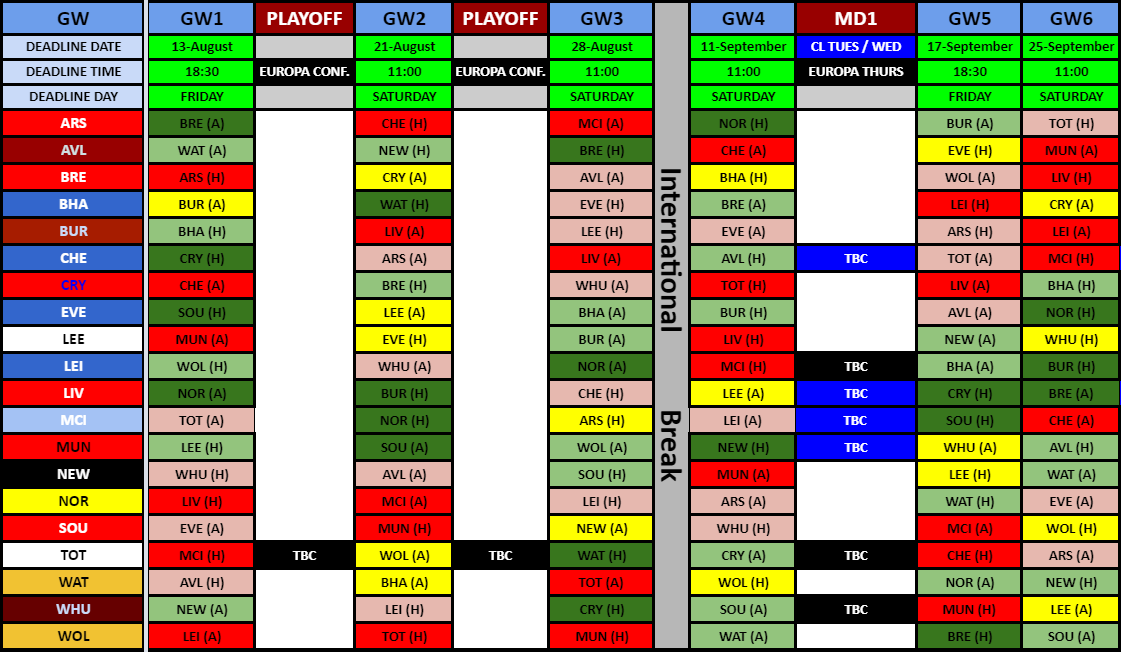 FIXTURE TRACKER LINK
FF247 LEAGUES FOR 2021/22
Fantasy Football 247 League Codes:
Both leagues will be shut to new entrants as of 01/01/22.