FF247 Site FPL Team GW22
Welcome to FF247 Site FPL Team GW22
Our G21 Result…
Can you score 77, be 31 points above the average, get a 20k green arrow and still have a grumble about it? Damn right we can….
You see, 50 of those points came from our West Ham duo with 42 alone from Jarrod Bowen. Talk about papering over the cracks! As for the rest, Trent, Jota and Son all got an assist. And that my friends was that, as they say. Oh and we had to use two subs who came in for a grand total of 4. Leaving Ben Davies and his 6 on the bench. He could conceivably have played and scored more than 8 of our other players. Well ok 7 as he probably couldn't have played in goal (more's the pity!).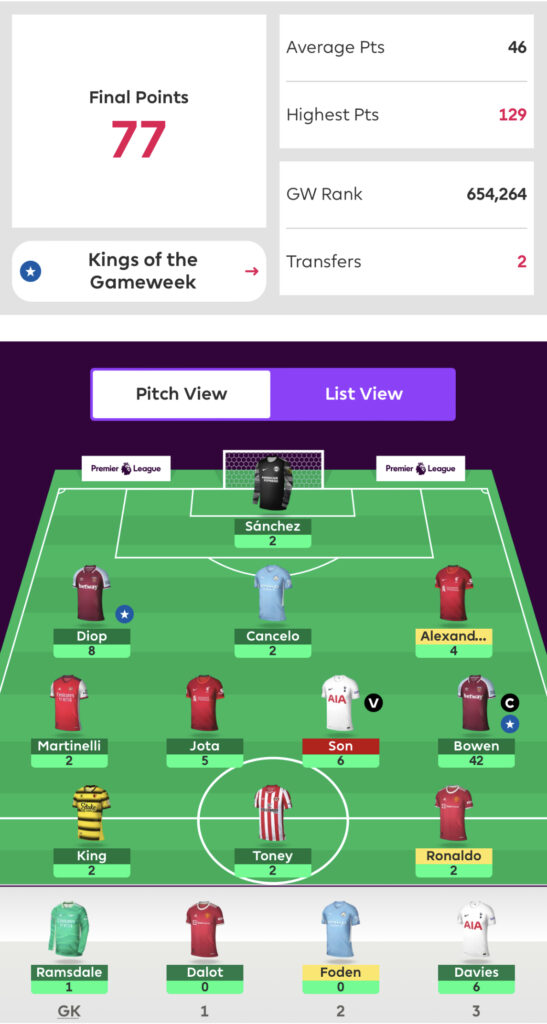 All that left us in 120,542nd place. We have £0.3 in the bank and 1 free transfer to use ahead of GW22. Let's go see what was decided….
Our GW22 Transfer(s)
We found ourselves with 6 DGW players, which is very much in theory, in more sense than one*
(*Will all depend if Brendan Rodgers fancies playing this week or not).
We then also found ourselves with a very injured Son and so the transfer was pretty much as easy and obvious as it could be. With a DGW in the offing we have opted for the very much in-form James Maddison.
That was at 7am this morning and a little over 4 hours later it looked altogether less appetising, for obvious reasons. We have sat on our hands ever since just waiting to see if any other games also went by the wayside.
In the meantime we discussed alternative replacements and only really Mason Mount stood out as being viable. Ultimately it came down to him or simply saving our transfer. With a couple of decent subs already at hand we decided to stick and have a handy spare transfer for future weeks as these cancellations show no signs of abating.
To confirm then we have HELD OUR TRANSFER
*all of this could of course change in the next few hours, and we are half expecting to just in the time it takes to write this sentence so other disaster will befall FPL. If it does we shal shout in the comments below.
Captain – CRISTIANO RONALDO
More due to a lack of any other real great options, Ronnie will wear our armband with trepidation, both on his part and ours.
Our GW22 team in full…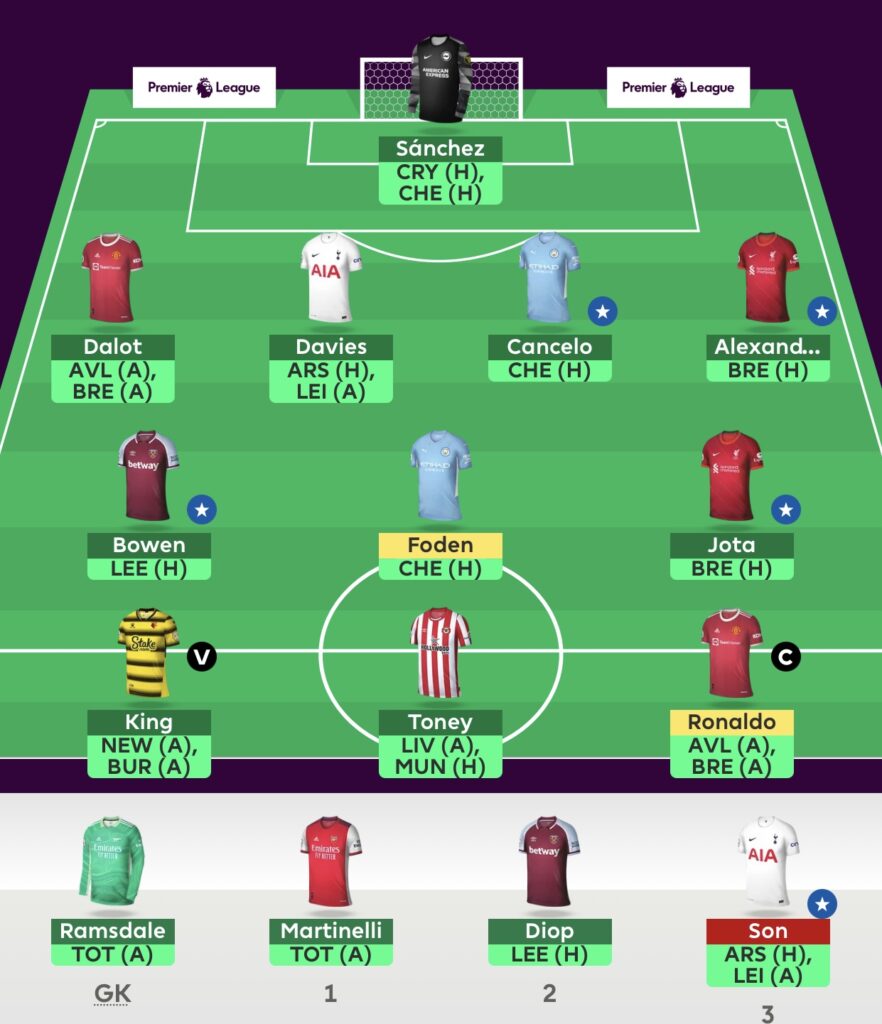 Should you wish to follow the FF247 Site Team's progress you can do so here.
Thanks for reading FF247 Site FPL Team GW22
Predicted Line-ups and FPL Team News Gameweek 22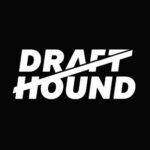 Rather than clutter the site up on a Friday with too many articles we have tagged our predicted line-ups on here.
As a quick reminder –
There are two versions of this article.
The one below has a drop-down version. It's fairly idiot proof – you simply click on the small arrow to the right of the team name and you get a drop-down list of all the teams. Simply click on the one you want to see and hey presto, etc. This is the published article with the comments section to crack on with.
The other one is permanently live and has the 'nicer' grid layout. If you want to see that version you can click here. This can also be easily accessed at any time via a myriad of links on our homepage – Header link, Hot Topics link, Quick Access link on mobile and it is also linked towards the end of all of our regular articles.
What you see below is a live link to what Drafthound have on their website. Why is that significant? Well, firstly, it now means that the second they make any updates in reaction to live team news then they will also appear on here. Being uber helpful in that respect they also time-stamp all of their line-ups so you can tell to the minute when it was last updated.
As an additional extra if you click on any player icon on the team line-up that will take you to their own page on Drafthound, from where you can see up to date season stats, their upcoming fixture schedule and use a comparison tool to view similar players.
Given their time and effort in providing this content for us it would be rude not to occasionally click on the Drafthound link and check out their own fabulous content as there are FPL articles aplenty on there too.
VOTE ON THIS WEEK'S CAPTAIN POLL GW22
FPL FIXTURE TRACKER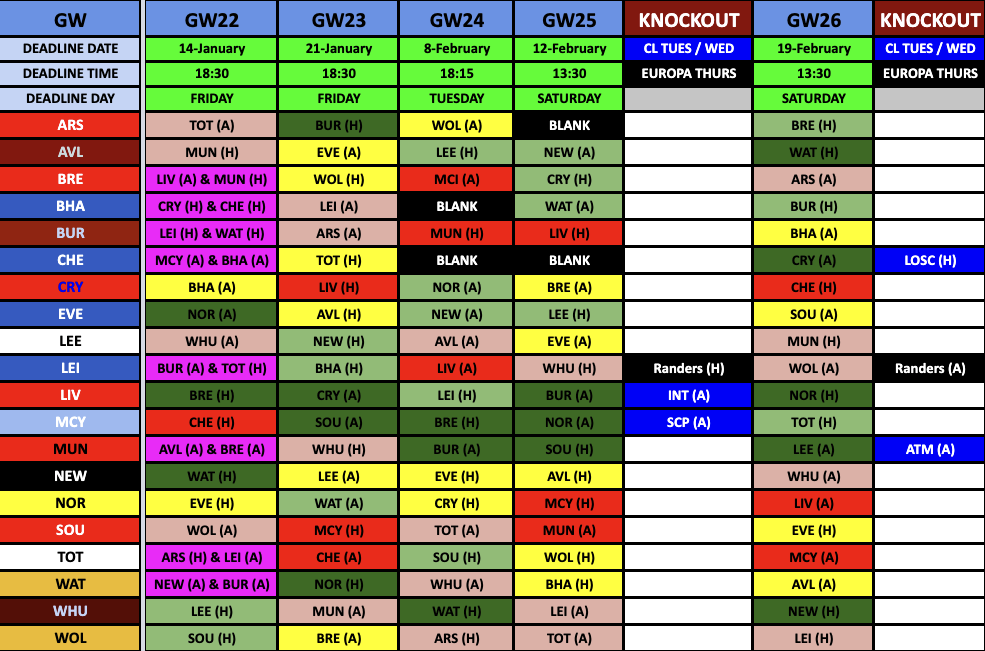 FIXTURE TRACKER LINK
SET-PIECE TAKERS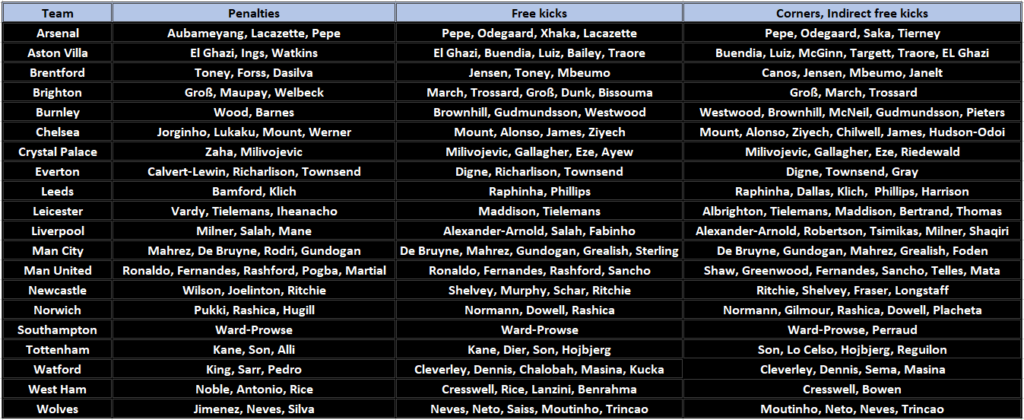 Predicted Line-Ups FPL 2021/22
You can access our Live feed to these here.
FF247 LEAGUES FOR 2021/22
Fantasy Football 247 League Codes:
Both leagues will be shut to new entrants as of 01/01/22.