FF247 Site FPL Team GW8
A damp squib
Last week we lamented 'only our second captaincy fail of the season' and here we are again lamenting our third captaincy fail. We weren't alone. With many going for Ronaldo and Lukaku (who scored 2pts and 4pts respectively) we went into Sunday feeling a little smug with our 'differential' Antonio (C), only to watch in dismay as he returned a paltry 4pts, thus rendering all our pre-deadline decision making a moot point.
In a game-week where the average was a lowly 38pts, we limped over the line with 40pts and still ended up on a red arrow. Albeit a small one, with a rank drop of just over 50k (221,616 – 273, 191). In a week that saw many suffer worse, we'll take it and soldier on.
New signing Antonio Rüdiger lost his 'guaranteed clean sheet', and elsewhere it was appearance points for 8/11 of our starters, which is never a good sign. Salah, who wasn't even in the captaincy discussion, was our highest scorer with 13pts, but given that everyone has him that did little to improve our situation. Thankfully Ben White grabbed a clean sheet and a bonus point, those 7pts were much needed. As the kids on Twitter would say 'we move'. They probably owe us a word there but they're also probably too lazy to do so. Or we are too old to understand what the hell they are talking about.
Our Gameweek 7 Result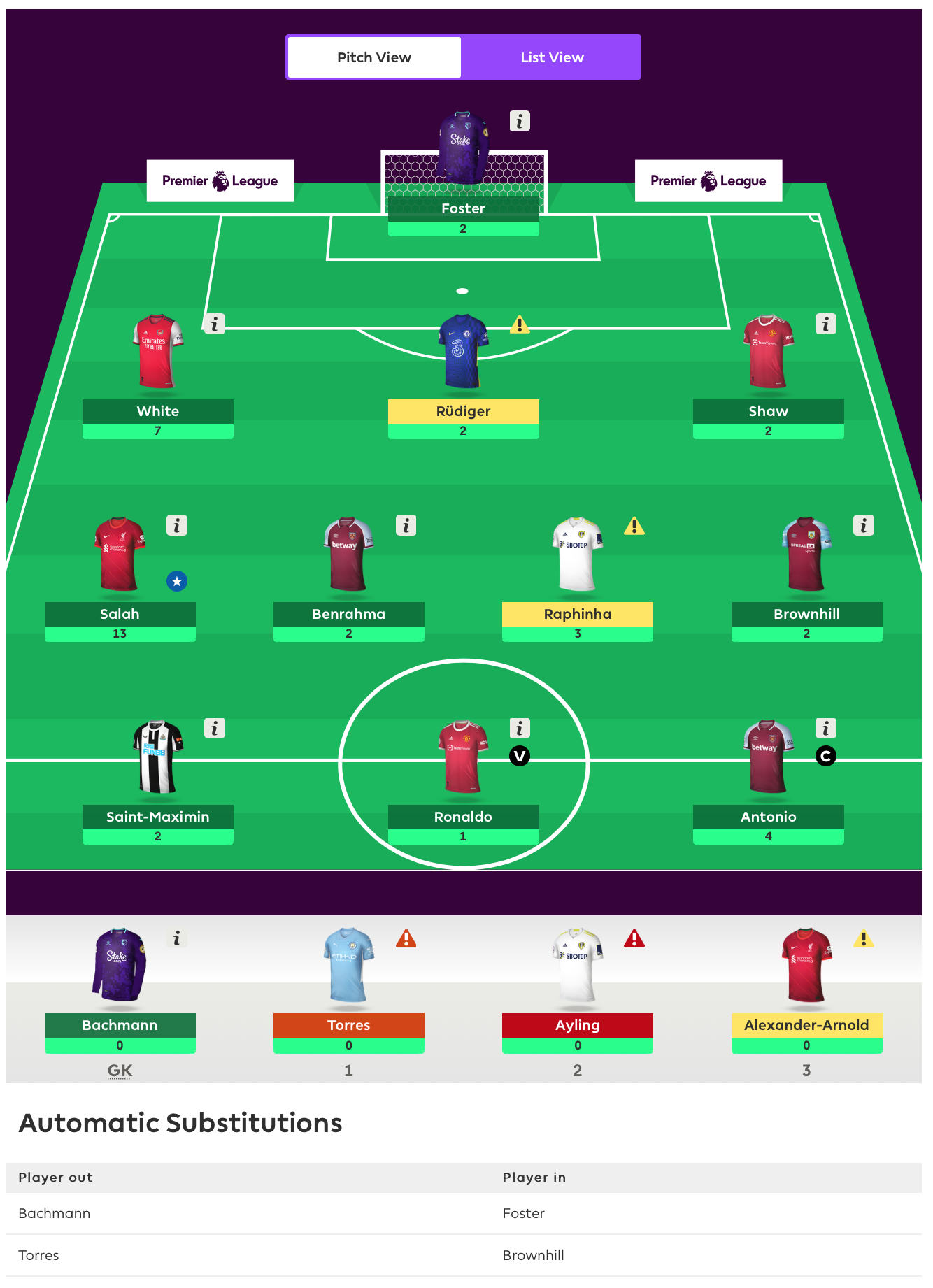 Let's go see what was decided for GW8…
Our GW8 Transfer(s)
As we exit the international break our team is doing its best to bring in the Christmas festivities early, like many, it's currently lit up like a Christmas tree with red and yellow flags as far as the eye can see. Unlike others we're taking it all in our stride; 'we cool'. We did consider the Wildcard, we will continue to do so every week, but for now, it's staying in our back pocket. So, what did we decide to do?
If Raphinha is parachuted in from Brazil, Rudiger makes a recovery (he didn't!) and there are no unexpected shocks elsewhere (such as another Ronaldo benching) then we should still be able to get out a starting 11. Although it would be a far from ideal 11 with Ferran Torres sucking up £6.9m of our budget on the bench and no prospect of a return any time soon. Although let's face it, he's been available for the last three weeks and he hasn't done us a whole lot of good in that period.
With just 0.1 in the bank, the options to replace Ferran are limited, and the desire to get in some City coverage for their tempting trio of upcoming fixtures is real. Torres and Ronaldo to Lukaku and Foden looked like a no-brainer until we realised we were £0.1m short, don't you just hate it when then happens? Back to the drawing board. Next up (with Foden now front of mind) we looked at how else we might generate the £0.9m required to turn one Man City Mid into another, with nary a thought for rotation, I told you, we cool.
Luke Shaw suddenly found himself in the firing line as our potential cash cow, having not fulfilled his pre-season promise; just a single attacking return and 2 clean sheets out of a possible 7. Shaw and Torres to Foden would leave us with £4.5m for a defender, hardly a gold mine, but maybe enough. Tino Livramento (£4.2m) seems an obvious pick, with the same attacking returns and clean sheets as Shaw, but unlike Shaw, a fixture run that could actually see him outscore the Man Utd man by some distance, over the next 5 fixtures at least. It should be noted that any second move would be for a hit.
And then just like that, we did something completely different. With uncertainty surrounding Foden making the starting 11, we reverted back to the simple move of avoiding the hit, which meant Torres to someone affordable. On the table were Smith Rowe, Saka, an Everton Mid (take your pick), hell, even Bernardo Silva was mentioned. In the end, we went for Smith-Rowe, bank some cash, have some fun in GW9.
To confirm then we have SOLD Ferran Torres and BOUGHT Emile Smith Rowe
Captain – Salah
This one wasn't much of a discussion. A unanimous decision with Mo Salah taking the armband with us all dreaming of another 4-goal demolition job.
Our GW8 team in full…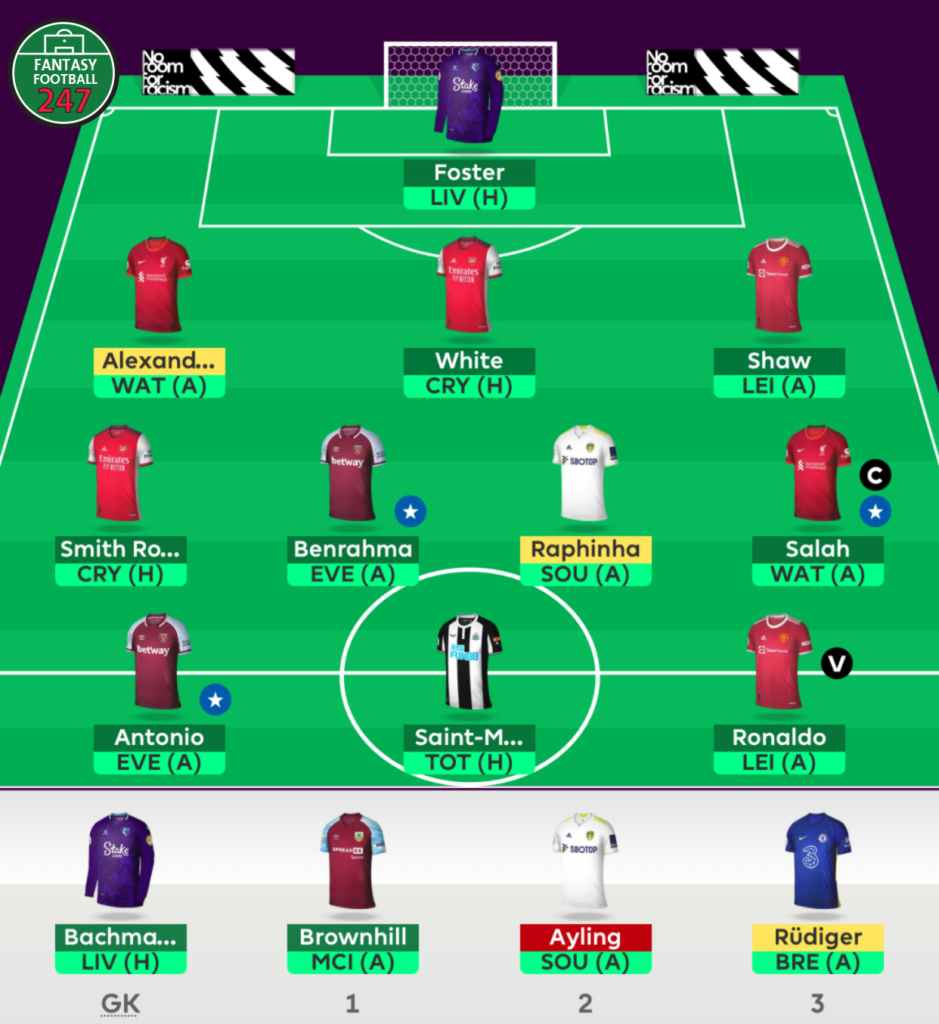 Should you wish to follow the FF247 Site Team's progress you can do so here.
Thanks for reading Site FPL Team GW8
VOTE ON THIS WEEK'S CAPTAIN POLL GW8
FPL FIXTURE TRACKER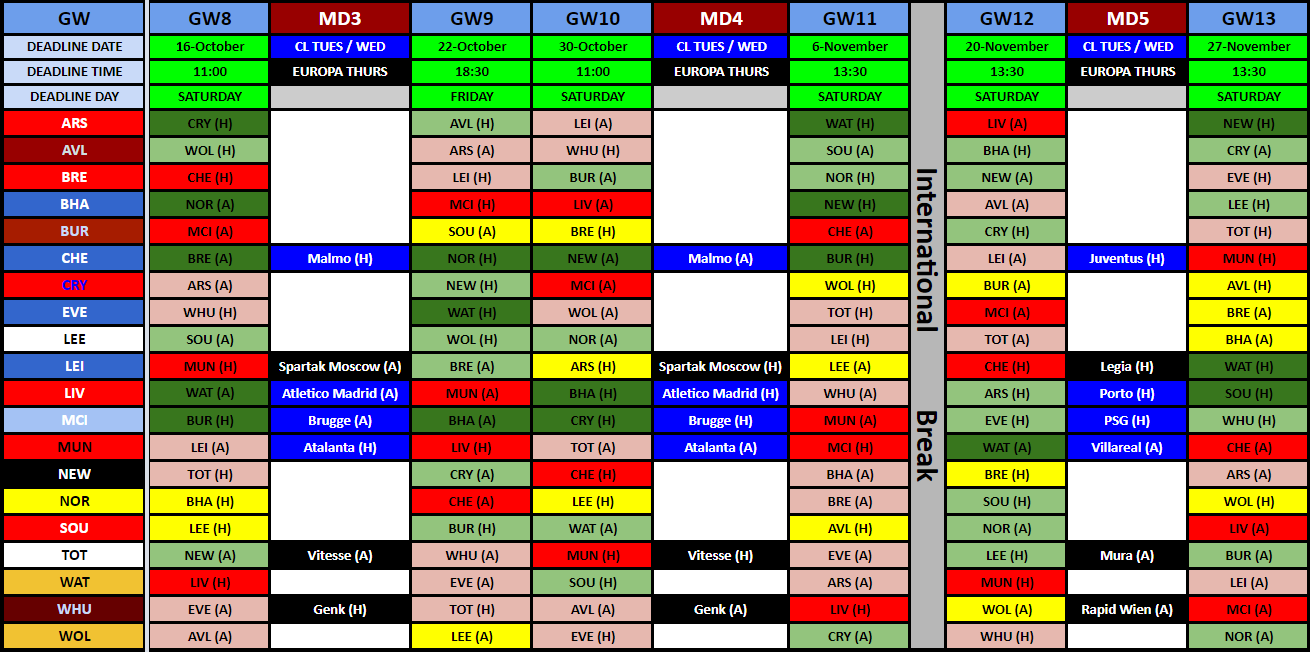 FIXTURE TRACKER LINK
SET-PIECE TAKERS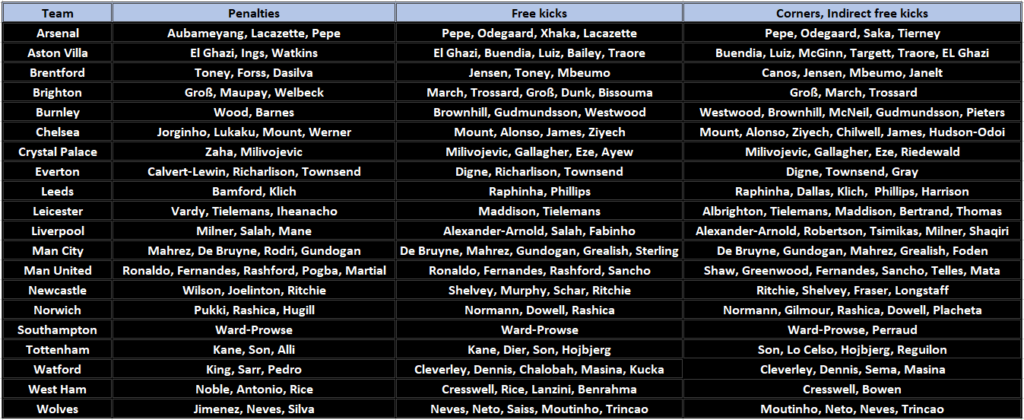 Predicted Line-Ups FPL 2021/22
You can access our Live feed to these here.
FF247 LEAGUES FOR 2021/22
Fantasy Football 247 League Codes:
Both leagues will be shut to new entrants as of 01/01/22.