THE SCOTCH CORNER – SCOTTISH PREMIERSHIP FANTASY FOOTBALL 2020/21
Irn Bru
Deep Fried Mars Bars
Shortbread
The Loch Ness Monster
The Proclaimers
Whisky spelt without the 'e'
…… and a professional football league which is awful and in all honesty could be won at a canter by a team of middle-aged, beer-bellied Englishmen pulled out the pub a couple of hours before the start of the season.
Sound about right?
The Scottish Premiership returns on 1st August and a new and improved fantasy game comes with it and we at FF247 (by which I mean me) invite you to join our (by which I mean my) FF247 fantasy league for a little harmless 'bit on the side'.
I don't expect you to follow religiously every team in the SPFL and dedicate endless hours to this as it will eventually run alongside the main FPL game once the 2020/21 season of it starts, but we hope you find it a bit of fun to compete much as we did not so long ago with our Bundesliga Fantasy game.
The Outstanding Issues
Covid
As things stand we begin on Saturday despite there being a couple of issues surrounding recent testing of players and staff in Scotland. Ross County arrived in Edinburgh to play Hibs last weekend and had to turn back as Hibs were told by the lab that their results couldn't be prioritised and wouldn't arrive until the next day.
Rangers and Motherwell played last Wednesday at 8pm despite the game being scheduled for 6pm due to the late arrival of test results.
St Mirren isolated 7 members of staff (non-playing) last week but it was later confirmed that their results were 'false positives'.
It's one thing to be aware of.
The Registration
Search for the Fantasy Football Scotland App in your app store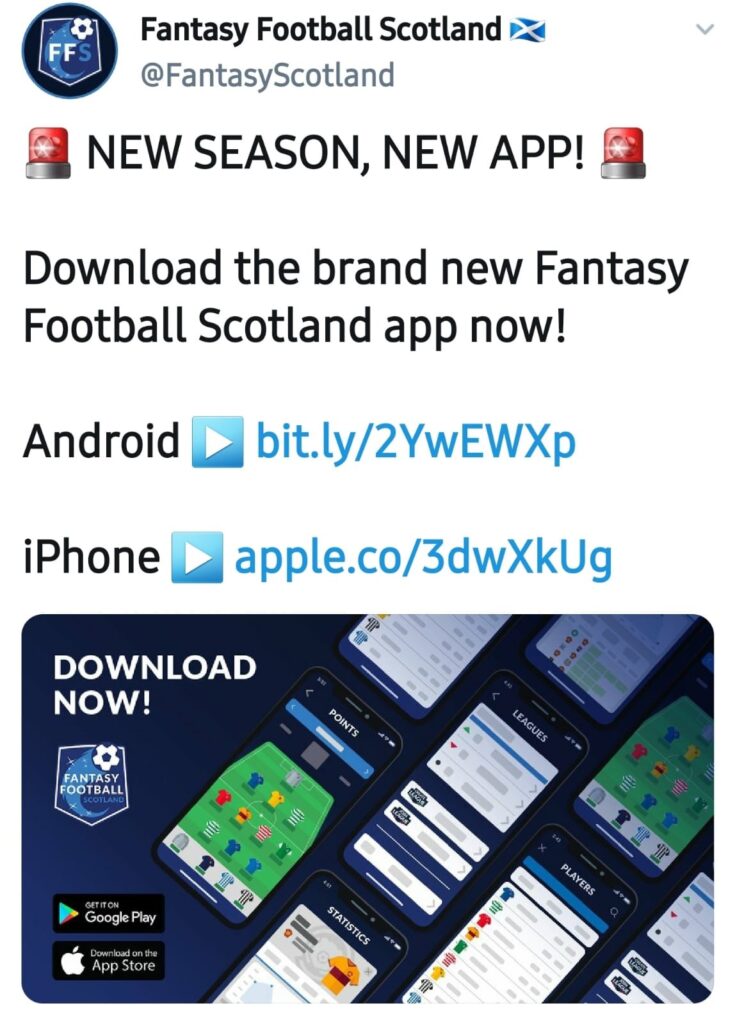 The App is very user friendly and vibrant and has had no bugs or issues in the entire time I've been using it. I'm sure you'll find it simple enough to get used to.
The Joining
Join our FF247 league using this code:
GLGRc
The Stats
Here is a link to some of previous season's statistics:
The Squad
You need to pick 15 players:
2 Goalkeepers
5 Defenders
5 Midfielders
3 Forwards
You have £60mln to spend and as FPL, you are limited to a maximum of three players from any one club.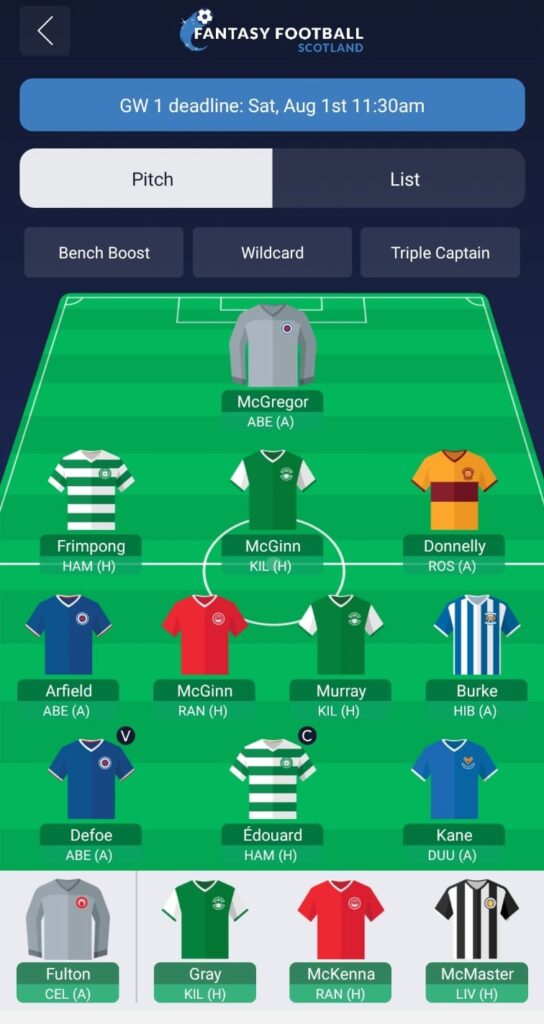 The Scoring
The scoring is the same as FPL apart from the following, applied to individual player scores
A hat-trick bonus: 2 points
A penalty won (regardless of outcome): 2 points
A penalty conceded: -2 points
2+ goals conceded by a midfielder: -1 point
All awards are given by Opta and there is no bonus points system.
The Captain/Vice-captain
Each week your captain will score double points as in FPL.
However, your vice-captain will ALSO COUNT DOUBLE for the goals they score (if they are a midfielder or forward) or the clean sheet they keep (if they are a goalkeeper or defender). Example: You could have two players score hat-tricks in a gameweek and get double points for every goal they score.
The Chips
Like FPL we have two wildcards – one to be used at any time and the other only available after the Premiership 'Split'*.
*The Scottish Premiership splits after every team has played 33 matches into a Top 6 and a Bottom 6 where they then play a further five matches against the teams in their side of the split.
You also have your Triple Captain and Bench Boost chips as you are used to however there is no Free Hit chip in this game.
The Transfers
You will have one free transfer a week and each additional transfer you make will incur a 4 point penalty. Your transfer will NOT roll over if you don't use it.
The Substitutions
Auto substitutions will be updated at the end of the gameweek HOWEVER, the game will add your highest scoring bench player regardless of bench order if it still falls within the remit of an allowed formation.
The Prize
The inaugural winner of the FF247 Scottish FPL will be awarded their very own FF247 branded T shirt (so long as I speak nicely to admin).
The Teams
Aberdeen
Celtic
Dundee United
Hamilton Academical
Hibernian
Kilmarnock
Livingston
Motherwell
Rangers
Ross County
St. Johnstone
St. Mirren
The Gameweek 1 Fixtures
Saturday 1st August
Aberdeen v Rangers (1230)
Dundee United v St Johnstone (1500)
Hibernian v Kilmarnock (1500)
St. Mirren v Livingston (1500)
Sunday 2nd August
Celtic v Hamilton Academical (1630)
Monday 3rd August
Ross County v Motherwell (1945)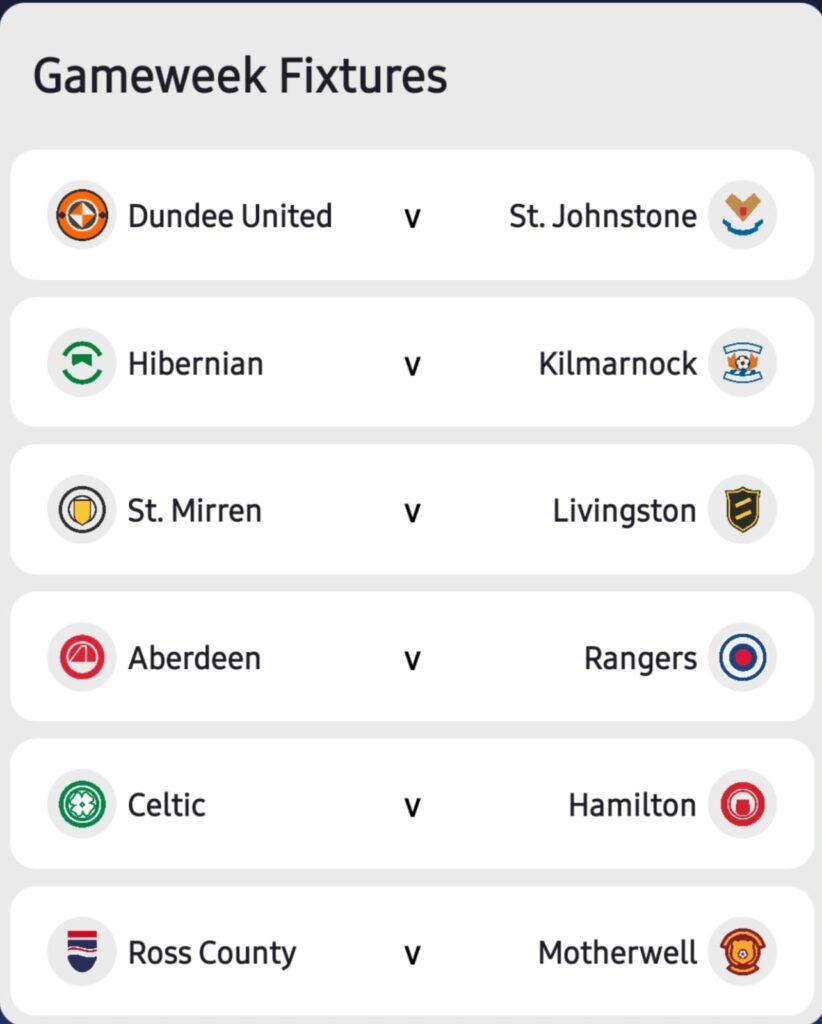 The Gameweek 1 Deadline
The initial deadline is Saturday 1st August 2020 at 11.30am.
The Plan
That this article will be in the background of FF247 and I will add the latest injury news/signings etc. as well as deadline reminders and other useful information. There won't be a regular article but I'll continue to tag all news to this so you can return here for anything you need. I'll be vigilant to comments and answer everything I possibly can.
The 'Comparison'
There's no doubt that the Scottish Premiership isn't as strong a league as the English but speaking as someone who has watched both most of his life, it's a different kind of difficult in Scotland. There is good football played, but you have to really earn the right to play it. There's nowhere near the money and as a consequence, the quality, but it's honest and hard. The constant comparison to the EPL is tiresome and irrelevant – it's like comparing apples and …… super-charged, TV-inflated, FFP-flaunting super apples from space!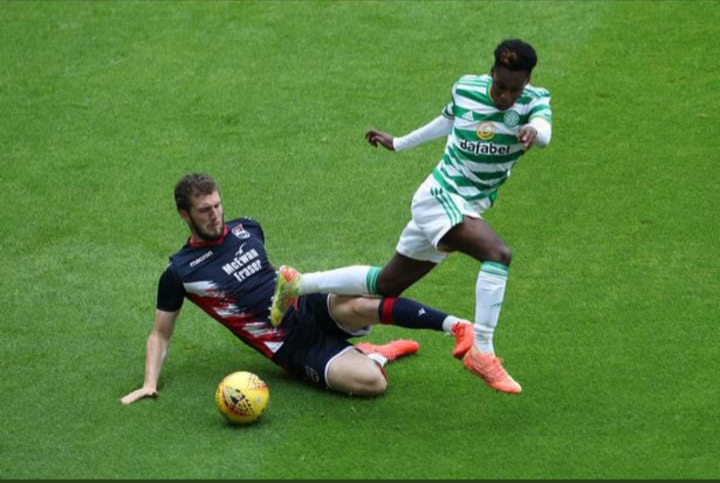 The Fun Stuff
Leave them laughing they say so here's some stuff which might be QI
*Senior football in Scotland is the most attended in Europe per capita.
*Sam Leitch the English BBC Sports reporter gaffed after one Raith Rovers win that "They'll be dancing in the streets of Raith tonight". There's no such place. The club play in Kirkcaldy.
*On the exact same day when Arbroath set the world record for the largest victory in a professional football match when they beat Bon Accord 36-0 in the Scottish Cup First Round, only 18 miles away Dundee Harp beat Aberdeen Rovers 35-0 in the same competition.
*Crafted in 1874, the Scottish Cup Trophy is the oldest football trophy still in active use.
*Aberdeen are the only team to have an undefeated record in professional matches against Real Madrid. Similarly, Dundee United have played Barcelona four times and won all four.
*Rangers and Dumbarton shared the first Scottish First Division title DESPITE playing a play-off. There was no goal difference at that time (Dumbarton would have won it if so) so they played a 2-2 play-off and at the end decided just to share the title.
*From brick to brick, Dundee's Dens Park and Dundee United's Tannadice Park are just 299 metres apart on Tannadice Street in Dundee.
*When ex-Partick Thistle manager John Lambie was told at the touchline by his physio that his striker Colin McGlashan had probable concussion and didn't know who he was, remarked:
"That's great! Get him back on and tell him he's Pele.
Good luck to absolutely everyone for Gameweek 1 from all at FF247! Well, mostly just me.
Thanks for reading THE SCOTCH CORNER – SCOTTISH PREMIERSHIP FANTASY FOOTBALL 2020/21