To Salah or not to Salah…
So I set out to write a post on the "to Salah or not to Salah" debate as I was sure many would hit the wildcard button during this international break. We all know what Salah did last year and that he's started this season with consistency, but no double-digit returns. The question, then, is whether investing 13m in him is worth it? As I worked on this comment, I ended up expanding the conversation in order to explore which 'heavy-hitters' you should fit in your squad, particularly if you hit that itchy wildcard button during this international break. If so, you've hopefully been playing the WC-shuffle in order to gain team value so that you can reach slightly higher than the rest of us.
For me you can only really afford 2 or 3 heavy-hitters (10m+) in your squad without completely decimating the rest of it. So who should you choose as your 2-3 big money players? I've rated all of the heavy hitters on 3 criteria –
1. The player's returns and price compared to team mates
2. Their team's average goals scored
3. The player's risk of rotation
Let's take a look at the current heavy hitters!
Midfielders

Sanchez (10.2m)
1. Alexis, once a part of the template FPL team in his Arsenal days, has slipped to differential status, and a rather poor choice at that. His price is high and his returns aren't good (5.3 per 90 minutes) compared to others in his price bracket. Pogba is 2m cheaper and he's averaging almost the exact same returns (5.4 per 90 minutes).
2. United have now scored 6 goals in 2 losses and 2 wins, which isn't exactly lighting things up. We can assume more of the same from them, which puts me off Alexis.
3. He is unlikely to be rotated, but who knows what will happen once Jose gets sacked…
Verdict: Sanchez is not worthy of one of the 3 heavy hitter positions in your FPL team at this point!
Hazard (10.7m)
1. At the time of initial writing, Hazard had scored 16 fpl points in 133 minutes played. That put him on 10.8 pts per 90 minutes. Pedro is much cheaper (6.8) and the only one close @ about 7.7 pts per 90 minutes. Then this game week they both went and scored, albeit Pedro after coming off the bench, and Hazard grabbed maximum bonus points, solidifying his points per 90 minutes at an amazing 10.9! Pedro is sitting at 8.9 points per 90 minutes, which is still fantastic for a player that cheap!
2. Chelsea have now scored 10 goals in 4 wins, making them one of the highest scorers in the Premier League so far, with no signs of slowing down now that Hazard is fit and in the starting 11.
3. In simplest terms, Hazard will not get rotated! Now that he's fit he's the first attacking player on the team sheet I'm sure.
Verdict: The 'yes' pile starts with Hazard! If you're on a WC he should definitely be considered for one of those coveted 3 heavy hitter spots!
Sterling (11m)
1. Well, Sterling scored his second of the season in the first half against Newcastle this past gameweek. This puts him on 6.6 points per 90 minutes. At a cost of 11m I don't think that will cut it at this point. To top it off he's on yellow flag at the moment.
2. City are a juggernaut, scoring 11 in 3 wins and 1 draw. You can't write them off, and their attack is a necessity.
3. Sterling is likely to be rotated on occasion, but with Sane seemingly out of favor and KDB injured I think that he will start more often than not. Who knows though. It's Pep…
Verdict: For me, Sterling is on the fence but I don't think I've seen enough from him yet to warrant 11m. Especially when there is a certain Argentinian up top to invest in. But he could go on a tear and getting in ahead of the curve could be a masterstroke. My 'maybe' pile starts with Raheem.
Salah (13m) & Mane (10m)
1. Against Leicester, Salah blanked for the first time this season. He's scoring just over 7 points per 90 minutes, which is good consistency. The problem here is Mane, who is tearing it up to start the season! He is sitting at 10.3 points per 90 minutes and he is 3m cheaper!
2. Liverpool have scored 9 goals in 4 wins to start the season, which puts them right there with Chelsea, City, and Spurs at the top of the scoring charts. They will clearly be near the top of the league at the scoring charts come May.
3. Salah shouldn't get rotated much at all this season, but neither should Mane. If anything, we could expect some early subs out like this GW in order to save his legs for their busy schedule.
Verdict: I don't think you can go wrong with Salah in your team, but all things considered it seems that Mane would be a much better investment at this point. If you are using your WC to get rid of Salah you had better have a simple plan to get him back in case he regains his form from last season.
Forwards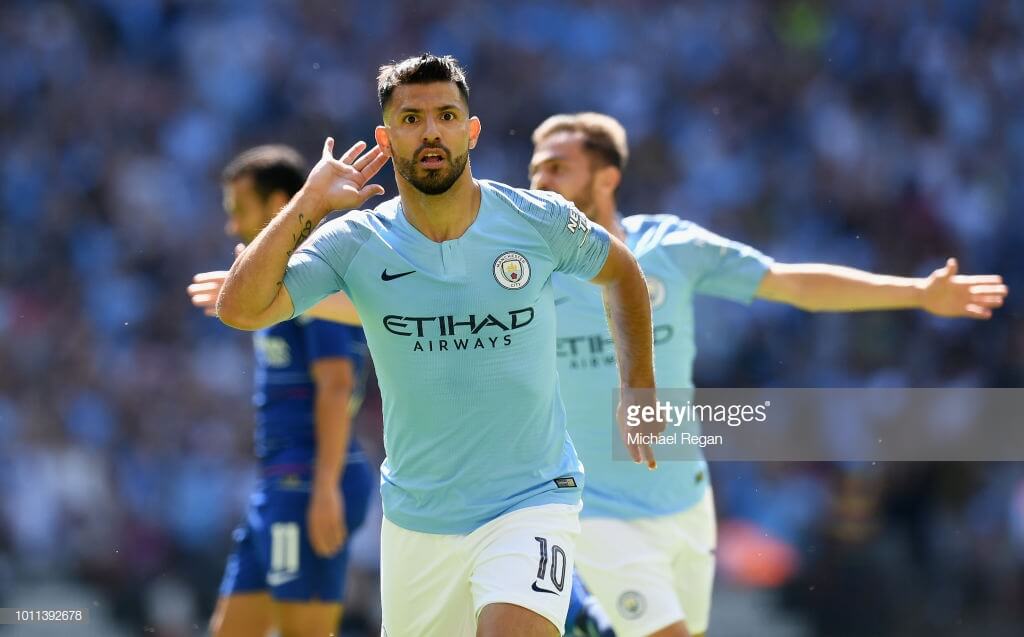 Jesus (10.4m)
1. Averaging 5 points per 90 minutes, Jesus is expensive and not starting regularly.
2. City score for fun usually, but Jesus isn't involved enough to justify his price tag.
3. Rotated often.
Verdict: One for the 'No' pile, but that shouldn't be news to you.
Aubameyang (10.9)
1. At the time of writing Arsenal are waiting to play Cardiff, so this could admittedly change come tomorrow afternoon. But PEA has started all three matches and is being outscored by Welbeck for goodness sake. Need I say more?!?! As I revisited this section in order to update it I just really liked that first part so I decided to leave it
In PEA's defense, he did go and score one and assist another against Cardiff, bringing his total points to 14 (3.7 points per 90 minutes). I'm trying to not be biased here, but that's still not good. As a Spurs fan, I am actually a fan of PEA. He's just not doing it this season, whether he plays up top or on the wing.
2. Arsenal have started slowly, but they have a wonderful run of fixtures coming up. If he and Arsenal start firing, as many expected him to in pre-season, then he could be worth investing in.
3. He shouldn't be rotated, but may be shifted out wide as he was against Cardiff if Unai brings Lacazette into the starting 11 more consistently. It admittedly worked, so this may be what we see more often through their nice run coming up.
Verdict: Another one for the 'No' pile, but with a watch and wait tag attached.
Lukaku (11m)
1. Lukaku started slow, but hit a brace against Burnley and took maximum bonus points. This brings him to 23 points (7 points per 90 minutes). This is not exactly lighting the league on fire, but they have a fantastic run coming up and he's the one United player I would consider investing funds in if I were on a WC.
2. United have not looked good and there seems to be a lot of turmoil at the club. With only 6 goals in the first 4 matches they have not been prolific at all.
3. Lukaku won't be rotated, but will it matter? #ParkTheBus
Verdict: He's one to consider for the next 4.
Aguero (11.3m)
1. It's easy to get blinded by the hattrick and assist in GW2, but Kun only has 1 assist other than that masterclass against Huddersfield. I think that's why you have to have him though. He is so explosive that he can really hurt you. He's on 8.1 points per 90 minutes, which is one of the higher rated in this article. He seems to be the most nailed on in a ridiculously good City attack, having started all 4 league matches so far and only being withdrawn in the first two.
2. City are going to keep scoring goals. This is a guarantee. And Kun will find the back of the net plenty of times.
3. He will likely be rotated with Jesus again this season, particularly in weeks with away matches in the Champion's League. The first of those is October 2.
Verdict: Aguero is a must in my opinion. If you're on your WC then you need him. And if you're not then you need him…
Kane (12.5m)
1. Kane isn't exactly lighting it up, averaging 5.1 points per 90 minutes. He's scored 2 and assisted 1, breaking his August curse. He hasn't really kicked on though. They have Liverpool in GW5, but then a four game walk in the park sort of schedule for him to really hit his stride. I'm probably being biased here though, so take it for what it's worth. Other than Lucas Moura, no Spurs attacking player has really turned up yet. He may be the pick for Spurs if Dele's hamstring injury lingers and keeps him out for any more than just the Liverpool match.
2. With 9 goals in the first 4 matches Spurs have been pretty consistent. You'd think that Kane will begin to hit greater heights as the season settles in.
3. Kane is not likely to be rotated. With no new signings in the off season there is really only Son who could possibly start in the league up top instead of him. I think he's likely to start every match. He's done it for the past 3 seasons. When he's fit, he starts!
Verdict: He's been in my squad since day 1 and he'll be staying there, but on the evidence I can't really recommend him to you on your Wildcard. I will however remind you that from GW6-GW9 he has Bri/Hud/CARD/Whu.
Summary:
In summary, if you're on a Wildcard then I think you should consider Mane instead of Salah, especially if that means you can have two of Lukaku/Hazard/Kun. If you've had Mane from the beginning then it's likely you can include all 4 of those heavy-hitters! That's a captaincy headache I'd enjoy having every week, wouldn't you?!
Thanks for reading To Salah or not to Salah… This article was written by Pancho
FPL FIXTURE TRACKER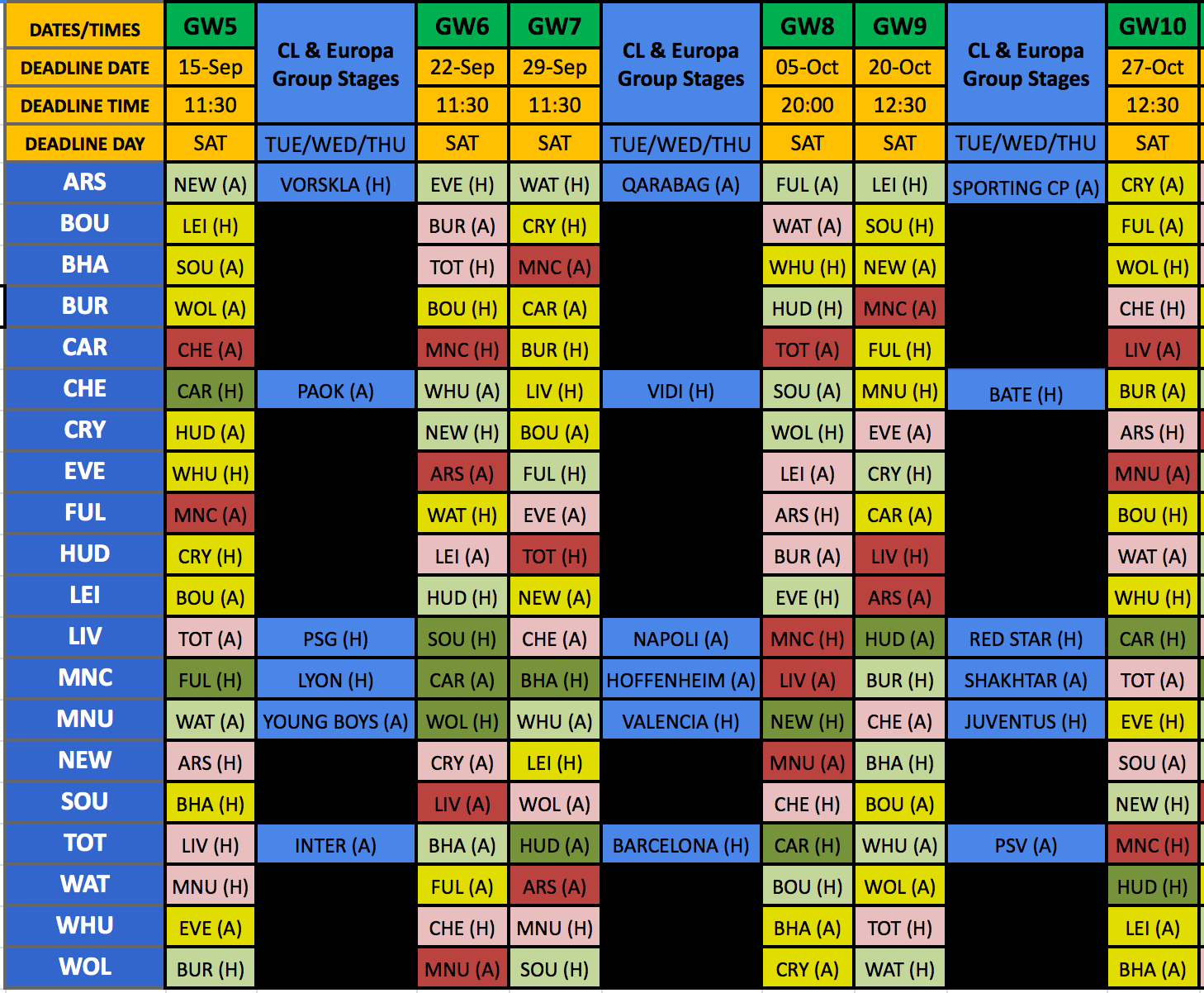 FIXTURE TRACKER LINK
Welcome to our Fantasy Football leagues section.
The League Codes for FF247 for the 2018/19 season are as follows –
Thanks to our friends Follow @ff_surgery and please give them a follow.