UEFA Champions League Fantasy Football 2019/20
Hello everyone and welcome to UEFA Champions League Fantasy Football 2019/20. The Champions League returns in earnest this coming Tuesday, all ready to mess with your best laid FPL plans with words like 'rotated', 'rested' and 'Oh, FFS!' on the horizon. That's not a reason to shun it though, more one to embrace it, because at least if you don't see Kun on a Saturday you may get a chance to do so in midweek…. We jest of course, but if you've never played Fantasy CL before we highly recommend you give it a whirl. It's by no means a set and forget job, it does take a little bit of interaction inbetween game days (we shall come onto that later) but we think you'll find it is worth it.
Personally I love nothing more (well ok, cricket, but…) than settling down on an autumn Tuesday evening and putting on the BT Sports CL show and seeing how my fantasy team perform live. For those lucky enough to have access to it they do a show which is basically Soccer Saturday on steroids; it's an around the grounds job but with live action. This isn't a sponsored plug by the way, I was just setting the scene. Here's what you need to know for this season, and probably some stuff you don't too…
The Game Itself and the FF247 League Codes
You can access the game here – Fantasy Champions League
We have two leagues running;
Our official FF247 league code is 32NQYUI4KW
This one is the usual open air league that all and sundry are welcome to join;
Our Regs League is now closed to new entrants
Please email us on contact@fantasyfootball247.co.uk if you want the code.
Fanteam's €100,000 Champions League Fantasy Game
As well as the usual free game there are other options if you fancy having a flutter and one is the FanTeam game which has a huge prize pool. You can find more details here and don't miss the chance to enter our very own competition to win free entry to this one by simply posting your FanTeam username in our comments section on that article. There are three such prizes up for grabs.
The Rules
As far as the rules go, you can access them here via – THIS LINK but let us give you a quick rundown of what they are.
The main crux of the game at this stage though is the subtle difference between 'Match Days' and 'GW's'. CL is split into a Tuesday and a Wednesday format within the same GW. For Captains as well as Manual Subs you treat Tuesday as phase 1 of the GW and Wednesday as phase 2. And you can make changes to both inbetween these. That's what we meant in the intro by it being a bit hands on / interactive.
SCORING
The scoring itself is pretty much as per FPL. The only real differences that we would notice is that there are no bonus points and we will not get an assist if our player wins a penalty that is scored, but the player will get 2 points for winning said penalty no matter if it results in a goal or not.
FORMAT
The format is a bit like the World Cup fantasy. For those who aren't familiar with this it basically means a tad more planning as you can sub players in before they have played to replace those that already have. A quick example would be to pick a Man United guy, let's call him Paul, for arguments sake. And maybe a Liverpool guy, let's call him Sadio. Given as Paul plays on Day 1 you can put him in your X1 and see how he does, whilst placing Sadio on your bench. If you like what you see from Paul then you can leave him in the team. If he has a stinker (likely) then you can simply activate manual subs and bring Sadio in to replace him for his later game. Simples, really. Don't pick Paul
MANUAL SUBS / AUTO SUBS
If you activate a manual sub then your right to auto subs (as per FPL) disappears. You have the option to do either. Manual subs is your best bet we feel as you control who comes in and you get 4 more shots at getting it right, basically.
CAPTAIN
The Captain Armband works in much the same way as fantasy world cup and not FPL. You may change your captain after each match day (if he was not sent off) with a player from your squad whose team is yet to play.
TRANSFERS
Before the game begins: UNLIMITED
Matchday 1–6: 2 per matchday
Between matchday 6 and round of 16 1st leg: Unlimited
Before round of 16 2nd leg: 3 transfers
Before quarter-final 1st leg: 5 transfers
Before quarter-final 2nd leg: 3 transfers
Before semi-final 1st leg: 5 transfers
Before semi-final 2nd leg: 3 transfers
Before final: 5 transfers

Be aware of this little nugget "Only one free transfer can be carried forward between matchdays. A user can make a maximum of 3 free transfers during the group stages. No free transfers can be carried forward in the knockout stage."

So basically it's like FPL in terms of being able to carry 1 transfer over. However once we reach the knockout stage we will not have the option of carrying a free transfer with us, you don't use it, you lose it.
Deadlines
Deadlines are subject to change and will be at the time of kick-off of the first match of the matchday. So unlike FPL you do get to see the line-ups in advance and adjust accordingly. Just be aware that all 6 GW's in the group stages now kick off with two early games so the deadline each time is 5.55pm UK time. Which also means you get to see the team sheets for four teams, not the full lot as in previous (and better!) seasons.
CHIPS?
There are a couple;
Wildcard
You get 1 regular wildcard and you can play it anytime you like prior to the start of a round. It acts the same way it does in FPL.
Limitless Wildcard
This is a different type of wildcard here, one that many will find very appealing. It is very similar to the "Free Hit" chip we have in FPL. However, there is one major difference… "The Limitless Wildcard enables the user to create a team without any budget restrictions and affords them unlimited transfers for one matchday." So for one matchday you can afford whatever team you like. You do still have to meet the criteria for players from one team and formations and all that, but there is no budget, so spend away. Once the matchday is over, just like the free hit chip, our teams revert back.

UEFA Champions League Fantasy Football Tracker
This tracker has placed each team in the place that oddsmakers are expecting them to finish in said group. While it won't hold true in every group, this should at least give you a better idea of what players to target. Also, the teams on the left all play on the same exact days through the group stages. This of course means that the teams on the right do the same. For those of you who want to use your manual subs, this tracker should help you in picking out players from both days of a matchday (the equivalent of a gameweek) so you have cover for any players who don't perform well.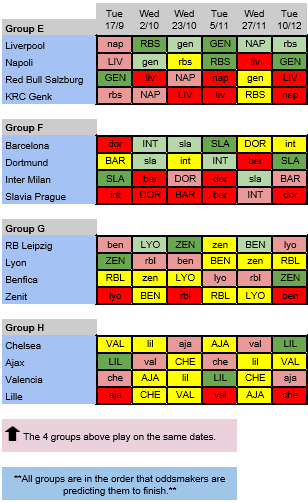 UEFA Champions League Player Tips
When time is of the essence sometimes we need to call on our friends and we have done just that here. Jamie and his team at FantasyBet have written a series of articles detailing their picks for each position and their best picks from each price bracket, and given as we read them and couldn't have put it any better ourselves we have decided to simply link each one here for you;
UEFA Champions League Penalty Takers List
And they have one of these too! Just CLICK HERE
So that's the basics, in as much of a small nutshell as we could manage, without boring the pants off you. If you have any further questions or queries or if there are any clarifications you need then as always please feel to ask below.
Please feel free to post any RMT's on the issue or indeed as ever, especially as we've slightly interrupted the FPL weekend for this, just carrying on talking about that!
Thanks for reading UEFA Champions League Fantasy Football 2019/20.