Bundesliga Fantasy Football 2020/21
GW16 DEADLINE FRIDAY 15th January 19:30PM
With the Bundesliga seemingly taking over the bulk of the chat on site a couple months ago when it was the only fantasy game in town, we decided that we should give it a home for the season, after a bit of coaxing. 😉
We won't be posting a weekly article, but we will update the screenshots and the links within this article so you are getting relevant info for each gameweek as it comes along. We did come up with a set piece table and a pair of trackers to help you out as you build your teams.

Where to join > Fantasy Bundesliga Site the site is still not open for the upcoming season, but you can register now if you wish. We suspect that it will open up in the next few days.
FF247 League Code > 'FF247 Bundesliga' password is 'ff247'
Fantasy Rules for Bundesliga > RULES
Fantasy Scoring for Bundesliga > How to Score Points
Set Pieces table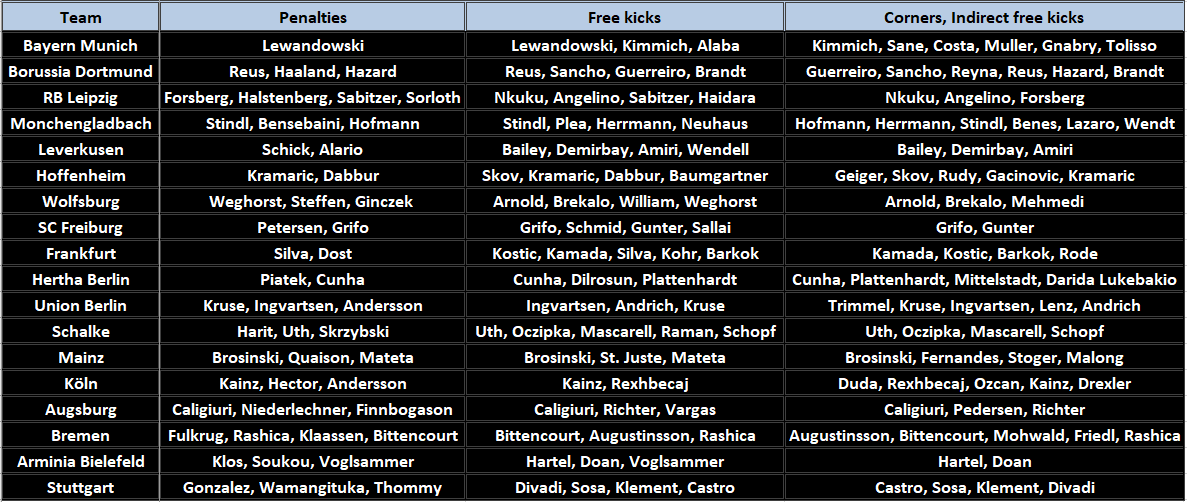 Surely this one is self explanatory. We will do our best to update it as we go along.
Bundesliga Fixture Tracker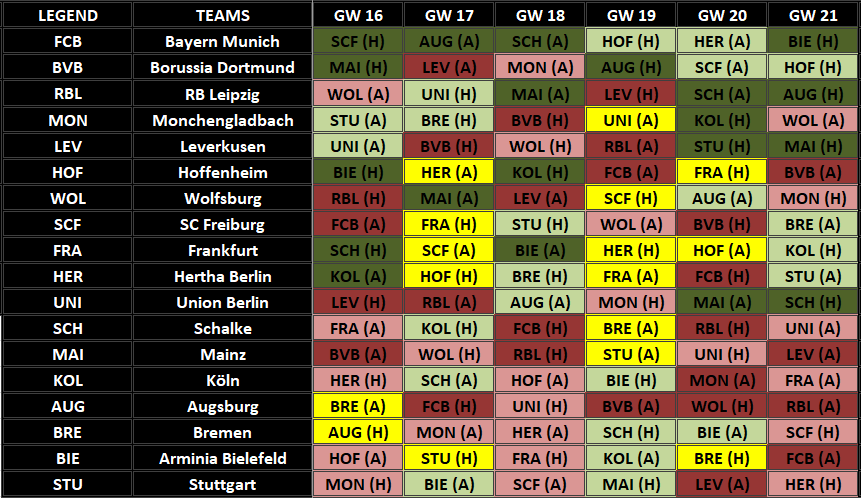 Bundesliga Tracker we don't know what to call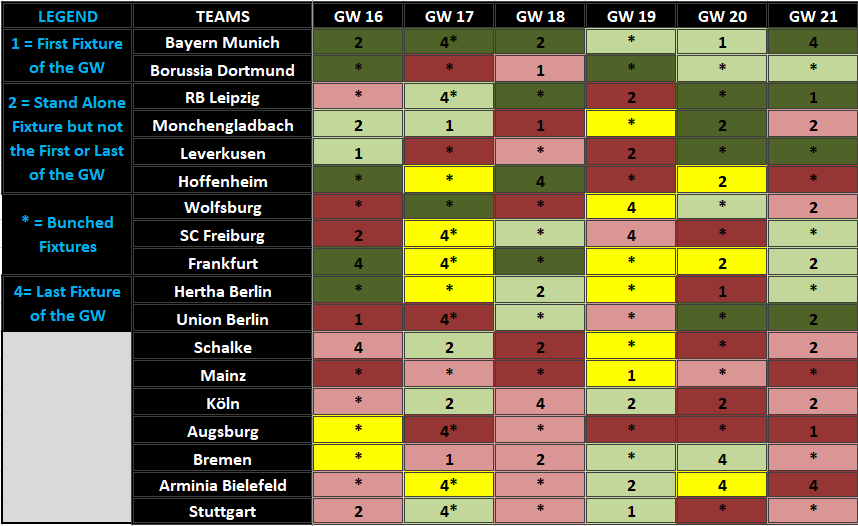 This screenshot could be a bit confusing at first. If you have played fantasy Bundesliga though then you will know about the importance of knowing when your players kickoff times actually are.
"As a manager you can substitute players at any time. If you remove a player that has already played during a matchday you will lose his points and you will not be able to put him back on the field during that match day. However, you can change your star players with players from your line-up as long as their club is yet to play."
Basically you can manually sub players out if you do not like their score. You can also change captains (there are 3 – a Defender, a Midfielder and a Forward per GW) which really makes who you place on your bench and what transfers you make very important. This game is not just about buying the best players is about having the right guys lined up to replace them in case they have a bad game.
The tracker above tells you when certain teams play compared to others. Ideally you will have your players a bit spread out over the GW for the reasons mentioned above. When looking at it, any team with a 1 next to it plays first which during the GW and in most cases that is ideal. As you get to captain/play players that you can sub out easily if they don't perform. Any teams with a 4 next to them is not ideal (part of it depends on the fixture difficulty) in terms of their slot, as they play last that GW. If they fail, you will be stuck with whatever score they give you.
Quick recap:
1 = Ideal, the team plays first with plenty of time to sub if the player doesn't score well, plus the possibility of getting it right on the captaincy in the first game.
2 = Good, gives you subs or captains that are separate from most of your 15 man team and still have other fixtures after it in case the players in this fixture don't perform.
* = Average, this is where most of your players will land on a weekly basis. You always want the best players, but if they all play at the same time it does limit your chances a bit to make subs and get the captaincy right.
4 = Not ideal, Simply said, if your player doesn't perform here there is no more chances to sub. Any team with a 4 beside it plays last.
Remember to always look at this particular tracker in conjunction with the regular tracker. In most cases you would not transfer out a Lewandowski just because he plays last. Last season when I looked at stuff like this it was more for the mid level, punty types. As most of us will own a Lewy and Sancho (if he stays) in FBL, so how you score when compared to others many times comes down to how those value picks or slight differentials perform. If you are able to buy those players with better time slots on top of decent fixtures, well one would think you will have given your team a better chance of scoring well.
Where to get fantasy tips > BULINEWS, Fantasy BL Stats and Fantasy Tipsters
Where to get predicted XI's > KICKER & DNL FANTASY SITE
Twitter account to follow > Follow @DNLFantasy
Fantasy Podcast > TALKING FUSSBALL also follow their twitter account Follow @talkingfussball
Good luck to absolutely everyone for Gameweek 1 from all at FF247!
Thanks for reading Bundesliga Fantasy Football 2020/21