Fantasy Football Captain Picks Gameweek 26
Welcome to Fantasy Football Captain Picks Gameweek 26
Remember the now infamous 'Mane Five' and the subsequent 'Bloody Liars' article? Well, it seems like they've been at it again! Last week saw our panelists tip Salah, KDB, PEA and TAA for the armband. Did any of them actually stick to their word though?! One look at the FPL FF247 Contributors League would suggest not as 14 out of 15 went with Salah!
That said we should put an end to the facade really and state the bleeding obvious; when we ask the panel to present an argument for a captaincy candidate it doesn't necessarily mean they are going to pick them themselves. It'd be a hellishly boring and predictable article if we presented you with four Salah picks. The reality is that one will be genuine, the rest will probably be based upon something approaching hypothetical.
For the record, Rosco (and his near self portrait picture of Salah) won last week with 32 points, Kop and Smash both effectively blanked and Bry got 12 for TAA.
Let's go see who the panel are 'picking' this week…
Inittowint – Sergio Aguero vs West Ham (H)
Having been caught up in the Mane Five storm, full disclosure here; I don't actually own Kun at the time of writing. Whether I will or not remains to be seen but he's certainly a 'person of interest' given that I have Vardy, and Kun is easily reachable right now. Let's go see if I can convince myself, never mind you…
The last time Kun faced weak opposition at home (Palace) he helped himself to 2 goals and 13 points. The last time he played West Ham he scored a goal in a 21 minute cameo, amongst a 0-5 win. He's scored 16 goals so far, and half of those have been at home.
He'll play; ok, we are now scraping barrels here but Man City don't have a game in or around this one so there is no real reason to give it (the league) up just yet. Ok, they're not winning it anytime soon but they do still have to ensure their own CL qualification for next season. When Liverpool eventually play their GW26 fixture they then have a CL tie less than three days later. You think Salah stays on that Norwich pitch a moment longer than is necessary after they go two up?! Not a chance, that'll be cotton wool time.
Had Kun got two against Spurs then I doubt there would be so much hesistancy here, but he didn't. But… Pep bemoaned their obvious profligacy after that defeat. He's done this a few times this season, and the after effects have been devestating clinical in their riposte; the Norwich defeat saw 19 goals in the 5 games that followed it, the Wolves defeat saw 15 in 5, the Man Utd defeat saw 15 in 5 also. Don't make me angry and all that.
And in the last five games between the two sides (dating back to April 2018) Man City have scored 18 goals.
Trust me here, West Ham are getting a thumping.
Smash – TAA vs Norwich (A)
So they say never captain a defender but is Trent Alexander-Arnold even a defender really? They say it's madness to do so, well it's been a bit of a crazy season hasn't it. So why not start now hey? Well? TAA has only one point less than Mane all season and is 5th overall for points scored. On top of all this which player this season has the most points from a single match? Yep you guessed it; Alexander-Arnold with that insane 24 points away at Leicester and they say defenders can't be explosive.
Only KDB has created more big chances and has more assists than TAA this season. TAA has 10 assists already this season. On top of this Liverpool have 9 clean sheets in their last 10 premier league games, only conceding against Wolves. If you want consistency Alexander-Arnold has been involved in a clean sheet, goal, or assist in each of the last 12 GWs.
Runaway leaders Liverpool are up against bottom of the table Norwich next. Norwich have conceded 47 goals this season which is more than any other team. They have conceded more corners than any other team this season; a staggering 175 in just 24 games (yes, TAA is on most corners). So we all know Norwich concede a lot of chances, 384 if you must know, but what's more alarming is the most chances conceded for Norwich come down their left flank which is where… yep you guessed it, TAA will be. Maybe it's time to finally captain a defender?!
Kop Warrior – Heung-Min Son vs Aston Villa (A)

No, I don't own Son. I picked last this week and with the obvious options gone, I've decided to go a little bit left field. However, just how left field is it? He's scored in each of his last two games and Spurs face a Villa side who have the joint worst defence in the league having conceded 47 goals to date. Granted, Spurs have not really had the new manager bounce since Jose took over but a win over City will surely give their confidence a boost.
If we look at some stats over the past four game-weeks, we see that the only players to have more goal attempts than Son's 15 are Salah, Aguero and Firmino. While the only players to beat Son's six attempts on target are Aguero, Firmino and Jimenez. He's keeping good company.
As I've already noted, Villa have the joint worst defence in the league over the course of the season. But, they've improved of late I hear you shout. Not at the back they haven't, they've conceded 10 in their last four! Admittedly, six of these came against City. If we take the City game out of the equation and focus on the last two game-weeks we see that things have somewhat improved but they still contrived to concede two against a Bournemouth team who had scored just three times in their previous five games. Whatever way you look at it, Villa are rubbish at the back.
Jose will be desperate for Spurs to finish in the top 4 and if this is to happen, he'll need Son to hit top form. A game against Villa is the perfect opportunity to do just that. We may also see the Korean play more centrally over the coming weeks if new signing Steven Bergwijn gets a prolonged run of starts from the left.
Matt – Mo Salah vs Norwich (A)

Two weeks ago, the Egyptian God was the talk of the FPL world. Mane or Salah? Who should you triple captain? The team here at FF247 did a captain picks article only on those two. Init then pointed out that there were a few Benedict Arnold's among the group as a few of us said we would cap Mane but instead went with Salah. I will admit that I was a Benedict as I changed my mind from Mane to Salah at the last minute. One thing I will state though is I advocated saving the TC in DGW24! For those that listened to me (probably no one!), they should still have their TC chip in hand. I jumped at the chance to write about Salah this week because I am going to be using my saved TC chip on the Liverpool man in his upcoming game.
Playing the TC chip in a single gameweek could come back to bite me hard, but I have a reason. The main reason is that since Christmas I have listened to my gut and it hasn't steered me wrong yet. It told me that the biggest scorer for Liverpool in DGW24 would end up being Henderson or Ox and it was fairly right, it told me to double up on Sheffield defence and it has proven right so far and this weekend it is telling me to use my TC chip. (Ed: Matt didn't own Henderson for GW24!!!)
Liverpool come up against Norwich who are bottom of the table with a goal difference of -23. They have kept two cleansheets in their last three games but those games were against Bournemouth and Newcastle. Before that their last shut out came in GW13 against a struggling Everton side. They have only kept 4 clean sheets all season and the other not mentioned was also against Bournemouth in GW9. See what I'm getting at here? Norwich have a leaky defence and if Liverpool managed to get 4 past them in the first game of the season I don't see why they can't do it again with the amazing form they are in.
Not only are Liverpool in great form but so is Salah. GW20 is the last time Salah did not return attacking points and since then he has had three double digit scores, 5 goals and 2 assists. I think this justifies me giving him the armband and the TC chip this week and hopefully it will be a surprise to most who have burned it already.
Thanks for reading Fantasy Football Captain Picks Gameweek 26. This article was written by Init, Smash, Kop and Matt.
FPL FIXTURE TRACKER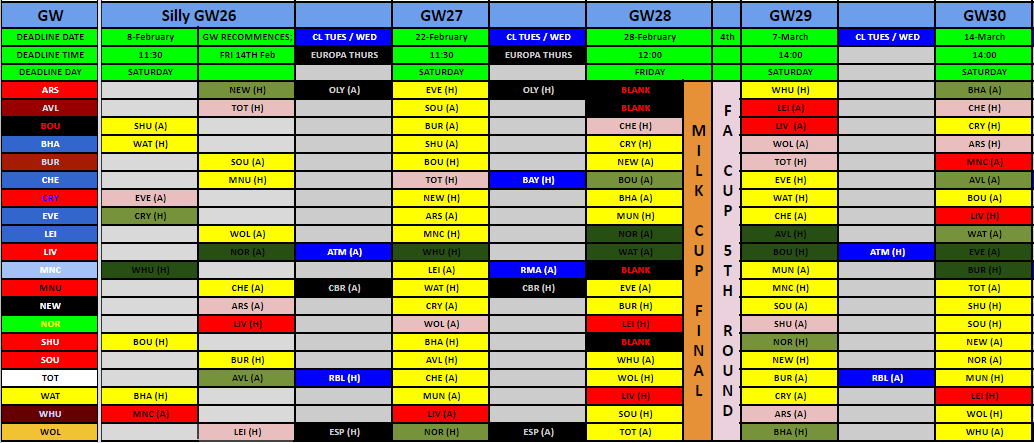 FIXTURE TRACKER LINK
Fantasy Football 247 League Codes: