Fantasy Football Captain Picks Gameweek 27
Welcome to Fantasy Football Captain Picks Gameweek 27.
We begin with our now usual analysis of last week's picks, more out of interest as to whether our pundits were genuine in their choices than whether they were actually right or not!
Init went for Kun and true enough he followed suit and actually bought him and put the armband on him. Whether that bears fruit or not we are yet to discover as GW26 still plays out behind us, despite our best efforts to ignore it! Our other 'truther' was Matt who not only tipped Salah, captained him himself, and stuck the TC on him as promised… Poor Matt. Kop gave us Son and Smash gave us TAA. Both went with Salah themselves, and both with KDB as vice. Both got what they deserved then for lying to us!
So, let's go see which Liverpool player they are picking this week, or lying about not…
Cookie – TAA vs West Ham (H)
Let's be quite clear here, most of you will captain Salah or Mane. That's fine. It's a bit dull, but it's fine. The problem I have with these two is that they do tend to share points, so good luck choosing between the two, or hoping that the one you have kicks off and takes the points.
Just think if there was a more guaranteed option, who will be as involved in the attacking third as Salah or Mane but will also collect a near certain 6pts (minimum) for a clean sheet and happens to be on the majority of set pieces. TAA is the choice of the maverick this week, a Monday night feast of fun for those adventurous to go against the grain and live a little.
The right back (winger) is second only to KDB in the assist table this season and will be bombarding the Hammers down the right flank, pinging in the corners and crosses to terrorise the Irons and maybe also getting the odd shot in for good measure.
I will be supporting my candidate and TAA will wear my armband. You're welcome to join me and live the dream. Don't be a disappointed sheep, be the brave lion that everyone else wants to be but hasn't gut the guts. He who dares…..
The Gallant Pioneer – Sadio Mane vs West Ham (H)
I agreed to taking a player this week on Saturday night knowing I had Monday morning off to write it. 'Who do you need covered?' I asked the powers that be. I'll test myself I thought. I'll see who they chuck me and I'll come up with a genuine statistical analysis of that player and convince you all that 'he' is the actual player to captain and that not everything Liverpool has to be followed… and if I get Sadio Mane then all the better!
So Sadio plays West Ham United at home this week and it's on Monday night as well, for those who love to indulge themselves in that quirk of having your captain and most important player playing in the last game of the week. We can get ourselves through work on Monday safe in the knowledge that a beer and a double-digit-scoring captain awaits to cushion the blow of the start of the week.
Mane of course, as with the other Liverpool players, must first negotiate the Champions League Round of 16 First Leg against Atletico Madrid in the Wanda on Tuesday and it is a sure thing that all the big guns play. The Reds will travel back after the game and then have 5 clear days before the West Ham match so unless an injury crops up I wouldn't worry too much about rotation as the league still needs to be mathematically wrapped up.
The Senegalese's match-winning strike against Norwich on Saturday has brought him to within just 16 points of team mate Mohamed Salah as the top scoring midfielder in FPL – in 166 fewer minutes played as well. At the same time he ran up his number of league goals to 12, supplemented with eight assists and eighteen bonus points. He has 6 double digit scores this season of which four were at Anfield and although Salah is marginally better (5 of 7 at home), it is the percentage of owners and the differential offered – Mane is owned by 20% compared to Salah's 45% – which may turn your head IF you are looking to break from the norm.
DMC – Mo Salah vs West Ham (H)
Mo Salah: The Home Bird Pharaoh
Mohamed Salah has been the best FPL points scorer in the last two seasons and is the current best ever with 303 pts. I don't think he'll reach such eights this season but he's again at the top of the summit and looks to at least match his second-best total of 259 pts. For that to happen he needs to produce around 7.5 per match which seems perfectly doable given his current form of 8.4 and the opposition ahead.
In their next nine games they face bottom half of the table teams on seven occasions, the other two being Everton and City. But they are both away from home which means that five of those seven games against lower key teams are at Anfield. Now Liverpool have only drawn one game to date so that doesn't tell us much in terms of home and away form, even though that one was in fact away, but what is perhaps telling is the goals scored item that reads 35 at home vs 26 away (13 games each). If you narrow the home games vs bottom half teams, Liverpool have an average of 3 goals per game (which is not that different from the total average for home goals scored, which is 2.69 – this information is useless, but it allows me to use brackets which I know will please some of our readers).
Our man Salah has 14 goals to boot, 12 of which were scored on home soil. He has three braces throughout the season and they all came from home games, two of which were against bottom half teams. The bottom line here is that, while at home, despite being totally capable of scoring against big teams, he is very unlikely to blank when facing weaker ones.
And, as mentioned above, Liverpool are entering a series of 5 successive home games that are against lower teams, starting this week with West Ham, a team that will no doubt come to Anfield looking to concede as few as possible and nothing else.
As much as we like and highly rate his friend Sadio Mane the fact is that Salah tops the FPL charts once again in key stats such as total points accrued, form, shots and goals scored by midfielders.
Another interesting aspect of his game is that unlike other seasons it seems that he actually gets bonus points. In fact, he's on 21 (the best among mids) as we speak having notched 18 and 26 in the two previous seasons. That suggests he's more clinical. It's no surprise that 16 of those came at home. Not sure I've mentioned he plays at home this coming gameweek?
Captain The Home Bird Faroe or ignore him at your own peril.
Smash – Jimenez vs Norwich (H)
Now Liverpool are 25 points clear the league is done and dusted so big congratulations to Liverpool! The Champions league is due to start again and everyone will still captain a Liverpool player, zzzzzzzz!! Will they start scoring less goals and start just seeing games out from the start now or focus on other competitions now the league is won? Maybe. Maybe the Liverpool players might even start talking about winning the league, is it just me or are the post match interviews of them playing it down every week just coming across as very boring or just plain stupid! Even main rivals Manchester City are in chaos now they have been banned from the Champions League for two seasons! Yeah I know I have gone against the grain here and bashed the media darlings that are Liverpool! I will get to the point. Is it time to start looking at other captain choices? Hence why I present Mr consistent Raúl Jimenez.
Now Raúl somehow blanked last time out. I say somehow as he had five attempts, missed two big chances and had nine penalty area touches! Lightening doesn't strike twice so yeah he's certainly due. The Mexican has more points than Aubameyang and Aguero this season with 11 goals and 6 assists. The Wolverhampton Wanderers forward is on course to surpass his fantastic debut 2018/19 campaign in the Premier League. Jimenez totalled 181 points last term, averaging 4.8 points per match (ppm).
This season, he has gone even better returning 5.2 ppm over his 25 Gameweek appearances.
Wolves really have something to play for and that's what we want in an FPL player as they are chasing a Champions League spot, especially now 5th place is up for grabs. If they go on to achieve this we know Jimenez will be involved. Jimenez has totalled 81 shots, more than any other forward in FPL. Jimenez's 64 shots inside the penalty area and 38 chances created both rank second among FPL forwards. This suggests he's been underperforming and might just be due that big score!
With Norwich coming to town that's a great opportunity to captain someone a little different. Salah's recent blank shows sometimes it's best to go away from the herd. Norwich have conceded 48 goals this season which is more than any other team and it's sometimes a good tactic to target a team who just leaks goals and is bottom of the table. Headed chances conceded, and just defensive stats in general for Norwich, are just really alarming which all favours Jimenez's chances of scoring. Will the Mexican really not score at home to Norwich? Will anyone be brave enough to not go with a Liverpool player as captain? Even after writing this I'll probably still go with a Liverpool player!
Thanks for reading Fantasy Football Captain Picks Gameweek 27. This article was written by Cookie, The Gallant Pioneer, DMC and Smash.
FPL FIXTURE TRACKER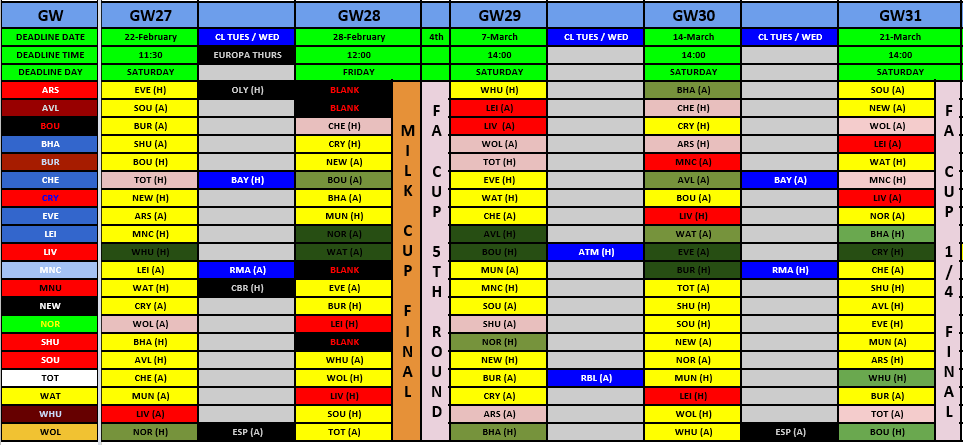 FIXTURE TRACKER LINK
Fantasy Football 247 League Codes: