Fantasy Football Captain Picks Gameweek 28
Welcome to Fantasy Football Captain Picks Gameweek 28
It's all red again. And a bit of blue…
For the most part GW27 was a bit drab affair and it's fair to say that it wasn't really livened up much until Liverpool did what they do and destroyed limped past West Ham on Monday evening and with it masking bumping up many an FPL score to something nearing respectability, mainly due to the flurry of armbands on display in that one. Last week three of our panel took (understandably) a Liverpool asset under their arm, with the outlier being Smash and his pick of Jimenez who got him a goal but also a yellow meaning that his captaincy score sat at 10. Which at one point during Monday night looked like it may actually take the gold. Unfortunately for him it wasn't even enough for a podium as the Liverpool boys clicked into gear late on. Salah and Mane were largely anonymous but still got a goal each, Mane taking 1 bonus point in the process which meant that GP narrowly took silver with 16 points and DMC (and Salah) the bronze with 14. Somewhat surprisingly though, especially with no clean sheet to carry into the battle, Cookie and Trent took the gold with 20. Broken clock and all that springs to mind…
In all honesty the picks for the armband are once again few and far between this week with Leicester at Norwich and Liverpool at Watford being the stand out games for the big hitters, but it is what it is and even just landing on the correct Liverpool asset can be a key differential. Let's go see what the panel make of the prospects for the week…
Kop – Trent Alexander-Arnold vs Watford (A)
As pointed out in the intro, Cookie tipped TAA last week and the full-back rewarded him and those that captained him with 20pts. When writing about TAA last week Cookie uttered the following, "I will be supporting my candidate and TAA will wear my armband. You're welcome to join me and live the dream. Don't be a disappointed sheep, be the brave lion that everyone else wants to be but hasn't gut the guts. He who dares…" So, did Cookie capo TAA last weekend? Did he balls!
I'll be honest with you, I'm not going to capo TAA this week. That's not because I don't think he's a worthwhile option, it's because I don't have the balls to capo a defender.
But why then should those of you who do have the cojones actually capo TAA? He's the 3rd highest scorer in FPL. He has picked up 14 assists to date, only KdB has more. He has featured in all of Liverpool's 27 league games to date and only on nine occasions has he failed to pick up either a clean sheet or an attacking return. He has registered a double digit return on five occasions and holds the highest individual game-week score with 24pts in GW19. I could go into some more detailed stats but I don't believe they're needed. Oh, I'd almost forgotten to mention the 11 clean sheets he's picked up to date, nine of which have come in the last 11 games.
But what of their opponents, Watford? They have managed just four goals over the last four game-weeks. In that same period they have registered just 31 goal attempts, the fewest of any team in the league. Of these 31 attempts only eight have hit the target, again the fewest in the league. Sounds like there's a good chance of TAA picking up a clean sheet. From a defensive point of view things don't get much better for Watford. They've conceded nine in the last four game-weeks, only West Ham have conceded more and they've played an extra game. They've allowed the opposition 20 shots on target, joint 5th worst in the league.
Liverpool should be a good bet for a couple of goals and would you best against TAA claiming an assist or two? Finally, even United beat Watford 3-0!
Hmmm… maybe I should capo TAA!!!
Smash – Jamie Vardy vs Norwich (A)
Good things come to those who wait! This game is all about patience. Yes Jamie Vardy has now gone 7 games without scoring, and yes his stats in recent weeks have not exactly been eye catching for the right reasons. In the last 9 weeks, he has scored once and picked up a mere 21 points. 1 Goal, 1 Assist. You would have thought people would be losing patience but hey he's still the second most transferred in player so far this game week! But then Aubameyang is third and he's not even playing so… Anyway moving on, I'm meant to be tipping Jamie Vardy here. The thing is Vardy has always been a stats buster. If he gets the chances he will score the goals and Norwich tend to have a habit of presenting chances to everyone!
He is the top scorer in the Premier League with 17 goals. He's playing the team bottom of the league who will be sure to attack Leicester, which will only help Vardy on the counter attack. Only KDB has more attacking returns than him this season and he's not even playing this week. He is the third highest points scorer in the game. When he's good, he's really good. In the 10 gameweeks following GW8, he accumulated a massive 98 points, close to averaging 10 ppg, he was FPL gold. 12 goals and 4 assists, 77 touches in the box and 32 shots in the box, he was truly on fire and with Norwich up next this may well be the Jamie Vardy we see again.
The opposition is the real reason why I'm saying Jamie Vardy. It's Norwich. Yes it's NORWICH I need to shout! Last time out Norwich conceded 19 shots to Wolves with 13 in the box, 5 big chances and an xG of over 3. That's despite Jimenez and Jota going off early. We know Leicester go for the kill when they are in the mood, just look at the Southampton 9-0 win. Norwich have conceded 51 goals this season in 27 games and are now looking pretty doomed. Need I say that is more than any other team. Yes this is fixture over form here but the fixture is certainly as good as it gets! Now surely Vardy breaks his duck against that Norwich defence.
Rosco – Mo Mane… vs Watford (A)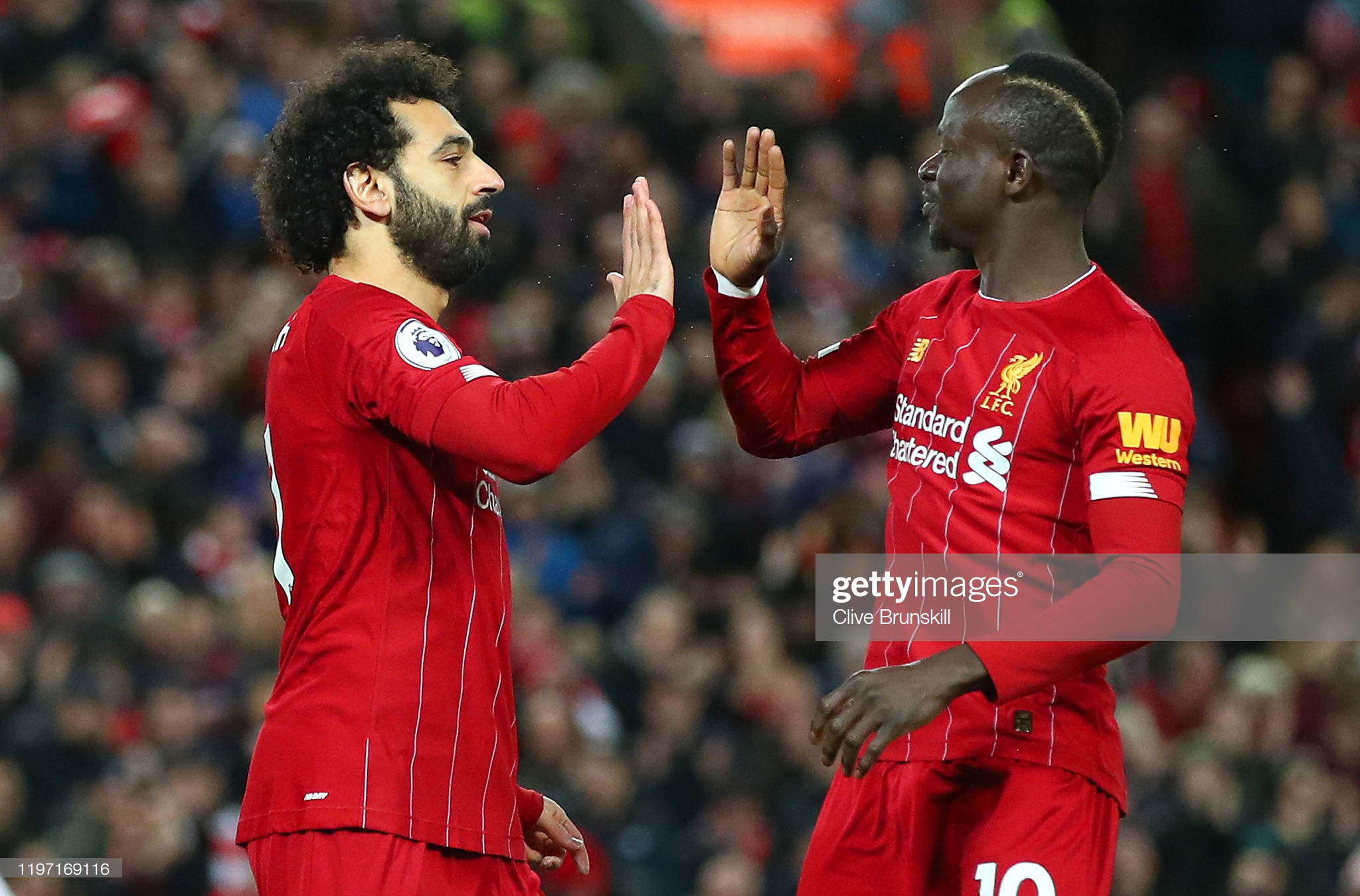 Picking an FPL captain requires an element of trust, and all I'll say is don't trust the empty words of these two charlatans. First, off we have KOP, 16k OR, top in 5 of his mini-leagues, (including the FF247 contributors league), and he's just witnessed Liverpool concede two. Do you honestly believe he's going with TAA? No, me either. How about the other teller of tall tales Smash? A man who's handed his armband to Mo Salah four weeks on the bounce, admittedly he went with Vardy the three weeks prior, but all that tells me is he's a creature of habit, why come off a winning streak? So take their words with a pinch of salt, maybe I'm wrong, I'll happily apologise if that's the case, but I doubt I'll be doing that.
So where will they really be placing their armband? The same place as yours truly, Sadio Salah, er I mean Mo Mane… Ok I'll admit, I'm not sure which one they will go with, you see the one thing Kop, Smash and myself all have in common is that we all have both Salah and Mane, yes that's right ladies and gents, whilst the FPL community gave a collective groan as Liverpool gave up their clean sheet in GW27, we had an evil twinkle in our eye (imagine the Simpsons Mr Burns in that classic pose).
Ok, I may have been a bit harsh on my two esteemed colleagues, after all, I've not been entirely honest in a few of my previous captain picks myself, add in the fact I genuinely don't know if I'll go with Salah or Mane myself and I'm hardly instilling that sense of trust I've been banging on about. What I will say though, with 100% certainty, I'll be giving a Liverpool Midfielder the armband, I'm just not sure which one. Do I need to roll out all the stats on why you should hand the armband to whichever Liverpool midfielder you do own? Probably not, and what of the opposition? Well, they're second bottom of the league without a win in 5. Only West Ham (11) have conceded more than West Ham (9) in their last 4, you get the drift.
Pick the one you have, they'll both score, you'll be happy.
VOTE ON THIS WEEK'S CAPTAIN POLL GW28
Thanks for reading Fantasy Football Captain Picks Gameweek 28. This article was written by Kop, Smash and Rosco.
FPL FIXTURE TRACKER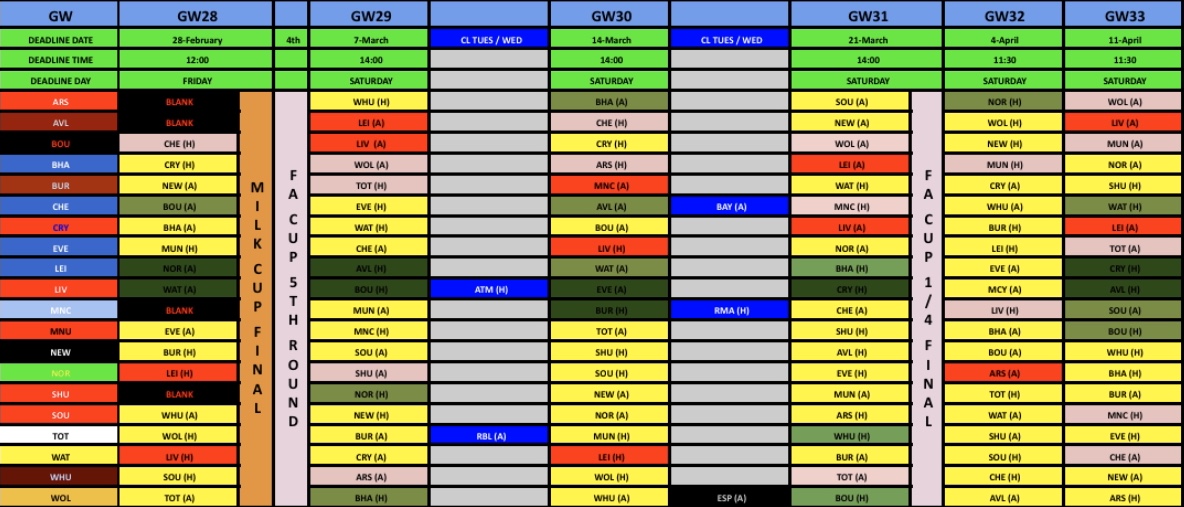 FIXTURE TRACKER LINK
Fantasy Football 247 League Codes: