Fantasy Football Captain Picks Gameweek 30+
Welcome to Fantasy Football Captain Picks Gameweek 30+
We are definitely getting used to where that '+' button is on the computer now! The last time we wrote a (semi) serious Captain Picks article was about 3 months ago. We rather suspect some of the writers and staff were secretly hoping that this whole thing had just been called off so that they could get a full 6 month break. No such luck guys! We have awoken them from their slumber and gently asked them to resume where they left off (aka: kicked their ass and told them to get back behind their computers and tell the world who to captain this week). And funnily enough they did…
GP – Pierre Emerick Aubameyang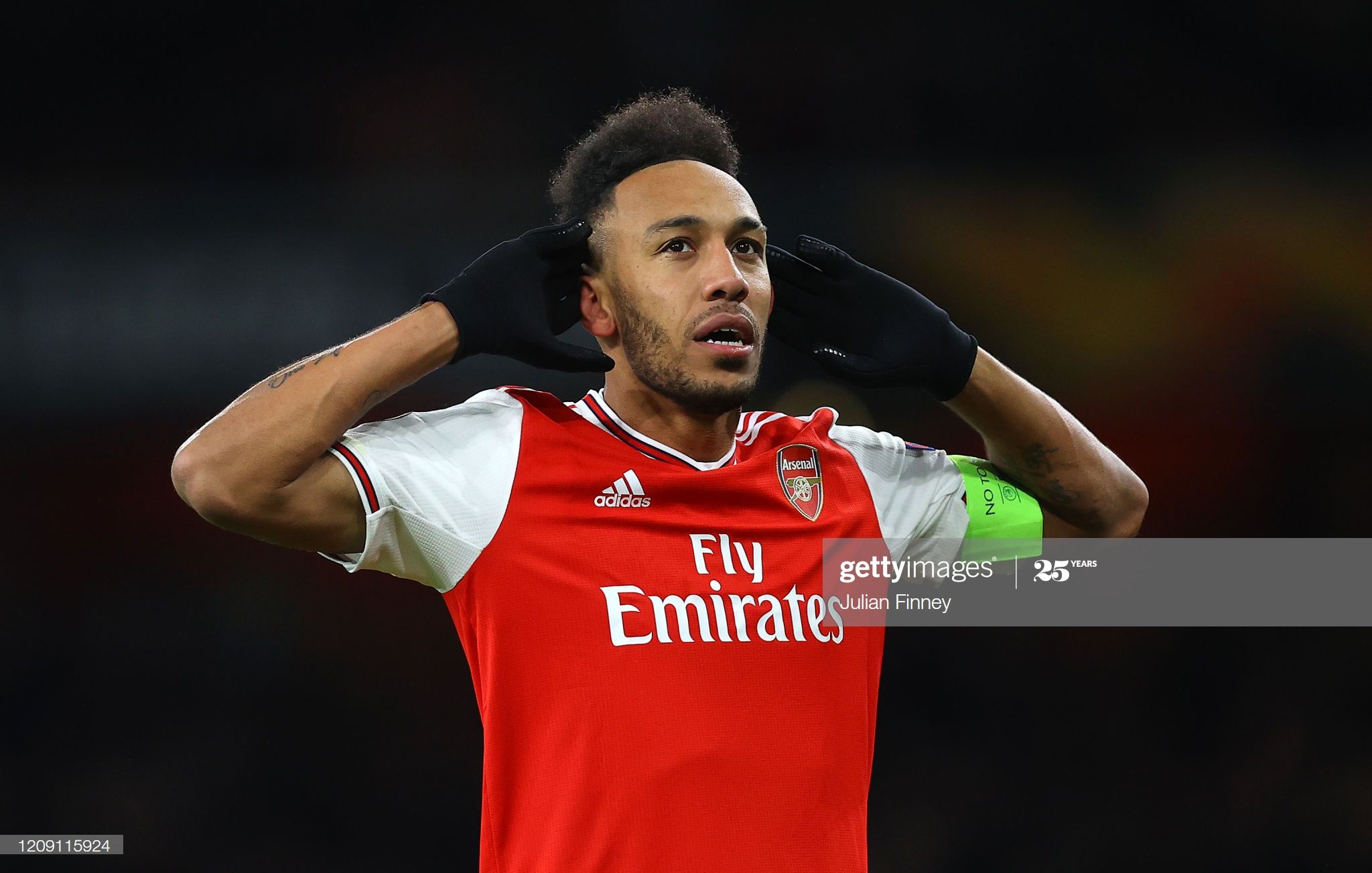 It would be fair to say that PEA is the obvious Arsenal candidate when it comes to your captaincy pick ahead of the DGW30+.
The Gabonese accumulated 152 points pre-lockdown (Arsenal's highest point scorer by quite a distance – goalkeeper Leno is next, a whopping 44 points behind) and this was made up of 17 goals (Lacazette next on 7), three assists and 29 bonus points.
His contract is up next summer and he was believed to be second choice on the list for Chelsea this summer which now of course looks dead with the imminent arrival of Timo Werner across in SW6. But this shows in how high regard he's held – a proven goal-scorer who is now just one short of 50 league goals in just two season's worth of football at the Gunners – that he features on such a list.
There is some belief that he isn't as effective in FPL terms when he is played wide left of the three in behind Arsenal's main focal attacker. To debunk that – of the 49 league goals he has scored he is averaging 0.83 goals per 90 minutes in that position which is his highest ratio. He drops to 0.57 per 90 as a lone striker, 0.56 per 90 as part of a main front two and 0.5 per 90 on the right hand side. Rather crucially as well – and this will be to do with the space he is able to manoeuvre from wide – he manages the most touches in the opposition box from this wide left area (5.8 per 90 minutes) AND the most take on attempts (21 per 90) in comparison to the other three forward positions.
These stats indicate quite clearly why Arsene Wenger, Unai Emery, Freddie Ljungberg and now Mikel Arteta all recognised that he is hugely influential and effective from the left.
If these stats don't get you and you believe in fate – his 31st birthday falls between both his double gameweek matches.
Rosco – Kevin de Bruyne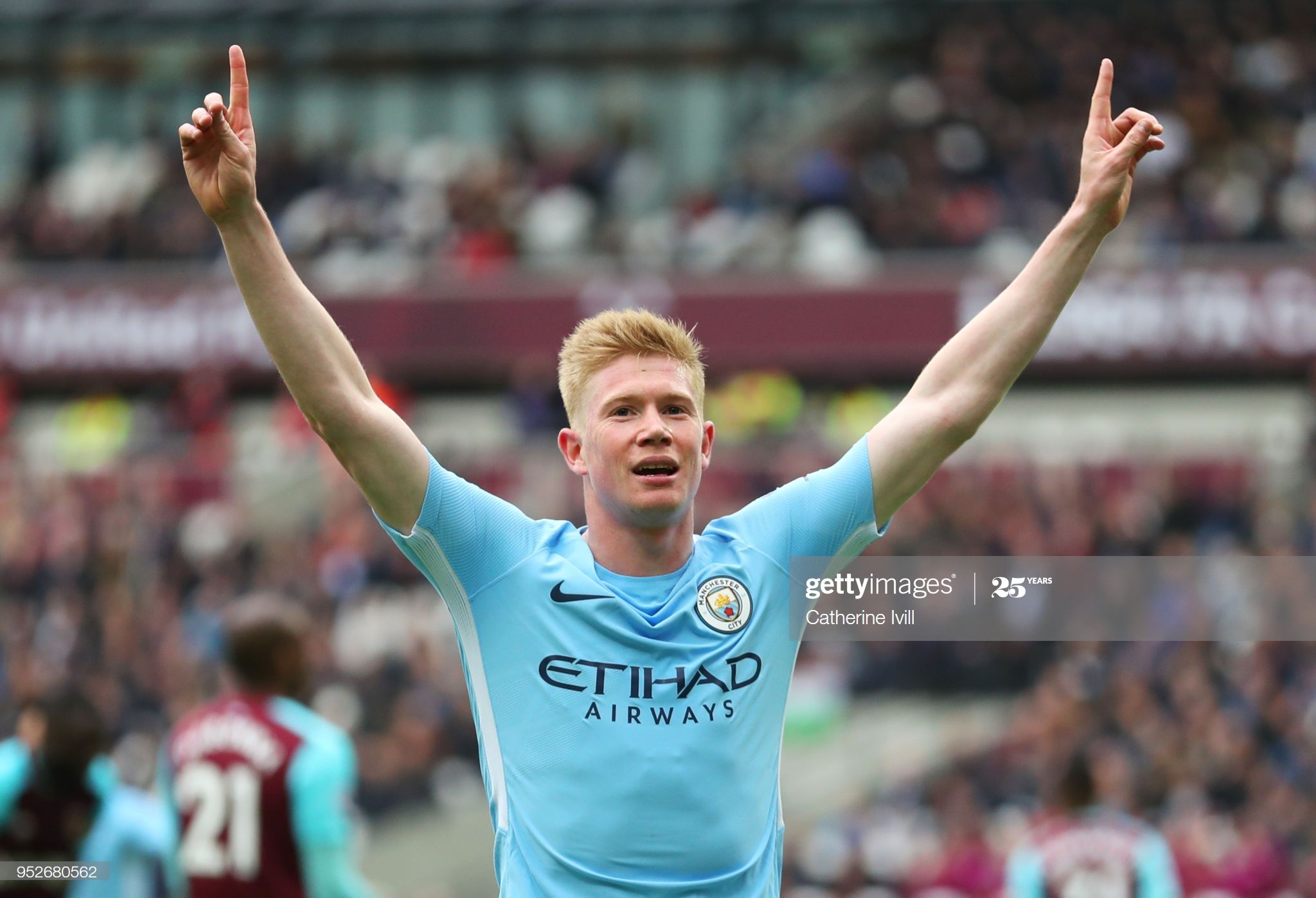 We need to talk about Kevin. Or do we? A quick look over his season stats certainly warrants little further discussion. The Belgian sits just 8pts behind FPL's top-scorer Mo Salah (178 to 186) and as we head into what looks like the only DGW of the season, surely there's only one man you should be handing your armband to this coming game week?
Last season's injury-plagued campaign is but a distant memory. De Bruyne has recaptured the form that saw him pick up 209 FPL points in the 2017/18 season, that year he amassed 8 goals and 18 assists, coincidentally the exact total that he curranty sits on for both statistics, it would be a brave man or woman to bet against him going above and beyond that tally in his remaining 10 games.
What about motivation? With the league title seemingly out of reach, De Bruyne is looking to retain his playmaker of the season title. He officially has 16 assists (FPL is a bit more giving), putting him 4 ahead of his closest competitors TAA (12) and team-mate Riyad Mahrez (8). He's already the first player in Premier League history to create 15 assists in three different seasons, just 4 more and he breaks his own record and levels with Thierry Henry's 2002/03 tally of 20. Crikey.
Of all the DGW teams, Sheffield United have the better fixtures, but City are undoubtedly the better team. Whilst on 'paper' FPL classes City's double (against Arsenal and Burnley) as 'grey' fixtures, they are both 'home' matches, maybe that won't mean so much given the current climate, who knows.
Players like Aguero and Sterling may have a higher points ceiling, but there is safety in numbers, and this season only Ederson has more minutes on the pitch than the Belgian. Throw in the fact De Bruyne has 7 double-digit hauls (the aforementioned teammates have 4 a-piece) and he starts to look like the safe bet, so yeah, maybe we do need to talk about Kevin.
Kop – Jack Grealish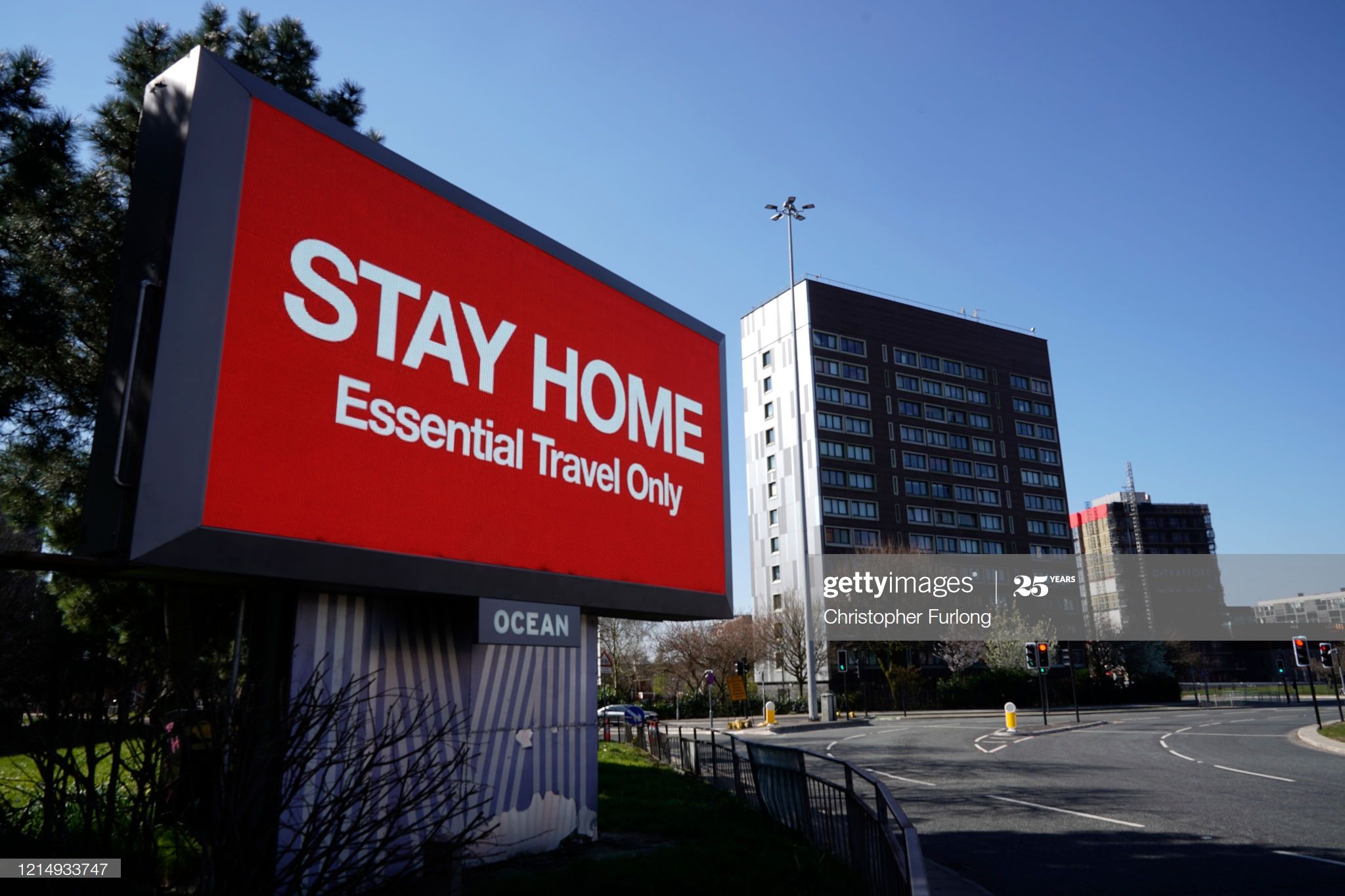 Jack Grealish? What the fck was I thinking? Who's going to captain a Villa player in a DGW when the likes of Aguero, Sterling & KdB feature in that very same game-week? I'll tell you who. Those who live life on the edge and don't always go for the obvious choice. Grealish will appeal to these people as he is something of a maverick and tends to do his own thing. This was highlighted at the very beginning of the lockdown when he stupidly decided to call around to a mate's house and then crashed into some parked cars the following morning. The dickhead. This came approximately 24 hours after he'd posted on social media telling people to stay at home to save lives. In short, he's a tit! However, he's a tit that is Villa's best player by a country mile. A Villa team that have more than most to play for. If they're to have a shot at survival they need Grealish firing on all cylinders from the get go.
I won't bore you with any stats because I'm not convinced that any stats from earlier in the season are of any relevance. For all intents and purposes, this is the start of a new season. A new season with an extremely short pre-season.
Having read the nonsense I've just written I've realised that I have made absolutely no case for captaining Grealish. But don't let that stop you. Live a little…
Smash – Sergio Aguero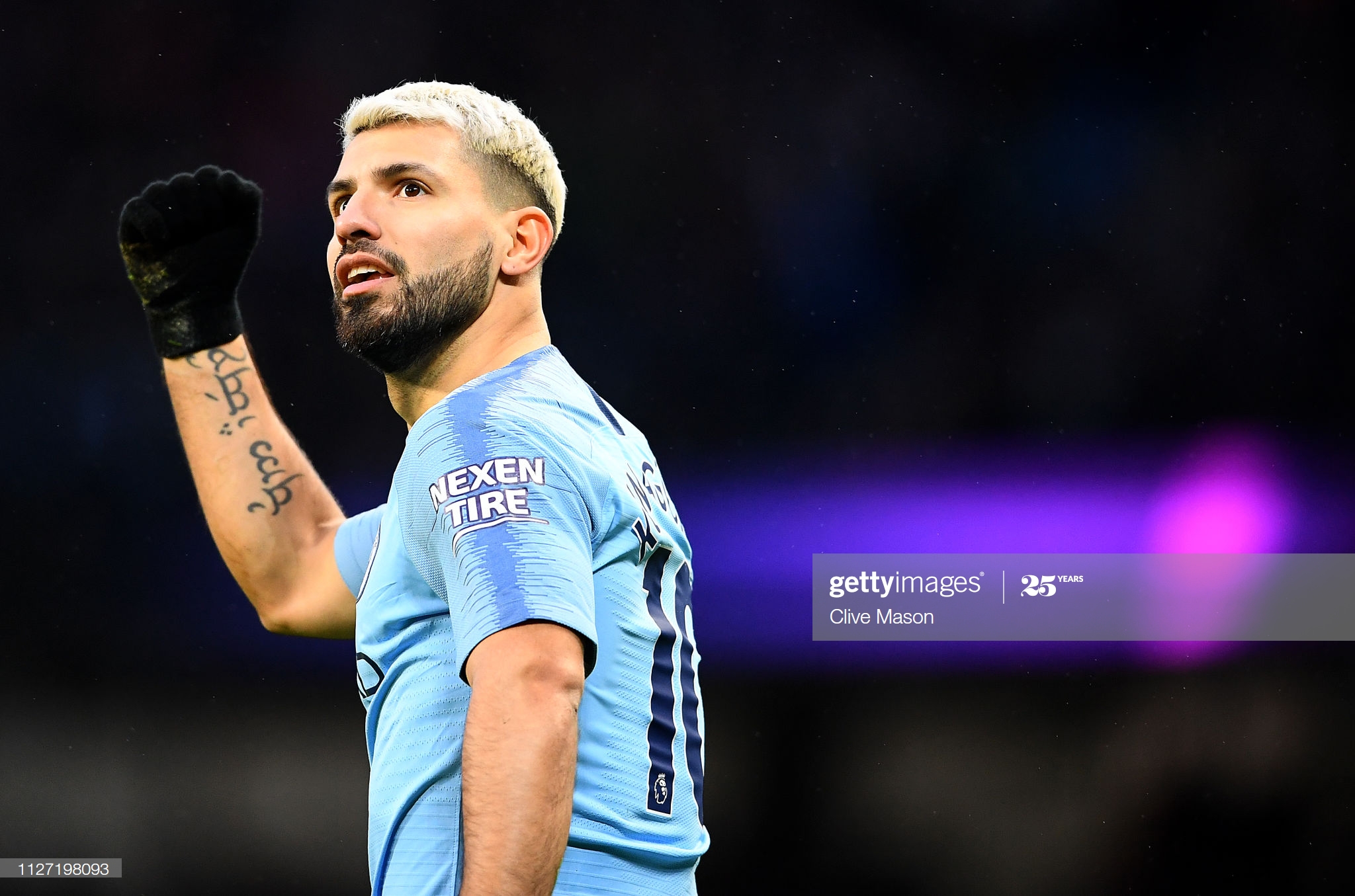 FPL, at the end of the day (add your own cliches as appropraiate), is about having fun and Aguero is one of the most fun players to captain. There's always the excitement or dread of checking the City line up before the game and we know they can put six past every team in the league. It's a double GW with City playing Arsenal and Burnley; not exactly the big boys in the league. Aguero has eight goals and two assists in just 15 appearances against the Gunners. Against Burnley he has 9 goals in 9 games in all competitions
There's a pandemic going on so if anyone has suffered with some memory loss here we go, Aguero has played 255 games, has 177 goals with 46 assists. He has the best minutes per goal ratio in PL history, the most PL hat-tricks (12) and the joint most goals in a single game (5), blah blah blah, need I go on. We know Aguero has the potential to really haul and we have certainly seen him do the business against Arsenal before. Even at 31 he's averaging a goal every 77 minutes and a g/a every 62 minutes and we would expect him to feature in both games against Arsenal and Burnley.
If you are still looking at stats at this stage, after a long break, then Aguero did start the season with six goals in his first four games. No player averages more big chances per game than Sergio Agüero (1.05) this season. Between Gameweeks 23 and 29, he topped the charts among his colleagues for shots in the box (18), big chances (7) and shots on target (8). All this despite playing just 403 minutes, if you are worried about game time. This was more than any other attacking player under Pep. Yes I will be captaining Aguero myself!
DMC – Raheem Sterling
I was on writing duties for the original GW 30 capo's article back in March. I tipped Vardy in that instance and I would do it again if it wasn't for a double game week involving Manchester City and Arsenal (PEA). That being the case it would take a very brave (or very dumb) person to look outside of these teams. Luckily, I got first pick and thus I bring you Raheem Sterling. Forget about all that KDB and Aguero talk from my fellow panellists. As far as I'm concerned, De Bruyne was injured with a back problem ahead of DGW 29 and Aguero was subbed at 58´´ of the Manchester Derby making it 4 blanks on the trot. The other reason I pick Sterling is because he is one of the fastest players in the league and, with defences surely not being at their best, there are goals to be scored and points to be accrued by him in this DGW. Another important factor that should make you consider trusting him the armband with is that everyone else will probably head to those two or PEA and will probably not even own Raheem Sterling which means that whenever he scores you are 10 points ahead of the curve. He has scored two and assisted two in the last three games vs Arsenal and, if that doesn't work, he then has another go at home to Burnley. I know there won't be any fans at the Etihad but they are used to that already! Best of luck everyone. Stay strong, stay safe, stay fantasy!
VOTE ON THIS WEEK'S CAPTAIN POLL GW30+
Thanks for reading Fantasy Football Captain Picks Gameweek 30+. This article was written by The Gallant Pioneer, Rosco, Kop, Smash and DMC.
FPL FIXTURE TRACKER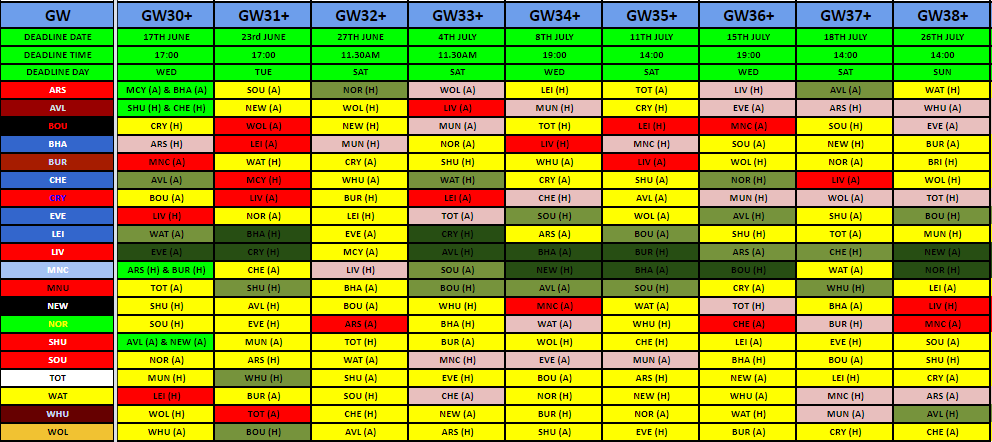 FIXTURE TRACKER LINK
Fantasy Football 247 League Codes: