Fantasy Football Fixture Analysis Gameweek 30+
Ok, so we warned you on our FPL / FF247 Returns article that we may not be massively active for the rest of the season, given the fixture layout. But then we went and did a huge GABO article. And then there's a comprehensive Captain Picks one in the pipeline. And the following will almost certainly put a final nail in that particular coffin / balloon*. *Delete as to how appropriately morbid you are.
We genuinely don't know how many more articles we will get to do this season, and so this may / may not be the final Fixtures Analysis one. Hence we decided to go comprehensive. Albeit succintly. Either way, here's a whistle stop tour of all 20 teams and a quick analysis of all of their remaining fixtures…
FPL FIXTURE TRACKER
But first up that all important Fixture Tracker itself…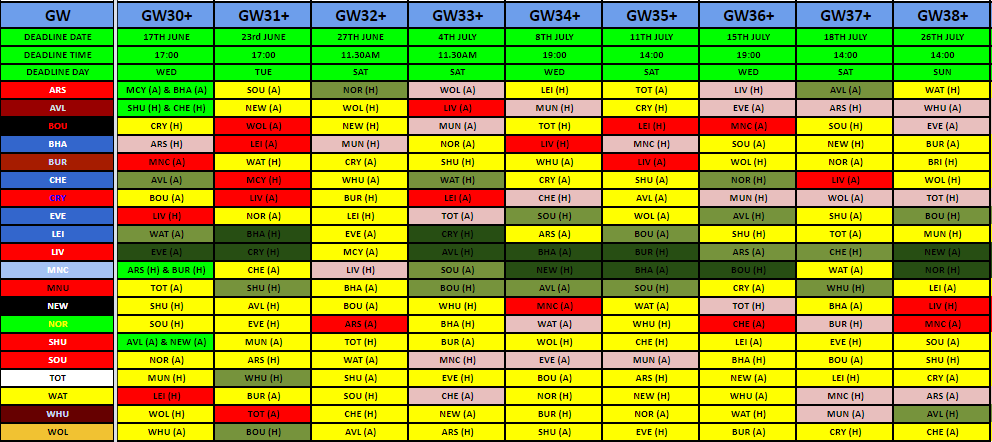 FIXTURE TRACKER LINK
ARSENAL


POSITION IN TABLE: 9
GOALS FOR: 40
GOALS AGAINST: 36
The Gooners start with a DGW which will ensure significant interest in Aubameyang and his less talented peers. Both matches are on the road and although that may not be the disadvantage it was pre-Covid the travelling up and down the country from Manchester to Brighton will have an impact as will both matches being played within 72 hours of each other. Saying that fixtures vs Southampton & Norwich in 31+ & 32+ should ensure coverage can be excused.
The fixtures turn in GW33+ though with matches vs Wolves, Leicester, Spurs and Liverpool follow.
Cover by all means but be ready to activate the eject button soon.
FIXTURE RATING: 6.5/10
ASTON VILLA


POSITION IN TABLE: 19
GOALS FOR: 34
GOALS AGAINST: 56
Villa also start with a DGW with both their matches at home, vs Sheff Utd & Chelsea. Battling relegation, the Villains will want/need to hit the ground running because after they go to Newcastle in GW31+, they then face up to Wolves, Liverpool, Man Utd & Arsenal in quick succession.
Grealish will undoubtedly be popular and is the only realistic Claret any sensible FPL manager should be considering. While it is always worth backing teams that are fighting for survival at this time of the season, Villa's fixtures dictate that, Grealish aside, they may be best left well alone.
FIXTURE RATING: 5/10
BOURNEMOUTH


POSITION IN TABLE: 18
GOALS FOR: 29
GOALS AGAINST: 47
Very similar to Villa in terms of fixtures, but without the DGW. The Cherries start off vs Palace and then host Newcastle in GW32+, but face Wolves in 31+ and follow the visit of Toon with matches vs Man Utd, Spurs, Leicester & Man City – tough in the extreme. With just nine games left and a horrible list of matches there's no real point even bothering considering any Cherry for your squad.
FIXTURE RATING: 4/10
BRIGHTON


POSITION IN TABLE: 15
GOALS FOR: 32
GOALS AGAINST: 40
If you thought Bournemouth's fixtures were bad then take a look at Brighton's! Fixtures vs Arsenal, Leicester, Man Utd, Liverpool and Man City in five of their next six GW's ensure you can also leave well alone. It's likely to be a relegation battle royale for the likes of Brighton, Bournemouth and Villa and the fixture list hasn't helped any of them.
FIXTURE RATING: 2/10
BURNLEY


POSITION IN TABLE: 10
GOALS FOR: 34
GOALS AGAINST: 40
Safely entrenched in mid-table, they could likely sell their remaining fixtures to Villa, Brighton or Bournemouth for a king's ransom. Despite opening with a trip to Man City, the Clarets then face Watford, Palace, Sheff Utd and West Ham and then end with encounters against Norwich and Brighton. Motivation may well be the stumbling block in terms of owning any of their assets but given the fixtures and their prices, the likes of Pope, Taylor and Wood (when fit) could still garner some interest.
FIXTURE RATING: 7.5/10
CHELSEA


POSITION IN TABLE: 4
GOALS FOR: 51
GOALS AGAINST: 39
Currently sitting in 4th but with aspirations of 3rd, Chelsea have the motivation and fixtures to challenge Leicester above them but will also know that Man Utd and Wolves are sitting threateningly on their shoulders should the Blues slip up. It doesn't get much better first up than a meet-up with Villa and while the visit of Man City in 31+ will present a challenge, subsequent fixtures vs West Ham, Watford, Palace, Sheffield Utd and Norwich should be enough for Chelsea to secure top 4.
FIXTURE RATING: 9/10
CRYSTAL PALACE


POSITION IN TABLE: 11
GOALS FOR: 26
GOALS AGAINST: 32
There's nothing to get excited about with Palace at this stage. They're sitting pretty on 39pts, safe from the drop and in all honesty with very little to play for. Definitely on the beach this lot. The fear of rotation is there and given that the Eagles only face Villa and Bournemouth from those clubs below them, I'd avoid any Palace players at all costs.
FIXTURE RATING: 4/10
EVERTON


POSITION IN TABLE: 12
GOALS FOR: 37
GOALS AGAINST: 46
Poor old Everton as they open up with the visit of their nearest and dearest but will definitely be the bridesmaids as all the attention, focus, cameras, media love will be on Liverpool as they approach their day of glory. I'm of the opinion that Everton really react to the support of their home crowd, arguably more than anyone else in the top flight, and as such may struggle as their season peters out. With matches vs Norwich, Southampton, Villa and Bournemouth on the horizon there is potentially enough for DCL owners to be happy about, but not much else. The Toffees also face Leicester, Spurs and Wolves as well as Liverpool, so it's a real mixed bag.
FIXTURE RATING: 6/10
LEICESTER


POSITION IN TABLE: 3
GOALS FOR: 58
GOALS AGAINST: 28
Seeking to secure Champions League qualification, Leicester's fate is in their own hands and given the fixtures they have left, they will kick themselves if they don't confirm a top 4 spot. Aside from a tough last two matches vs Spurs and Man Utd, the Foxes can have confidence that every other game is winnable as they face Watford, Brighton, Everton, Palace, Arsenal, Bournemouth and Sheffield Utd. Vardy will be instrumental and has the extra incentive of leading the race to the Golden Boot – although it may be worth adding as a footnote that his two goals vs Villa in GW29 were his first in eleven game-weeks.
FIXTURE RATING: 7.5/10
LIVERPOOL


POSITION IN TABLE: 1
GOALS FOR: 66
GOALS AGAINST: 21
It's a matter of when not if and then a case of what happens next. It appears to be a common assumption that Klopp will rotate once the league is mathematically secured, thus giving his players more of a summer off than all of their rivals. However, with five subs available in each match it may well be that most of his stars will feature in the majority of matches, but with reduced and managed minutes. It would be a brave, some may say desperate FPL manager that sells all their Liverpool assets, especially when they face matches vs Everton, Palace, Villa, Brighton, Burnley and Newcastle.
FIXTURE RATING: 8.5/10
MAN CITY


POSITION IN TABLE: 2
GOALS FOR: 68
GOALS AGAINST: 31
It's really about the Champions League and FA Cup for Pep and crew now although he'll want to build up his player's match fitness in the last league matches. Opening up with a DGW vs Arsenal and Burnley will result in most active managers maxing out on three City players. Which three is not my problem, that's yours! City do face Chelsea and then Liverpool in GWs31+ and 32+, but after that they face off against Southampton, Newcastle, Brighton, Bournemouth, Watford and Norwich – such a run would typically see us automatically load up on the likes of Kun, KDB, Sterling, Mahrez, Ederson etc and frankly, it's difficult to argue against that.
FIXTURE RATING: 9/10
MAN UNITED


POSITION IN TABLE: 5
GOALS FOR: 44
GOALS AGAINST: 30
The enigma that is United is just about to get that little bit harder with the return of Pogba and Rashford. Once the Reds clear the tricky looking Spurs fixture in GW30+, they embark on a most appealing run of fixtures as they attempt to attain a top 4 slot. Trips to Brighton, Villa, Palace and Leicester are mixed in with the visits of Sheffield Utd, Bournemouth, Southampton and West Ham. A nine-game winning run may well be needed to overhaul Chelsea or Leicester and it could be United come close, especially if Rashford comes back firing, Martial can rediscover his form of the New Year, Fernandes continues to orchestrate the show and Pogba shows what all the fuss is about.
FIXTURE RATING: 9/10
Half-time Thoughts
The battle to escape the relegation zone will be in full swing as soon as the EPL returns. Last-place Norwich – six points back of 17th with nine matches to go – faces a must win at home vs Southampton, but find themselves as 11/5 underdogs to the Saints (8/7) according to UK betting sites listed here. If Norwich manages to earn the full three, they could make up ground on 17th-place Watford, who are almost 7/3 home 'dogs themselves to third-place Leicester (11/10). Bournemouth and Aston Villa, the 18th and 19th-placed teams, are also home underdogs in their return matches, but not as sizable (3/2 and 11/6, respectively).
NEWCASTLE


POSITION IN TABLE: 13
GOALS FOR: 25
GOALS AGAINST: 41
This is most definitely a game of two halves for Newcastle. The first four games look ok, ish. Three home games bode well for some clean sheets anyway as they've been fairly frugal at St James' with just 12 goals conceded which is (technically) the joint best in the league. And let's face it you are probably just looking at the odd budget defender here. After that though the 2nd half gets uglier with games against Man City, Spurs and Liverpool making up three of the last five.
Forgive our maths when it comes to halving 9…
FIXTURE RATING: 4.44/10
NORWICH


POSITION IN TABLE: 20
GOALS FOR: 25
GOALS AGAINST: 52
Likewise Norwich have a mixed bag, albeit spread more sporadically. They have 5 homes left, for what it's worth, but 3 of their away ones are at Arsenal, Chelsea and Man City. Cantwell and Pukki are probably your only real interests here and despite their 'obvious' appeal it's probably worth noting that Norwich have scored the joint least goals in the league so far (just 25). And they are 20th for a reason.
FIXTURE RATING: 4/10
SHEFFIELD UNITED


POSITION IN TABLE: 7
GOALS FOR: 30
GOALS AGAINST: 25
They are sure to be popular picks when we restart as they have a hallowed DGW. And that's perfectly understandable. But they come with a big buyer aware label here; their next fixtures are horribly difficult (to predict at least). They face Man Utd and Spurs after the DGW and then have Wolves, Chelsea, Leicester and Everton in 4 of the next 6. Take your chances with a defender or 3 in the DGW (which in itself looks ok for this approach) but be sure to have a (chip) plan to remove them.
FIXTURE RATING: 6.5/10
SOUTHAMPTON


POSITION IN TABLE: 14
GOALS FOR: 35
GOALS AGAINST: 52
We aren't quite sure what to make of the Saints' run of games here. They're a bit middle of the road, much like the club itself, ironically. They rarely underachieve (cue howls of laughter from Leicester) and rarely overachieve. If they ever do the latter the Liverpool chequebook appears to put paid to it (and then turns their stars into has-beens within a year). The fixtures start ok ish, get worse in the middle, and then get better again at the end. It's probably only Ings you are looking at anyway.
FIXTURE RATING: 6/10
SPURS


POSITION IN TABLE: 8
GOALS FOR: 47
GOALS AGAINST: 40
If there was a trophy for the 'Worst Behaved Club' in lockdown then Spurs would be having an open bus parade this week, probably literally too. If it wasn't Jose taking the players for a training session in the park, it was Serge and his haircut obsession or Dele Alli being a naughty boy on social media. Even Kyle Walker's strippers may have got confused and were still thinking of lilywhites (google its origins; it involves fighting cocks….)
They may however be the club which most benefits from the break as they were looking a bit bare-bones when we all broke up for Covid Half Term. And now suddenly Kane and Son are back and fighting fit (literally in Son's case).
The fixtures themselves are about as mixed as you could get. In theory you could see them winning the lot but there are are also toughies in there, under normal circumstances.
FIXTURE RATING: 7.5/10
WATFORD


POSITION IN TABLE: 17
GOALS FOR: 27
GOALS AGAINST: 44
Watford are probably the enigma here. They had 50% of the original Covid-19 positive tests all to themselves (ok it was just 3/6 but we like to be sensationalist!). Even so it was disruptive and then their leader Troy Deeney refused to train, as apparently did a few others. With understandable reasons. As such it's hard to make a case for what state they will be in when they return. They are notoriously difficult to get any actual information from, as anyone who has read our press conference articles will appreciate.
Their fixtures are mixed. They start with Leicester which will be tough, have a couple of ok ones, then Chelsea, then three ok ones and have a difficult ending pair.
FIXTURE RATING: 6/10
WEST HAM


POSITION IN TABLE: 16
GOALS FOR: 35
GOALS AGAINST: 50
Who cares.
Let's just hope they now go down.
F*ck Karren Brady.
Although to be fair we probably would…
#milf
FIXTURE RATING: 7/10
WOLVES


POSITION IN TABLE: 6
GOALS FOR: 41
GOALS AGAINST: 34
Other than possibly Spurs this break has probably played into Wolves' hands more than anyone else. Bearing in mind they began this season in what seems like about 2015 and they've seemingly played about 350 games, if anyone needed a break it was them. But even then they were still in fine fettle when it ended. And they started last season with a bang. A quick break and refresh will probably be just the tonic then.
And the fixtures look more than decent for them too. Lots of 'yellows on the Fixture Tracker' but that also means lots of winnable games if they hit some form, which we expect they may.
FIXTURE RATING: 8.5/10
Thanks for reading Fantasy Football Fixture Analysis Gameweek 30+. This article was written by Cookie and Inittowinit
Fantasy Football 247 League Codes: