Fantasy Football Live Match Chat Gameweek 29
Welcome to Fantasy Football Live Match Chat Gameweek 29. Back so soon? Life as an FPL manager can be brutal! First world problems and all that, eh?! Three deadlines in the space of 9 days can take its toll mentally, especially when you have to try and factor in the upcoming blanks and doubles, and trying to do so by playing a bit of a guessing game at this stage.
Back at it we are though, and so are Spurs and Arsenal on Saturday lunchtime, as they now seemingly enter a battle for 3rd / 4th spot with each other and also Man Utd, not quite the battle Spurs were hoping for only a week ago. We then have a relative treat at 3pm on Saturday with no less than 5 games. Man City look to keep the pressure on Liverpool as they visit Bournemouth, Brighton will be hoping to pull further clear of the relegation zone and in turn further condemn Huddersfield to their own inevitable fate, Burnley and Palace will be hoping their's turns into a typical mid-table clash but both still need a few points on the board to make that a reality, Ole will be looking to continue to look invincible as Saints visit Old Trafford with their own agenda and Wolves will look to kiss and make up with their FPL fans with a home game against Cardiff, whose own fans may be forgiven for thinking their own team has already kissed the PL goodbye. What's the record for the longest sentence ever?!
West Ham and Newcastle is finally looking like a genuine mid-table clash on Saturday evening. Give it three more weeks and the flip-flops will be getting packed in abundance for both.
Watford and Leicester kick us off on Sunday and continue the mid-table theme at 12pm, before a mini derby as Fulham host Chelsea before a proper derby closes us out as Everton look to derail the Liverpool title charge. They won't, but it should be fun watching them try!
The games in full…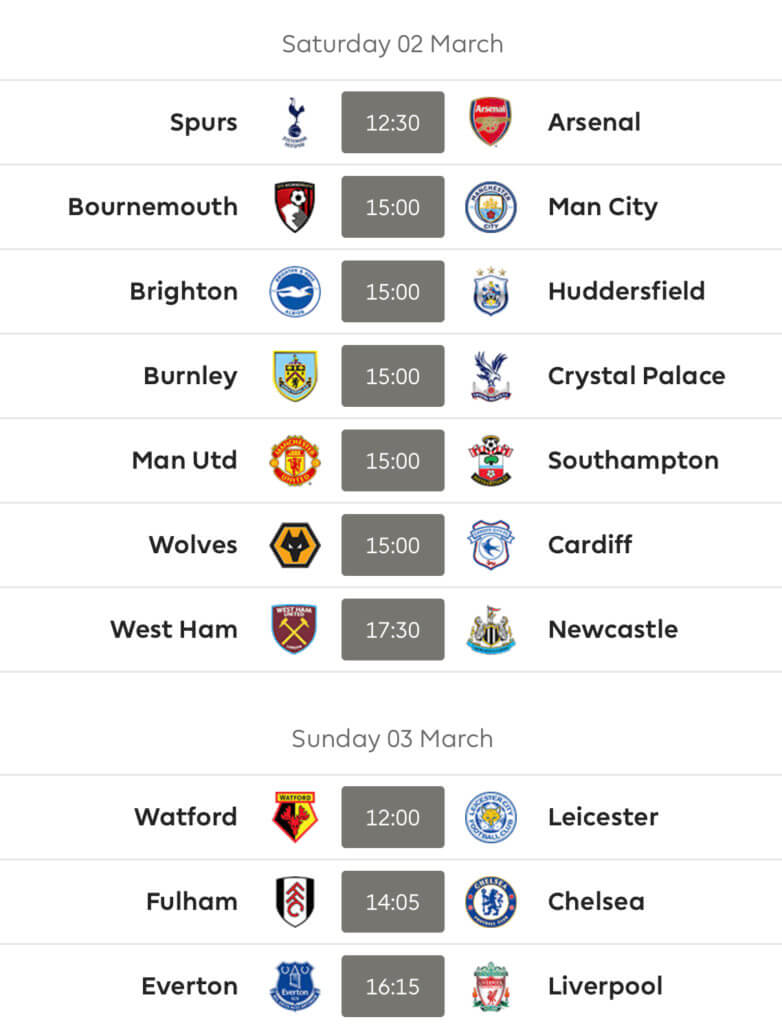 Keep track of all the action, the goals, the talking points, right here at FF247 Live Match Chat, an interactive chat which encourages you to keep involved and share your thoughts and emotions as the matches take place.
Good luck to absolutely everyone for Gameweek 29 from all at FF247!
Thanks for reading Fantasy Football Live Match Chat Gameweek 29.
FPL FIXTURE TRACKER
FIXTURE TRACKER LINK
Welcome to our Fantasy Football leagues section.
The League Codes for FF247 for the 2018/19 season are as follows –