Fantasy Football Tips Gameweek 38
Welcome to Fantasy Football Tips Gameweek 38.
On the face of it, writing Tips for the final gameweek of the season should be quite straight-forward. I just look at who has done well recently, who is fit at the time of writing and who has an easy fixture. Right? I don't have to worry about who's 'ahead' for the players in terms of fixtures. This coming week presents the last hurdle (for some) and final nail in the coffin (for others). After this, this is it. Finito. The End. The Last Act. Do Svidaniya, Auf Wiedersehen. Arrivederci, Bonjour – as Del Boy would say.
Then why did I sit down to begin this on Friday and I am writing this very first paragraph at half time of Monday Night Football as a form of panic and therapy combination washes over me? The main reason – which is my excuse and I'm sticking to it – is that the final gameweek is a crapshoot and you can bet your last dime there'll be a 3-3 somewhere but where, and who, more precisely, will get the hat-trick? I remember in Fergie's last ever Manchester United game they drew 5-5 at West Brom where Romelu Lukaku scored 3 I think*
(*For the kids, he was at West Brom at the time so that probably answers your question and you can put your hands back down now thank you).
Basically, I'm to assume you have somewhere between 4-6 Manchester City and Liverpool players and we're going to skim over these as I'm sick of hearing myself talk about them and I can only imagine you are fed up reading about them too.
But for what it's worth, I have: Trent Alexander-Arnold MBE, Mohamed Salah, Sadio Mane, Aymeric Laporte and Sergio Aguero with no plans of changing any unless injuries occur. Make of that what you will.
[2200hrs Monday edit]
Kompany has just scored a goal of the season contender with his first goal from outside the box since school to take Manchester City a step closer to the league.
[2200hrs Tuesday edit]
Liverpool have just overturned a 3-0 first leg deficit to knock out Barcelona 4-3.
(2200hrs Wednesday edit)
Spurs have just overturned a 3-0 deficit to knock out Ajax and set up an all English Champions League Final.
OK, so now you expect me now to predict anything….?
4, 8, 17, 31, 44, 45 – those are this Saturday's lottery numbers and I bet I know which predictions I'll be closer to!
Excuse the lack of the usual detail but here's a few of players in each position who might/might not go off like a rocket on Sunday….
Goalkeepers
David de Gea (home to Cardiff City)
Kasper Schmeichel (home to Chelsea)
Lukasz Fabianski (away to Watford)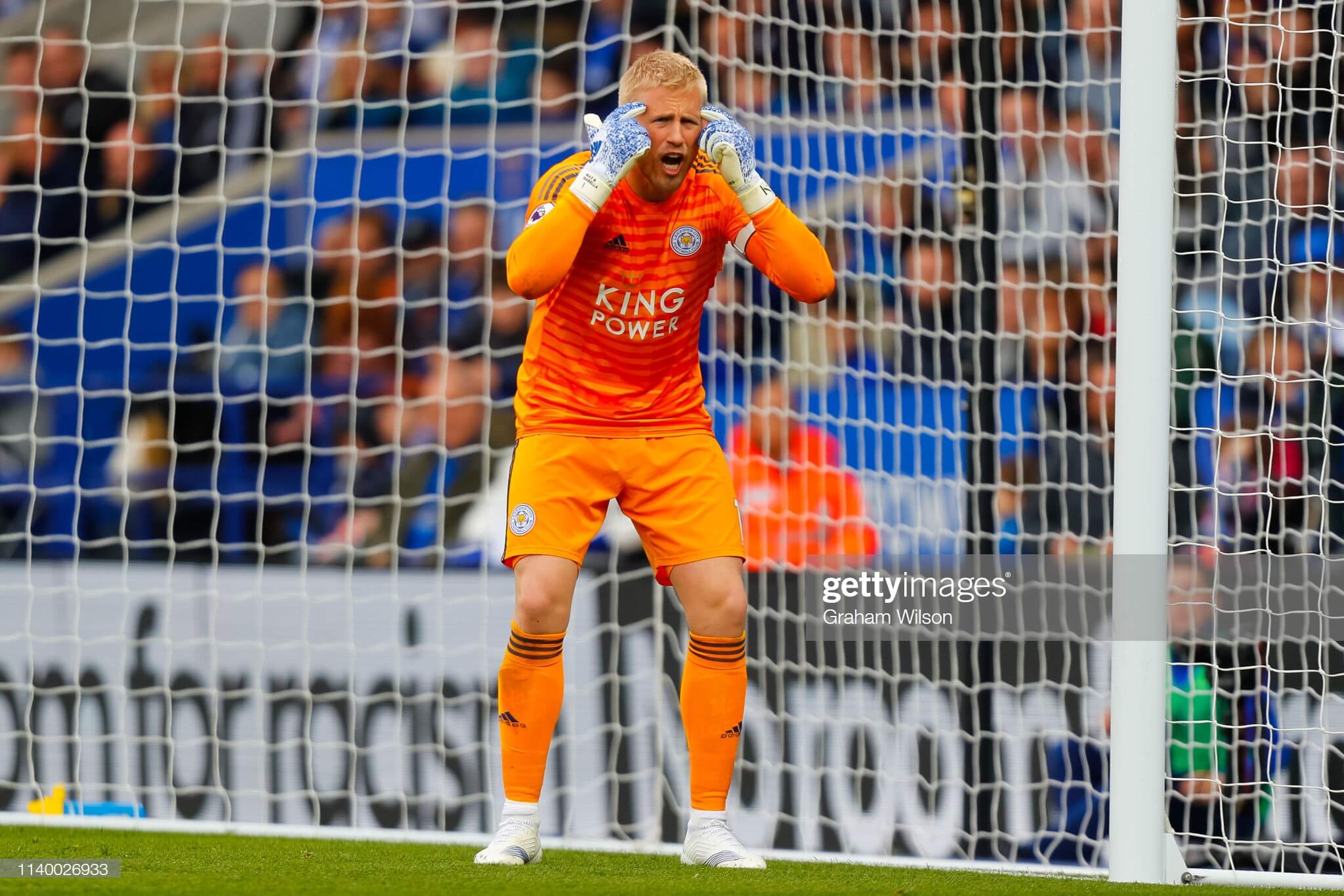 The goalkeeper pool is a bit of a 'throw three darts at the board' game. Is there anyone out there seriously considering using their last free transfer on a man between the sticks I ask myself. If so, then I suppose I need to look at who I think might get a clean sheet seeing as you can't predict penalties (well you can if it's against Palace's Zaha, but then Milivojevic always scores them anyway) so therefore I fancy United and David de Gea to keep Cardiff out as they have only scored 11 away goals this season – a league low for the season.
Now assuming Chelsea take care of Eintracht Frankfurt on Thursday and with Champions League qualification via the league assured, I think Chelsea will take it easy on the final day. Leicester and Kasper Schmeichel appeared largely well assured in defence on Monday for the most part and it wouldn't surprise me at all if they finally got the clean sheet they deserve in this one.
I see Lukasz Fabianksi of West Ham in with a decent chance of clean sheet on the final day as the Hammers travel to Watford who will be wrapped in cotton wool ahead of the FA Cup final. Pellegrini's charges last away trip was a first ever away league win at the new Tottenham Hotspur Stadium (1-0) and they followed that up with another clean sheet in the 3-0 stroll against Southampton. Three in a row?
Defenders
Lucas Digne (away to Tottenham Hotspur)
Ryan Fredericks (away to Watford)
Fabian Schar (away to Fulham)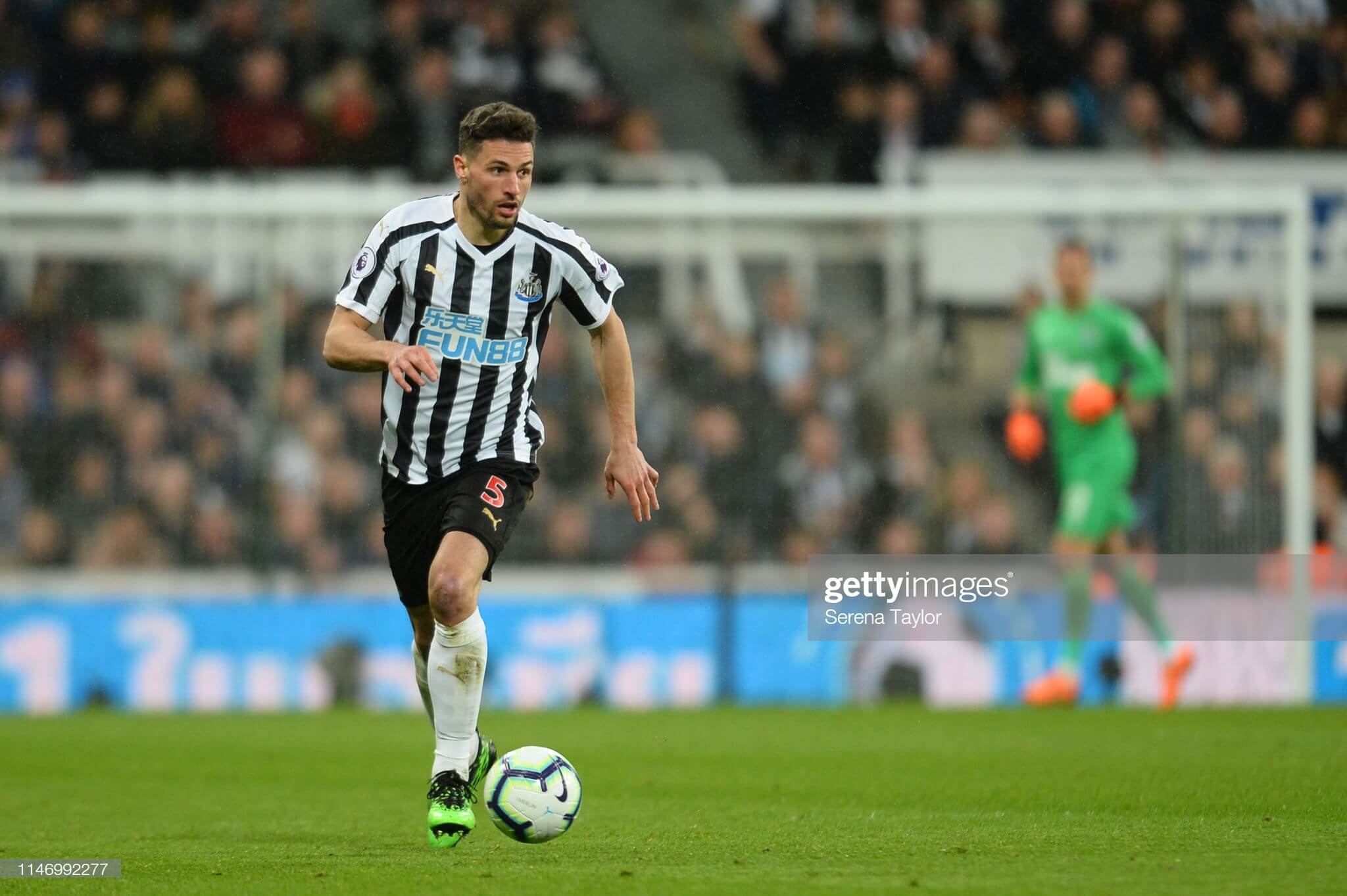 Lucas Digne, the Everton left back, is having one this season. He is in his debut season and already had four goals and five assists including an astounding run of recent form dating back to GW 28 where he has scored 5, 7, 4, 6, 6, 8, 1, 14, 8, 12. Wow. The ex-Barcelona player is playing as much as a left winger in Silva's Everton system and his crossing is lethal at times and we've also seen his ability from free kicks. Spurs have lost three of the last four in the league and so the Toffees cannot be ruled out of winning here and securing eighth place. The Frenchman is one for next season's shortlist surely.
Ryan Fredericks was interviewed after his side's win over Southampton where he scored his first West Ham goal and he said refreshingly that he hopes he is doing enough to convince his manager to have faith in him next season. Gary Lineker picked up on this on Match of the Day and I agree. Anyway, as I say, West Ham go to Watford and I think they will win. 0.2% ownership and who says goals aren't like buses and two can't come along at once? You could look to the £4.5mln right back as a last day fling.
Finally, Fabian Schar has impressed me on multiple viewings this season. What's also impressed me is the fact he was a bank manager before he became a footballer and he's already from a defender's position got three goals in the vault this season. Away to Fulham on the final day for the Geordies is one where you could see their back three soaking it all up and keeping out the Whites. As mentioned, it's last day so don't blame me if this tip isn't exactly money in the . . . . . . (too easy).
Midfielders
Nathan Redmond (home to Huddersfield Town) James Maddison (home to Chelsea)
Ryan Fraser (away to Crystal Palace)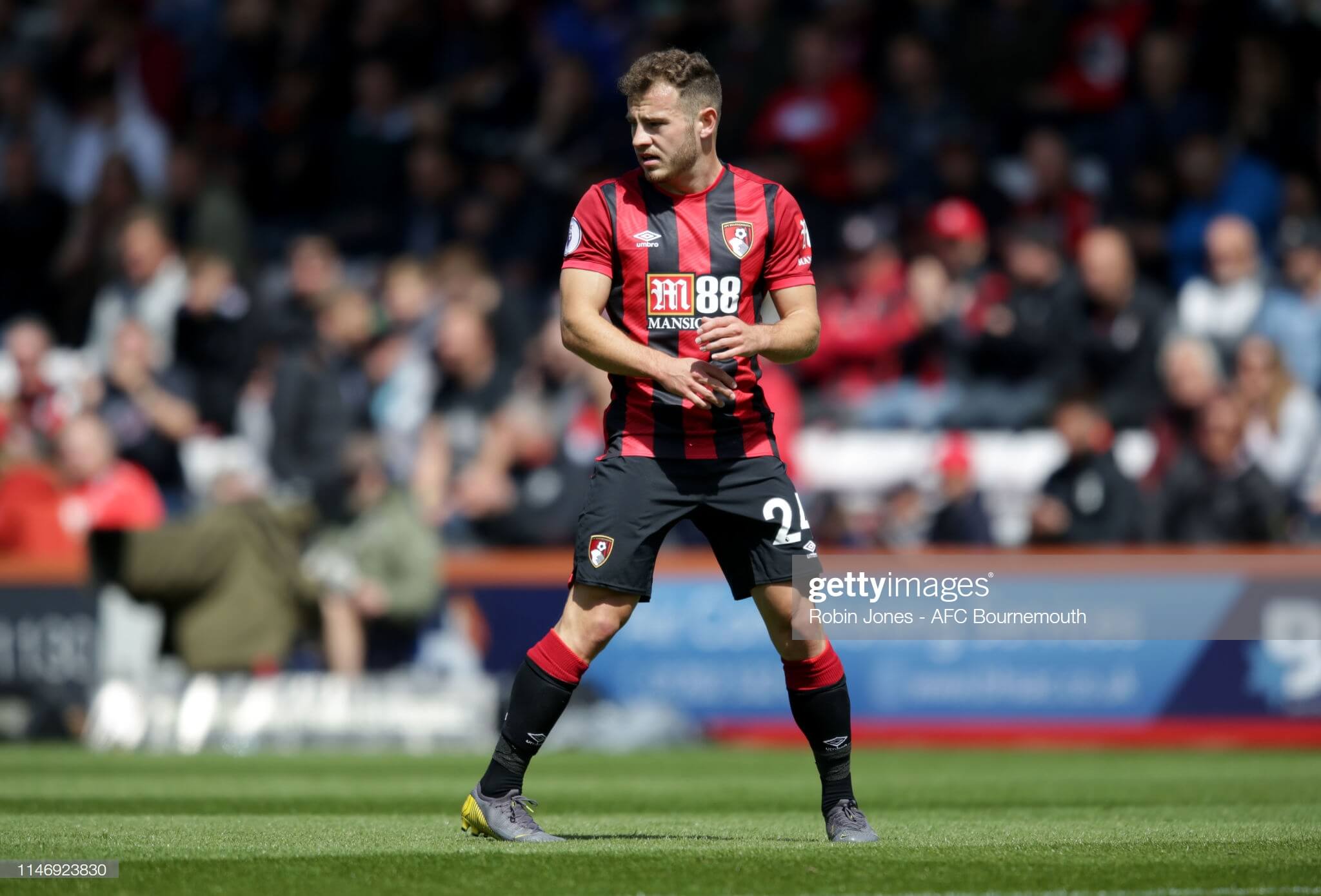 Like everyone else I have checked every week where Huddersfield are going to see if I have cover from their opponents. This week it's Southampton away and I'm planning on playing my 'fifth' midfielder instead of my fourth (Hojbjerg instead of Richarlison – the Brazilian a potential injury doubt I give you but nonetheless). However, my tip is probably the more attacking Nathan Redmond. He's already one point ahead of his best tally in terms of FPL points on 127 and this has been made up of equal number of goals and assists (5) and although he has never been Mr Consistency, he is the most attacking outlet from midfield in this Saints team. For £5.5mln as well he is one of the best downgrades for those offloading Son and spending money elsewhere.
James Maddison has had a very good debut season in the Premier League and is a mainstay in this current Leicester side. Seven goals and seven assists with 12 bonus points with only that red card earlier in the season thr only blemish on his record. I fancy Leicester will get a positive result on the final day. The midfielder begun the season at £6.5mln and raised as high as £7.0mln and I'm very interested to see where he's pitched next season. This one feels a bit 'punty' but with corners and set plays sometimes finding his feet, there surely have been worse ideas. Back at £6.6mln now he is another potential Son replacement.
Ryan Fraser is on the verge of a move to bigger and better things apparently and could be playing his final game for the Cherries this Sunday. The Aberdonian finds himself the fifth highest scoring midfielder heading in to the final gameweek ahead of such luminaries as Pogba, Son, Sigurdsson, Sane and Eriksen. Perhaps you can see therefore why there is rumoured Arsenal interest in him. Anything can and probably will happen in Bournemouth's last match against Crystal Palace at Selhurst Park and who's to say that there won't be a repeat of Bournemouth's superb attacking display as shown in their wins at Huddersfield (0-2), Fulham (0-3), Watford (0-4) and Brighton (0-5)? In a game where a team set up to play better away from home meets a side usually also better away, I expect goals on both sides and could see Fraser adding to his tallies of goals (7) and/or assists (14). Fourteen assists everyone – only Hazard can better that and by only the one more. *clap*
Strikers
Ayoze Perez/Salomon Rondon (away to Fulham)
Wilfried Zaha (home to Bournemouth)
Marko Arnautovic (away to Watford)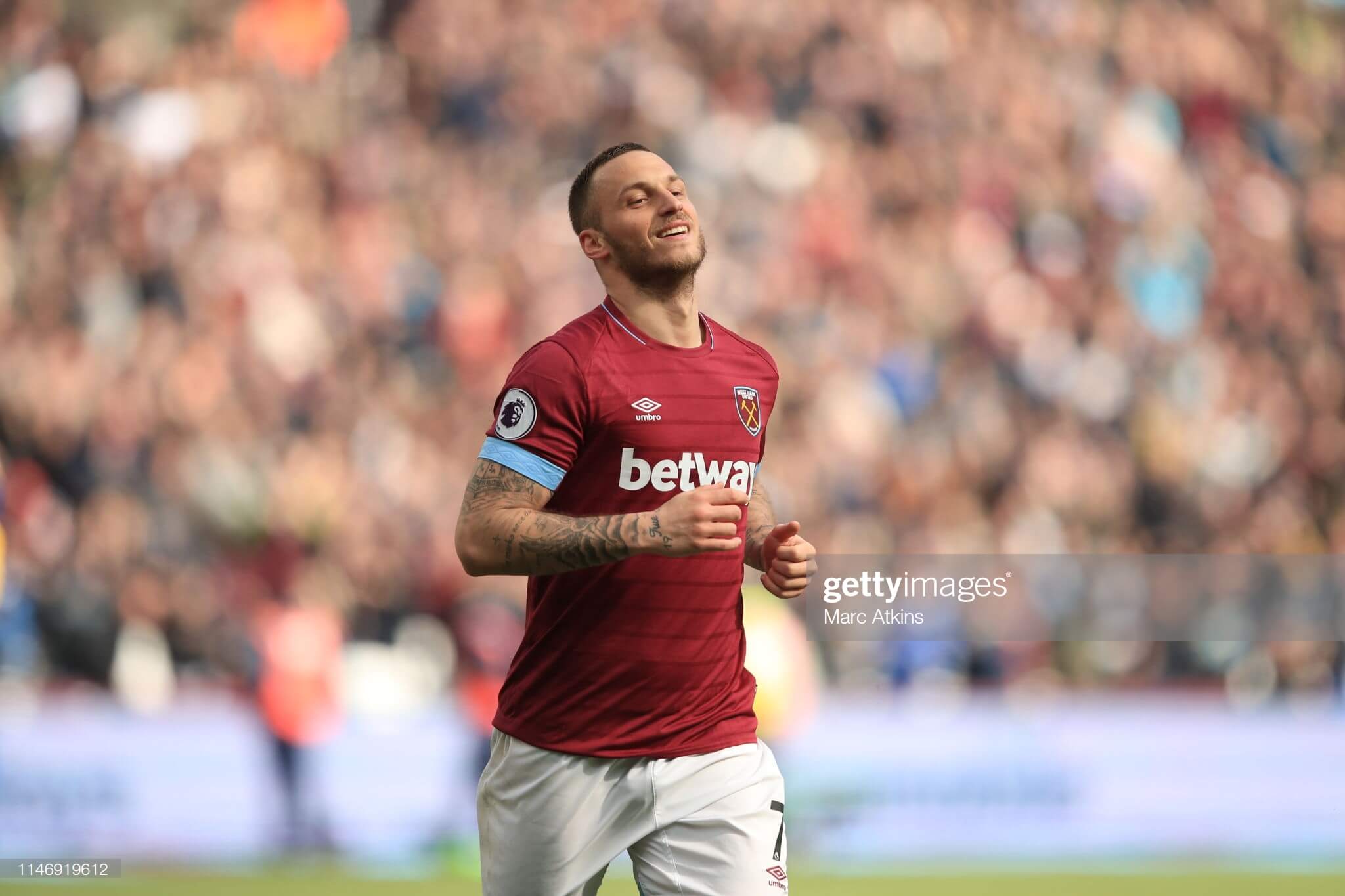 Ayoze Perez and Salomon Rondon come as a pair in this week's Tips as Newcastle round the season off by the Thames. I thought Rondon lead the line superbly against Liverpool where he was rewarded with a goal bringing up his tally to ten for the season, just one behind his strike partner Perez. Being the foil for others in the team can be seen with his eight assists and I think that if you are after one, then I'd side with the Venezuelan however it's the potential of the splurge of a two or three goal display by Ayoze – like his hat trick against Brighton –  which makes you think he could be a great last day punt especially where there's a mini league on the line.
Wilfried Zaha and the last day hold great memories for me. I brought him in on the last day last year and he instantly rewarded me with a goal and an assist and bonus points too if I recall correctly in the Eagles 2-0 win over West Brom. This helped me to my greatest ever finish and luckily this year I already own him and have done for a few weeks. Taking sentiment out of it, I would advise you could get him based on two goals in his last three and a home game against Bournemouth who have a tendency sometimes to let in threes fours and fives at a time.
Marko Arnautovic has scored well in recent seasons on the final day. He scored and assisted last season against Everton with his current employers. Going back to May 2015, the Austrian posted a hat-trick of assists in Stoke's 6-1 thrashing of Liverpool in a game where Stoke were up 5-0 at half time. Crazy times. Again, I don't expect Watford to be 100% focused on this final league game as they have bigger fish to fry at Wembley so this is the transfer I have my eye on. It could be a gut feeling, in fact it IS a gut feeling, but I definitely can see Arnie getting some FPL points here and I'll put my money where my mouth is. Oh yeah, he scored two last time out against Southampton so knows where the net is right now and I'm backing him to score in consecutive games for only the second time in the league this season. Load up!
Summary
My time here is done, for this season at least and I wish you all the luck in the world for the final day, that you all win your mini leagues, achieve your highest ever rank or at least achieve your adjusted targets.
Great to speak to you all again this season – I'll be about all summer in preparation for FPL 2019/20.
I'm now off to unearth the Sheffield United 'gem' I always knew about and in doing so, pretend all over again that I know what I'm talking about next season!
Thanks for reading Fantasy Football Tips Gameweek 38. This article was written by GP.
FPL FIXTURE TRACKER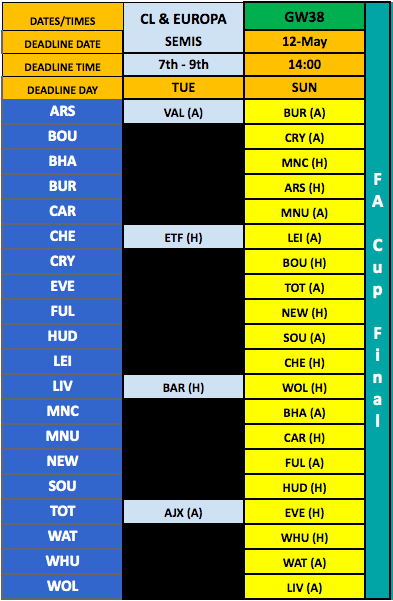 FIXTURE TRACKER LINK
Welcome to our Fantasy Football leagues section.
The League Codes for FF247 for the 2018/19 season are as follows –