Fantasy Football Tips 'One Week Wonders' Gameweek 38+
It's certainly been a strange season dominated by the worst kind of virus. But they had to win the league in the end I suppose.
We arrive in GW38+ after what can only be described as a frenzied plethora of nine game-weeks in just five-and-a-half calendar weeks that has left most of us completely exhausted, not least many of the players. With one last game-week to go you may be in a situation where a mini-league is still up for grabs or you're chasing one last jump up the rankings, maybe you're trying to avoid your worst ever season – or perhaps you still have one of your Chips left to play.
Whatever your situation, I have come up with a list of players who I think may do well for you in GW38+. I've even tried to play Pep roulette to the best of my ability and with the information I have at hand. I've taken into account next week's FA Cup Final and what that may mean for Arsenal and Chelsea and as a result I haven't included either of those team's players.
To conclude I have compiled a 'Rogue's Gallery' for those FPL managers who are looking for a complete left-field pick or a rogue pick. Hence the title.
KEEPERS

One keeper stands head and shoulders above the rest this term and that is
Nick Pope
. The Burnley stopper heads the keeper charts with 169 points, has kept the most clean sheets this season and is just one more shut-out away from winning the Golden Glove. Pope is also the most-owned keeper in the game with a 22% ownership. With Burnley at home to a (literally) on-the-beach Brighton side, it would take a brave punter to ignore Pope.
If you're after a budget option then pick up Arsenal's Emiliano Martinez who will cost you just 4.4mln and comes up against the hapless Watford. Arsenal have tightened up of late as they showed in the weekend Cup win over City and at that bargain basement price you can't really go wrong against a Watford team who have scored just once in their last five away matches.
DEFENDERS

Since clinching their first league title in more years than many of you have been alive for, it's fair to say that Liverpool have not been at their sharpest. A home draw with Burnley was followed by a loss at Arsenal, and even Brighton scored against them. So why you may ask, am I picking a Liverpool defender for GW38+? Fair question and maybe I'm wrong. But
Andrew Robertson
has delivered either a goal or an assist in each of the last three matches and comes up this week against an injury-ravaged Newcastle team who are frankly there for the taking. Klopp will of course want his team to end the season with a victory and Robertson looks to have a good chance to not only pick up a clean sheet but also add to his impressive tally of 10 assists this season. His recent stats far outweigh those of TAA and he comes in much cheaper at 7.0mln
Serge Aurier has had a tough time of late away from the game but that hasn't stopped the defender from turning out for Spurs, much to the surprise of many and to the relief of his owners. Aurier and Spurs come up against a Palace team in GW38+ who have failed to score in six of their last seven games and have lost all of those seven matches. With seven assists already this season, Aurier has been a constant threat down Spurs' right flank and with PVA out injured the opportunity will be there on Sunday for Aurier to attack at will. Priced at just 5.1mln, he's great value, in decent form, with a tasty fixture and has returned either a clean sheet, goal or assist in nine of his last thirteen starts.
My cheap option is Erik Pieters of Burnley. Not only will Pieters be trying to help Pope to the Golden Glove, but also he'll be looking to add to last week's assist which was his 4th of the season. Not earth shattering, but bear in mind that Pieters hasn't featured in 15 matches this campaign and only played 'bit-part' roles in 5 others. Playing at home to Brighton, the defender will have licence to attack down the left and don't be surprised to see him ping in some decent crosses for Chris Wood to get on the end of. It's also worth bearing in mind that Brighton failed to score vs an injury ravaged Newcastle defence in the week so a clean sheet looks a decent expectation.
MIDFIELDERS

With an ownership of over 33%
Mo Salah
is definitely not a differential. But this is not a differentials article per se. In the write-up for Robertson above, I have listed the appeal of Liverpool's fixture this week. Toon have no less than seven defenders unavailable for the game, trust me this fixture should be one-way traffic and whether or not Salah still holds Golden Boot ambitions, he still won't be passing to Sadio Mane. Shoot on site is his mantra – if you don't own him already and apparently 6.5 out of 10 of you don't, then it's probably not the worst idea to see if you can muscle him in for this week alone.
Seemingly outdone by Harry Kane of late, Heung-Min Son has still notched 11 goals and 13 assists already this term despite missing eight matches and has either scored or assisted in five of his last six starts. Having just dispatched Champions League chasing Leicester last week, Spurs will be pumped for a final day showdown vs a Palace side who cannot buy a win and are losing defenders by the game.
If City, Liverpool and Spurs are too mainstream for you and you need that little bit of X-Factor in your team, the sort of in-form(ish) midfielder that may just be flying under the radar this week who has the potential to 'go big' and the fixture to do so, then Richarlison could well be you man.
Everton's form has been woeful of late but the Brazilian midfielder has still scored three goals since the restart and 13 goals in total this season. The Toffees host Bournemouth this weekend with the Cherries needing nothing short of a convincing win if they are to have any chance of avoiding the drop. Eddie Howe's men will have to 'go for it' at Goodison and will leave gaps at the back as they risk all for survival. Richarlison's pace and skill should be too much for a defence that has kept just one clean sheet in their last 21 matches. Priced at 8.2mln, owned by less than 9% of total managers and with no threat of rotation I think I may have just found you a gem.
FORWARDS

Let's move on to the forwards now and my favourite selection this week is
Harry Kane
. Kane's total ownership (11.5%) remains less than Abraham, Aguero and Pukki and he remains a differential as a lot of managers will not be willing or able to raise the funds for him this week. I don't need to waffle on about the quality, or lack thereof, of the opposition Spurs face this week. I've already done that. Twice. Kane has scored a brace in each of his last two matches against teams with threadbare defences (Newcastle and Leicester). Palace themselves have a threadbare defence with no Cahill, Tomkins, PVA or Sakho and have lost their last seven matches. It doesn't take a lot of working out does it? As someone once said, 'Sometimes the answer is so obvious you can't see it because you're looking too hard.'
It's hard to ignore Danny Ings right now and the English striker goes into GW38+ just two goals behind Vardy in the race for the Golden Boot. A home fixture vs Sheffield United wouldn't have looked that appetising a few weeks ago but Wilder's men have not won on the road since GW25 and have conceded 9 goals in their past four travels. Ings has 21 goals this season, by far and away his best ever in the top flight and five in his last six matches. He's probably still nicked penalties in an attempt to catch Vardy, just pray if he gets one that he does better than he did last week!
My final pick this week is Chris Wood. Never did I think I'd tip a Burnley striker but as we said at the start, it's been a funny ol' season! Wood has actually scored 13 goals this season, his best yet in the Premier League and will be looking to round off his impressive season in style at home to Brighton. The Seagulls can be Jekyll or Hyde on the road – they've kept clean sheets at Wolves and Leicester and yet conceded three at West Ham and Bournemouth. Having returned from injury, Wood has scored in his last two matches and priced at just 6.2mln and with an ownership of just 2% I have no hesitation in recommending him this week.
Pep roulette

Everyone loves a spin of the wheel but in this case the odds are higher than normal as there ain't no coming back from getting this wrong.
A fixture vs Norwich right now is about as good as it gets. Just ask Michail Antonio. For a City side that is primed with goal scorers all across the pitch there is every chance this gets messy. Like possibly double figures messy if City can be arsed. But who will play? Aha now there is the conundrum. If we are to believe Pep at his word when he said before the Watford win that he'll try and 'play everyone' in the final two matches, then let's look at the information we have before us.
Ederson, Garcia, Cancelo, Rodri, KdB, Foden, Jesus and Bernardo all played 90mins vs Watford.
Sterling and Walker played 64mins and were replaced by Mahrez and Zinchenko, while Laporte played 74mins before being replaced by Stones.
Carson, Fernandinho, Gundogan, Mendy, Otamendi and David Silva were unused substitutes.
Now I'm not going to sit here and try and name City's starting XI but what I will do is try and use logic to the above.
Hand on my heart I am very confident that Ederson, David Silva, Mahrez, Fernandinho and Gundogan will all start vs Norwich.
I am fairly confident that Sterling, Walker and Otamendi start.
I am not at all confident that Garcia, Cancelo, Rodri, KdB, Foden, Jesus and Bernardo start. Caveat here is that KdB is two assists shy of Thierry Henry's record so that may see him start. It's 50/50 for me that one.
Given what we know and what my tiny brain has deduced I sit here and am happy to confidently recommend four City players ahead of the visit of Norwich:
Ederson is an easy pick in goal, but of course many will want to max out on their triple City contingent with outfield players with a cricket score expected vs the Canaries. But if you do have a spare 6.0mln in the coffers and need a third City, then grab yourself an Ederson and enjoy the (almost) guaranteed six points.
David Silva is leaving City at the end of this season and while he may yet have a part to play in their Champions League campaign, it's also worth noting that Silva has not been a regular fixture in Europe this season. So a final league match at the Etihad beckons at the weekend and with Norwich laying down and ready to be right royally thrashed expect the Spaniard to be teed up by his team mates at every possible opportunity. With scores of 13 and 17 in the last two home matches, Silva can go big and quite probably will. For a City player he's cheap (7.3mln), he's guaranteed to play and if Michail Antonio can score four past Norwich, I dread to think what Silva could do. Oh and if I've not yet sold you the idea, then feast your eyes on his ownership……less than 7%.
Having only played half hour at Watford, expect Riyad Mahrez to start the game on Sunday and he could have a field day. With 10 goals and 13 assists already to his name this season the Algerian has been a regular contributor of points throughout the campaign with no less than six double-digit returns to his name. Mahrez is relatively cheap for a prolific scorer coming in at just 8.6mln and with an ownership of just 10.5% he's differential enough for me.
When Raheem Sterling declared he still had Golden Boot ambitions after his hat-trick vs Brighton it appears none of us took him seriously enough. Two more goals at Watford on Tuesday evening has taken him within four of Jamie Vardy. Now four goals vs Norwich is surely too much to expect anyone to achieve, isn't it…. ?!
Rogue's Gallery

Are you on the hunt for one last differential to try and haul back that mini league leader or one last jump up the rankings? I've tried to find a handful of players who may be worth a punt, some more convincing than others, but God loves a trier.
Here are five potential players who may just be worth a shot:
Lucas Moura – away vs Crystal 'No Defenders' Palace – 9.2mln, total ownership 2.3%
Fresh off two assists vs Leicester and now up against the team bottom of the form table. Can't afford Son or Kane? Get Moura.
Junior Stanislas – away vs Enigmatic Everton – 5.8mln, total ownership 0.1%!!!
Bournemouth have to win and they have to attack. There should be goals at both ends and remember the catalyst of that second half performance vs Leicester? Yeah, 10-pointer Junior. He'd also just scored vs Man Utd. Need a cheap Foden replacement? Get Junior.
Trézéguet – away vs West Ham – 5.2mln, total ownership 1.2%
My oh my this is rogue but this is the guy who may just deliver the goods to keep Villa in the top flight. His goal vs Arsenal in midweek followed a brace vs Palace. 'Always back the team with something to play for' is a wise old FPL saying and boy Villa are fighting for their lives. With six goals already this season the bloke clearly has it in him… but can he do it on a Sunday afternoon in East London? Course he can. Get Tréz (or Mahmoud Ahmed Ibrahim Hassan as you'll find him on FPL).
Michail Antonio – home vs Aston Villa – 7.1mln, total ownership 4.2%
Ownership remains ridiculously low despite his one man destruction of Norwich and goal vs Watford. This is a pure momentum play for someone with form and fixture. He beats on weak teams and Villa fit that bill. You've seen what he can do, 8 goals in his last six. Get Micky.
Firmino – away vs Newcastle – 9.3mln, total ownership 10.1%
Don't fret about that ownership, only dead teams still have Firmino. He only scores away from home and his team mates will be eager for him to score (well most of them, here's looking at you Mo) before he completely forgets where the goal is, or what he's meant to do if he gets near it. Can't afford Mo or Sadio? Get Bobby.
Good luck in GW38+. We at FF247 sincerely hope that you achieve your goals this week, whether that be mini league or rank or in some cases, just remembering the deadline!
On a personal note, thank you for your commitment to FF247 this season – without you the site is nothing. We pride ourselves not on being the biggest, but being the friendliest community and that is borne out by the help that is offered to all who ask for it and the reciprocation that follows.
Enjoy the short break and see you again next season!
Cookie
Thanks for reading Fantasy Football Tips 'One Week Wonders' Gameweek 38+. this article was written by Cookie.
The games in full…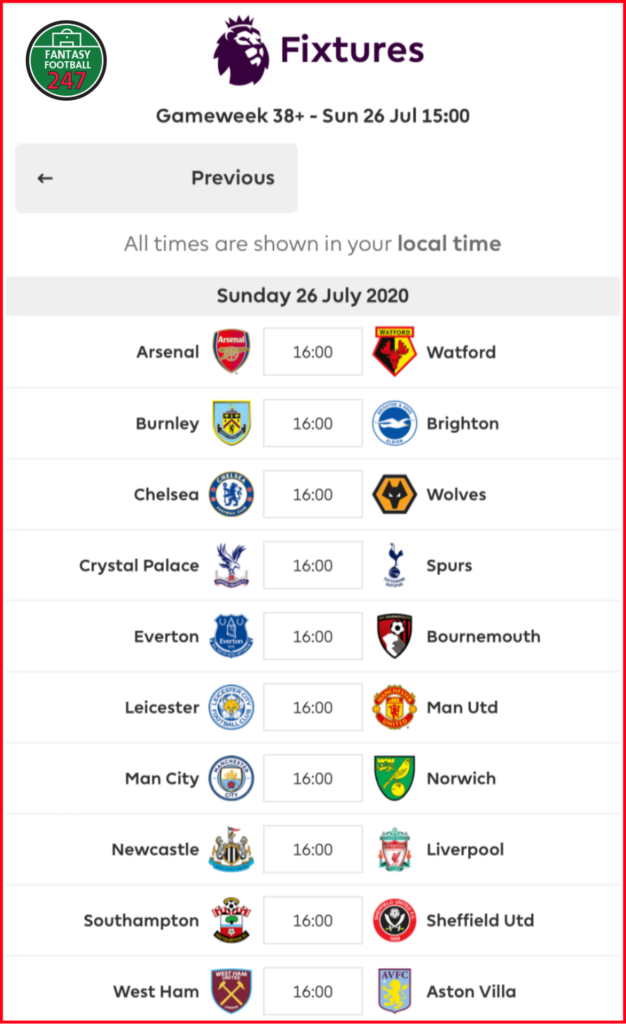 CAPTAIN POLL GW38+
FPL FIXTURE TRACKER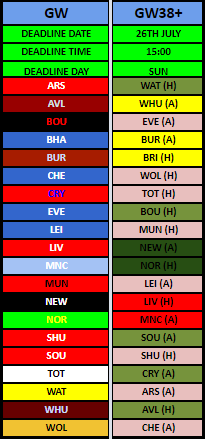 FIXTURE TRACKER LINK
Fantasy Football 247 League Codes: