FF247 Fantasy Football Site Team GW38
Welcome to the FF247 Fantasy Football Site Team GW38. DGW37 was ok, certainly not spectacular. We played our TC on Kane and we all know how that went. OK. We scored 81 in total, net 72, the average was 67 and we saw a red arrow which was a shame. We now stand at 88,040 – our decent run looks over as we head into GW38. Frankly, the end of the season cannot come quick enough for our tired looking team. There were a few other 'ok's' in our side – clean sheets from DDG, Dunk and Chambers, a rare goal from Mahrez and a solitary assist from Son. Definitely not 'ok' were Morgan, Sterling, Kenedy, Gündogan and Jesus.
It wasn't the week we hoped for, maybe we were spoiled by last season's mammoth DGW scores. Let's move on, this is depressing me just writing this…..
Last Week's Result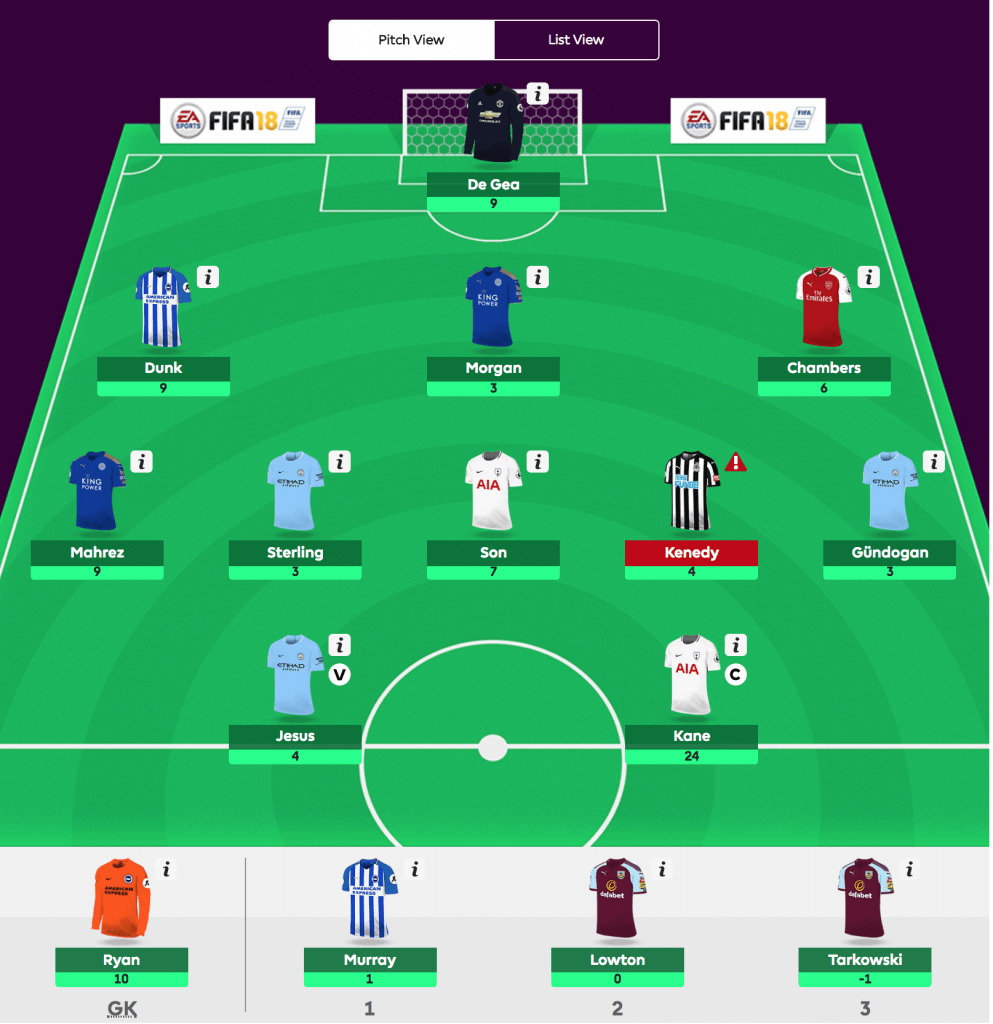 Let's go and see what we have decided to do this week…
This Weeks Transfers – we have sold Mahrez & Kenedy and bought Salah and Milivojevic
We've done the unthinkable – we've only gone and taken a hit for the last game-week of the season. With Kenedy unavailable to play vs parent club Chelsea and Murray and Brighton not renowned for their scoring on the road we decided to not only get Salah back but also draft in Palace's Milivojevic. Obviously it would help if Mili stopped given Benteke penalty duties! Salah's return was inevitable and we had planned for it – with the Egyptian look to break a record or two at home to Brighton we trust that the hit is worth it. Hmmm!!
The Team In Full…
Captain – Salah
Salah was the unanimous choice as Captain for this week. Having gone two matches without a goal, the league's top scorer will be depserate to sign off his great season in style in front of the home faithful. With Brighton safe, we feel it's only right that Duffy and Dunk roll over and allow Salah to do his thing one more time.
If for some reason Salah doesn't appear, then Kane is our vice captain.
If you wish to follow the teams progress more closely you can do so by clicking here.
Thanks for reading FF247 Fantasy Football Site Team GW38
Gameweek Tracker GW38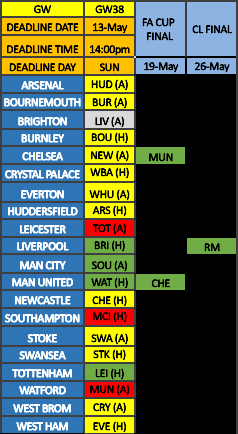 INTRODUCING FANTASY TOTE…
Our new partner has a few words to explain their wonderfully simple to play daily fantasy game. Please do them and us a favour by clicking on the banner link below, have a browse and give their game a try. Over to them…
Fantasy Tote is the next evolution in Fantasy Football. Play daily & weekly games to win real cash prizes.
There are no budget restrictions like in FPL so it's open season on the big players and makes it easy and quick to play. But can you pick the right team to win big?