FF247 FPL Team GW26
Welcome to FF247 FPL Team GW26
A Wildcard Waltz and a Bench Boost Beckoning
Anyway, part one of the plan worked! We wildcarded last week and scored 82 points – a very respectable 32 points above the weekly average and a climb to 616,720 overall.
The reason we wildcarded was so that we were in a position to absolutely hammer the upcoming DGW26 with as many players with two games as possible. We go with 14 of the 15 which we're delighted with but more on that later.
The Premier League confirmed the DGW26 fixtures ONE MINUTE PAST THE GW25 deadline (yeah great, thanks etc / insert own expletive) – effectively meaning that you couldn't technically guarantee a Wildcard/Bench Boost combo across these two weeks would work.
Yeah we took a bit of a risk but 'fortune favours' and all that!
The past week was a poor one from McCarthy in goal, and Ilkay Gundogan in midfield – only one of those was a real surprise, and you don't need to be a mastermind to establish which. The wet blanket that is Tottenham Hotspur contrived again to fluff it at West Ham and the usually lethal duo of Harry Kane and Heung-min Son returned just four points between them, as yet more mis-stepping by Spurs has them tumbling towards the bottom half of the table.
On to the more positive and everyone else was awesome really. Double digits from Barnes, Bruno and the Leeds double of Bamphinha combined with a rock solid defence consisting of Digne, Dias and Cancelo meant we are extremely pleased with a rise of almost 110,000 places and a third consecutive green arrow. In fact that's 9 green arrows in 10 now.
Easy this FPL lark.
Our GW25 Result…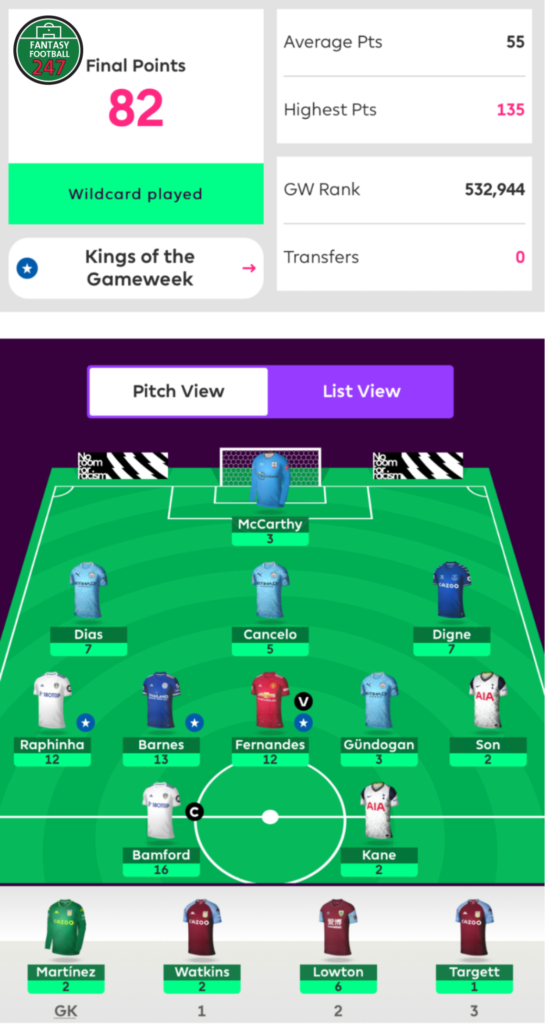 Now, looking back at our wildcard selections, we view that with enough forward-planning, joined-up thinking and no particular animosity in selections (see; "boring") we see what past 'us' has left for present 'us' to use, and now come to decide what future 'us' will have to say next week about what past 'us' was thinking.
In other, simpler terms, let's go see what was decided.
Our GW26 Transfer(s)
In discussions about transfers it was noted that we only really had two Leeds players on single gameweeks and unanimously everyone agreed that Raphinha wouldn't be sold and if we did, quite correctly, "we'd want him back soon enough". Raphinha stays.
Bamford then was under the microscope. That sounds harsh but DGWs are DGWs and although we don't hate the Leeds man; the return of Dominic Calvert-Lewin, the impressive way Everton dealt with Liverpool, the Toffees matches in the double being against Southampton and West Brom and the fact we could do it for free meant that this was a big favourite for us. Dominic Calvert Lewin is in!
That left us with only McCarthy with a single gameweek and to be honest, he and Southampton haven't been doing it lately (putting it mildly), so we thought about a DGW goalkeeper and all we could afford was either Sam Johnstone of West Brom or Alphonse Areola of Fulham.
We picked the Frenchman due to him having many more points so far, the fixtures in the DGW for both were a bit muchy muchy.
The -4 for this will hopefully cancel out if it is only two 2-pointers but we are optimistic. Afterwards he becomes a cheap option on our bench as we most likely revert back to Martinez with no harm done. Areola nips in for a -4.
To confirm then we have SOLD PATRICK BAMFORD AND ALEX McCARTHY and BOUGHT DOMINIC CALVERT-LEWIN AND ALPHONSE AREOLA
***BENCH BOOST IS ACTIVE***
Captain – HARRY KANE
This wasn't straightforward at all. The first three votes were for Harry, Bruno and Lucas (Digne. Yep. Guess by who!).
The fourth and fifth votes went to Harry so that's that decided. If things go wrong, new signing Dominic Calvert-Lewin carries the vice.
Our GW26 team in full…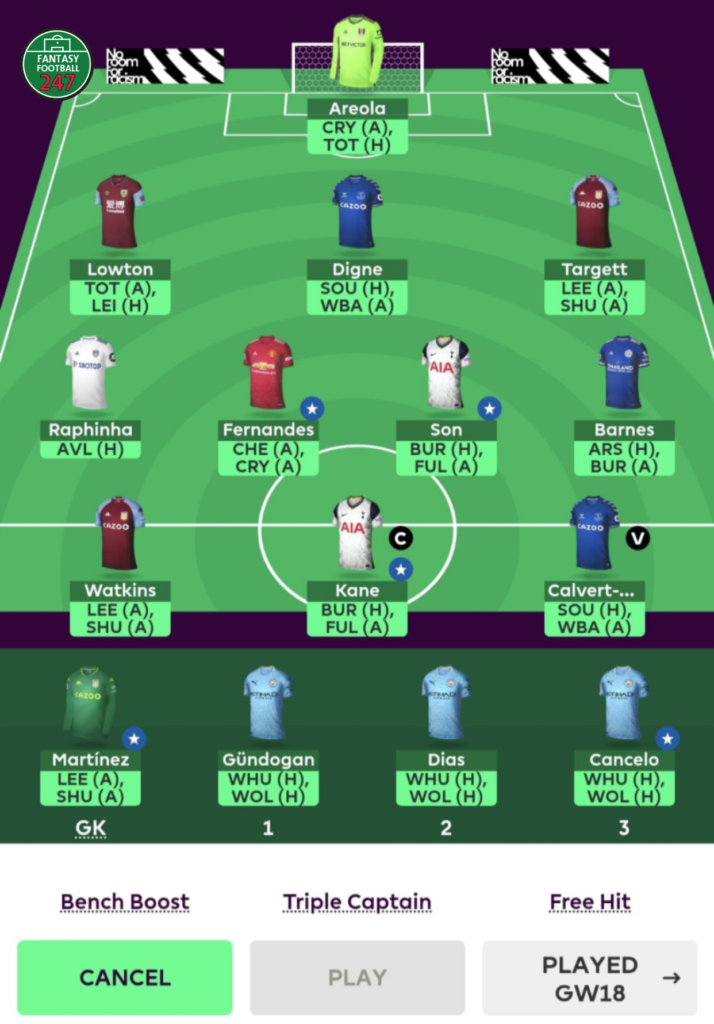 Should you wish to follow the FF247 Site Team's progress you can do so here.
Thanks for reading FF247 FPL Team GW26
VOTE ON THIS WEEK'S CAPTAIN POLL GW26
FPL FIXTURE TRACKER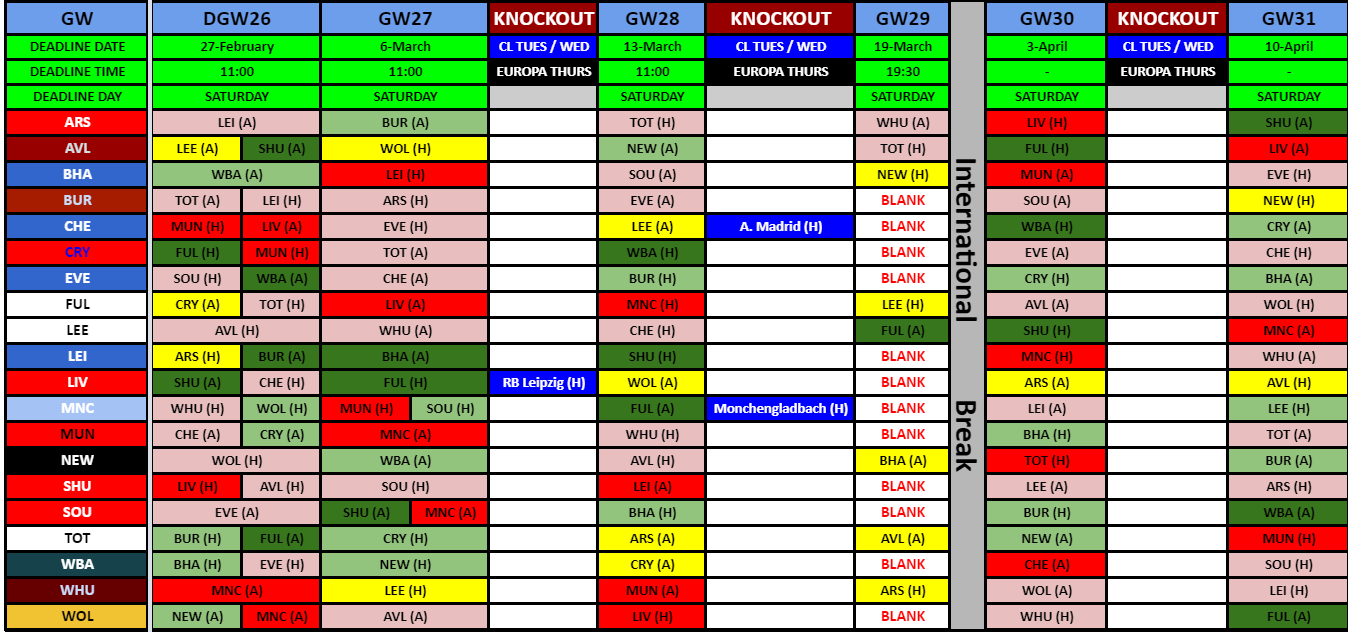 FIXTURE TRACKER LINK