FPL Captain Picks Gameweek 18
Welcome to FPL Captain Picks Gameweek 18
Technically Speaking…
We usually begin with a round-up of how our writers fared last time out, with a bit of head-to-head 'banter' in mind, but given that 'last time out' was actually GW12, because of Christmas etc, that would probably just be silly and chirlish.
So, here's how they got on then…
3rd. Jamesimmo – Salah vs Fulham (A). A goal and a bonus was enough to give James and Salah 16 Captain points. Technically this was 2nd, but we oft ignore such details, so last it was.
2nd. Horse – Vardy vs Brighton (H). A bumper haul of a goal, 2 assists and a bonus saw them home on 26. Technically Horse won, but we oft ignore such minor details…
1st!!! Mito – K(ane) & S(on). Anyone remember the birth of Mito's quasi estate agents / lawyers firm K&S? Mito went dirty with his tactics. By picking two players. Technically it's cheating but as his mantra has always been 'if you ain't cheating, you ain't trying' then technically speaking K&S won with a combined 28 points!
Let's go see how this week's writers fare…
Rosco – KdB vs Brighton (H)
Christmas may be over, but as an FPL asset, KdB is the gift that keeps on giving. Whilst his team-mates were out dancing in their clown shoes and picking up who knows what from who knows who over the festivities, Kevin was left home alone. Literally. A cancelled game meant his frustrated owners had to wait until the weekend to see a return on their investment, and boy did he deliver. We used to dream of the day Kevin would be 'on penalties' and then he was. 'He's playing too deep' moaned the masses, so Pep went and put him upfront. Magic. He adapted well, you could have guessed he would, he's some player is our Kevin.
I asked Horse how much he had written on Bruno, 'it's going to be a fairly long one' he replied, apparently convinced Bruno is a harder sell this week than KDB. 'No bother, I'll fill mine out a bit' I replied. Well, the plan was to jump into the stats and further push the narrative. One small problem, it turns out Bruno trumps him on just about every stat of note. Bar one. Big chances created across the season – KDB 13 vs Bruno's 10. Whilst KdB has created 45 chances over the season, Bruno has 52. Goals, it's 13 (Bruno), 3 (KDB). He even matches him for assists with 8 apiece. Team stats are fairly even, with similar levels of goal attempts (234 vs 233), whilst United top City for goals scored (37 to 24). This is going well.
How about the opposition? Again, the stats slightly favour the Red Devils man. Burnley have conceded 209 shots, Brighton 150. However Brighton has conceded more (28) than Burnley (20), but then as mentioned above, United have scored more than City (37 to 24). I'm clutching at straws a bit. I was chatting with Smash this morning and he made a very good point, Burnley have only conceded more than one goal once in their last nine games (following the return of defenders Mee and Tarkowski) and that was in the hammering against yup, you guessed it – Manchester City. So there you have it, clear as mud.
So as the new game week arrives looking like the Man City Team Coach (half-empty), I ask you, why would you look elsewhere when it comes to handing out your Captain's armband, other than Mr Dependable? No not Bruno, man alive, I'm not even convincing myself now. Ok, so Bruno has better stats, and yes, he's good away from home, but this is Kevin de Bruyne, likely playing upfront, at home to Brighton. Still not convinced? Flip a coin.
Horse – Bruno vs Burnley (A)
When I was growing up (maaaaany moons ago), Liverpool was the biggest team in England if not in Europe. It's hard to overstate what a dominant force they were. Then along came Fergie's Manchester United who went on to dominate the domestic game for what felt like forever. Fast forward to the present. Three seasons of scintillating football and the Scousers have been top of the Premier League for the third consecutive Christmas. But wait, who is that hot on their heels? Manchester United, with Ole at the wheel.
The short trip to Turf Moor on Tuesday night, may not sound like a big game. However, victory will take Man Utd 3 points clear at the top and they will be so up for it. Unbeaten in the Prem in ten matches, with 8 victories, United are the division's form team. So, who has been the source of United's renaissance? Ladies and gentlemen, let me present Bruno Fernandes. Last season, in 1187 minutes or roughly 14 complete matches he returned 8 goals, 8 assists, 18 bonus, and 117 points. This averages out to 8.9 points per 90 minutes. This season Man Utd have been better on the road than a pre-Covid Michael Palin. With six victories and one draw, they have scored 21 goals in their 7 away matches so far this season. The 2-2 draw with Leicester was the only time they have failed to score 3 or more goals.
Bruno has been at the heart of this. His returns are 12, 11, 17, 10, 6, 2 and 12. 6 goals, 6 assists, and 14 bonus points over those 7 matches. 70 points or an average of 10 points per match. These are insane stats. So, playing devil's advocate, why would not you captain Bruno? There are two concerns, firstly how Bruno plays alongside Pogba and secondly the defensive solidity of Burnley at fortress Turf Moor.
One of the great things about FF247 is being able to ask other managers for their perspective.
As I do not watch a great deal of Man United matches, I asked my good friend and United fan Cookie for his input. This is what he had to say. "We haven't seen Bruno's numbers tail off; they remain consistent whoever he plays alongside, more so away from home. Pogba has been playing better of late and this only helps United and Bruno. From an attacking point of view, it is often Pogba's initial ball out of defence that starts the counter-attack that generally involves Bruno (and Rashford). From a creative point of view, Pogba is one of the most dangerous threats from set-pieces and crosses delivered by Bruno."
This puts my mind at rest on the first point. So how good are Burnley at the back? Sean Dyche has his team organised, and Burnley have conceded just 2 goals in their last 4 home games. I remember being equally impressed by their defensive stats when researching the captaincy article for KdB just before City won 5-0 and his 10-point haul. However, another way of looking at their stats is splitting the division up between top half teams and bottom half teams.
Against the top half of the table:
P7 W0 D2 L5 F3 A15
Against the bottom half
P8 W4 D2 L2 F6 A5
Conclusion? Burnley performs considerably worse against teams in the top half of the table, and come Tuesday evening, the Red Devils could be top of the lot. That my friends is why you captain Bruno. YOLO.
Init – Differential?
Technically speaking you may be thinking that was a bit short and sweet, in terms of just two picks, and you'd be right. But it was so for a reason. When we looked at the options this week there were only really two stand out players and both had good fixtures. The rest of the games all look a bit close to call and we can't really see many people straying outside of the aforementioned games, if indeed players. A quick look at The Confessional below tells you as much, in microcosm.
The main viable alternatives, which will probably go down as differentials, still stay within those games and they are possibly just Sterling and Rashford.
Outside of that we don't honestly expect there will be much interest in Wilson vs Sheffield Utd or DCL vs Wolves. Perhaps we will see a few Kane or Son chancers vs Villa and maybe the odd outlandish Lacazette fan vs Palace.
Personally, I won't be going for any of these of course, I'll be on one the main two, but we thought we'd best plump the article out a bit with a few random names so it didn't look like we were just being lazy.
And yes, for the record, and in particular the scoring table next time, I just picked 5 players :wink2:
The confessional…
This is where we ask our entire writing team to tell us who they think they will pick this week…. There are more caveats and get out clauses than a Lionel Messi contract but this is their initial gut feeling based upon who they actually own.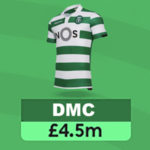 DMC — Kevin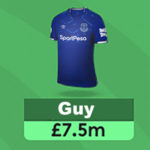 Guy — Bruno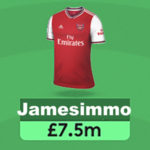 Jamesimmo — Kevin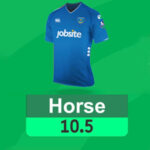 Horse — Bruno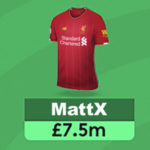 Matt — Kevin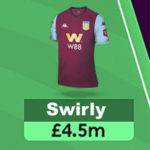 Swirly — Kevin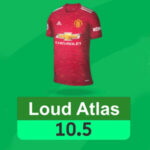 Loud Atlas — Kevin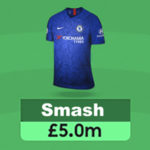 Smash — Kevin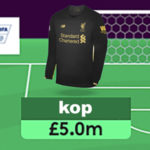 Kop — Kevin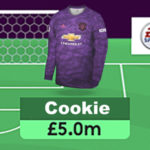 Cookie – Kevin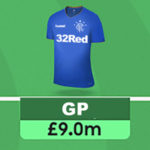 The Gallant Pioneer — Bruno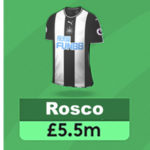 Rosco — Kevin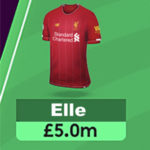 Ellefcee — Kevin
Pre lockdown 2 goals, 3 assists.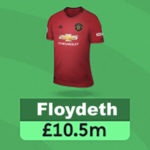 Floydeth — Kevin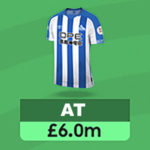 AT — Kevin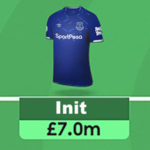 Init — Kevin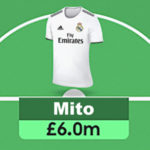 Mito — Kevin
VOTE ON THIS WEEK'S CAPTAIN POLL GW18
Thanks for reading FPL Captain Picks Gameweek 18.
FPL FIXTURE TRACKER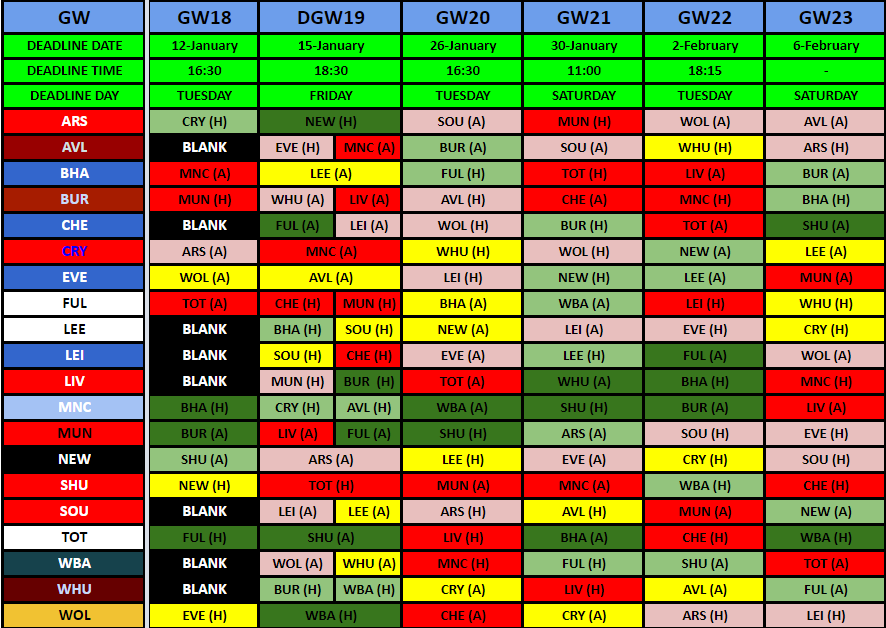 FIXTURE TRACKER LINK