FPL Tips Gameweek 6
Welcome to FPL Tips Gameweek 6
Sometimes in this life, no matter how hard you try, you just can't compete. For instance, as good as he can be, Aubameyang will never be Henry; the Houses of Parliament's morality will always fall far short of Andy Burnham's relative benevolence. Maupay can only dream of hitting Kane's numbers — or am I being too harsh? More to follow soon on that one…
Anyway, enough of those loose comparisons, here's what I'm basically trying to say: this Tips article won't be 'like' (read: worthy of lacing the boots of) last week's Tips article. Swirly did a truly magnificent job — custom-designed pitch graphics and all. I'll be sticking to just a solitary phone screenshot and snaps from Getty Images that have minimal relevance to the points being made.
This is not an exaggeration either: please visit https://fantasyfootball247.co.uk/fpl-tips-gameweek-5/ for a comprehensive selection of in-form FPL options.
I'm presenting a somewhat more left-field take here. Seeing as GW5–8 often ushers in the dreaded 'FPL template team' — a selection of highly-owned players who have delivered early on and, as a result, been transferred in by the masses — this article focuses on promising players with an ownership of less than 10% exclusively. In the spirit of graphic design, complementing the screenshot of Wednesday evening's most-popular 15 players, ownership values have been overlaid for your perusal. Yes, yes, I know. Unhinged creativity.
It might be too soon to start chasing differentials, but if you (like me!) have begrudgingly started the season on an awful note, it might also be the perfect remedy to get your team (and even passion for playing this undeniably volatile game) back on track…
Goalkeepers
Top shelf: Rui Patrício (£5.5m | 8%) is my pick from what's an admittedly unattractive price bracket for this position. Wolves have churned out 3 respectable clean sheets already and I wouldn't be surprised to see Nuno's proven squad flourish as the season progresses. He's had to make 15 saves already too, quite surprisingly, the joint–4th-most along with…
Mid-price: Vicente Guaita (£5.0m | 5%) has a juicy short-term schedule, with Cahill back in the Palace lineup and a double-digit haul of clean sheets from last season. Indeed, their 2020 defensive performances have been rocky. Furthermore, whilst 15 saves is respectable, it doesn't compare to…
Bargain basement: Sam Johnstone (£4.5m | 1%) with 13 goals conceded already? I can only promise you that outfield positions offer far more tempting differentials. Still, though, 23 saves and counting in a team that just kept its first clean sheet… albeit vs Burnley at home.
Defenders
Top shelf: Kyle Walker (£6.0m | 6%) has actually played 90 minutes in all 4 of Man City's PL fixtures thus far. In fact, including their Champions League match against Porto tonight, he's been a consistent starter in all competitions. Furthermore, with 35 official FPL assists in the last decade, a continued stream of clean sheets could see Kyle become quite the dark horse.
Mid-price: Tyrone Mings (£5.2m | 9%) won't enjoy this sub-10% status for much longer. Villa have been flying — no wonder Nick had the drive to write so brilliantly — 2nd in the table, 3 clean sheets notched and just 2 goals conceded to Salah's desire, which shows what good transfer business can do. All of that's before you consider Tyrone's attacking threat: a goal and an assist already on the board.
Bargain basement: Max Kilman (£4.1m | 6%) feels pretty dirty to recommend. He's only just emerged as a starter for Wolves (and I've covered them with Patrício) but he's already comfortably outscored TAA (and Walker!) in those sweet 180 minutes. That says a lot about both the current state of affairs in FPL and the fading integrity of this article…
Midfielders
Top shelf: Sadio Mané (£11.9m | 8%) is free from COVID-19 but his iconic hairline couldn't emulate the quick recovery process. Regardless, back with a Merseyside Derby goal, it's easy to see him replicating that Stamford Bridge performance when Liverpool go searching for some redemption in their upcoming trips. Just be sure to hold onto Salah in the process…
Mid-price: Kai Havertz (£8.4m | 9%) has provided a goal contribution — albeit just one — in each of his last 3 matches in the PL now. Lest we forget his EFL Cup hat-trick, along with an international goal for Germany, with Werner finally playing centrally ahead of him too. Fat Frank knows all too well that you don't need clean sheets to score.
Bargain basement: Ross Barkley (£5.9m | 3%) is the bargain basement (at a stretch!) pick right now. I say "at a stretch" as he's currently due for an imminent price rise. To bolster his and Mings' prospects, Villa have now got an outstanding run of PL fixtures that lasts up until Boxing Day, one that made me stand up (a true rarity) when I first clocked them. At such a low ownership, feeling buoyant from back-to-back goals, he's my No. 2 pick from this article.
Forwards
Top shelf: Sergio Agüero (£10.4m | 2%) is, quite honestly, the real inspiration for this format — if you can call it remotely 'inspired' — and he's my No. 1 differential pick. For how much longer will this beast be deemed a differential option? Jesus has been ruled out for "more months" and, as per the BT Sports 'free' stream, Sergio's just scored an equalising penalty. Tough fixtures? Agüero typically doesn't care.
Mid-price: Neal Maupay (£6.6m | 6%) has somehow remained under the FPL radar. He's got 4 goals and an assist under his belt already; no Seagull's ever shat on so many people before. The magic's flowing under Mr Potter's guidance.
Bargain basement: Rhian Brewster (£4.5m | 7%) could be the saviour for Wilder's men. Of course, he'll first have to start for them, but once he does — well — this kid really does look special. This perfect 3-5-2 / 4-4-2 / 3-4-3 rotation enabler just needs to scrape through a torrid set of short-term fixtures against Liverpool, Man City and Chelsea, but Charlie Adams could probably still embarrass the latter.
I appreciate your time! Good luck for this weekend's action. I'll soon be back to suggest captaining a player whose name features in this article but isn't displayed in bold…
Thanks for reading FPL Tips Gameweek 6. This article was written by Jamesimmo.
FPL FIXTURE TRACKER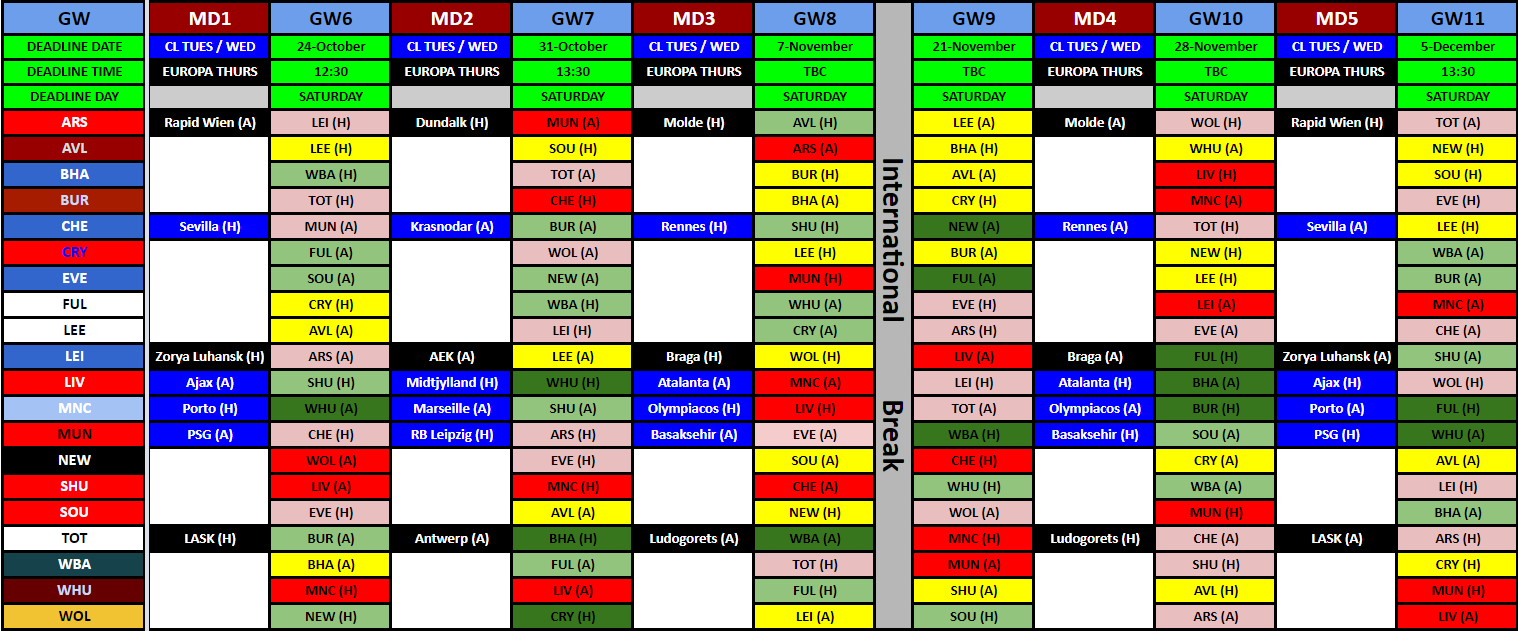 FIXTURE TRACKER LINK
VOTE ON THIS WEEK'S CAPTAIN POLL GW6
Fantasy Football 247 League Codes:
All prizes must be claimed within 30 days of the final GW.